Slow Cooker Country Style Ribs are rich and flavorful. These super easy to make crockpot country style ribs are fork-tender and delicious! Cooking country-style ribs in a slow cooker results in tender, flavorful meat that practically falls off the bone. Amazingly delicious pork ribs that the whole family will enjoy.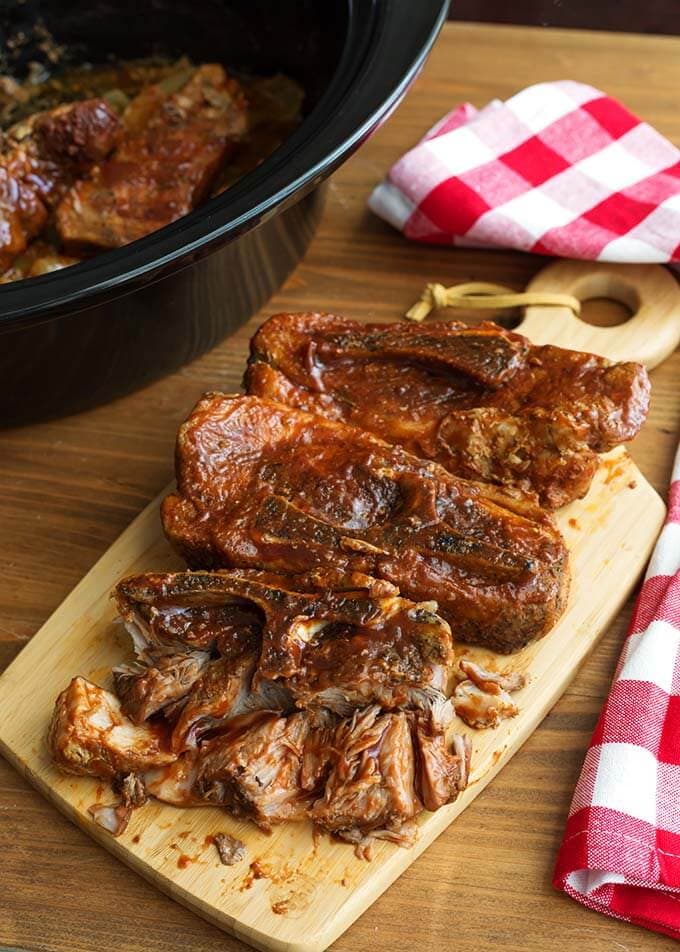 Country Style Ribs in the Slow Cooker
Summer is a time for ribs, for sure. But what to do when you don't want to heat up the kitchen by turning on the oven? Just bust out the good old slow cooker and cook them in that!
Slow Cooker Country Style Ribs come out so moist and fork tender when cooked in the crock pot! I much prefer them this way (and in the Instant Pot) than in the oven.
You can be hands-off and get some things done while these yummy ribs are slowly cooking to perfection!
Are Boneless Ribs or Bone-in Ribs Better?
Normally I would tell you that bone-in ribs will have better flavor, however, I've made both types of country style ribs and haven't noticed a difference.
Country style ribs are cut from the pork shoulder, which is what we use for pulled pork. That cut has lots of connective tissue and fat that will break down during the long cook time. This gives flavor and tenderness.
I think it comes down to personal preference. Boneless are easier to eat and take less time to cook. Some people think bone-in are more flavorful. It's up to you!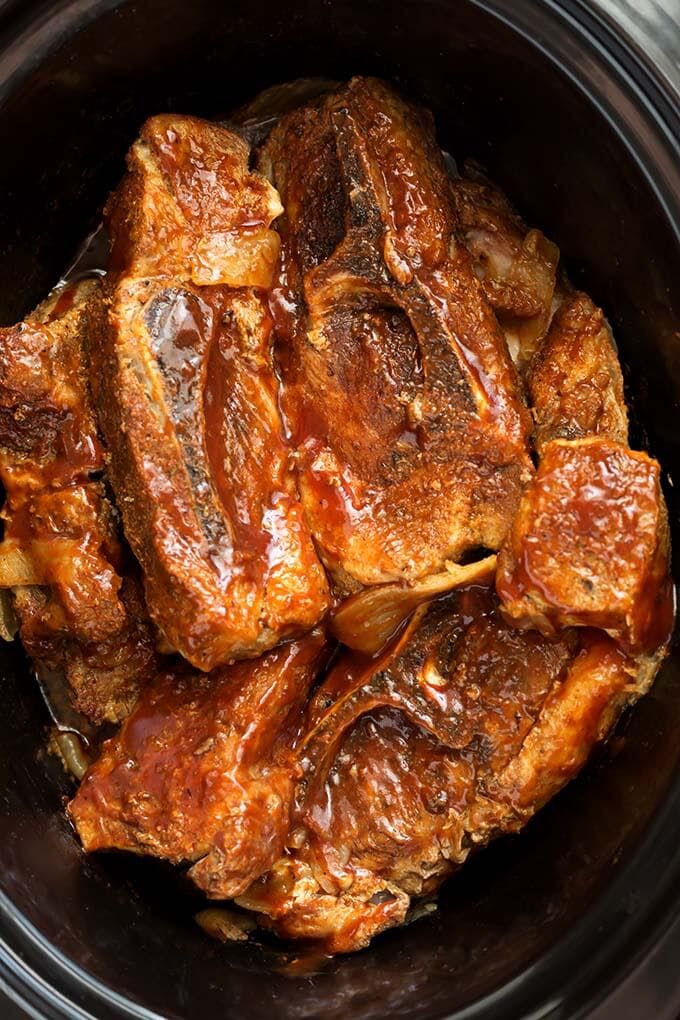 What is the best way to season these Crockpot Pork Ribs?
By far, layering the flavors is the key to making the best tasting pork ribs.
A good spice rub is the first step to the most flavorful country style ribs. I have a ribs rub recipe that is perfect for these country style pork ribs: Ribs Spice Rub. Be generous with it!
The second layer is a smoky barbecue sauce. The bbq sauces that are smoky flavored give you that yummy depth of flavor that we all love from the grill.
What Liquid is Best to Cook Ribs In?
Personally, I don't add liquid when I cook Country Style Ribs in the slow cooker as moisture doesn't evaporate much. There always seems to be plenty of liquid in the pot when they are done cooking.
However, you certainly can add a little liquid (about a half to one cup at most) if you want to. Some great choices are:
• Apple cider or apple juice
• Beer
• Cola
How Long do Ribs Take in the Slow Cooker?
Cooking times may vary depending on the size and thickness of the ribs (and if bone-in or not) and your specific slow cooker model.
As a general guideline, slow cook the country-style ribs on low for 6 to 8 hours or on high for 3 to 4 hours.
Check for doneness with a fork; the meat should be fork-tender and will easily pull apart when ready.


Slow Cooker Baby Back Ribs
Slow Cooker Barbacoa Beef
Crock Pot Pork and Sauerkraut
Crock Pot Creamy Lemon Chicken Breasts
If you make this Slow Cooker Country Style Ribs recipe, please leave a comment below and let me know how you liked it!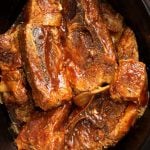 Slow Cooker Country Style Ribs
Slow Cooker Country Style Ribs are rich and flavorful. These are fork-tender ribs that the whole family can enjoy.
Keyword:
crock pot country style ribs recipe
Ingredients
1

large

Onion

3

lbs

Country Style Pork Ribs

(bone-in or boneless)

½

cup

Rib Spice Rub*

(see my recipe link below)

1

cup

Barbecue Sauce

(a smoky one works well)
Instructions
Spray the crock with cooking spray (or use a cooking bag).

Peel, then cut the onion into sixths. Line the bottom of the slow cooker with the onion pieces.

Put the ribs in the crock and sprinkle the rib spice rub on all sides of the ribs. Here is my recipe for Ribs Spice Rub.

Place the lid on the slow cooker and cook on Low for 6 to 8 hours, or High for 3 to 4 hours, or until ribs are fork tender.

When done, remove the ribs and the pieces of onion to a serving platter.

Slather the ribs with the barbecue sauce on all sides.

Serve with extra bbq sauce for dipping.
Recipe Notes
*Please note that you can make the spice rub with less salt, if using my homemade recipe.