Mexican Street Corn (Elotes) is creamy, savory, a touch spicy, and is incredibly good! This is my pitch to convince you to make this as soon as humanly possible! If you love corn, and Mexican flavors, and creamy, savory stuff on veggies, this is for you!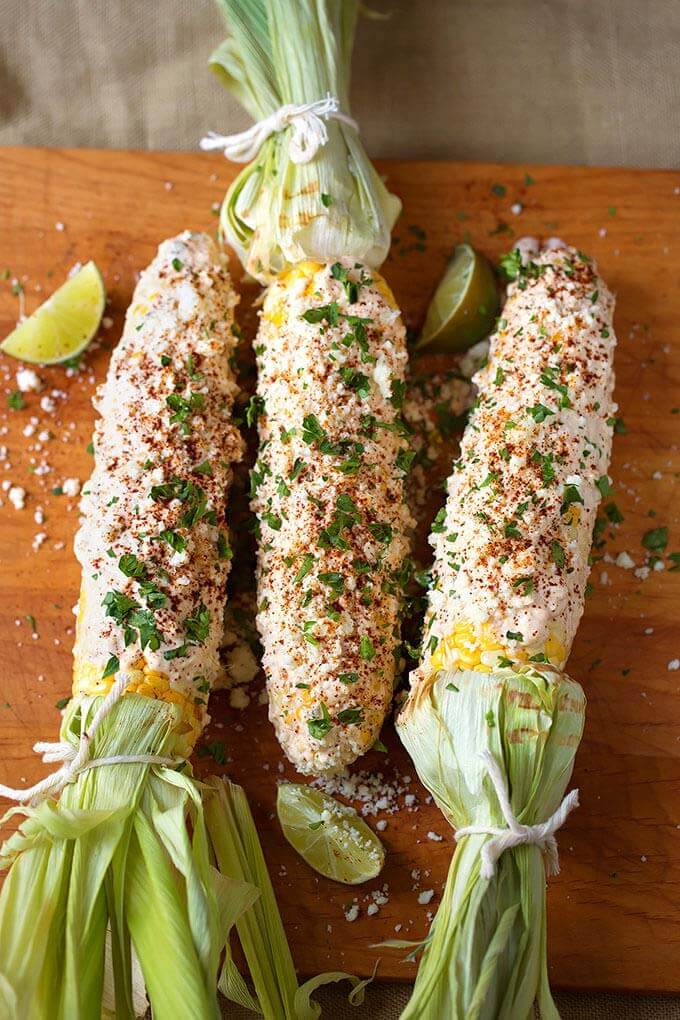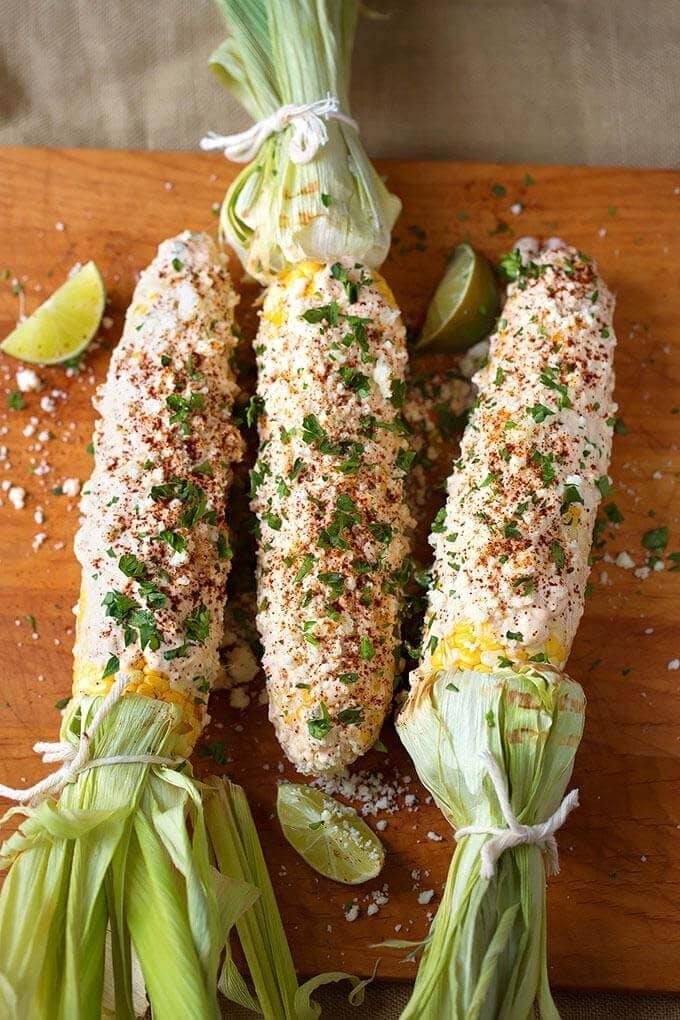 Mexican Street Corn (Elotes)
One of my most favorite things about Summer is corn on the cob. I like it off the cob, too! There is something just plain fun about bringing a juicy ear of corn to my mouth and just typewritering away at it! Especially when it is prepared as Mexican Street Corn, AKA Elotes.
In Mexico you can buy this delicacy from street vendors. We were in Mexico last year and I didn't see any, so we missed out. But thank goodness a friend introduced me to Mexican Street Corn, because I love it. My family loves it. I just had some for dinner and I already want MORE! You need this in your life.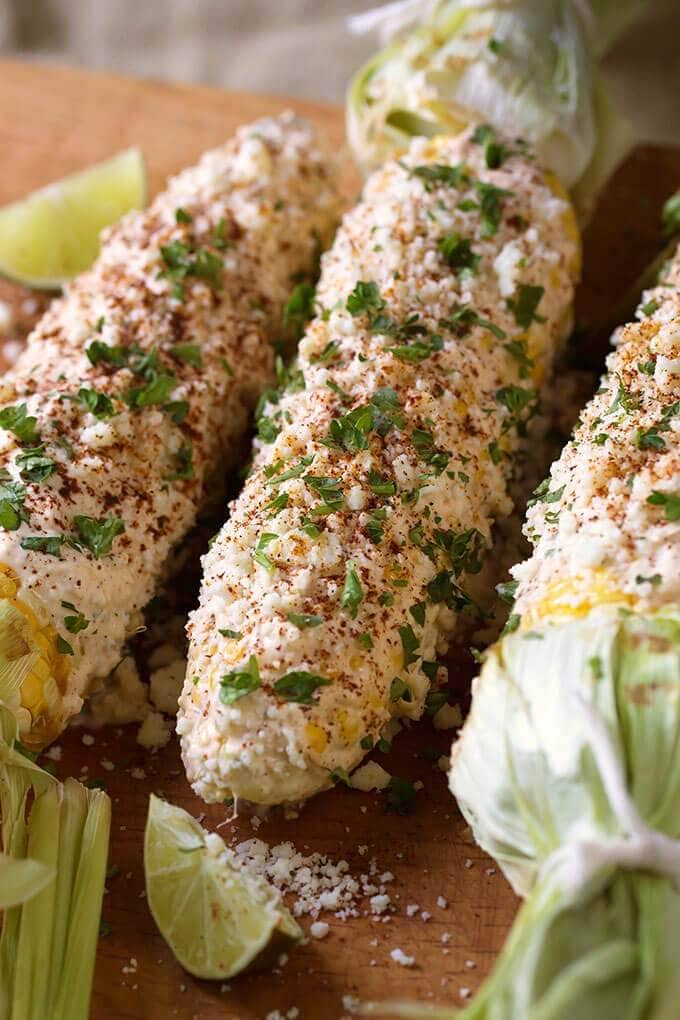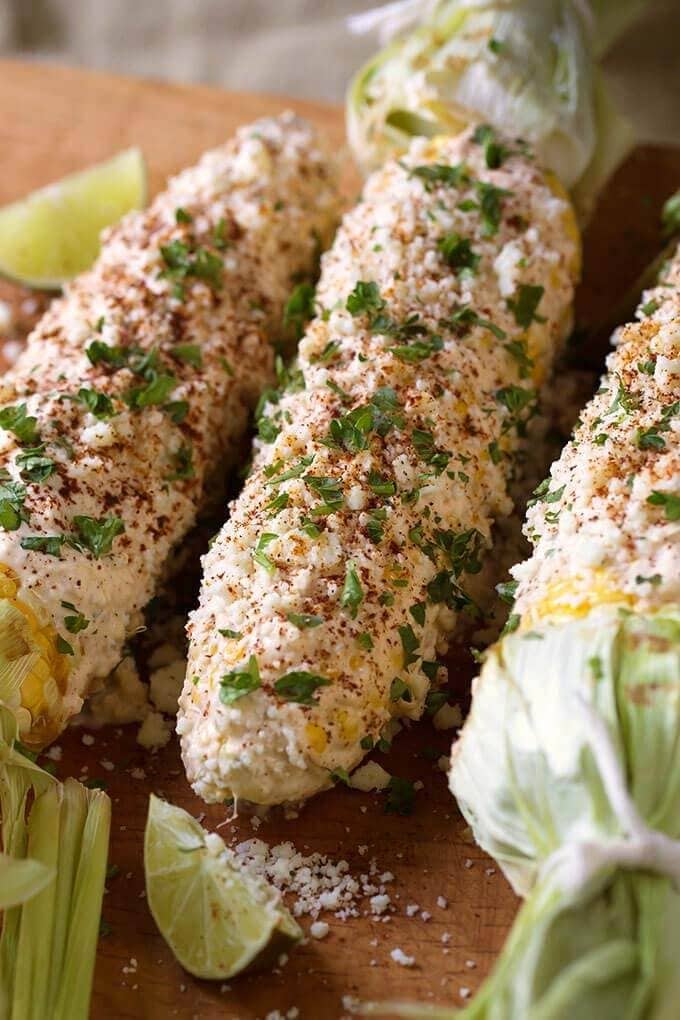 So here's how the flavors of Mexican Street Corn (Elotes) break down: You have the lightly grilled sweet taste of the corn. The salty creamy mix of the cream sauce and the Cotija cheese. Finished off by the spice of the chili flavor. The texture is creamycrunchy, I just made that up. The creamy cheese mixture and the crunch of the corn is a fiesta in your mouth!
Full of flavor, and so easy to make, even if you don't have a grill. And it is so delicious, you guys! If you are invited to a grilling party this summer, just make the sauce ahead of time, pack up some ears of corn, grab the Cotija cheese and that's that!
After the corn is grilled, each person can slather the cream sauce and cheese on their own ear of corn. Oh, and leave the husks on, peeled back, to make a handy and super cute handle!


Instant Pot Corn on the Cob
Slow Cooker Creamed Corn
Crock Pot Mexican Corn Chicken Soup
Hot Cheesy Corn Dip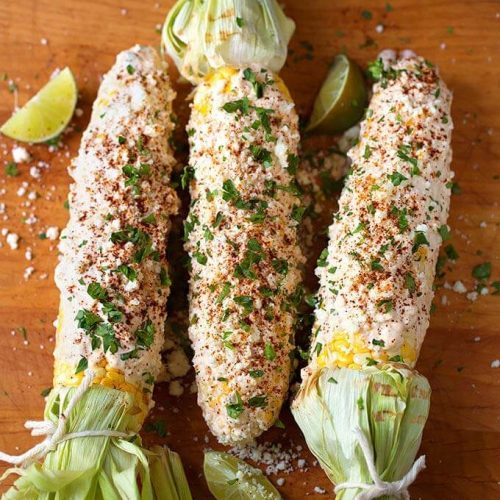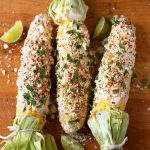 Mexican Street Corn (Elotes)
Lightly grilled corn on the cob seasoned with a creamy spicy cheese mixture. Sold by Street vendors in Mexico, but easy to make yourself if you can't get South of the Border!
Ingredients
4

ears

Corn

(keep husks on, remove the silk)

1

Tablespoon

Olive Oil,

for grill & corn
Cream Mixture
¼

cup

Mayonaise

¼

cup

Sour Cream

(or use Mexican Crema)

½

cup

Cotija Cheese,

crumbled (plus more for serving. Use Parmesan if you don't have Cotija)

⅛

teaspoon

Chipotle Chili Powder,

this adds the spice!

¼

teaspoon

Cumin

½

teaspoon

Chili Powder,

plus more for serving (Ancho, Aleppo, or your favorite)

1

clove

Garlic,

pressed, or very finely minced

2

Tbsp

Cilantro,

chopped (plus more for serving)

4

Lime Wedges for serving
Instructions
Prepare the corn by peeling back the husks (don't remove) and removing the silk. Grasp the husk and tie it with some butcher's string to keep the leaves together (like a bouquet). This will be your "handle" for eating the corn. Repeat with all 4 ears.

Brush the corn with some of the olive oil (just a light coating). You don't need to do this step if you are using your oven rack It's up to you, but I wouldn't as I'm a chicken and would worry about a fire. Safety first).

Prepare your grill, griddle, or oven. Set to a medium-high heat. Brush olive oil onto the grilling surface, unless you are using your oven rack.

Grill the corn about 4 minutes per side. You will see some grill marks, but how dark you want them is up to you.

Meanwhile, prepare your cream mixture by adding the mayo, sour cream, Cotija cheese, spices, garlic, and cilantro to a large bowl and mix well. It should be a little thick.

When corn is done, remove the ears to the bowl of cream / cheese mixture and coat the corn with the mixture, using a spatula, until thoroughly coated.

Sprinkle with the remaining cheese, some cilantro, and chili powder and serve.
Recipe Notes
You can "grill" your corn in your oven by heating it to 400 degrees and placing the corn directly on the oven rack, turning every few minutes for about 20 minutes. Be very careful!

Resources to Make This Recipe and More
We are a participant in the Amazon Services LLC Associates Program, an affiliate advertising program designed to provide a means for us to earn fees by linking to Amazon.com and affiliated sites.