This Instant Pot French Onion Soup recipe is absolutely delicious! I take the time to really caramelize the onions, which makes them rich and sweet, with a lovely dark color. Pressure cooker French Onion Soup served gratinéed with bread and cheese on top is my favorite way to make this elegant one-pot meal.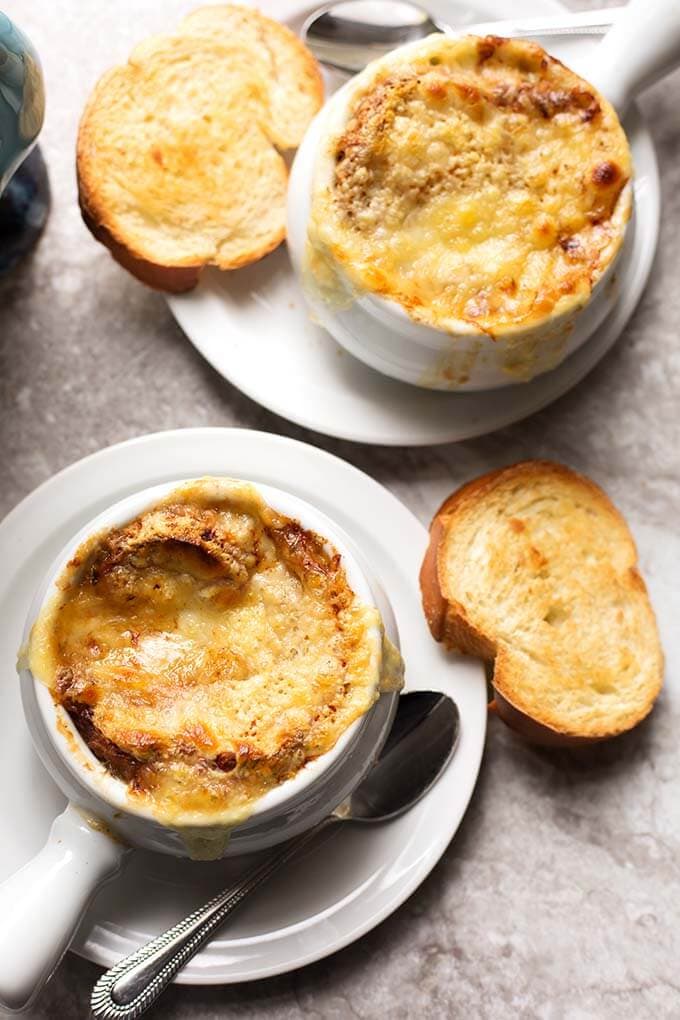 Instant Pot French Onion Soup
This is a recipe that I have made for years. It was inspired by the fabulous Julia Child, who I used to watch on TV when I was younger. She was so great at rolling with any little kitchen snafus that would happen.
Last year I made it into an Instant Pot French Onion Soup recipe for my ebook of soups. I'm finally blogging about it!
What can I tell you about Instant Pot French Onion Soup? Well, it is not a very fast cooking soup (I'm looking at you, caramelized onions!), and it does take a little more effort and some babysitting.
It's really not that bad, except maybe slicing all those onions, lol! Trust me, it's so worth it!
This is a soup that you can serve to your fancy guests and have them all impressed with your mad cooking skills! Tell them you made French Onion Soup in the Instant Pot and they will probably fall over!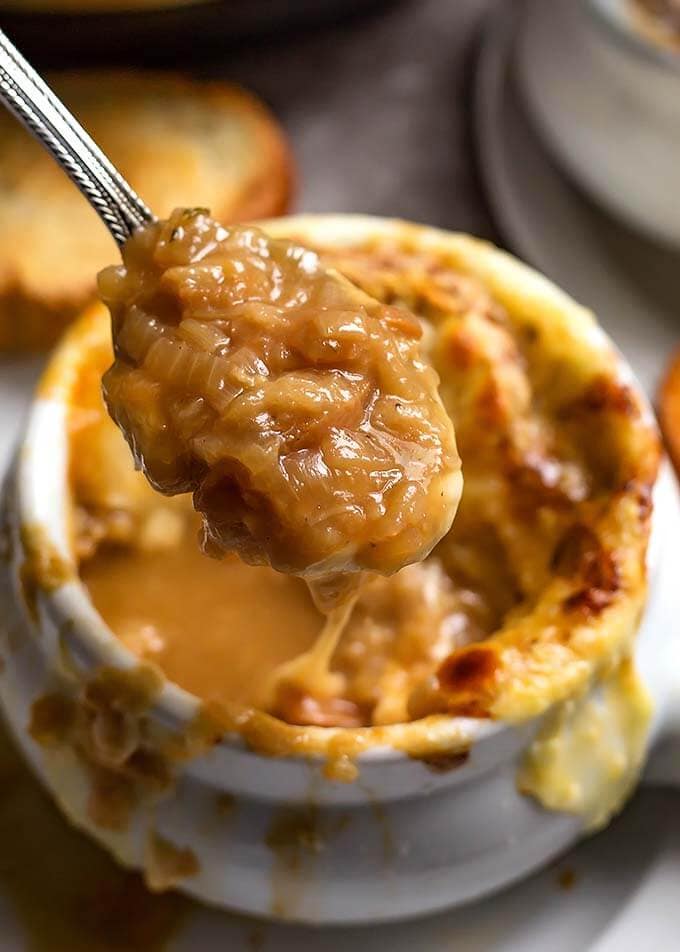 The First thing you'll need to do is prepare all of the ingredients and have them ready to go. Since we are talking French, they call this process "Mise en place" which is a French culinary phrase meaning "putting in place" or "everything in its place."
Can I get away with not cooking the onions for soooo long? No. Haha, actually, yes you can, however, the caramelization of the onions is what is so special about this soup. I have seen recipes for a version of this soup that does not call for cooking the onions as long, so do it the way you want to. I'm sure it will still be tasty! Maybe not as… 🙂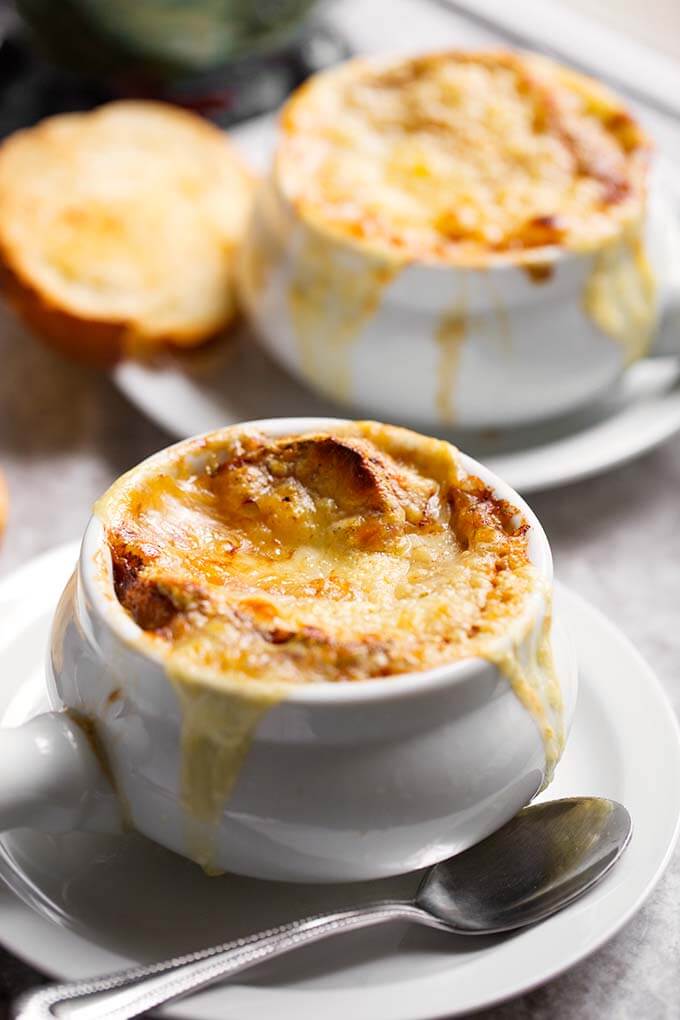 Instant Pot Taco Soup
Instant Pot Creamy Chicken Gnocchi Soup
Instant Pot Pasta e Fagioli soup
Instant Pot Easy Lasagna Soup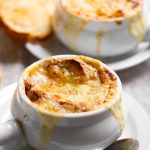 Instant Pot French Onion Soup
Instant Pot French Onion Soup is so delicious, with caramelized onions & rich beef broth. This pressure cooker French Onion Soup recipe is a favorite!

Keyword:
pressure cooker French onion soup recipe
Ingredients
1/2

cup

Butter

1

large

Yellow Onion,

peeled, cut in quarters and sliced to get small "quarter moon" shaped slices.

5

smaller

Sweet Onions,

peeled, cut in quarters and sliced to get small "quarter moon" shaped slices.

1/4

tsp

Baking Soda*

3

sprigs

Fresh Thyme

1

Bay Leaf

2

cloves

Garlic,

finely minced

1/2

tsp

Kosher Salt

1/2

tsp

Pepper

1/2

cup

Brandy

3

Tbsp

Flour

4

cups

Beef Broth

2

cups

Chicken Broth

4

thick

French Bread Slices,

toasted

2

slices

Swiss Cheese,

thick sliced
Optional
4

slices

Provolone,

thin sliced
Instructions
Turn on the Sauté function and choose the Normal setting. When display reads "Hot" add the butter.

Add the onions and baking soda. Stir to coat onions with the butter.

Stir occasionally, while letting the onions cook for about 10 to 25 minutes. You might have to restart the Sauté function as it times out at 30 minutes on the IP.


Keep checking back and stirring the mixture, scraping the bottom of the pot. As long as you check in on them and stir every few minutes, they should be fine, and not burn. Patience!

Cook until the onions turn brown. It can take up to 25 minutes, but it is important. The caramelization is key to the flavor of this soup!

When the onions are nicely brown and caramelized, add the thyme, garlic, salt, pepper, and bay leaf. Stir.

Then add the brandy and cook, uncovered, until it reduces, and the alcohol, and most of the liquid, has cooked off.

Sprinkle flour over mixture and stir. Cook for a minute, stirring, to make sure the raw taste of the flour gets cooked out.

Stir in the beef and chicken broths. Bring to a simmer, stirring occasionally. Make sure to scrape the bottom of the pot again.

Place the lid on the pot and set the Steam Release Knob to the Sealing position.

Cancel the Sauté function.

Press the Manual (or Pressure Cook) Button. Set time to 5 minutes using the +/- buttons, or dial. High Pressure.

When cook cycle ends, let the pot naturally release pressure for 10 minutes. Then manually release the remaining pressure by turning the knob to Venting (or push the button on the Ultra).

When the pin in the lid drops. Open and stir the soup.

Remove the bay leaf and the thyme stems.

Turn on the broiler to 450 degrees (F). Put rack about 2/3 from the bottom (second slot down on mine).

Dish up the soup into oven safe bowls and place the bowls on a baking sheet.

Place a slice of toasted French bread on top of each.

Lay 1 slice of the Swiss cheese over each of the bread slices.

Carefully put the baking sheet with the bowls of soup into the oven. If they are too heavy, put the baking sheet in first, and set the bowls on it.

Broil until the cheese melts and browns to your liking.

Remove from oven and serve.
Recipe Notes
1. Have everything sliced and measured, ready to go before you begin cooking. This will make the process much easier!
2. *The baking soda will speed up the browning of the onions. If you choose not to cook the onions long enough to caramelize them, the soup will still taste good, but it's so much better with caramelized onions!

RESOURCES TO MAKE Instant Pot French Onion Soup recipe and more
We are a participant in the Amazon Services LLC Associates Program, an affiliate advertising program designed to provide a means for us to earn fees by linking to Amazon.com and affiliated sites.