I show you how to get a juicy, tender Instant Pot Chicken Breast. From a fresh or frozen skinless/boneless chicken breast. Pressure cooker chicken breasts are a fast, easy, and healthy recipe.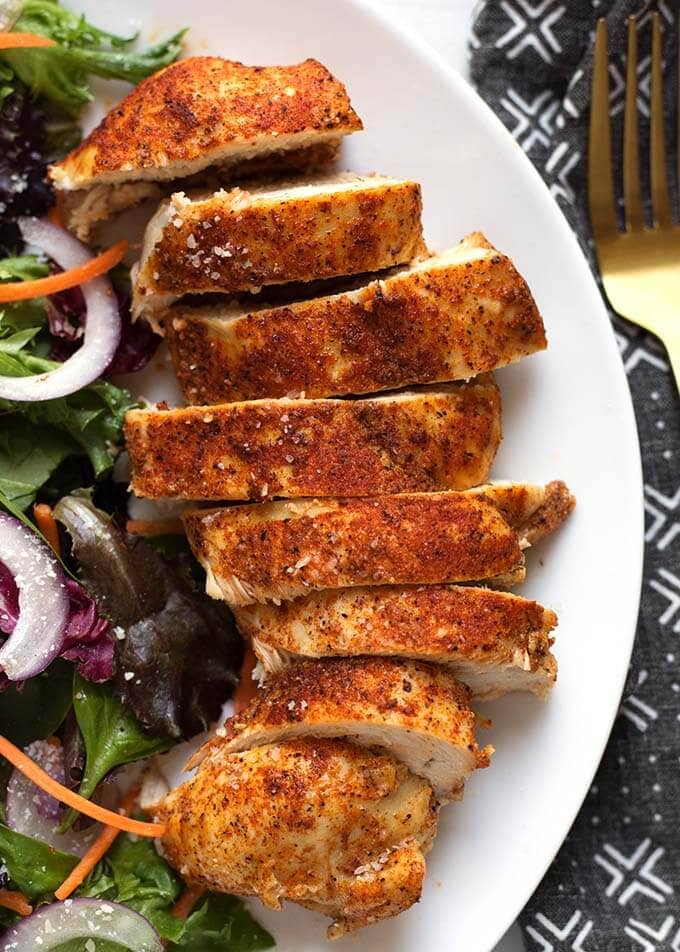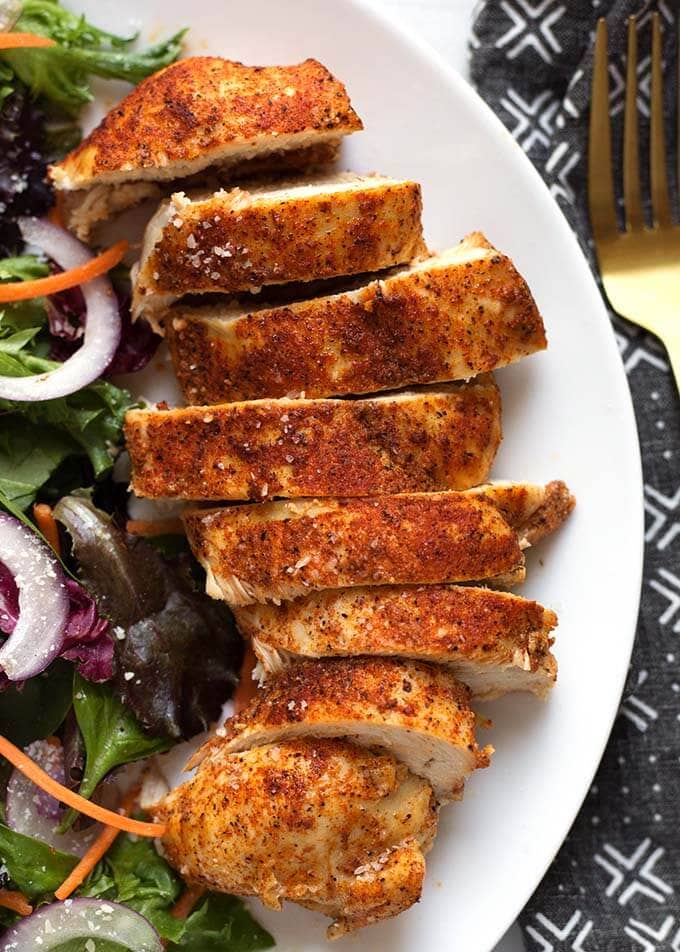 Instant Pot Chicken Breast
Pressure cooking has become very popular again, with the invention of the Electric Pressure Cooker. Namely the Instant Pot®. I started using it over two years ago, and I can't believe how many things I can cook in it!
Of all the delicious Instant Pot recipes I create and share with you, there is one question I get asked most often from new Instant Pot users. "How do I cook a chicken breast in the Instant Pot?"
Let's go over the basics.
1. For best results, weigh the chicken breasts. You can add up the weight and cook for an averaged amount of time (1 minute per ounce).
2. Rub the chicken breasts with a little olive oil. I tested this method and I think it helped the chicken breast stay moist and tender.
3. Use the trivet/rack to keep the chicken breasts above the water so they don't boil.
4. Use a Meat Thermometer to check for doneness.
To Brine or Not to Brine?
I like to brine my skinless/boneless chicken breasts before I bake them in the oven. It makes a huge difference in the juiciness. The average time I brine a chicken breast is about 30 minutes.
I did several tests with brining chicken breasts prior to pressure cooking them, but I couldn't see much difference from those I didn't brine. So I don't brine them for pressure cooking. You can if you want, and you can also marinate them.
The only time I brine is when the chicken breast is frozen. Though it isn't really brining as much as it is thawing the outer layer.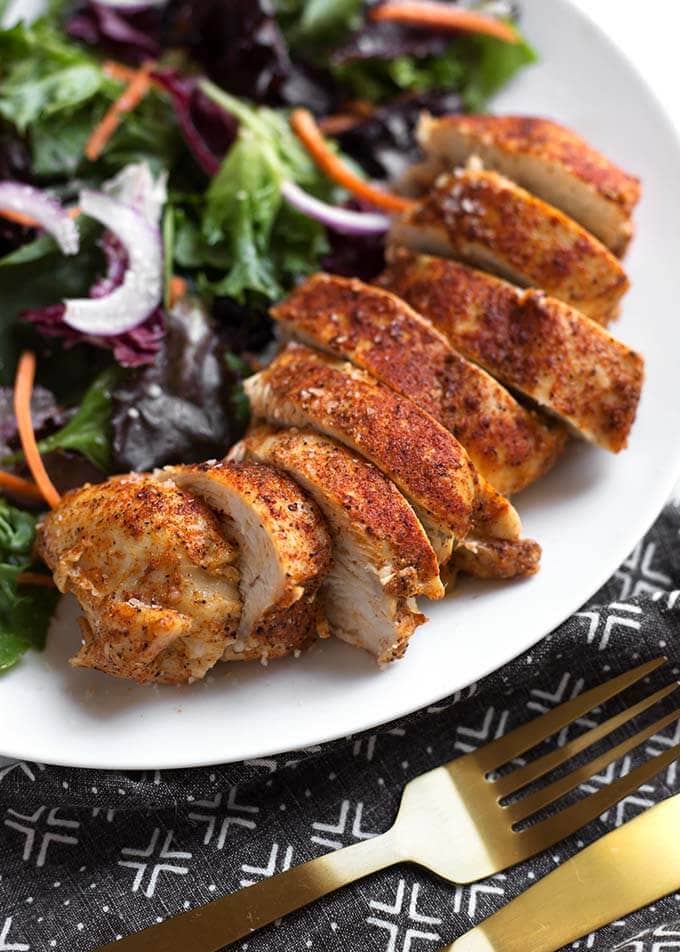 Can I cook Frozen Chicken Breasts in the Pressure Cooker?
Yes you can! The only thing I do differently is soak them in a few cups of warm (not hot) water for about 10 minutes, then pat dry with paper towels, and then rub on the oil, and then the spices. This will help the outer part of the chicken breast thaw a little so the spices stick.
How long to cook?
Since chicken breasts come in many sizes, I can't give you one set amount of time that will cook them all the same. Nobody wants a rubbery chicken breast, so it's important to cook them based on their weight so they don't overcook. A food scale is very helpful for cooking chicken breasts.
I cook a 8 oz chicken breast for 8 minutes at high pressure, and a 10 minute natural pressure release. That's 1 minute per ounce of weight. When I'm cooking several breasts at one time, I cook for the average weight. Also, don't overlap them because the parts that overlap may not fully cook.
Instant Pot Chicken Breast
I show you how to get a juicy, tender Instant Pot Chicken Breast. From a fresh or frozen skinless/boneless chicken breast. Pressure cooker chicken breasts are a fast and healthy recipe.
Keyword:
how to cook chicken breast in the instant pot
Ingredients
1

cup

Water

(2 cups for 8 qt pot)

2

8 oz

Chicken Breasts

(skinless/boneless)

2

tsp

Olive Oil

1

Tbsp

Spice Rub (optional)
Instructions
Pour the water into the inner liner of the pressure cooker. Set the trivet/metal rack in the pot also.

Rub the chicken breasts with the olive oil.

Rub the spice rub on all sides of the chicken breasts. Set them on the trivet/rack in the pot. Try my Baked Chicken Spice Rub.

Place the lid on the pot and set the steam release knob to the Sealing position.

Press the Pressure Cook (Manual) button or dial, and then the +/- button or dial to select 8 minutes for an 8 oz breast, or 1 minute per ounce. If cooking multiple breasts, set time for the average size (High Pressure).

When the cook time is finished, let the pot sit undisturbed for 10 minutes (10 minute natural release). Then manually release any remaining pressure/steam.

Open the lid and take the temperature with a meat thermometer. It should read at least 160° and will cook a little more as it rests.

Remove the chicken to a plate and let rest at least 5 minutes before cutting it as this will help it retain its juices.
Resources to make this recipe and more
We are a participant in the Amazon Services LLC Associates Program, an affiliate advertising program designed to provide a means for us to earn fees by linking to Amazon.com and affiliated sites.