Instant Pot Taco Pie is a fun recipe to make in your electric pressure cooker, and I like having fun when I cook. Layering is fun to me (I don't get out much). This pressure cooker Taco Pie recipe is delicious, and kid, husband, and wife approved!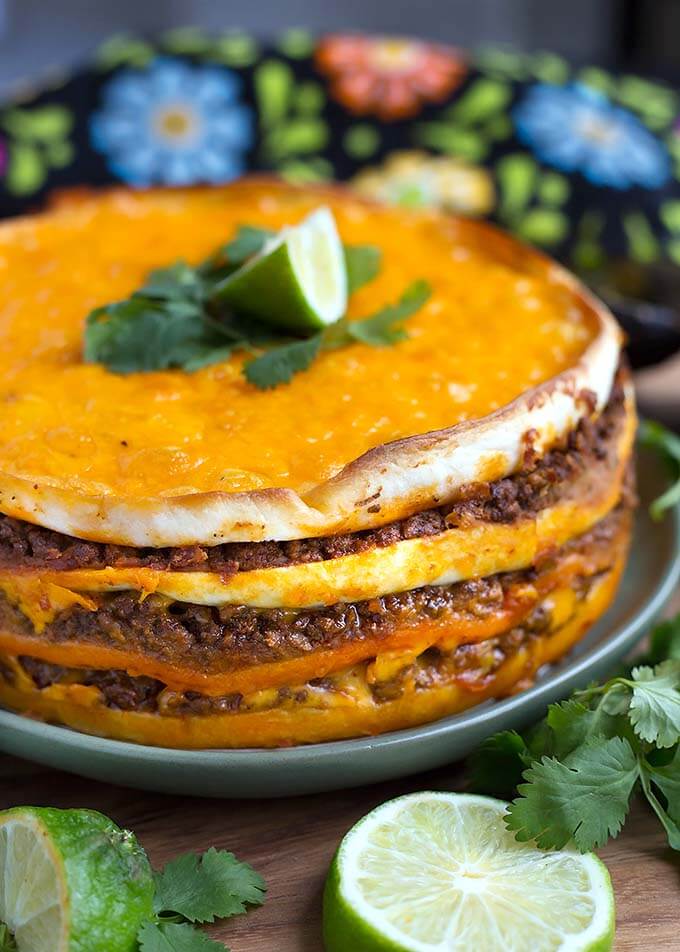 Instant Pot Taco Pie
It still surprises me how much a 6 quart Instant Pot® can hold, as far as volume of food. I own all of the sizes, but use my 6 quart the most. When developing recipes I make them for the most popular size. Then you can scale up of down as you like.
Instant Pot Taco pie is four layers of yum! You can tweak it to be spicier, cheesier, and even saucier, if you use the optional enchilada sauce (not used in the pictured dish).
Anything Taco flavored and I'm on board! A good taco salad, or Cheesy Taco Pasta, Salsa Chicken, and of course, tacos!
I make my own Easy Taco Seasoning, and use it for any recipe that calls for one of those taco seasoning packets. I make a double batch at a time, and love having the ability to control the salt and the heat. Try it, it's fun to make your own!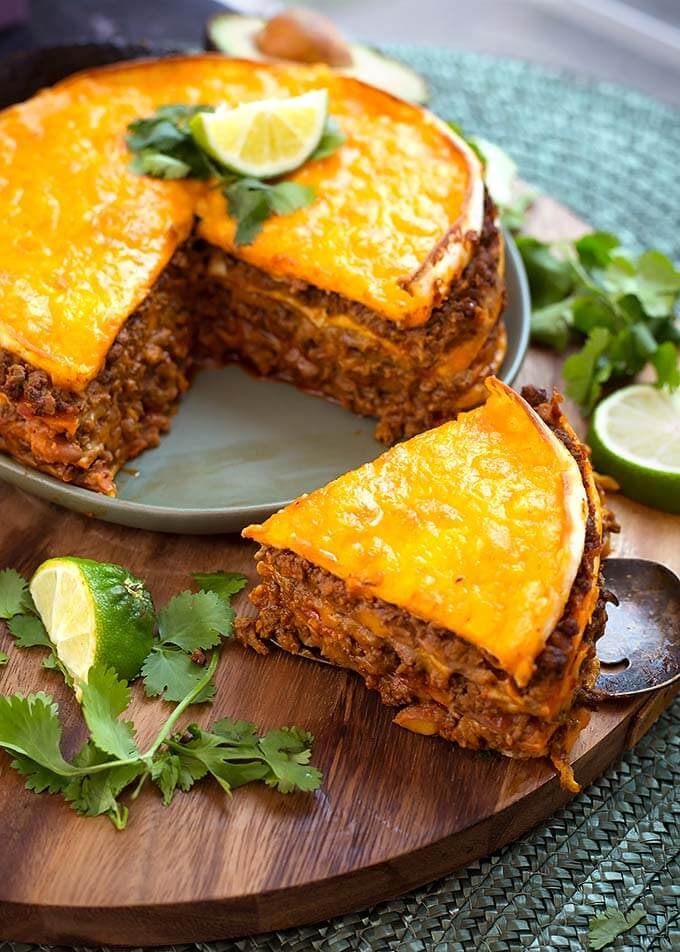 Broil at the end to get a melted, cheesy top to your delicious creation!
Assemble all of the ingredients, cook the meat, and start layering. It's fun. Even the kids can help with this part.
Place a tortilla in a sprayed 7″x3″ pan (springform or push pan).
Then put some beans on.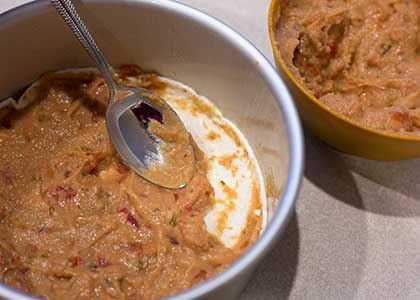 Add some meat.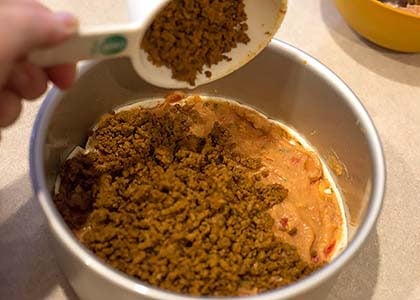 Add some cheese.
Then another tortilla, and repeat.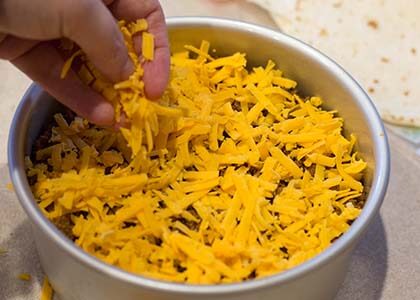 Top with a final, fourth tortilla.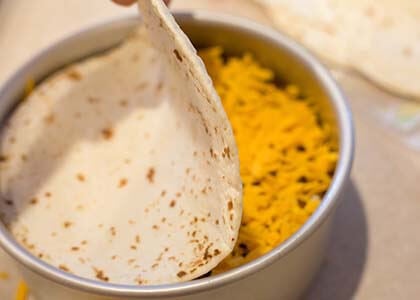 Place some foil on the pan to keep the water out.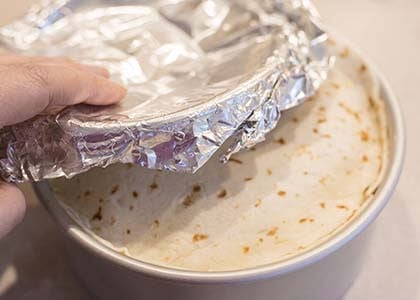 Set the pan on the trivet with handles and set them into the pot that has 1 1/2 cups of water in it.
Cook, add cheese on top and broil, and serve delicious Instant Pot Taco Pie!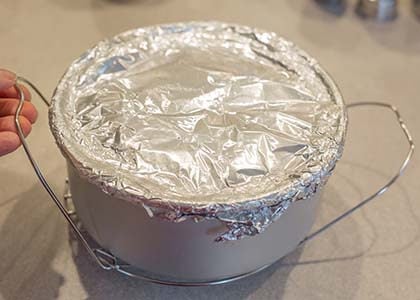 It's really great how easy this Instant Pot Taco Pie recipe comes together, and with such delicious results! YUM! I hope you make and enjoy this recipe!


Instant Pot Chicken Taco Pie
Instant Pot Cheesy Taco Pasta
Instant Pot Simple Pot Roast
Instant Pot Posole – Pork Stew
Instant Pot Mexican Stuffed Peppers
Pin This Recipe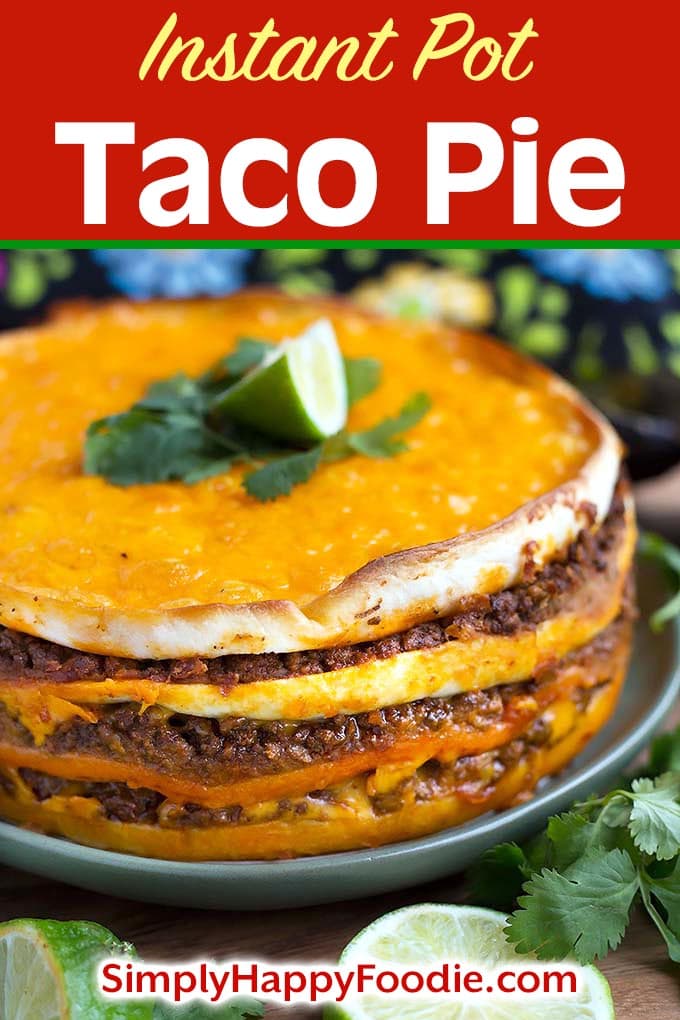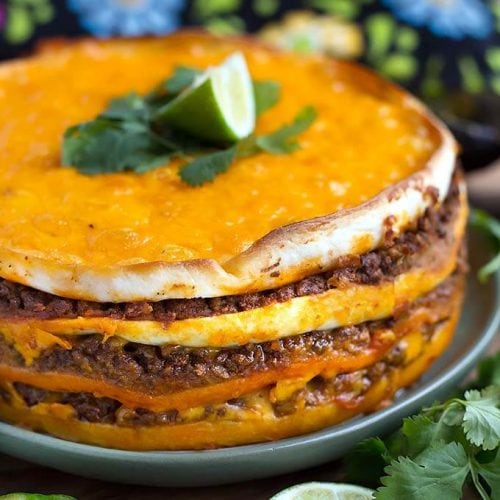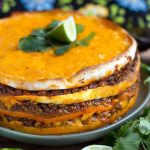 Instant Pot Taco Pie
Instant Pot Taco Pie is a fun and tasty recipe to make in your pressure cooker. Tortillas, refried beans, salsa, meat, and cheese come together to create a layered Mexican Pie! Delicioso!
Keyword:
pressure cooker taco pie recipe
Ingredients
1

lb

Lean Ground Beef or Turkey

(93% lean is ideal)

1

1 oz

Taco Seasoning Packet

(or 3 Tbsp of my Homemade Taco Seasoning)

1 1/2

cups

Refried Beans

1/3

cup

Salsa

(4)

8 inch

Flour Tortillas

(can use corn, but they are more fragile)

1/4

cup

Enchilada Sauce (optional)

2 1/2

cups

Shredded Cheese

or more if desired. (I use sharp cheddar and Monterey Jack blend. You can also use colby jack)
Garnish
Sour Cream

Cilantro

Extra Salsa

Hot Sauce
Instructions
Use the Sauté setting on your pressure cooker (or use a frying pan) to brown the meat, stirring in the taco seasoning in about halfway through. Cook meat until done. Set aside. Cancel the sauté setting.

Wash/Rinse out the pot and put 1 1/2 cups of water in it.

Mix the refried beans with the salsa.

Spray a 7"x3" springform or push pan with cooking spray. Place 1 of the tortillas in the bottom of the pan and spread 1/2 cup of the refried bean mixture over it.

Sprinkle on 1 cup of the meat evenly, (then 1/4 cup enchilada sauce, if using) then 1 cup of the cheese.

Place a second tortilla in the pan, then 1/2 cup of the refried bean mixture, 1 cup of the meat, and then 1/2 cup of the cheese (the first layer has 1 cup of cheese, that is correct).

Place a third tortilla in, then 1/2 cup refried bean mixture, 1 cup of the meat, and 1/2 cup of cheese.

Place the final tortilla on and gently press in place.

Cover the pan with foil and place on the trivet/rack, and use the handles to place them in the pot. You can also use a sling, and set the pan on the trivet that you will put in the pot first.

Place the lid on the pot and lock in place. Turn the steam release knob to the Sealing position.

Press the Pressure Cook/Manual button (or dial) and use the + or - button (or dial) to choose 17 minutes, and High pressure.

When the cooking cycle has ended, let the pot sit undisturbed for 10 minutes (10 minute Natural Release). Then turn the steam release knob to the Venting position to release the remainder of the steam/pressure.

After the pin in the lid drops, open the lid. Use silicone mitts, or oven mitts to carefully remove the pan and trivet. If you used a sling, gather up the two ends of the sling and carefully lift out the pan to a cooling rack. Be very careful as the pan and the water is hot.

Turn on your broiler to 450° (F). Remove the foil from the pan and sprinkle on the remaining 1/2 cup of cheese (or more, up to 1 cup).

Place the pan on the middle oven rack and let the cheese brown to your desired amount. Don't leave it unattended as it could get too brown if you don't watch it!

Remove from oven to a plate and let it sit for a few minutes to set up and cool a bit.

Run a butter knife around the edge to loosen it. Carefully unlock the springform pan and lift the ring off. Use a spatula to slide pie off of the pan bottom, or just leave it and serve from it.

If you used a push pan, loosen the edge with a knife, and set a large can on a plate and set the pan on top of the can and gently push downward. The pie will be sitting on the pan bottom. Very carefully slide the pie onto another plate and serve from there. Use caution as it will be hot.

Cut pie into desired serving sizes and garnish with your choice of sour cream, salsa, lime wedges, chopped cilantro, etc.

RESOURCES TO MAKE Instant Pot Taco Pie recipe and more
We are a participant in the Amazon Services LLC Associates Program, an affiliate advertising program designed to provide a means for us to earn fees by linking to Amazon.com and affiliated sites.