Probably the number one, most flavorful pot roasts of all time is the Instant Pot Mississippi Pot Roast. With ranch, au jus, pepperoncinis, and a nice chuck roast, this is an absolute classic pot roast with the most flavor of any I have ever had! This Pressure Cooker Mississippi Pot Roast is faster than the oven or crock pot, and is incredibly delicious.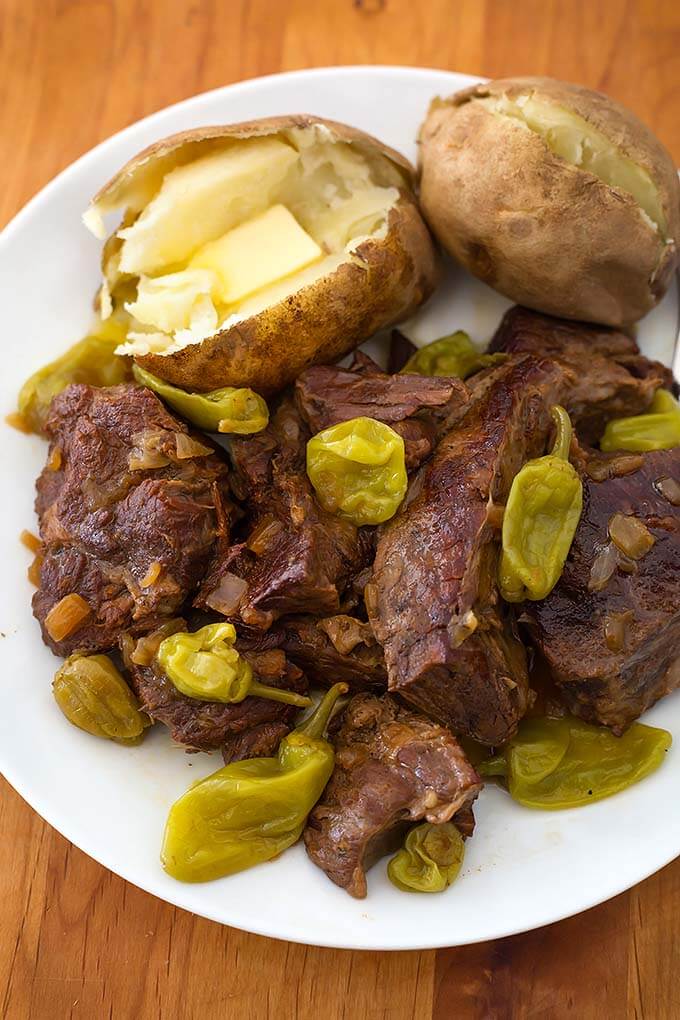 Instant Pot Mississippi Pot Roast
It's been over a year now since I made this Instant Pot Mississippi Pot Roast for the first time, as Christmas dinner for the family. We ran out! Luckily there were plenty of other things to eat, but everyone wanted more Instant Pot Mississippi Pot Roast!
This is truly the most flavorful pot roast I have ever made. I will be making this Instant Pot Mississippi Pot Roast again this year, because the guys loved it so much. This one is going to be a double batch! I will use a 5 to 6 pound chuck roast. I hope it's enough.
Cooking a pot roast in your electric pressure cooker is a great time saver. You get a tender, flavorful pot roast in a little over an hour, versus the 3 to 4 hours it normally takes in the oven, or 8 hours in the crock pot. And it tastes just as good!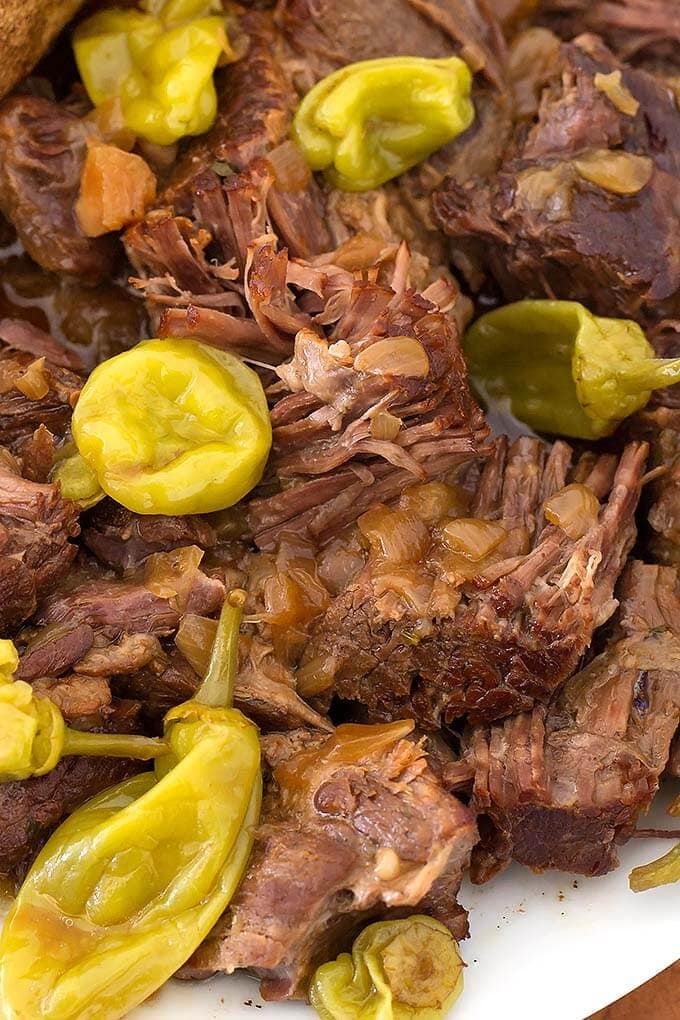 The key to the best flavor, in my opinion, is to brown it at least 5 minutes on each side before pressure cooking it. You don't have to, but it adds great flavor, and cuts down on the pressure cooking time. I put my own little spin on it, and added onion, which I think add so much more flavor to the recipe.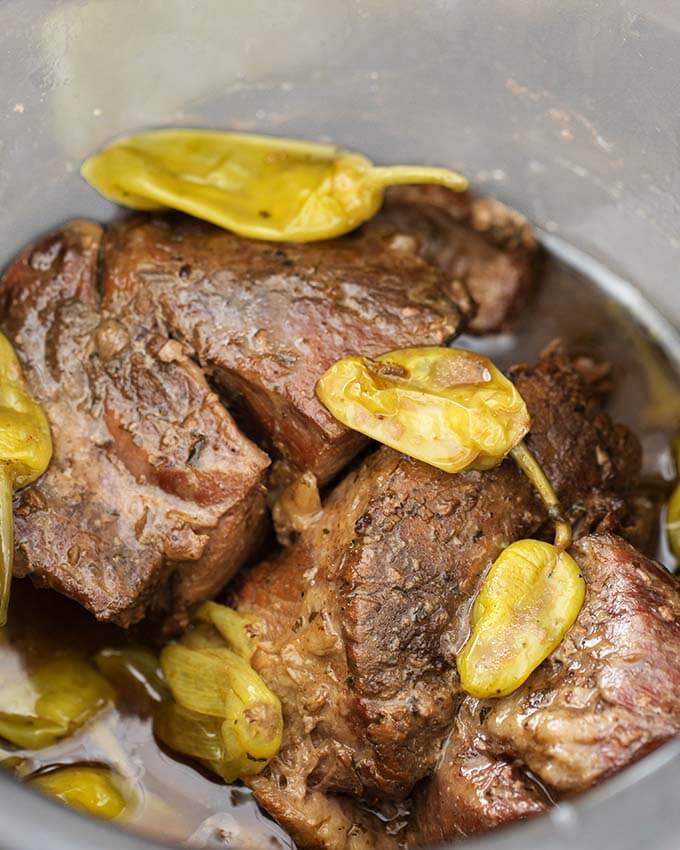 You can buy the pepperoncinis whole or sliced. I use whole ones so Paul can pick them out, lol! He just passes them over to my plate. They aren't hot, and add a salty and tangy flavor. Paul likes the flavor the juice adds, but not the whole pepperoncinis so much.
Robin Chapman, the original creator of the Mississippi Pot Roast, says that this is great in sandwiches, so that's what we are going to try next!


Instant Pot Mississippi Chicken
Instant Pot Simple Pot Roast
Instant Pot Beef Guinness Stew
Instant Pot Bone-In Ham
Instant Pot Creamy Mashed Potatoes
Pin This Recipe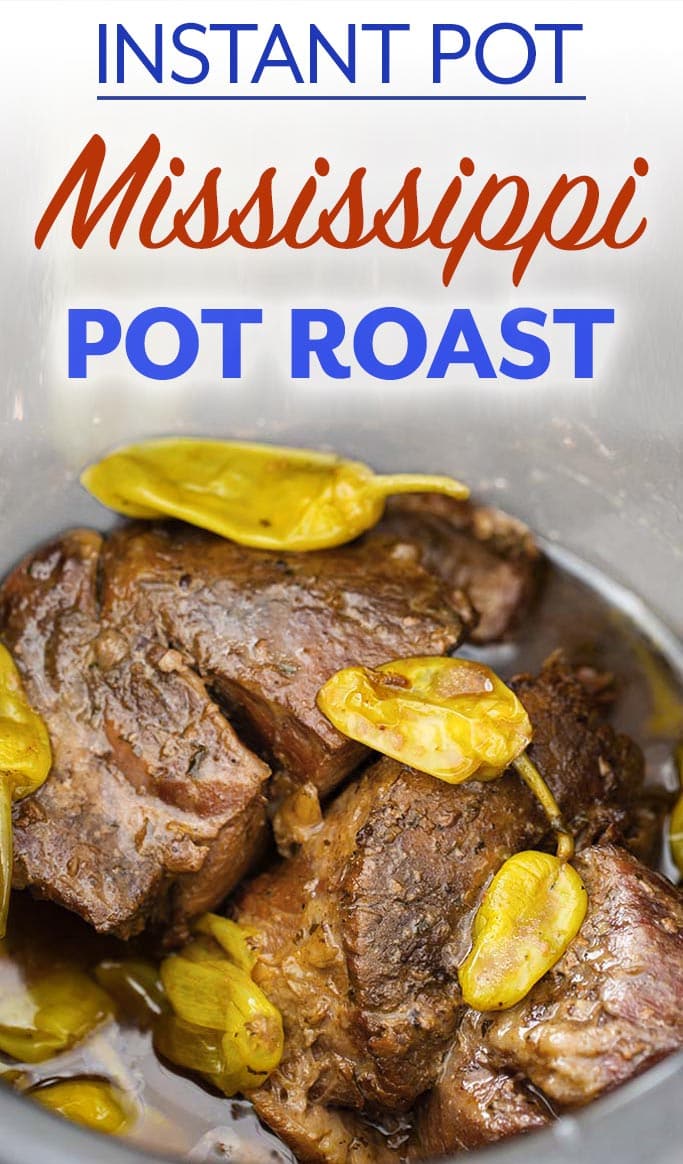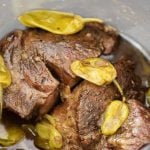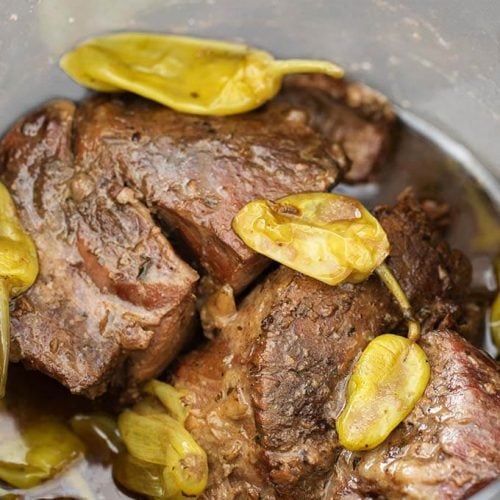 Instant Pot Mississippi Pot Roast
Instant Pot Mississippi Pot Roast with butter, ranch, au jus, pepperoncinis, and a nice chuck roast, this is an absolute classic pot roast. You can make it so much faster in your pressure cooker!
Keyword:
pressure cooker pot roast
Ingredients
3-6

lbs

Chuck Roast,

cut into 1 lb chunks of even thickness

3

Tbsp

Vegetable Oil

1

small

Onion,

chopped (optional, if you don't use the onion, omit the veg oil, too)

9

Pepperoncinis,

whole or chopped

1/2

cup

Pepperoncini Juice from the jar

3/4

cup

Low Sodium Beef Broth,

(or water)

1

(1 oz)

Packet of dry Ranch Dressing

1

(1 oz)

Packet of Au Jus

(or packet of brown gravy mix)

1/2 - 1

Stick of Butter,

unsalted
For Gravy
3

Tbsp

Flour

3

Tbsp

Softened Butter,

unsalted
Instructions
Turn pot on Sauté mode (normal). When the display reads "Hot" add the oil.

When oil heats up, place meat in one layer into the pot and don't move it for 5 full minutes (Don't brown for less than that).

Turn meat over and cook for another 5 full minutes.

Remove the meat to foil or a dish you can cover. Wrap it to keep it warm.

Deglaze the pot: Add onion to pot and stir, add a bit of the beef broth or a small amount of water if there is not enough moisture to loosen the brown bits from the bottom of the pot. Stir, scraping the bottom of the pot until the bottom is free of the stuck on brown bits.

Add the pepperoncinis and their juice, beef broth, au jus and ranch packets, and butter. Stir to combine.

Add the meat back into the pot.
The above step is optional. You can just add everything to the pot (except oil), and start pressure cooking it. Browning the meat first gives an added depth of flavor.
Close lid and set knob to Sealing position.

Set to Pressure Cook/Manual for 60 minutes. High Pressure.

When cooking cycle ends, let it sit undisturbed and count up to 15 min (15 minute natural pressure release, or NPR).

After the 15 minute NPR, turn off IP, and manually release the remaining pressure until the pin drops, and open the lid to a delicious pot roast!
Gravy
Remove the pot roast to a plate and cover.

Turn the Sauté function back on.

Mix the flour and butter together until well combined.

When the liquid is starting to simmer, add the mixture to the pot, stirring well until thickened. Then turn off the pot and add the roast back in.

Enjoy with mashed or baked potatoes, or over rice.
Recipe Notes
Alternate "Dump and Go" Method:
Add the roast to the pot (still cut it), then the rest of the ingredients in order (minus the flour and softened butter for gravy), and cook on High Pressure for 80 minutes. 15 minute natural release (If you have a roast that is over 4 lbs, and can't cut it, then increase the cook time to 90 minutes).
Adapted from original recipe by Robin Chapman.

Resources to make this recipe and more
We are a participant in the Amazon Services LLC Associates Program, an affiliate advertising program designed to provide a means for us to earn fees by linking to Amazon.com and affiliated sites.