Instant Pot Syracuse Salt Potatoes are a delicious vegetable side dish or appetizer. You can make this tasty potato recipe in under 30 minutes. Pressure cooker Syracuse Salt Potatoes are sure to become a family favorite side dish recipe!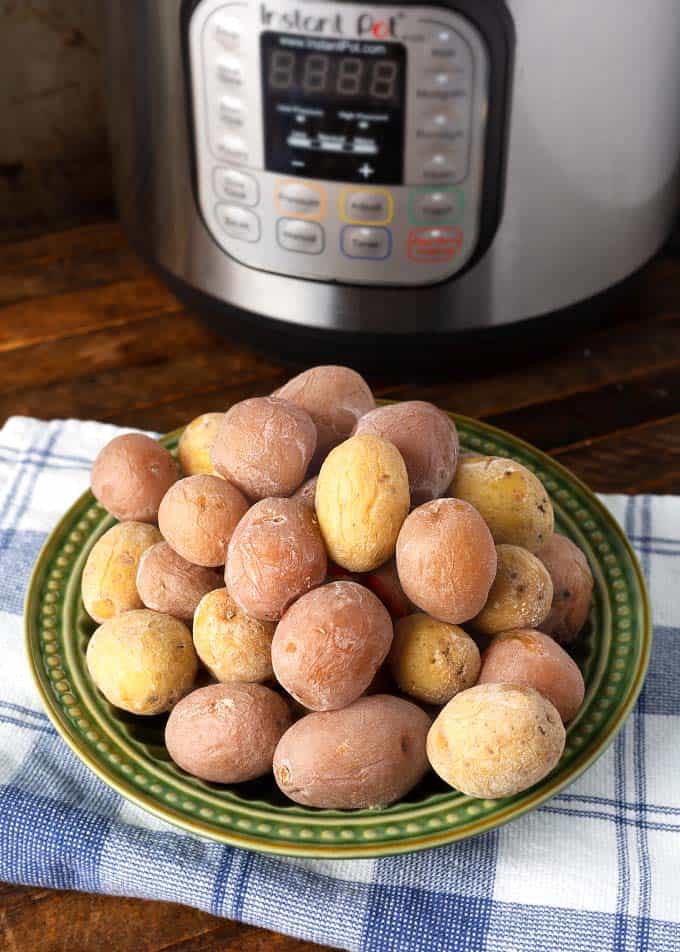 Instant Pot Syracuse Salt Potatoes
This classic Syracuse salt potatoes recipe is super easy to make and is a favorite of more than just New Yorkers!
So What Are Salt Potatoes?
Basically salt potatoes are whole, small new potatoes or baby potatoes that have been boiled in heavily salted water.
They are most often dipped in butter at the table. Their creamy texture is so enjoyable!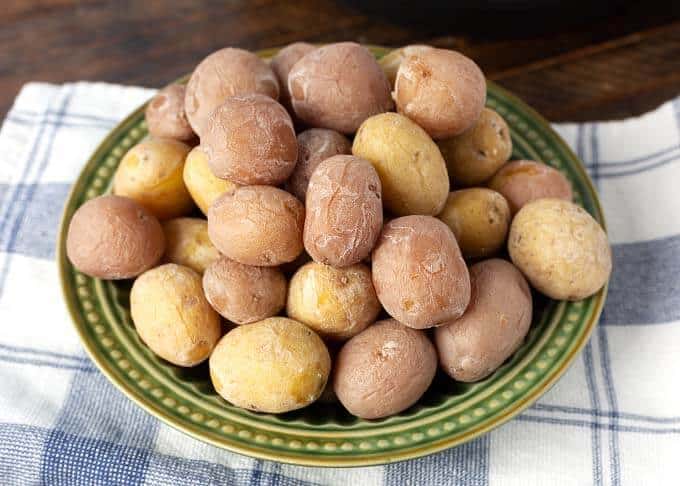 Where did Salt Potatoes Originate?
Salt potatoes originated in Syracuse, NY with the Irish salt Miners. In the 1800s, Irish salt miners would bring a bag of small, unpeeled, less than perfect potatoes to work each day.
At lunch time, they would boil the potatoes in the salt brine. It eventually caught on, and a local food staple was born!
Instant Pot Syracuse Salt Potatoes are very easy and quick to make. Here are the steps: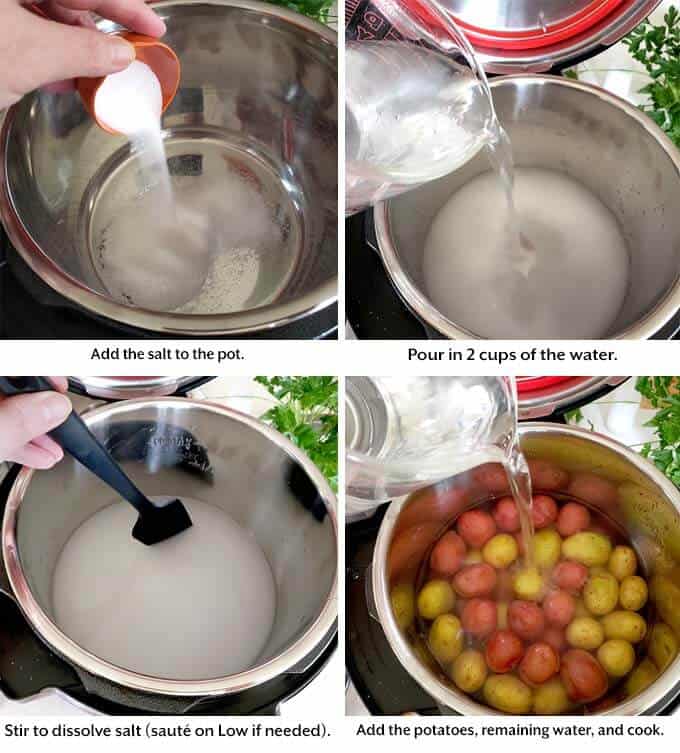 The cook time will vary a little based on the size of your potatoes. See recipe card for a guide.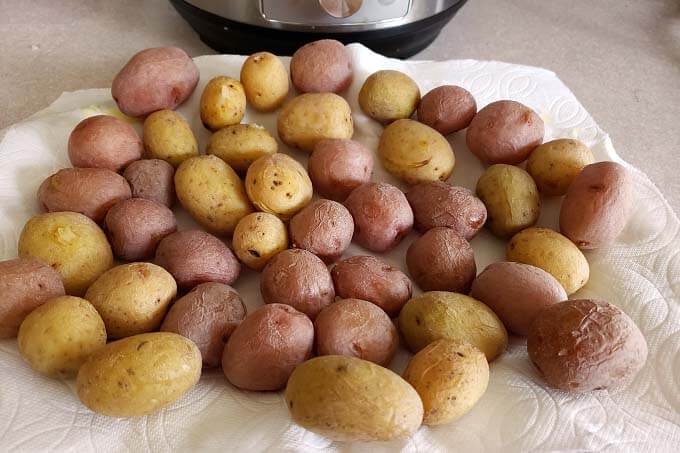 Briefly drain the potatoes on a paper towel after pressure cooking them. They will dry quickly.
You will notice a white dusty appearance that is the dried salt. That's exactly how they should look!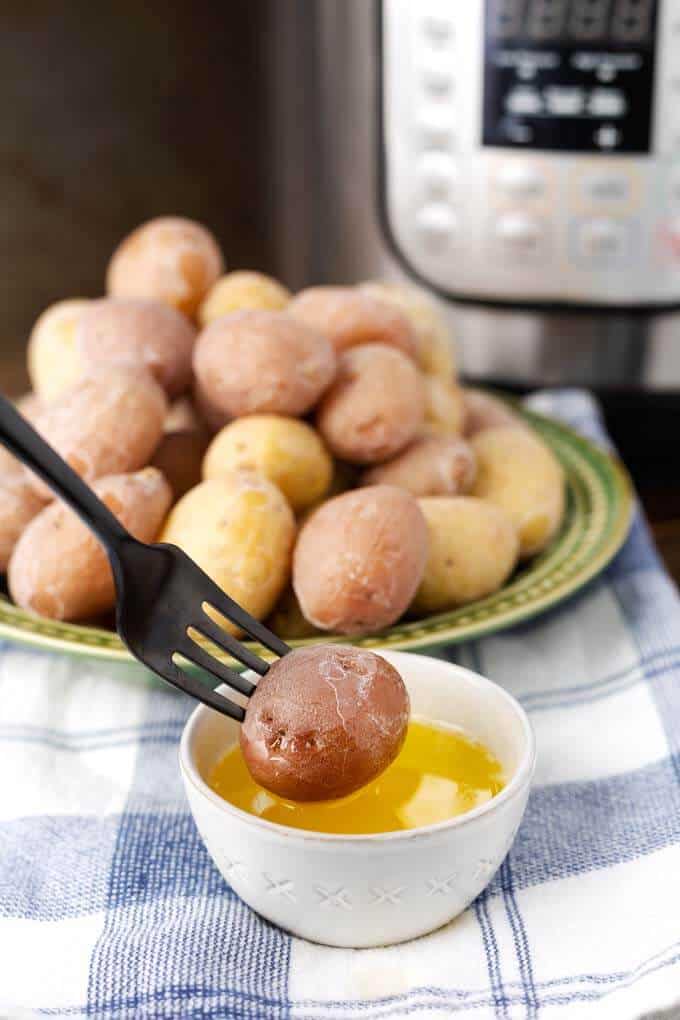 Serve the salt potatoes hot, with melted butter for dipping. Or you can pour the butter over them before serving, if you'd like.
These salt potatoes have a wonderful creamy texture and a delicious flavor!


Instant Pot Creamy Bacon Brussels Sprouts
Instant Pot French Onion Rice
Instant Pot Applesauce
Easy Instant Pot Potato Salad
Pin This Recipe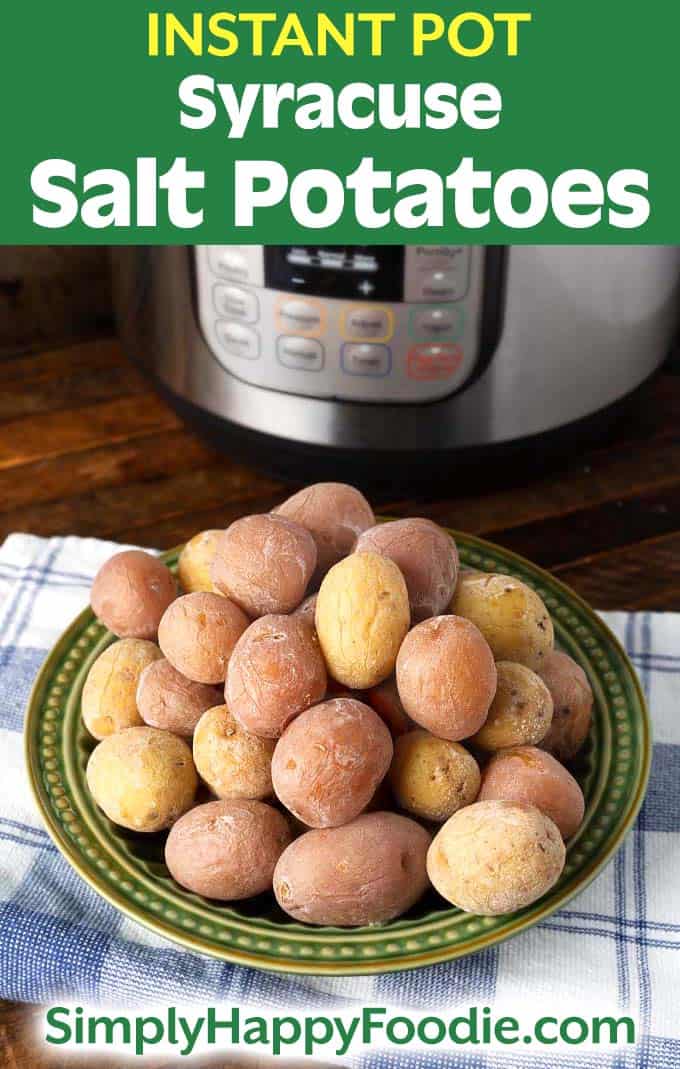 If you make this pressure cooker salt potatoes recipe, please leave a comment with a star rating below. I would like to know how you liked it!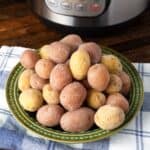 Instant Pot Syracuse Salt Potatoes
Instant Pot Syracuse Salt Potatoes
Keyword:
pressure cooker salt potatoes recipe
Ingredients
3/4

cup

Salt

(regular table salt)

7

cups

Water,

divided

2 1/2

lbs

Small New Potatoes (or Baby Potatoes)

whole, unpeeled

4

Tbsp

Melted Butter

(for dipping)
Instructions
Add the salt to the pressure cooker pot. Then add 2 cups of the water and stir to dissolve the salt.

Pour in the rest of the water.

Close the lid and set the steam release knob to Sealing position.

Press the Pressure Cooker/Manual button, then the +/- button to select 8 minutes for baby potatoes, 9 minutes for small new potatoes, if they are larger than baby potatoes. High Pressure.

When the cook time ends, immediately turn the steam release knob to the Venting position and do a Quick Release of the pressure.

When the pin in the lid drops down, open the lid and remove the potatoes to a paper lined plate to drain and dry.

Melt the butter and serve with the potatoes for dipping. Alternatively, you can pour the butter over the potatoes.
Recipe Notes
You can double the recipe:
5 lbs potatoes, 1 cup salt, 8 to 9 cups water (enough to cover the potatoes by 1-2 inches.
Cook time: 10 minutes, High Pressure, QR
RESOURCES TO MAKE pressure cooker Syracuse Salt Potatoes recipe and more
We are a participant in the Amazon Services LLC Associates Program, an affiliate advertising program designed to provide a means for us to earn fees by linking to Amazon.com and affiliated sites.