A delicious homestyle dinner, Instant Pot Meatloaf and Mashed Potatoes are cooked at the same time in your electric pressure cooker. This is a convenient meal to make, as it doesn't call for anything fancy. The flavors are traditional and comforting, and you can adjust it to make it your own. This pressure cooker meatloaf and mashed potatoes dinner is sure to become a favorite meal for your family!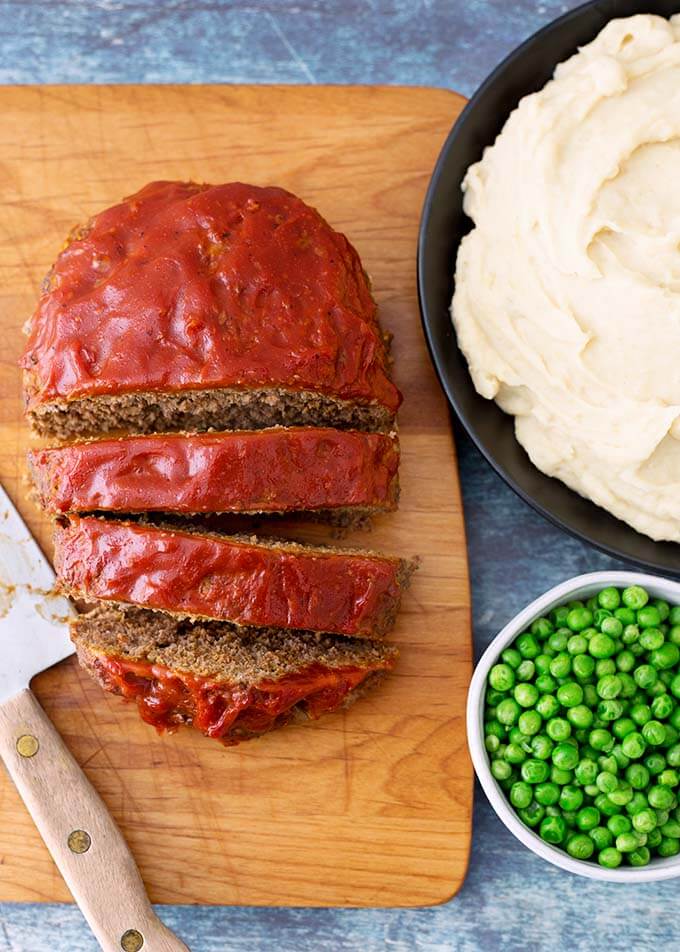 Instant Pot Meatloaf and Mashed Potatoes
A meatloaf isn't that difficult to make. Throw some stuff in with some ground beef and bake it. How about cooking some potatoes at the same time, and faster? How about being able to get it in the pot and walk away until it's done? Instant Pot Meatloaf and Mashed Potatoes is that kind of meal.
Most families have their own version of meatloaf that they make. There are thousands of variations out there. This Instant Pot Meatloaf recipe is pretty traditional, and tastes really good. A great place to start if you are learning to cook, or if [GASP!] you have never had meatloaf.
The typical sidekick to meatloaf is mashed potatoes. For this Instant Pot Meatloaf and Mashed Potatoes recipe, you can cook them at the same time, in the same pot! How great is that? I've broken down the steps for you so you can make this yummy dinner with ease.
Start with all of your ingredients gathered together, and your potatoes peeled and quartered. Then it's all about assembling.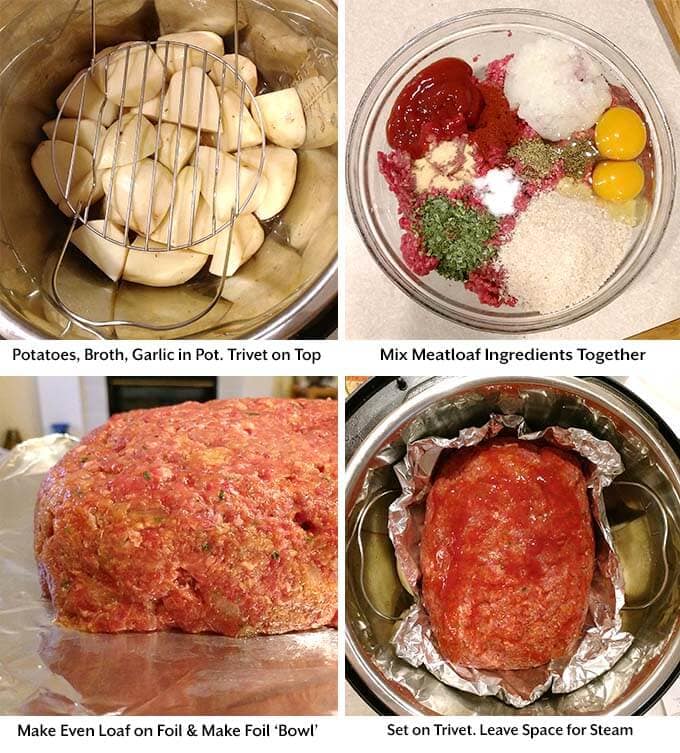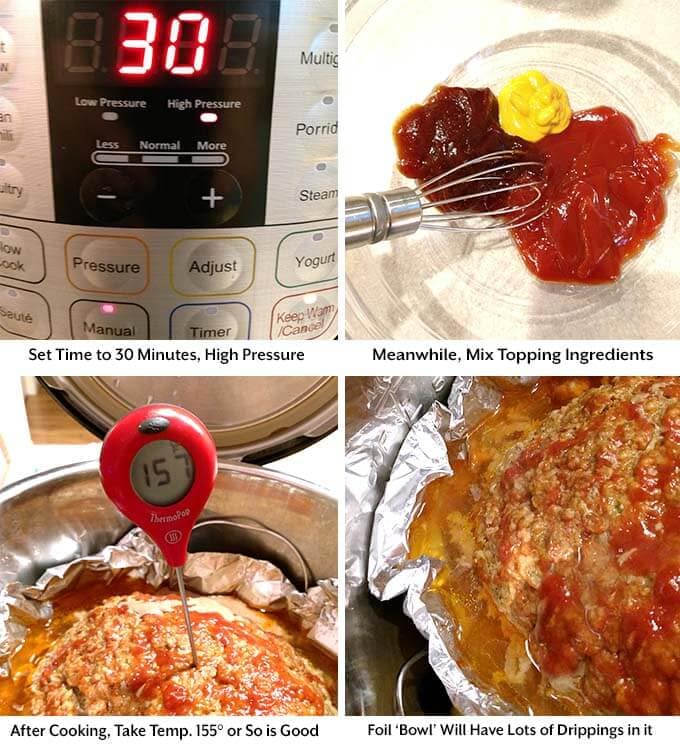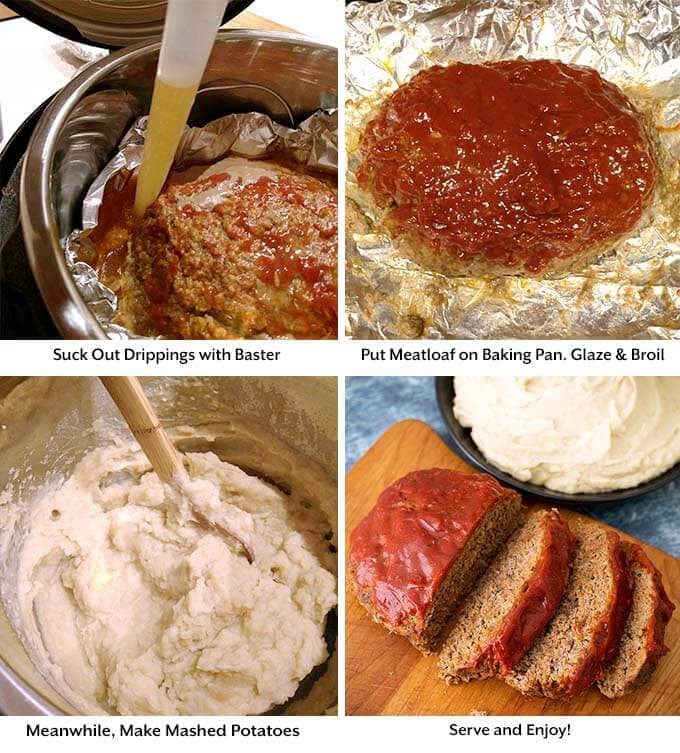 Not everyone likes to cook. If they did, we probably wouldn't have so many restaurants around! I truly believe that the Instant Pot® electric pressure cooker has reignited the cooking fire in many home cooks, and even in professionals! I know that it opened up a world of culinary possibilities for me, and I love sharing my recipes with you!
I really love hearing from you. Please leave me a comment below and let me know how you liked this recipe. If you have any questions, please ask! I try to answer all questions. Have a great day!


Instant Pot Turkey Breast Potato Dinner
Instant Pot Turkey Meatloaf
Instant Pot Sloppy Joes
Instant Pot Spaghetti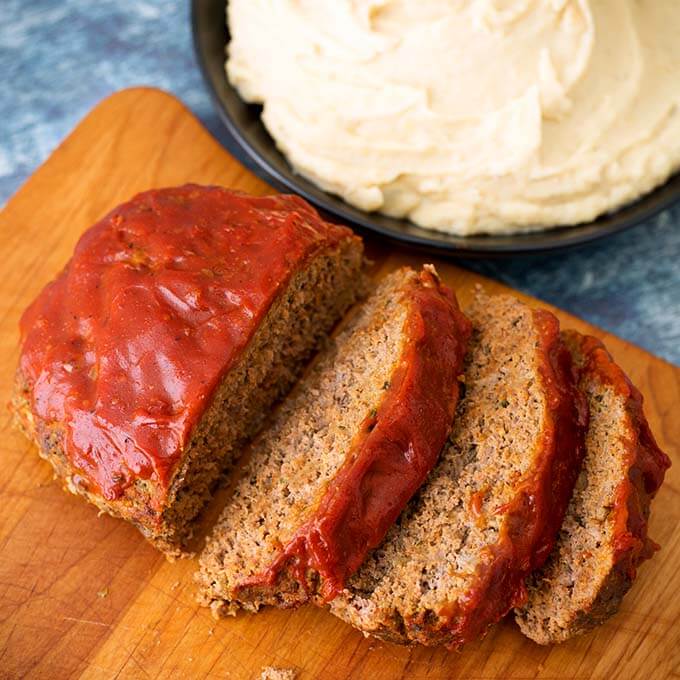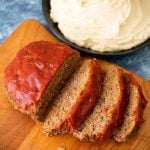 Instant Pot Meatloaf and Mashed Potatoes
Instant Pot Meatloaf and Mashed Potatoes are cooked together in one pot. A delicious and easy to make pressure cooker meatloaf and mashed potatoes dinner.
Course:
Dinner, Main Course
Keyword:
pressure cooker meatloaf
Ingredients
To Cook Potatoes
2 ½

lbs

Potatoes,

peeled and quartered

1 ½

cups

Chicken Broth

(or water, veggie broth, beef broth, etc.) If using 8 qt pot increase to 2 cups

2-3

cloves

Garlic

(optional, to make garlic mashed potatoes)
Meatloaf Mixture
2

lbs

Ground Beef

(I use 90% lean)

½

cup

Bread Crumbs

(I use panko or crushed crackers)

⅓

cup

Milk

2

Eggs

⅓

cup

Ketchup

(or bbq sauce)

½

cup

Onion

(finely chopped or grated on a cheese grater)

1 ½

tsp

Garlic Powder

1 ½

tsp

Smoked Paprika

(optional)

½

tsp

Oregano

¼

tsp

Thyme

2

Tbsp

Chives,

chopped (or parsley, dried or fresh)

1

tsp

Salt

½

tsp

Pepper
Meatloaf Topping
⅓

cup

Ketchup

⅓

cup

BBQ Sauce

1

Tbsp

Yellow Mustard

1

Tbsp

Brown Sugar

(optional, to add sweetness)
To Make the Mashed Potatoes
4

Tbsp

Butter

1

tsp

Salt

½

cup

Heavy Cream

(or half and half, milk, etc.) As much as you need to get desired creaminess.

½

cup

Sour Cream

(optional)
Tools You'll Need
6 qt or 8 qt Pressure Cooker

Trivet/Rack

Mixing Bowls

Aluminum Foil (heavy duty is best)

Meat Thermometer

Turkey Baster

Baking Sheet Pan
Instructions
Set up the Pot and Potatoes
Put the quartered potatoes in the bottom of the pot. Add the broth and garlic, if using. Set the trivet right on top of the potatoes.
Make the Meatloaf
Add all of the meatloaf ingredients to a large bowl and use your fingertips to lightly combine thoroughly.

Place mixture onto a piece of heavy duty foil and shape the meat into a loaf of even thickness. Try not to make it too a thick. If it's too thick you will need to cook it longer.

Fold the sides of the foil up to make a bowl shape (this will collect the drippings).

Lift the meatloaf in the foil bowl into the pot and set on the trivet. Make sure there is a little room around it for the steam to circulate.
Cook the Meatloaf
Place the lid on the pot and set the steam release knob to the Sealing position. Then press the Pressure Cook/Manual button, or dial and then the + or - button or dial to select 30 minutes.

While the meatloaf and potatoes are cooking, mix up the topping by adding the ketchup, BBQ sauce, mustard, and brown sugar, if using, in a bowl. Set aside.

When the cook cycle ends, turn off the pot and let it sit for 10 minutes (10 minute natural release). Then turn the steam release knob to the Venting position and do a Quick Release of the remaining steam.

When the pin in the lid drops down, open it and get a meat thermometer and take the temperature of the meatloaf. Beef should be 160°, turkey should be 165°.

If it isn't done, put the lid back on and set time for another 10 minutes and cook it longer (I have never had this happen, but people may put in different ingredients, or may be at a higher altitude, which will affect cooking time).

Get a turkey baster and a baking sheet pan.

Use the turkey baster to suction out most of the drippings so that when you lift the meatloaf out of the pot, hot drippings won't spill on you. Just put them in a coffee cup or a bowl.

Lift the foil with the meatloaf on it out of the pot and onto the baking sheet pan. Spread the topping on the meatloaf and put under the broiler at 425° until it's caramelized to your liking.
Make the Mashed Potatoes
While the meatloaf is broiling, add the butter and salt to the potatoes, still in the pot, and stir/mash.

Don't forget about your meatloaf under the broiler! Check on it so it doesn't burn.

Add as much heavy cream/milk as you wish, and sour cream, if using. Taste and adjust salt, if necessary.

After you remove the meatloaf from the oven, let it rest a minute while you get the meal served. Enjoy!

Resources to Make This Recipe and More
We are a participant in the Amazon Services LLC Associates Program, an affiliate advertising program designed to provide a means for us to earn fees by linking to Amazon.com and affiliated sites.