This is a traditional style Instant Pot Stuffing recipe. The popular Holiday side dish, also referred to as dressing (though we have always called it stuffing!) made in your electric pressure cooker will pleasantly surprise you.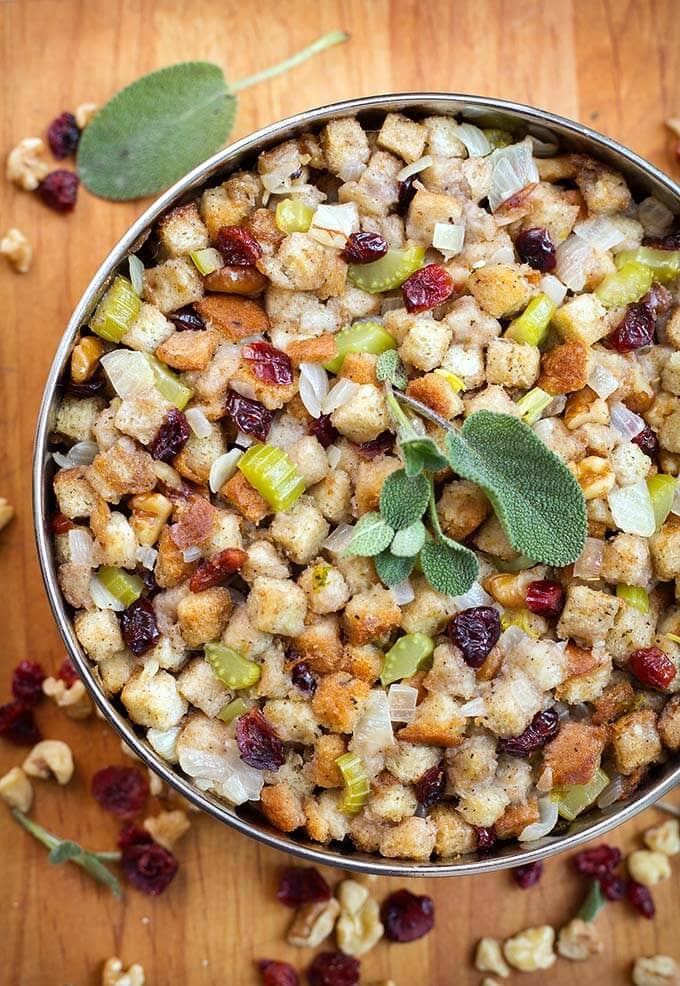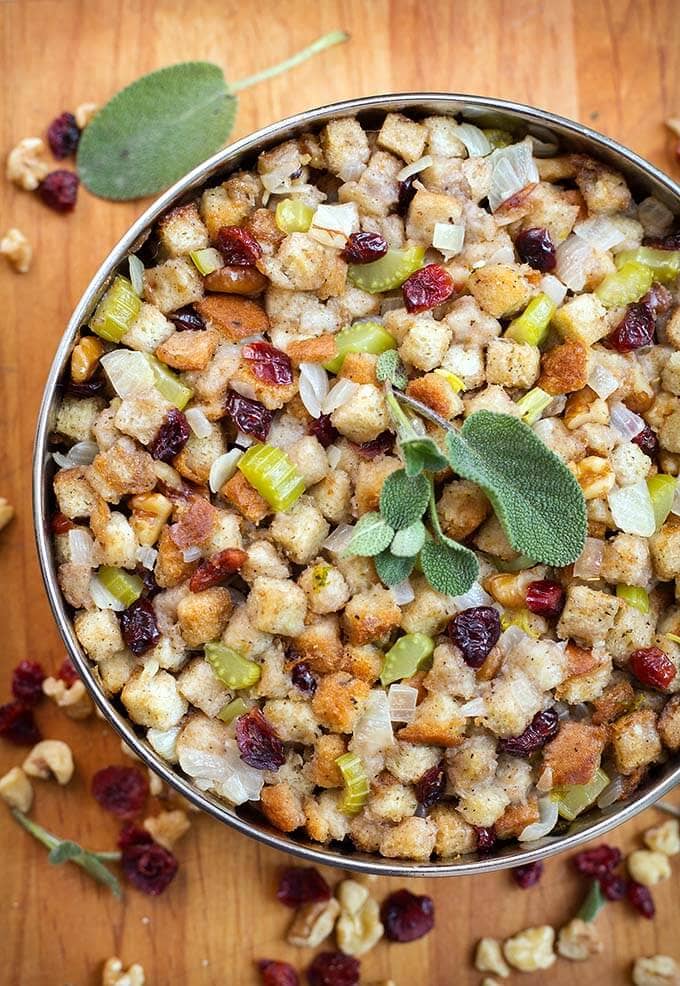 Instant Pot Stuffing
I am picky about my Thanksgiving Holiday stuffing. I like it moist, but not mushy, and I do not like a dry stuffing! I call those croutons! I found a method that gives me my stuffing wish list, and saves me space in the oven for the turkey! Making Instant Pot Stuffing is a great solution to the oven space thing, but it also makes for a stuffing that doesn't get dried out in the oven.
Some people like to get a crust on the top of their stuffing, and to do that you would just pop it under the broiler for a few minutes until you get the desired amount of crust. I'm not a crust girl. When my mom would stuff the turkey, I was the kid who dug way into the cavity to spoon out the wettest portion! Yummy! Don't worry, this recipe doesn't make it that wet, I restrained myself. It actually turns out to be a perfect consistency. I just add gravy after I dish mine up and I'm good.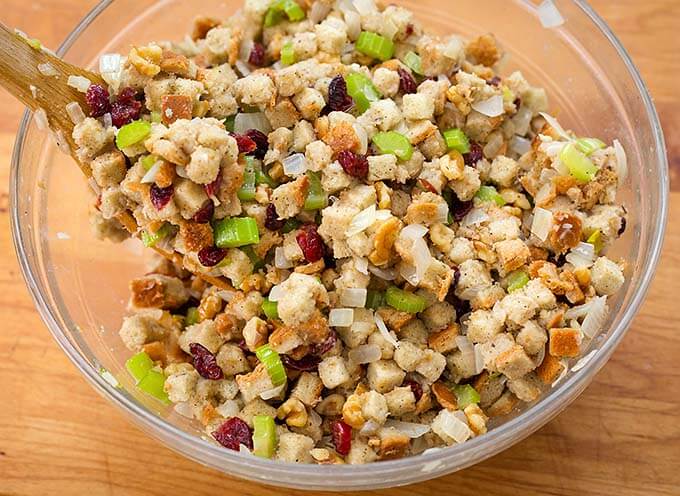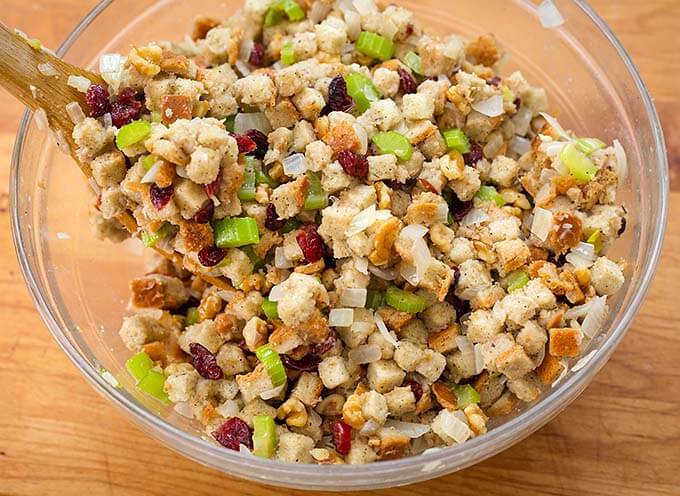 Toss the bread cubes with the optional add-ins (here I used dried unsweetened cranberries and walnuts) and the broth/veggie mixture.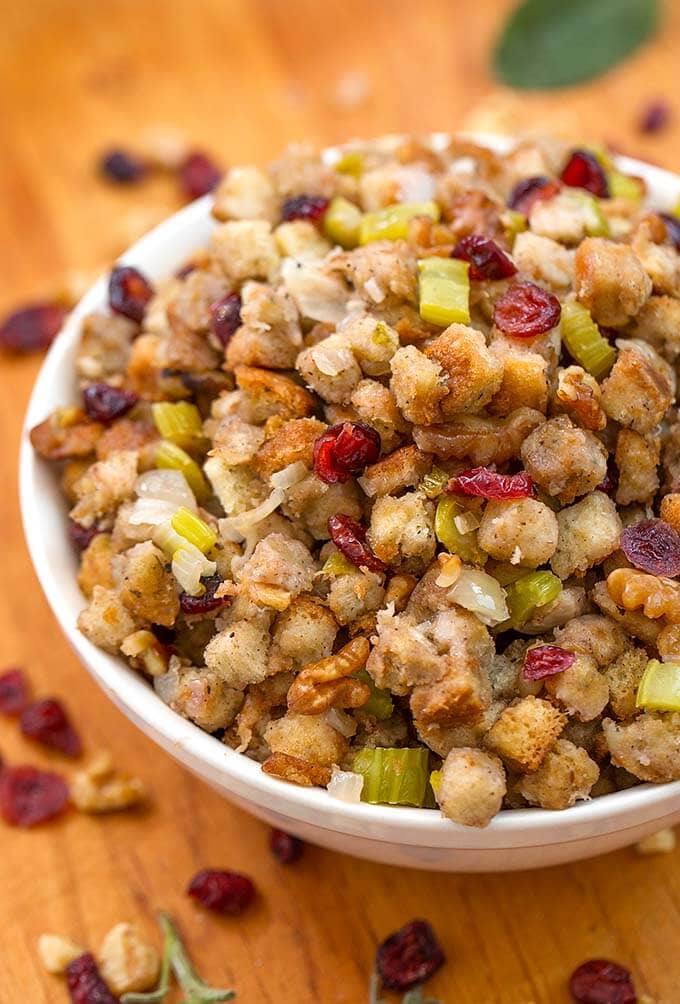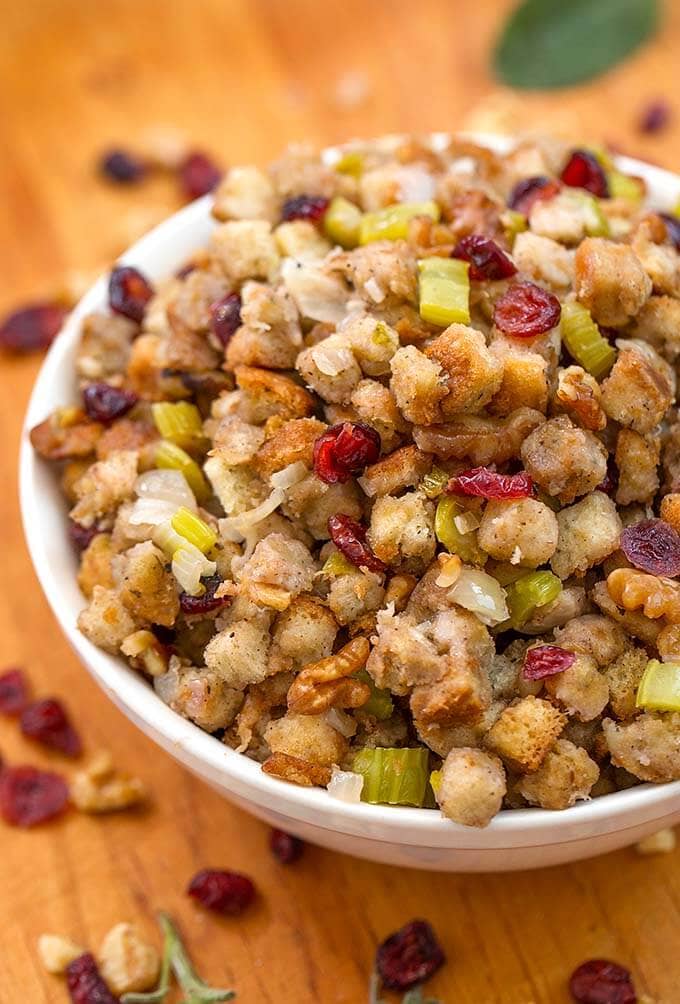 You Might Also Like These Holiday Favorites
Instant Pot Cornbread Stuffing
Instant Pot Cranberry Sauce
Instant Pot Turkey Breast
Instant Pot Pumpkin Cheesecake
Instant Pot Mashed Potatoes
Instant Pot Candied Yams
Instant Pot Bone-in Ham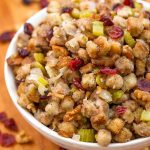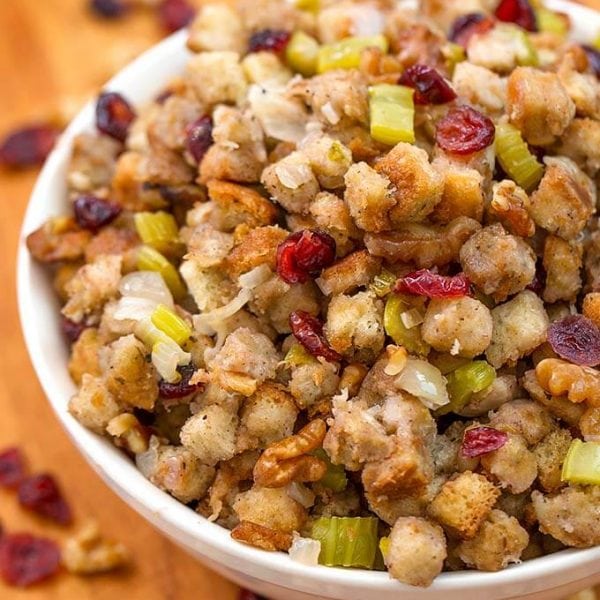 Instant Pot Stuffing
Instant Pot Stuffing is the perfect Holiday side dish. Make this stuffing in your electric pressure cooker.
Cuisine:
American, Holiday
Ingredients
12

oz

Dry Cubed Seasoned Stuffing*

(1 bag or box) I prefer Pepperidge Farm Herb Seasoned

1/2

cup

Butter

1

med

Sweet Onion,

diced

1

cup

Celery,

diced

1

tsp

Rubbed Sage

1/2

tsp

Kosher Salt

(or1/4 tsp table salt)

1/4

tsp

Pepper

2

Cloves of Garlic,

pressed or finely minced

1 1/2

cups

Turkey Broth

(use 2 cups for a more moist result)

1 1/2

cups

Water,

for the pressure cooker
Optional (any or a combination of these)
1/2

cup

Dried Cranberries,

unsweetened

1/2

cup

Walnuts,

roughly chopped

1/2

cup

Apple,

diced

1/2

cup

Mushrooms,

chopped
Instructions
Pour stuffing cubes into a large mixing bowl. Mix in any of the optional ingredients you choose to use (pictured is cranberries and walnuts). Set aside.

(This step can also be done on the stove, using a skillet. I prefer one pot) Set Instant Pot to Sauté function (Less/Low heat).

Add butter, onion, and celery. Cook, stirring frequently, until vegetables soften.

Add sage, salt, pepper, and garlic. Cook until fragrant, stirring constantly (about 30 seconds).

Add broth and stir. Let mixture just come to a simmer, then Cancel the sauté mode.

Using pot holders, remove the inner liner with the broth mixture from the Instant Pot and pour the mixture carefully over the stuffing cubes.

Toss together the stuffing cubes and broth mixture until well combined.

Rinse out the inner liner, dry it, and set it back in the IP. Add 1 1/2 cups of water to the pot.

Gently pat the stuffing into the pan. Don't pack it in there too tightly. Spray a piece of foil and cover the pan tightly, crimping the edges.

Set the pan on a trivet/rack with handles and put them into the pot.

Close the lid and lock into position. Set the Steam Release Knob to the Sealing position (not on the Ultra).

Press the Manual (or Pressure Cook) button or dial setting. Then use the + or - to choose 20 minutes (use the dial on the Ultra).

After the cook cycle ends, let the pot sit and naturally release pressure for 5 minutes. Then manually release the remaining pressure, either by turning the Steam Release Knob to Venting, or on the Ultra, press the button.

When all of the pressure is out of the pot and the pin in the lid drops, open the lid and use pot holders to very carefully lift the rack and pan out of the pot.

Set on a cooling rack and keep covered until you are ready to serve. Or, turn on your broiler to 375 degrees (F) and set the pan under it for a few minutes to brown the top.
Recipe Notes
*If you use unseasoned bread cubes, increase sage to 2 tsp, and double the salt. You might also like 1/2 tsp of Poultry Seasoning.
Resources to Make This Recipe
We are a participant in the Amazon Services LLC Associates Program, an affiliate advertising program designed to provide a means for us to earn fees by linking to Amazon.com and affiliated sites.Simply Happy Foodie is a participant in the Amazon Services LLC Associates Program, an affiliate advertising program. I may earn a small commission if you purchase via these links with no extra cost to you. Thank you for your support!
I completely adore these pans! I use them all the time for my Pot in Pot cooking. I waited to buy them, and when I finally did, the quality blew me away! I HIGHLY recommend them.
ekovana Stackable Stainless Steel Steamer Insert Pans – Fits 5, 6, 8 Quart Instant Pot Pressure Cooker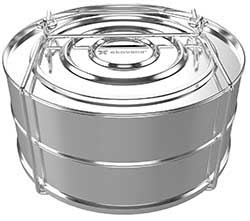 Here is the 7″ Fat Daddio's pan I use.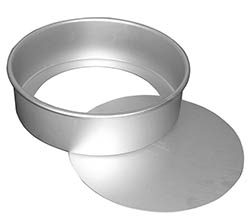 This Nordic Ware 6 cup Bundt Pan is great for so many things. Yes, you can make a cake in your Instant Pot, but you can also cook stuffing, meatloaf, and more!
Nordic Ware 6 cup Bundt Pan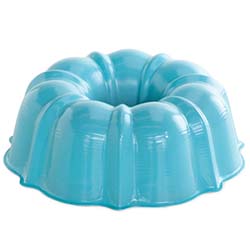 Awesome Spring Chef Stainless Measuring Spoons That Fit in Your Spice Jars!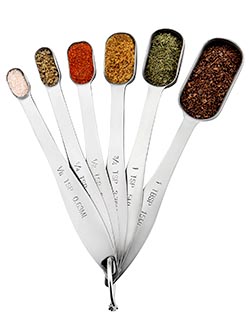 My New Favorite Instant Pot:
Instant Pot Ultra 6 Qt 10-in-1 Multi-Use Programmable Pressure Cooker