Instant Pot Jambalaya is a Cajun-Creole recipe with a mix of sausage, chicken, and shrimp, with rice and lots of Cajun spice! Pressure cooker jambalaya is delicious and filling. Nothing else tastes like this!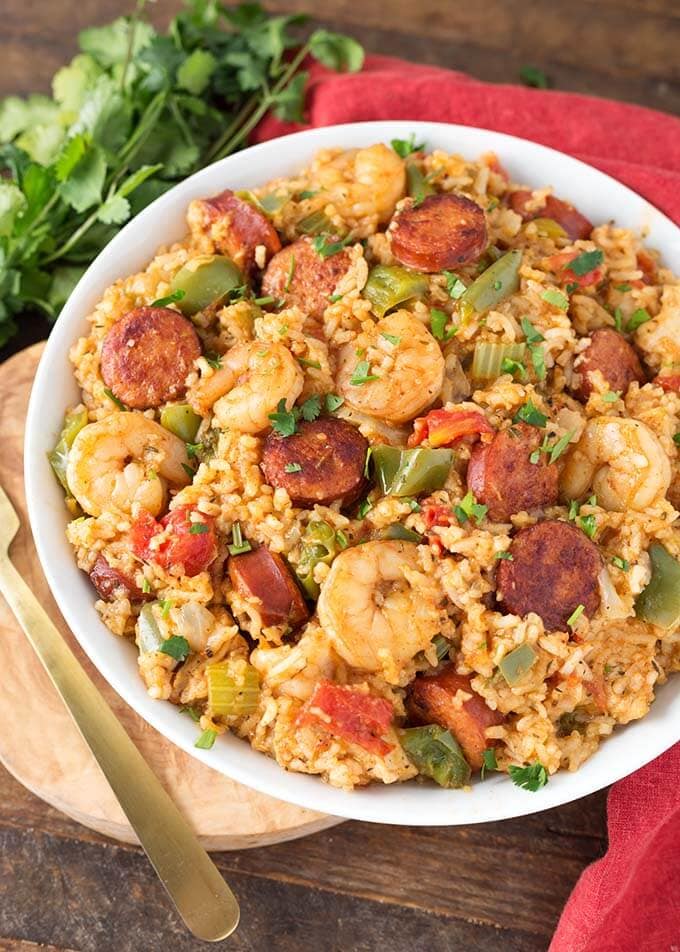 Instant Pot Jambalaya
I have always loved Cajun spice and flavor. When we were in New Orleans it was a wonderful tour of all things Creole and Cajun. We ate so much! I highly recommend going there if you get the chance.
Jambalaya is a rice dish that has meat and spices in it, along with the Holy Trinity (onion, bell pepper, celery). There are two distinctive versions of jambalaya; Creole and Cajun, as with many Louisiana recipes.
Creole jambalaya is a reddish color, which it gets from tomatoes. Creole jambayala almost always has shrimp in it.
Cajun jambalaya never has tomatoes and is more of a brown color. Cajun jambalaya always has smoked sausage or tasso in it.
My preference for a delicious and hearty jambalaya is to blur the lines between Creole and Cajun. I like the tomatoes, shrimp, and smoked sausage. I also add chicken because it tastes so good in this recipe.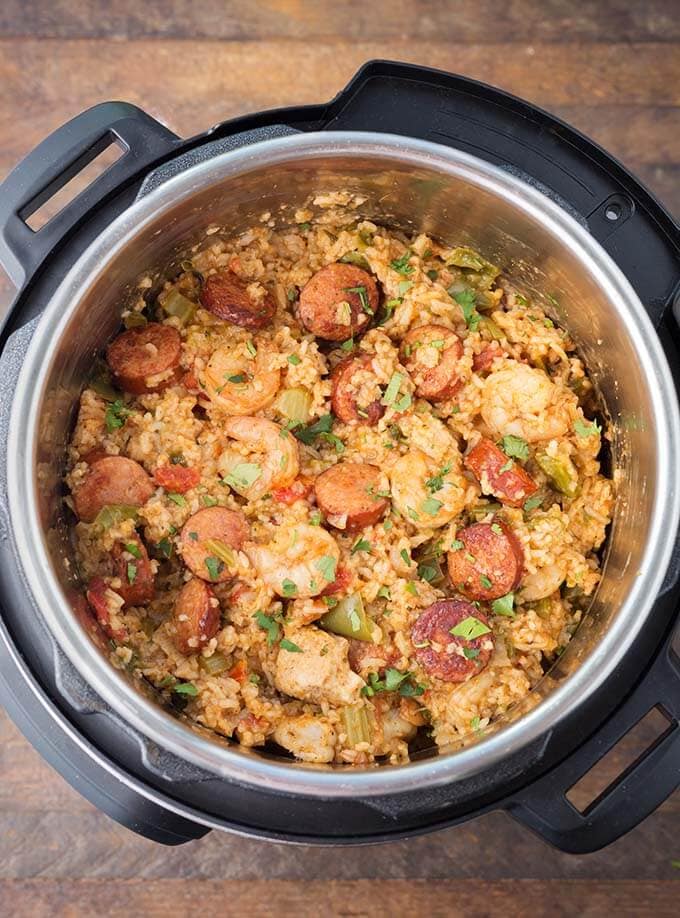 This is not a difficult recipe to make, but it is a bit labor intensive. And totally worth it! Just turn on some music while you are chopping and prepping the ingredients (the hardest part).
Once the cooking starts, you will just flow right through the process, as long as all of your ingredients are prepped and ready to go beforehand.
Cajun Spice Blend
Many of the premade spice blends out there are very salty. My homemade Cajun Spice Blend recipe is delicious and lower in salt than any of the commercial blends I have tried. You can totally omit the salt if you want to have a salt-free version.


Homemade Cajun Spice Blend
Instant Pot Cajun Pasta
Instant Pot Creamy Cajun Pasta with Sausage
Instant Pot Collard Greens
Instant Pot Black-Eyed Peas
Pin This Recipe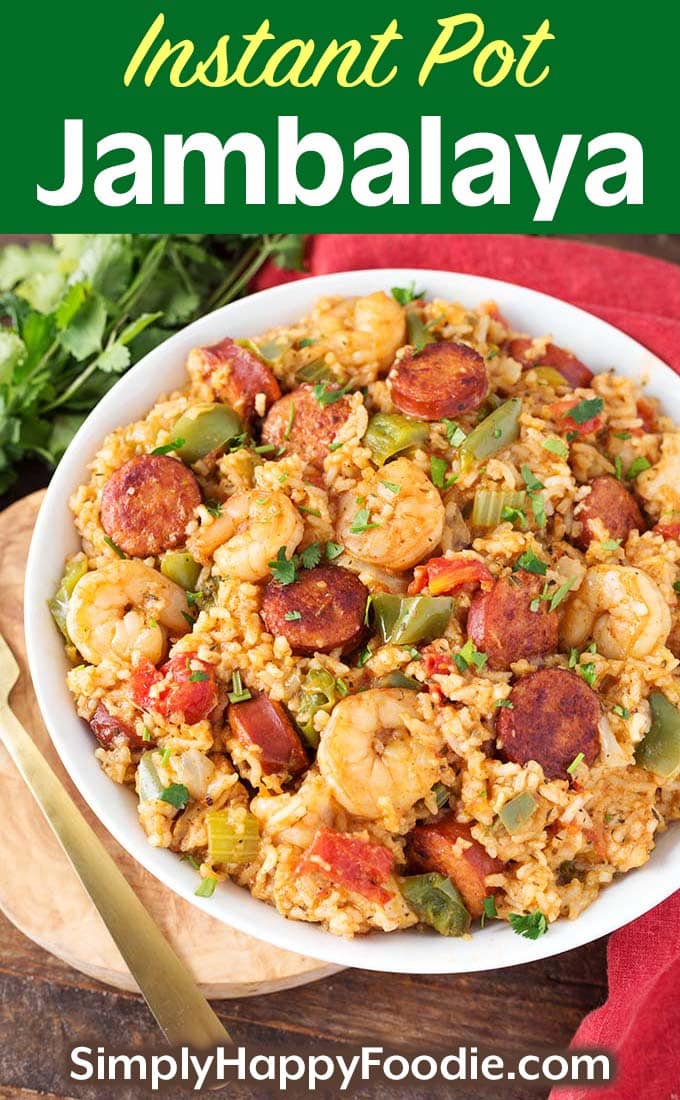 Inspired by Tom Fitzmorris's New Orleans Food.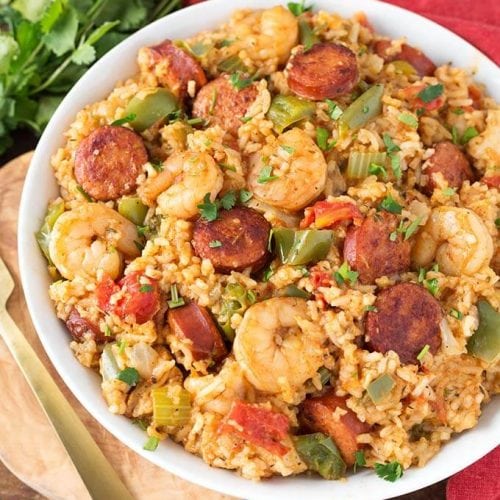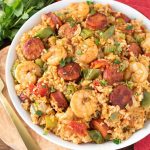 Instant Pot Jambalaya
Instant Pot Jambalaya is a Cajun Creole mix of sausage, chicken, and shrimp, with rice and lots of spices! Pressure cooker jambalaya is delicious and filling. Nothing else tastes like this!
Keyword:
pressure cooker jambalaya recipe
Ingredients
1

lb

Shrimp (41-50 count)

peeled & deveined

1 ½

Tbsp

Cajun Seasoning,

divided (or use Creole)

3

Tbsp

Olive Oil,

divided

1

lb

Chicken Breast,

cubed (or use thighs)

1

lb

Andouille Sausage,

cut in ½" rounds

1

lg

Onion,

chopped

2

ribs

Celery,

chopped

1

Bay Leaf

4

lg cloves

Garlic,

pressed or finely minced

1

lg

Jalapeño,

deseeded and diced

1

Green Bell Pepper,

seeded and chopped

½

tsp

Kosher Salt

½

tsp

Marjoram,

dried

1

tsp

Thyme Leaves, dried

(not ground thyme)

2

cups

Chicken Broth,

low sodium

1

Tbsp

Worcestershire Sauce

1 ½

cup

Long Grain White Rice,

rinsed

1

(14.25 oz) can

Diced Tomatoes,

with juice
Instructions
Before you begin cooking, have all of your ingredients prepped. Veggies cut, meats cut, rice rinsed, spices measured, and have it all right there with your pot.

Sprinkle the shrimp with 2 tsp of the Cajun seasoning. Toss to coat and set aside.

Turn on the pot's Sauté setting. When it is hot, add 2 Tablespoons of the olive oil.

Add the Sausage pieces and let brown on one side. Then flip them over and brown on the other side. Remove them to a paper towel lined plate.

Add the shrimp to the pot and cook them, stirring frequently, until they are halfway cooked. Remove them to a paper towel lined plate.

Add the chicken and cook for a couple of minutes, just long enough to get a little color on all sides, but not fully cooked. Remove to a paper towel lined plate.

Add the remaining Tablespoon of olive oil and the onions, celery, and bay leaf. Cook, stirring occasionally, until the veggies soften a little. Add a little more olive oil if needed.

Add the garlic, jalapeño, and green pepper. Cook, stirring constantly for about 30 seconds.

Add the salt, marjoram, thyme, and the remaining Cajun seasoning. Stir well.

Add the chicken broth and Worcestershire sauce. Stir.

Add the rice in an even layer on top, but don't stir it in.

Pour the diced tomatoes on top of the rice evenly. don't stir.

Add the chicken back into the pot in an even layer. Just press it down gently into the liquid. It doesn't have to be completely submerged.

Turn off the Sauté setting.

Close the lid and set the steam release knob to the Sealing position.


Press the Pressure Cook/Manual button or dial, then the +/- button or dial to select 6 minutes. High Pressure. The pot will take several minutes to come to pressure.

When the cook cycle has finished, turn off the pot and let it sit undisturbed for 4 minutes (4 minute natural release). Then turn the steam release knob to the Venting position to release the remaining steam/pressure.

When the pin in the lid drops back down, open the lid.

Add the shrimp and the sausage. Gently stir in and put the lid back on, but don't close the steam valve, leave it on venting. Let it sit for 5 minutes to finish cooking the shrimp.

Open the lid and give it a stir. taste the rice and adjust salt and/or seasoning as desired.

Serve with parsley on top, and some hot sauce, if desired.

RESOURCES TO MAKE this recipe and more
We are a participant in the Amazon Services LLC Associates Program, an affiliate advertising program designed to provide a means for us to earn fees by linking to Amazon.com and affiliated sites.