Instant Pot Dulce de Leche Caramel is a delicious, sweet a versatile dessert that is a dip, topping, filling, or a coffee stir-in. You can make this pressure cooker dulce de leche much faster than on the stovetop or crock pot, without having to watch it.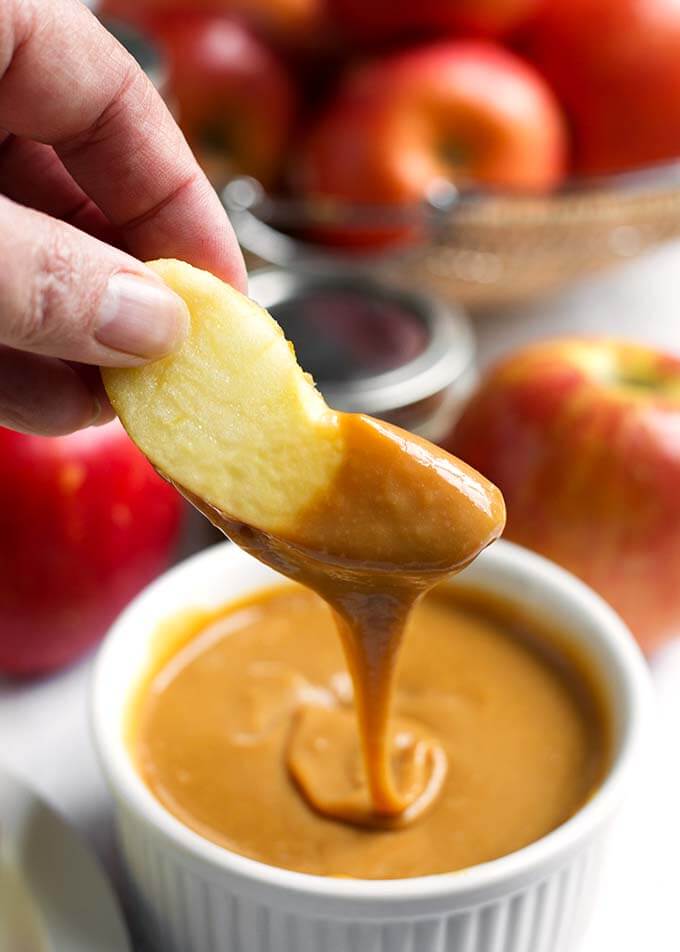 Dulce de Leche makes a fantastic dip for fruit, especially apples. Like a caramel apple!
Originally published on Jun 13, 2018
Instant Pot Dulce de Leche Caramel
My favorite sweet flavor is caramel. I love it on ice cream, as a candy, as a cake filling, in a latte, and to dip my apples in! The buttery rich flavor is just irresistible to me! Caramel apples are my favorite!
What is Dulce de Leche?
Dulce de leche is Spanish for "sweet [made] of milk".
Dulce de Leche ( I pronounce it 'dulsay de lechay') is sweetened condensed milk that has been heated slowly, and then changes into a caramel-like substance due to the Maillard reaction.
Dulce de Leche becomes darker the longer you cook it, and the flavor deepens. My personal preference is not too dark, but you may like it darker.
What Does Dulce de Leche Taste Like?
Instant Pot Dulce de Leche tastes a lot like like Caramel, but is a little different than regular caramel. The flavor is not exactly the same. It's hard for me to explain. It is creamier, and doesn't get as hard and chewy as regular caramel. It's pretty close though, and it tastes really good!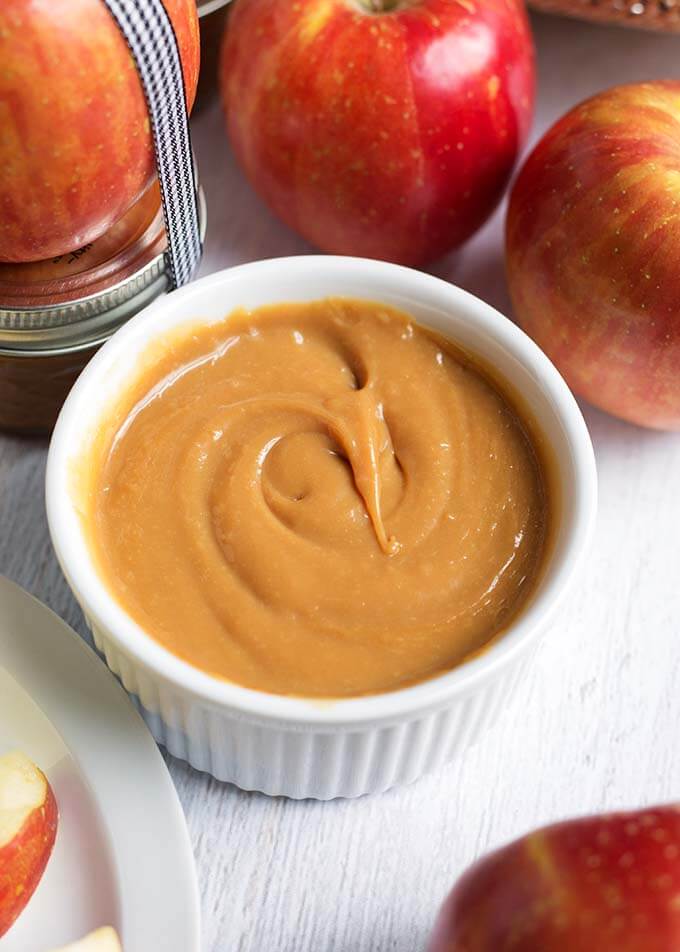 Here are the easy steps to make Instant Pot Dulce de Leche Caramel: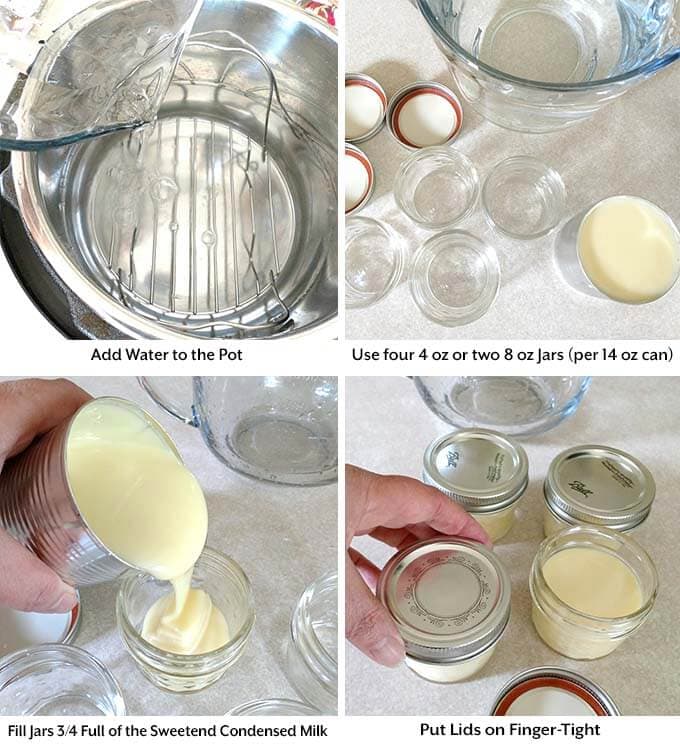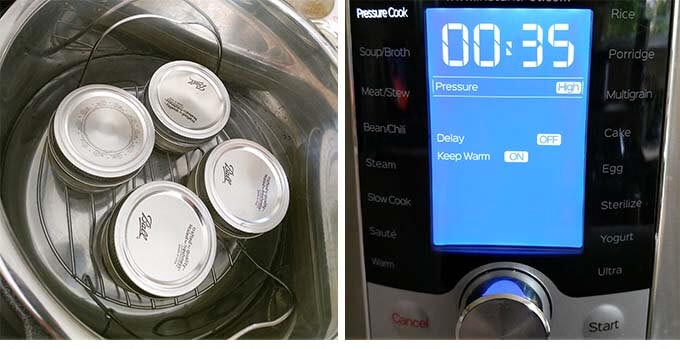 Set the jars on the trivet. Pour water in to ½ inch from the top of the lid. Then pressure cook for 35 minutes (25 minutes for lighter, 40 for darker).
Instant Pot Dulce de Leche Caramel is much easier and faster than other methods. In a slow cooker it takes a day of cooking and hours of cooling!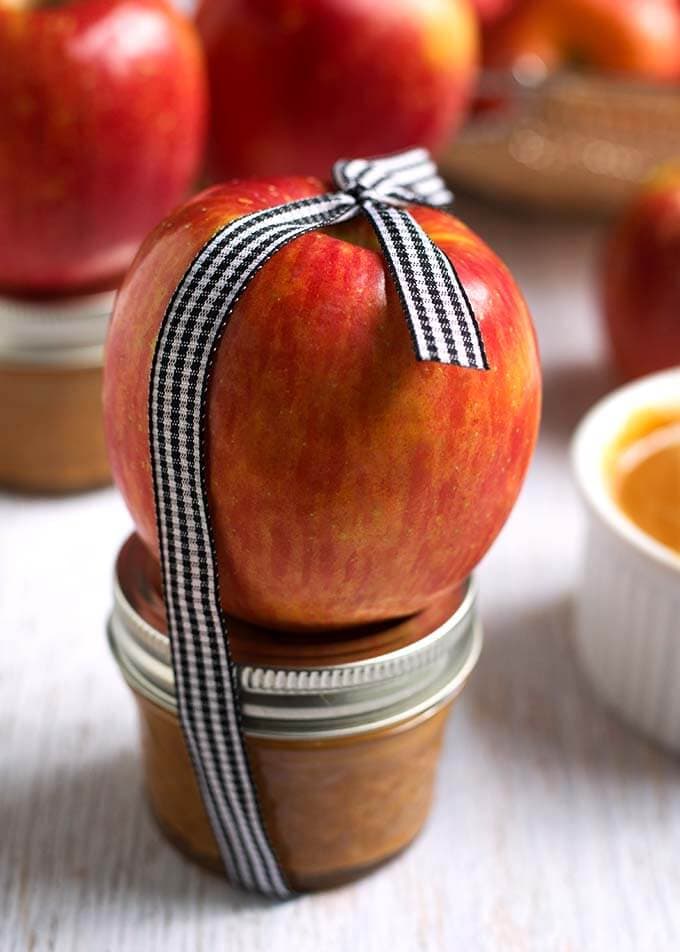 Since you make the pressure cooker Dulce de Leche Caramel directly in the jars (use canning jars), you can get four 4 oz or two 8 oz jars from a 14 oz can of sweetened condensed milk. If you use the 4 oz jars, you will have individual servings! Stick an apple on top and add a cute ribbon and you have the sweetest little gift (pun intended)!
Can I Make Dulce de Leche Directly In the Can?
Yes! Many people do in fact. The method is basically the same as in jars, but you let it cool longer before moving the cans. See recipe card Notes for instructions.
You Might Also Like
Instant Pot Lemon Curd
Instant Pot Banana Bread
Instant Pot New York Cheesecake
Instant Pot Rice Pudding
If you make this yummy pressure cooker Dulce de Leche, please let me know! Just leave a comment with a star rating below. I'd like to know how you liked it!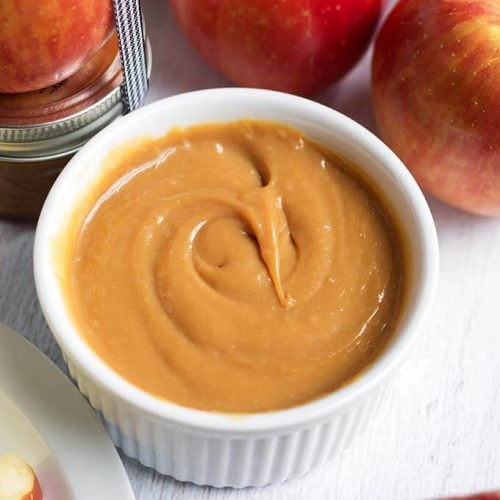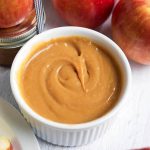 Instant Pot Dulce de Leche Caramel
Instant Pot Dulce de Leche Caramel is a delicious, easy to make, caramel like confection that makes a sweet dip for apples, a cheesecake topping, a cake filling, or coffee stir-in!
Cuisine:
Mexican, Spanish
Keyword:
pressure cooker dulce de leche
Ingredients
1

14-ounce can

Sweetened Condensed Milk (SCM)*

5

cups

Water

(for the pressure cooker)
Optional
½

teaspoon

Vanilla

(Stir in after caramel cools)
Instructions
Put the trivet in the inner stainless pot of the pressure cooker.

Pour 5 cups of water into the pot. If you are using a larger or smaller pressure cooker, you will need to increase or decrease the amount of water. You will want the water to come up most of the way, to just under the metal ring of the lid on the jars.

Open the can of sweetened condensed milk (SCM) using a can opener. Pour the SCM into the jars, dividing equally.

Put the lids on the jars, and twist to close just "finger tight." You don't want to tighten the lids too much at this point in the process.

Put the jars in the pot, setting them on the trivet/rack, not touching each other or the pot. Make sure the water level comes to just below the lid rings.

Close the lid and seal the vent. Press the Pressure Cook/Manual button or dial, and then the +/- button or dial to select 35 minutes (25 minutes for a lighter result. 40-45 minutes for a darker result), and make sure it is set to High Pressure.

After cooking time has ended, turn off the pot so it doesn't switch to the warm setting. Unplug it if necessary.

Let the pot do a full Natural Release, and do not disturb the jars until they (and the water) have cooled completely. This helps reduce the possibility of any jars breaking. It can happen, as it might in actual canning.

After the water and jars have cooled completely, remove from the pot to a towel to dry the jar.

Open one up and sample the goodness! If the texture is not as creamy as you'd like, just stir it with a fork really well or whisk it. Whisk in the vanilla if using.

Keep in the fridge for up to 2 weeks, if it lasts that long! These make a cute gift, packaged with an apple for dipping! Spread over a cheesecake, add a dollop to a cup of coffee, or serve on ice cream! Or, eat it right out of the jar with a spoon!
Recipe Notes
You can make Dulce de Leche directly in the can if you like.
Remove the label(s) from the cans of sweetened condensed milk and open tops.
Cover the tops tightly with foil and place cans on trivet in instant pot.
(You can also use unopened cans, but let them cool in the pot completely before moving them!)
Fill inner pot with warm water until it comes half way up the cans.
Seal lid and pressure cook for 40 minutes followed by a quick release.
Carefully pour hot caramel into heat safe bowl (I use tongs and a spatula) 
Whisk in ½ tsp of pure vanilla extract per can (optional).
Pour the Dulce de Leche into small 4-ounce jars while warm and refrigerate. Once cooled and set, you can bag them with an apple for gifting.
*If you make it directly in the cans you can make more, using multiple cans.
Store in the refrigerator in airtight container for up to 2 weeks.
RESOURCES TO MAKE Instant Pot Dulce de Leche
This post contains Affiliate links. As an Amazon Associate I earn from qualifying purchases.