Instant Pot Elderberry Syrup is a wonderful, earthy and sweet syrup. It is believed to be a great antioxidant, and a natural remedy for warding off colds and the flu! Pressure cooker Elderberry Syrup has ingredients to enhance the flavor, and they also have potential health benefits. It tastes great!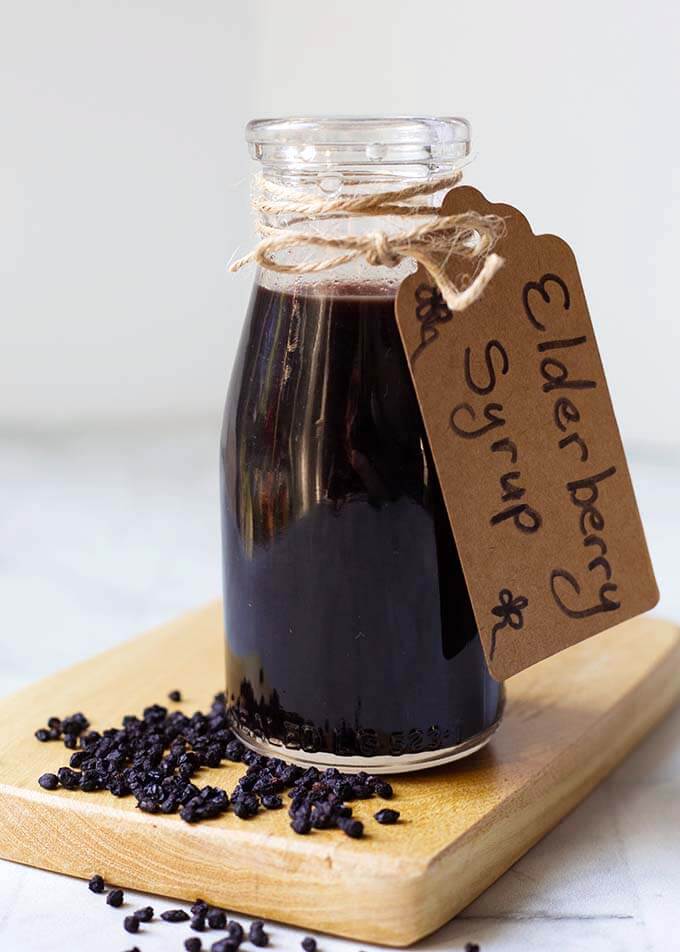 Recipe Updated 1/2019
Instant Pot Elderberry Syrup
With cold and flu season upon us, I like to have something on hand to take daily that I feel will boost my immunity and help fight off sickness. That's one of the reasons I make Instant Pot Elderberry Syrup.
Truthfully, I have no proof that it works, but I'm pretty healthy, and it tastes great. So I make it and take it!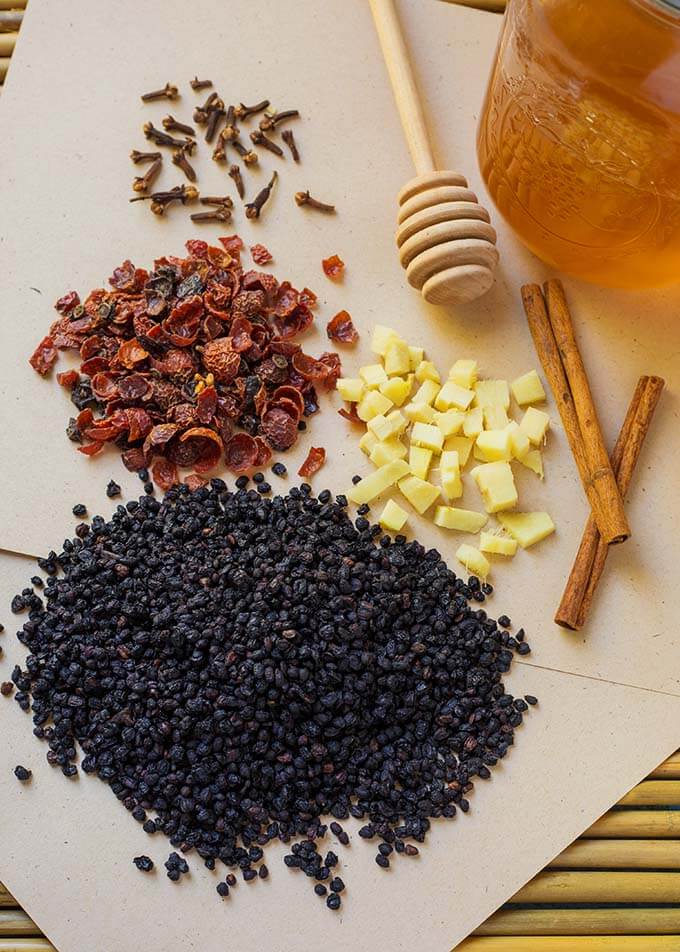 Some of the ingredients you can add to your Instant Pot Elderberry Syrup: Cloves, Rose Hips, Ginger, Raw Honey, and Cinnamon (also lemon, which I forgot to put in the photo!).
You can use this Pressure Cooker Elderberry Syrup for many other things
• Splashed in a glass of Soda Water
• In a Cocktail (Elderberry Martini?)
• On Pancakes
• Over Ice Cream
• In Yogurt
• In Oatmeal
• Salad Dressing
• Added to Smoothies
• In Tea
• By the Spoonful
I use it for several of the things I mentioned above. It's delicious, so why not?! For maintenance, I take 1-2 Tbsp. a day. If I feel a cold or flu coming on, I take it 3-4 times a day.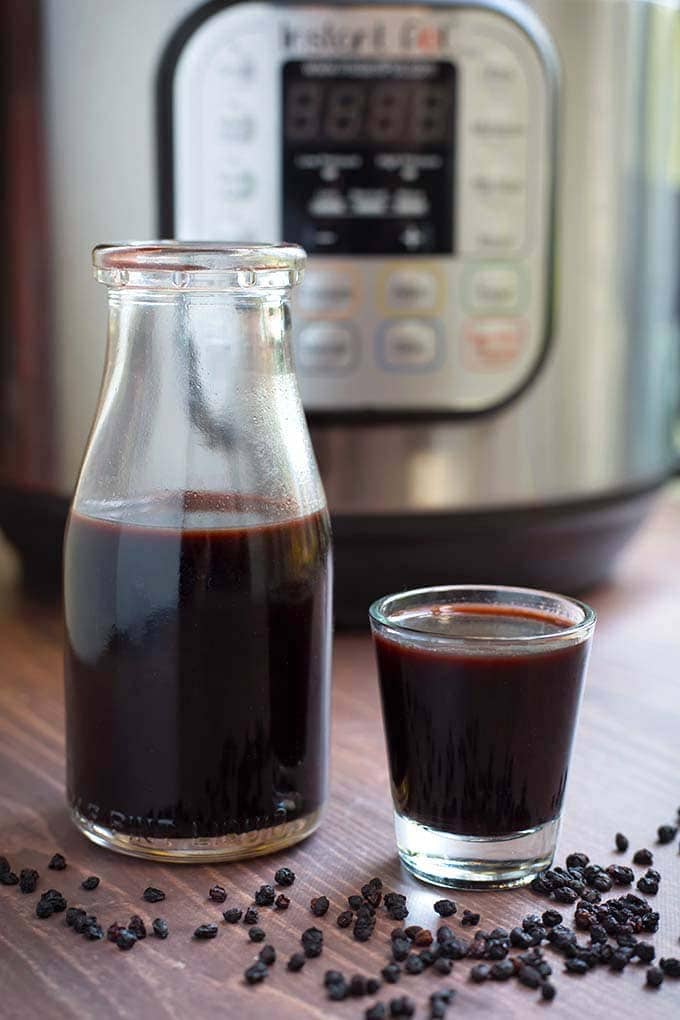 In no way is this post meant to be any type of medical advice or to replace your doctor's advice! I'm not a medical professional, and can't be held responsible for your results/choices/actions. I urge you to do your own research into the possible health benefits/side effects of this Instant Pot Elderberry Syrup recipe before making or using.
You can also make Elderberry Syrup Gummies!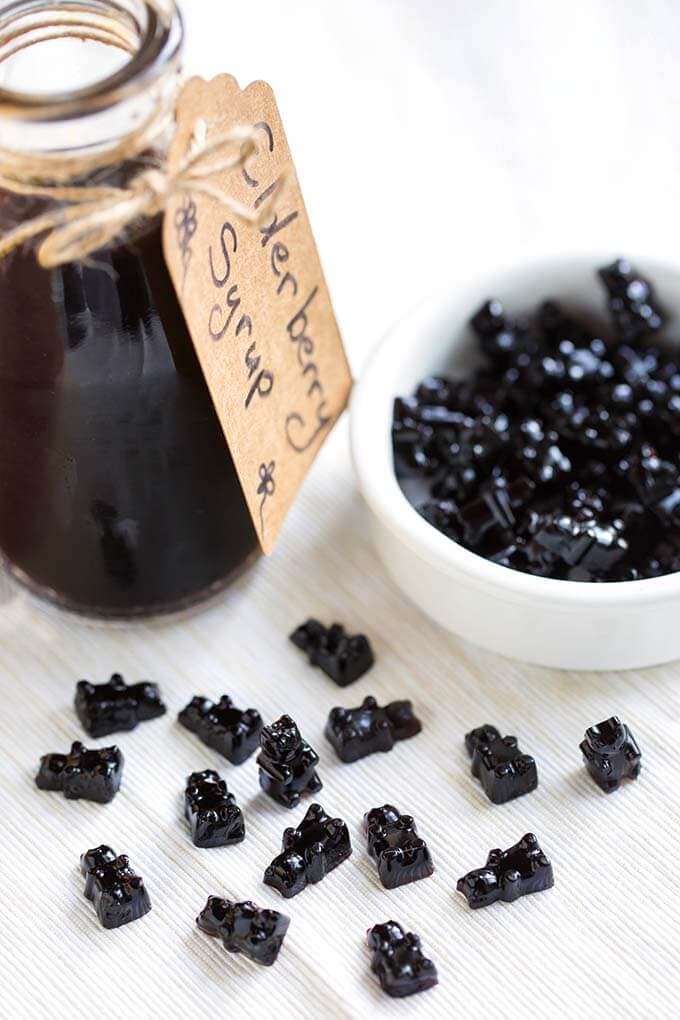 Here's the link to the Elderberry Syrup Gummies recipe: Elderberry Syrup Gummies
I have read many articles about the uses of Elderberry Syrup. I have my own opinion that it works, for me and my family.
There is a wealth of information out there on the subject, so doing your own research is a good idea to see if taking Instant Pot Elderberry Syrup is right for you and your family.


Instant Pot Chicken Noodle Soup
Elderberry Syrup Gummies
Peach Simple Syrup
Blueberry Compote
If you make this homemade elderberry syrup recipe, please leave a comment with a star rating below. I would like to know how you liked it.
Pin This Recipe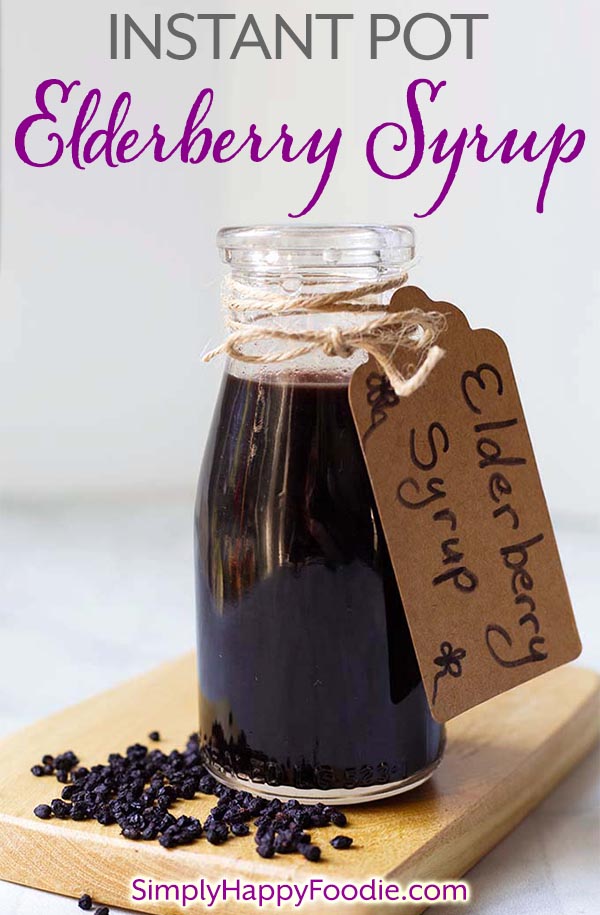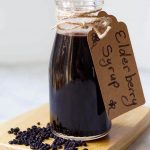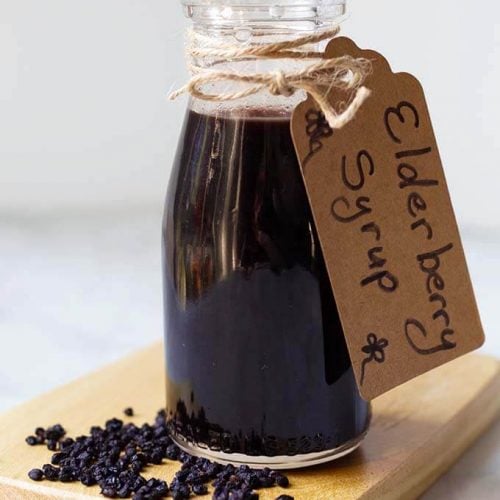 Instant Pot Elderberry Syrup
Instant Pot Elderberry Syrup is a wonderful antioxidant, immunity booster, and is believed to be a great natural remedy for warding off the flu! Pressure cooker Elderberry Syrup has ingredients to enhance the flavor, and they also have potential health benefits. It tastes great!

Keyword:
elderberry syrup in the pressure cooker
Ingredients
1

cup

Elderberries,

dried organic or non irradiated

4

cups

Filtered Water

2

inch knob

Ginger,

chopped, fresh

Peel of 1 Lemon

(try not to get any of the white pith)

2

Cinnamon Sticks,

organic
Optional Ingredients (add with the elderberries)
8-12

Cloves,

whole

2

Tbsp

Rose Hips,

dried
Add After Pressure Cooking and Cooling
3/4 - 1

cup

Raw Honey

Juice of 1 Lemon
Instructions
Add all ingredients except the honey and lemon juice to the inner liner of the pressure cooker.

Place lid on and set the steam release knob to the Sealing position.

Press the Pressure Cook (or Manual) button or dial and then the +/- button or dial and select 15 minutes. When the cook cycle finishes, turn off the pot so it doesn't go to the Warming setting. Let it fully Naturally Release the pressure.

Open the lid and take out the inner pot and strain the liquid into a glass bowl to cool.

Optional Step: Turn on the Sauté setting to the LOW temperature. Let the syrup simmer and reduce for 5 to 15 minutes, stirring occasionally, until desired thickness is achieved (I personally do not reduce mine).

When cool, about room temp, add the honey and whisk until fully incorporated (if you add the honey to hot syrup, it will kill off the good properties of the raw honey).

Add the juice of 1 lemon and whisk. Taste and add more honey if you like it sweeter, or more lemon if you like it tart.

Transfer the elderberry syrup to a bottle or mason jar with a lid and refrigerate for up to 2 months.
Stovetop Instructions
Add elderberries, water, ginger, lemon peel, cinnamon, (and cloves and rose hips, if using), to a medium saucepan and bring to a low boil. Reduce heat to a low simmer for 45 minutes to 1 hour.

Mash the berries while still in the pan, then strain through a fine mesh strainer or cheesecloth.

Let the mixture cool, then whisk in the honey until dissolved.

Add the lemon juice, if using, and stir.
Recipe Notes
I updated this recipe in January, 2019 to add the lemon juice after cooking and cooling the elderberry syrup. I think it tastes much better, you can control how much you add, and the vitamin C doesn't get cooked off.
*As I'm not a medical professional, and am not intending to give any kind of medical advice, please check with your doctor before using and check for any drug interactions, etc. Do some research, and use at your own risk.
RESOURCES TO MAKE pressure cooker Elderberry Syrup recipe and more
We are a participant in the Amazon Services LLC Associates Program, an affiliate advertising program designed to provide a means for us to earn fees by linking to Amazon.com and affiliated sites.