This Blueberry Compote recipe is a delicious concentrate of blueberry goodness that you can use in many ways. I like to put this blueberry sauce on pancakes, and yogurt.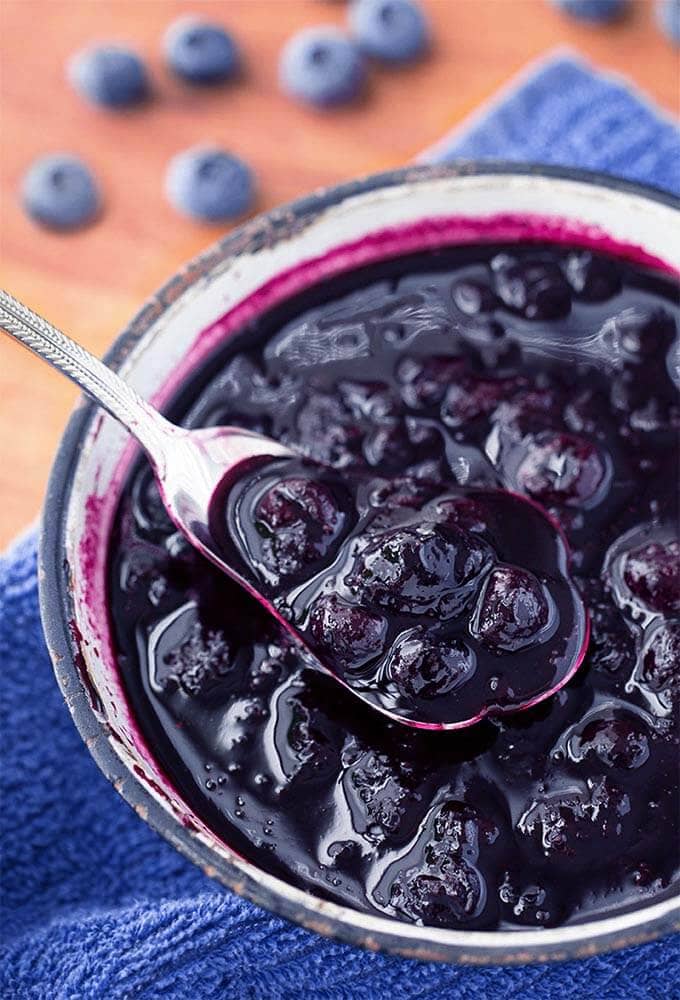 Blueberry Compote
Blueberries hold a special place in my heart. Maybe the most special place...
Nana. My idol. My safe and soft place to land. I was the oldest of her granddaughters, and the feistiest. Mom would let grandpa come and get me from our place and stay with them. It was a haven for me. Nana could do anything, and her superpower was her ability to love and care for a little girl. She entertained me, read to me, and smiled at me.
She showed me things, like bees and worms in her garden, and how tossing the used coffee grounds in the dirt brought the worms up. She let me watch her play Solitaire (which I still like playing). She showed me how to dry the silverware, how to blow into a raspberry to get the bugs out before I ate it, and how to pick cherries from the trees.
She had fresh local milk delivered to the back porch. She tatted lace, quilted, crocheted, styled hair, played the organ, and even rolled her own cigarettes! Nana survived breast cancer way back in the 50's! It's hard to choose a favorite thing about Nana, but looking back I'd definitely say it was her cooking.
Not only was everything she made wonderful and fresh, everything she made was crafted with her whole heart. I could taste her love in every bite. I didn't know it then, but I could even taste her history. She was a walking story. We all are, aren't we?
She made us kids special two layered birthday cakes on our special day. She decorated them with pastel pink, yellow, and blue zig zag patterns on the sides. Nana made chili that was spicy and rich (Grandpa later altered her recipe to his liking, which nobody could eat because it was too HOT!).
She made amazing tuna fish sandwiches, fried bologna sandwiches, jello salads (gotta love the classics!), soups, bread, casseroles, and so much more. All of her cooking made a deep impression on me. Along with everything else she did. My mom was a cook by trade, but Nana is why I cook.
So what's the deal with me and blueberries? Obviously they are connected to Nana (and Grandpa). Back in the late fifties or so, Grandpa went to a blueberry farm that was closing it's doors. He brought home 4 or 5 bushes.
Every summer, shortly after school let out, we would pile in mom's old rat trap of a car and head over to Nana & Grandpa's to visit and pick blueberries. Those bushes were loaded with gigantic, plump, juicy blueberries. We would get buckets of them!
We made lots of pies, and of course, ate as many as we could shove in our mouths while picking! When I stayed over at Nana and Grandpa's during the blueberry season, Nana would give me a special bowl of blueberries as a treat.
She would sprinkle a spoonful of sugar over the berries and pour some of that fresh milk over them, then she'd gently stir it up and hand me the spoon. It was glorious! And that bowl of blueberries made me feel special, and came to represent everything that Nana did for me.
I lost my precious Nana to Alzheimer's when I was 17. From the time I was 13 she didn't know who I was and it killed me. I feel that loss more often than I care to admit. She was my idol, my female role model when my mom was going through a rough time in her life.
Pin This Recipe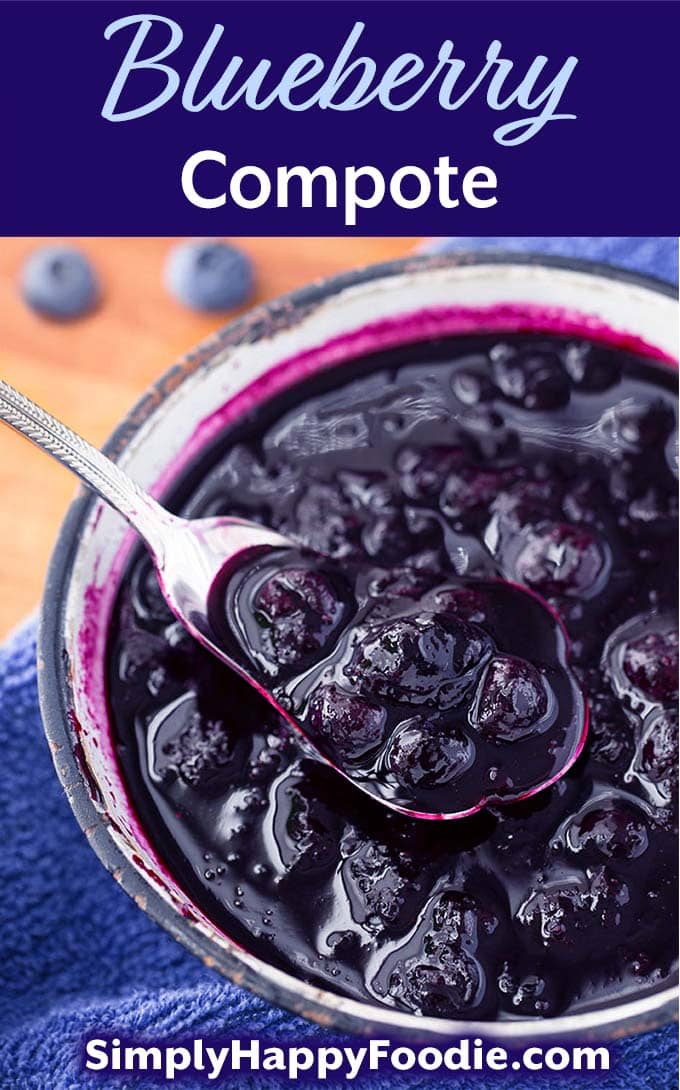 Because of Nana I knew, for a brief time, what it was like to have someone take care of me. The way all little girls deserve to be taken care of.
You can make this Blueberry Compote Recipe from fresh or frozen blueberries.
Please enjoy this Blueberry Compote recipe. In honor of my Nana, and yours. An easy and sweetly delicious way to enjoy your blueberries. Or you could just have them in a bowl with milk and sugar!


Instant Pot Blueberry Jam
Instant Pot Lemon Curd
Instant Pot Strawberry Sauce
Fresh Plum Cake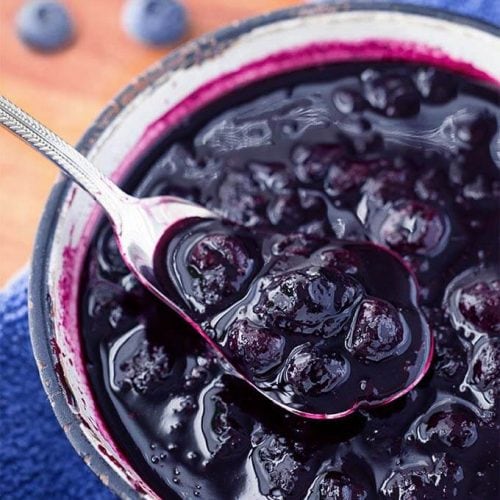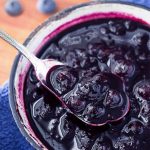 Blueberry Compote
Blueberry Compote is an easy and sweetly delicious way to enjoy your love of blueberries. Put it on yogurt, pancakes, waffles, and more! This recipe uses frozen blueberries.
Keyword:
blueberry compote recipe
Ingredients
3

cups

Frozen Blueberries, divided

(you can also use fresh)

2

Tbsp

Water

1

tsp

Lemon Zest

2

Tbsp

Lemon Juice,

fresh

⅓

cup

Sugar

Less if your berries are very sweet or if you want it less sweet. See Recipe note
Instructions
Put 2 cups of the blueberries and the water into a small saucepan. Gradually heat to a simmer, stirring occasionally.

Add the sugar and lemon zest. Stir well.

Cook for 10 minutes, stirring occasionally, and mashing berries gently when they are softened.

Add the lemon juice and stir.

Add the remaining cup of berries and continue to cook mixture for another 10 minutes. Stir occasionally.

Let cool and transfer to a jar. Store in the fridge for up to 3 weeks.
Recipe Notes
This recipe makes about 1 pint or 2 cups.
It will thicken as it cools, but won't be really thick. If you want it thicker, just use a Tablespoon of corn starch mixed with just enough water to make a loose paste, and stir into the hot compote near the end of cooking.
If you choose to decrease the sugar, you may want to decrease the lemon zest and lemon juice

RESOURCES TO MAKE blueberry compote recipe and more
We are a participant in the Amazon Services LLC Associates Program, an affiliate advertising program designed to provide a means for us to earn fees by linking to Amazon.com and affiliated sites.