Elderberry Syrup Gummies are tasty, sweet, and a fun way to get your kiddos to take Elderberry Syrup. Elderberries are believed to be a strong antioxidant, immunity booster, and a safe, natural way to ward off colds and the flu! Elderberry gummies are easy and fun to make!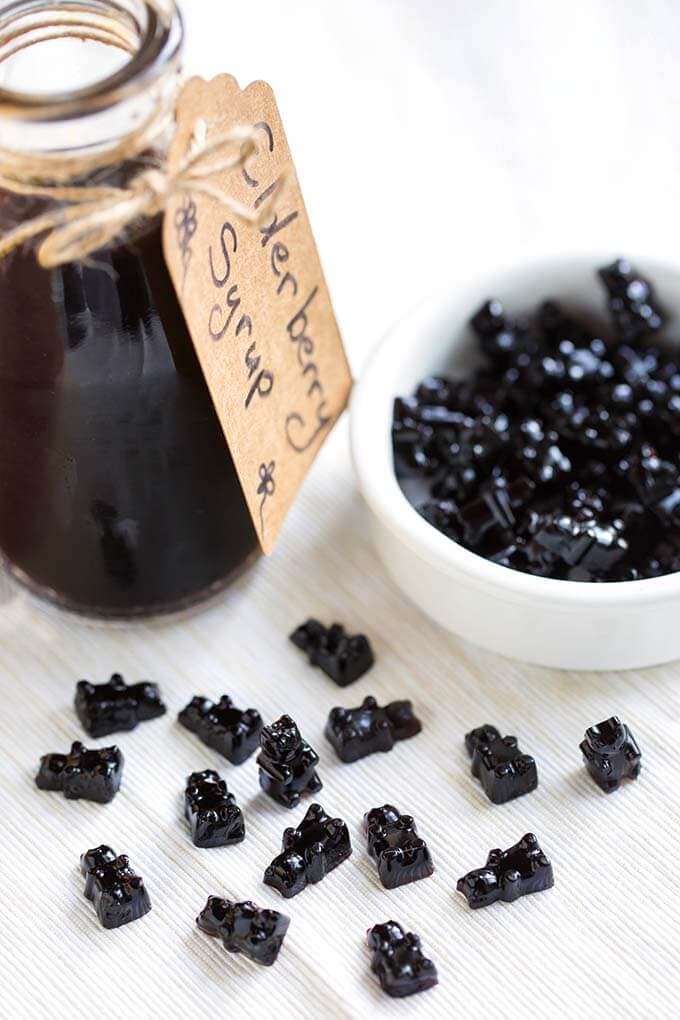 Originally published 9/7/18
Elderberry Syrup Gummies
We take Elderberry Syrup daily in our home. I figure it couldn't hurt to take a dose of something that has high antioxidant properties! We need all the help we can get fighting off the colds and flu of the season!
I normally like to make my Instant Pot Elderberry Syrup recipe, then use part of it for the Elderberry Syrup Gummies. I've written this post with the stovetop elderberry syrup recipe, and have linked to the Instant Pot recipe in a few places.
If you have kids that don't take spoonfuls of liquid very well, these gummy treats are a great way to give them elderberry syrup. What kid doesn't like gummies? You can get molds in lots of different shapes, though the bears are pretty cute!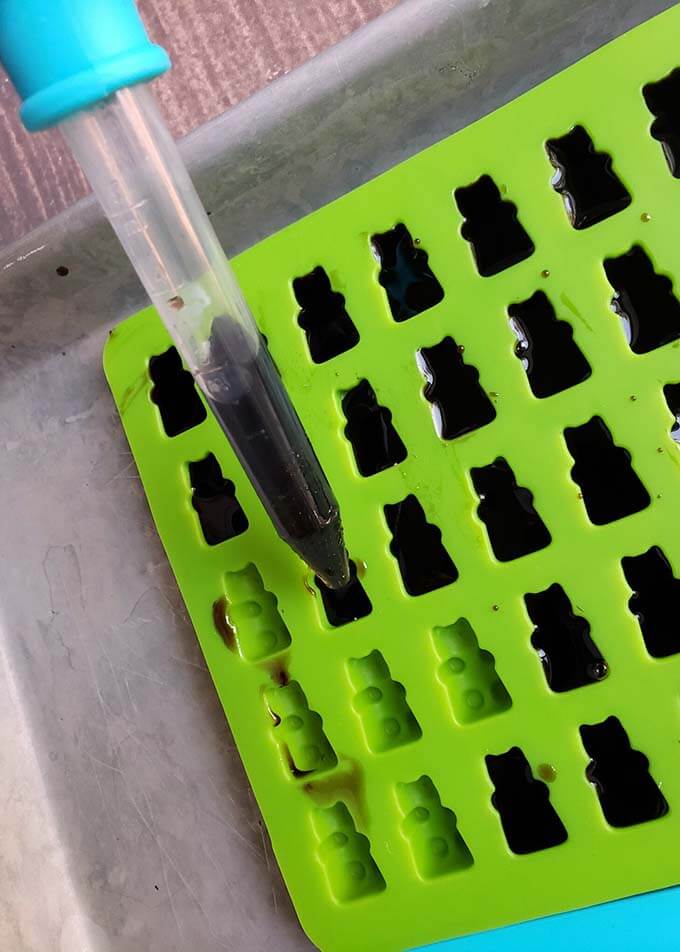 Depending on the size of the mold you use, the dose could be anywhere from 1 to 3 gummies a day (check with your pediatrician to be sure).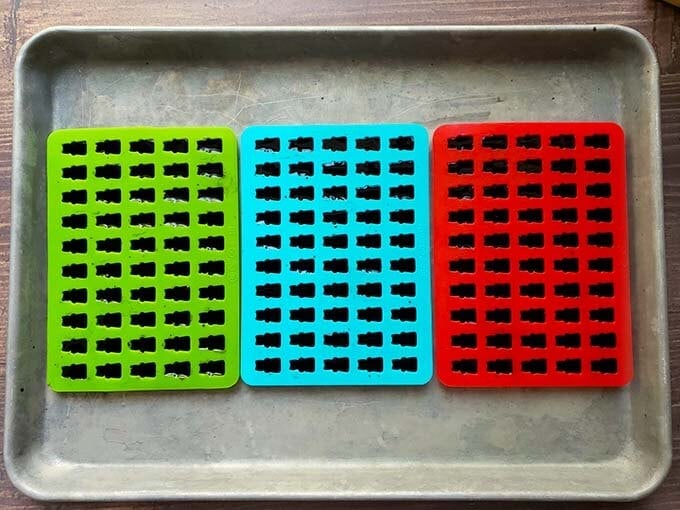 The amount of gummies you get from a batch of this elderberry gummies recipe will depend on the size of the molds you use. For the small bears, I get about 165-180.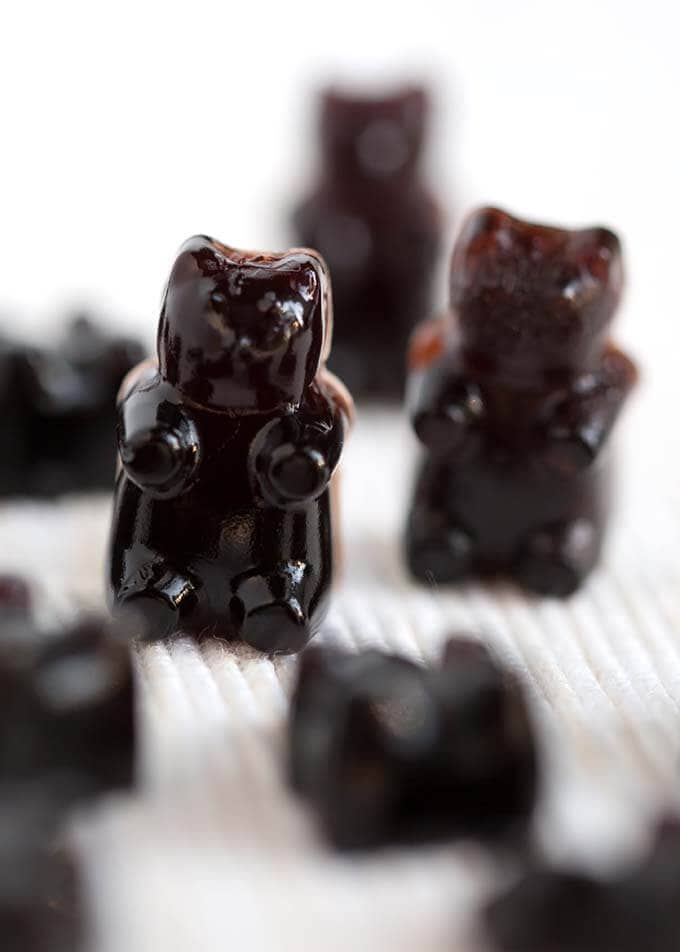 Elderberry Syrup Gummies also have ingredients like lemon, cloves, cinnamon, and honey to enhance the flavor, and those ingredients may also have potential health benefits.
When you make your batch of Elderberry Syrup, use the ingredients that you like, or that your kids will like!
Storing Elderberry Syrup Gummies
Store your gummies in an air-tight container in the fridge. Keep an eye on them for mold. I have been asked about this, so here are some potential ways to prevent moldy gummies:
• To help prevent mold you can use more lemon juice. The acid helps keep the gummies stable (use just enough so they don't get sour, unless you like them that way!).
• Use less water, though that is harder to do as the mixture thickens up so quick.
• Adding sugar also helps, but I prefer not to use it, as I like to use raw honey.
• Try Putting a paper towel on top of the container and sealing the lid over it. It will absorb moisture. Change it periodically.
• Make sure your fridge is cold, and that it isn't too humid.
• You can store them in the freezer (in an air-tight container put inside a freezer bag). Then take out enough for the week to thaw in the fridge. They will keep in the freezer up to 12 months.


Instant Pot Elderberry Syrup
Fresh Turmeric Tonic
Peach Simple Syrup
Blueberry Compote
Pin This Recipe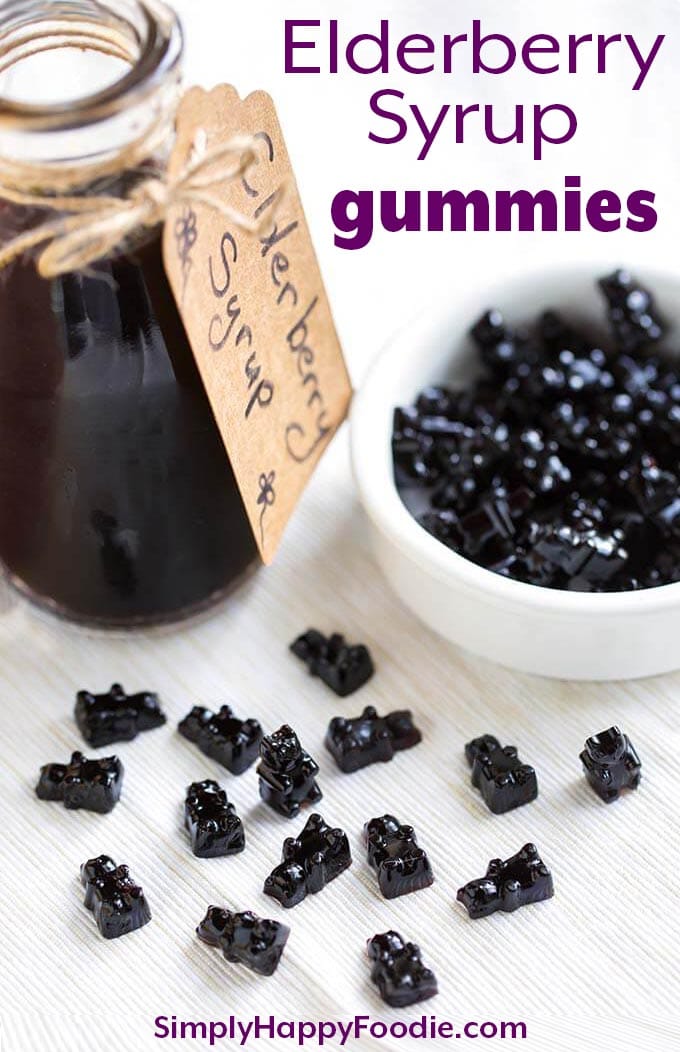 In no way is this post meant to be any type of medical advice or to replace your doctor's advice! I'm not a medical professional, and can't be held responsible for your results/choices/actions. I urge you to do your own research into the possible health benefits/side effects of this Elderberry Syrup Gummies recipe before making or using.
To start you off in your research
(I'm not affiliated, just interesting reads)
• This is a great resource for information about the European Elderberry by: The American Botanical Council
• An article about Elderberries from: WebMD
There are many other resources you can study, and a conversation with your doctor is a great start!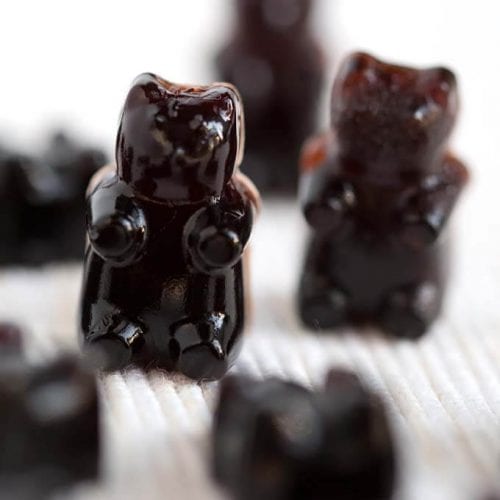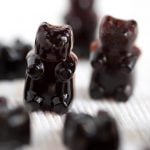 Elderberry Syrup Gummies
Elderberry Syrup Gummies are a tasty and sweet way to get a dose of Elderberry Syrup. Elderberry Syrup is believed to be a strong antioxidant, and a safe, natural remedy for warding off colds and the flu!

Keyword:
elderberry gummy recipe
Ingredients
For the Elderberry Syrup
1

cup

Elderberries,

dried organic or non irradiated

4

cups

Filtered Water

1-2

Cinnamon Sticks

1-2

inches

Ginger,

chopped

6-10

whole

Cloves

(optional. some kids don't like cloves)

½

small

Organic Lemon,

juiced

¾ - 1

cup

Raw Honey

(I like a little more for gummies. Make as sweet as you like)
For The Gummies
1

cup

Elderberry Syrup,

divided

¼

cup

Gelatin*

(or 4 Knox packets, or 4 Tbsp)

⅔

cup

Hot Water

(not boiling)
Instructions
In a medium sauce pan, add the elderberries, water cinnamon stick, ginger, and cloves. Bring to a boil, then reduce the heat to low and let simmer for 30-45 minutes (reduce as much as you want).

Strain the mixture into a glass bowl and allow it to cool to warm, or room temperature.

Add the lemon juice and honey to the cooled syrup and whisk until fully incorporated (if you add the honey to hot syrup, it will kill off the some or the beneficial properties of the raw honey). Don't use honey if giving to babies under 2 yrs (check with pediatrician).




Measure and reserve one cup of the syrup for the gummies.

Cool the remaining syrup and transfer to a glass jar or bottle with a lid. Store in the refrigerator for up to 2 months.
To Make Gummies
Place the silicone gummy molds on a baking sheet or large platter to support them.

In a small bowl, add ¼ cup of the cooled elderberry syrup, and then whisk in the gelatin well to dissolve.

Add in the hot water and stir well until thoroughly dissolved.

Stir in the remaining elderberry syrup.

Carefully pour the mixture into each mold, filling to the top. A miniature baster/dropper works well for this.

Put the baking sheet with the molds on it into the refrigerator and chill about 1 hour, or until they become firm.

Pop the gummies out of the molds and place into a glass airtight container with a lid. Store in the refrigerator for up to 2 months.

Dosage can be from 1 to 3 gummies a day for kids 2 and over, depending on the size mold you use (check with pediatrician to be sure of dosage, and if these are right for your kids/situation).
Recipe Notes
*Use a little more gelatin if you want the gummies a bit chewier.
Instant Pot Elderberry Syrup Instructions
As I'm not a medical professional, and am not intending to give any kind of medical advice, please check with your doctor before using and check for any drug interactions, etc. Do some research, and use at your own risk.
Calories are approximate and will vary with the ingredients you use, and the size of the molds you use.

RESOURCES TO MAKE Elderberry Syrup Gummies recipe and more
We are a participant in the Amazon Services LLC Associates Program, an affiliate advertising program designed to provide a means for us to earn fees by linking to Amazon.com and affiliated sites.