Instant Pot Corned Beef and Cabbage is a very delicious and popular St. Patrick's Day meal. You can make Corned Beef in the Instant Pot any time of the year. Keep a few corned beef briskets in your freezer to enjoy this yummy pressure cooker corned beef and cabbage recipe whenever you like!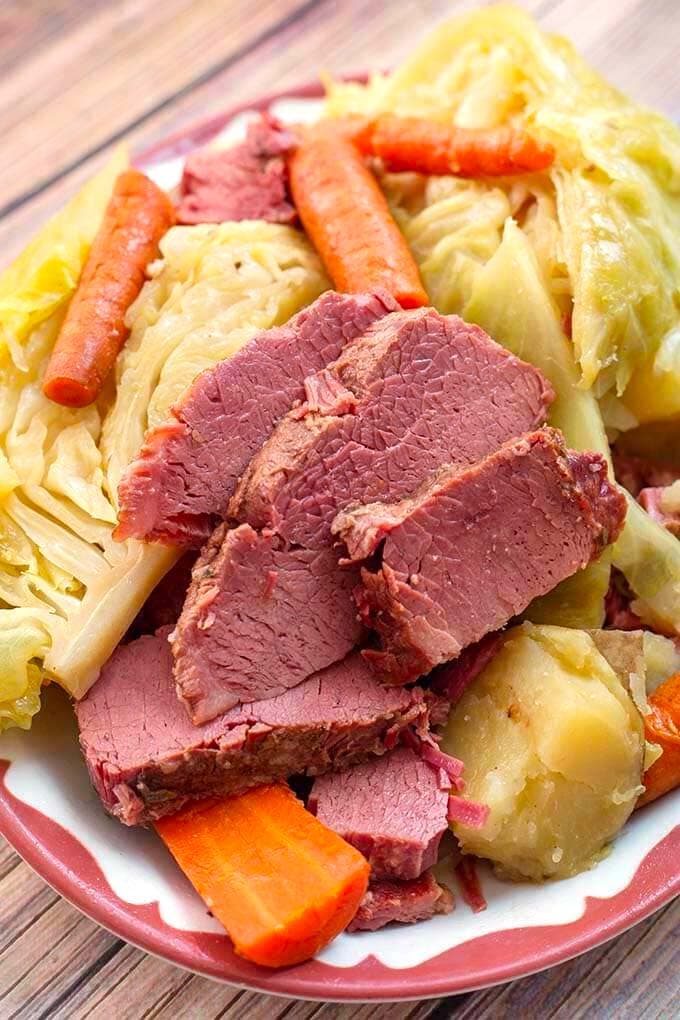 Originally published on 2/27/18
Instant Pot Corned Beef and Cabbage
Cooking corned beef and cabbage in the Instant Pot is a hands-off method that is stress free and saves you time.
Instant Pot Corned Beef Brisket is rich and full of flavor. The brisket is buttery and fall-apart tender! Combined with cabbage, potatoes, and carrots, this is a one-pot meal that will feed a crowd.
There are a few ways to prepare corned beef and cabbage. The ingredients vary from adding garlic and onions (more of a New England Boiled Dinner), to only cooking with beef broth or beer (as opposed to just water). This recipe has the best of both!
Is Flat Cut or Point Cut Corned Beef Brisket Better?
I much prefer the Flat Cut corned beef brisket.
• Flat cut is more uniform in shape for better presentation and more even cooking.
• Flat cut corned beef has less fat. Even though there is a layer of fat on one side, it is overall less fat than a point cut.
• Point cut is usually less expensive than a flat cut corned beef brisket, so if that is important to you, get the point cut.
What if My Corned Beef Brisket is Frozen?
Ideally you will want to thaw it first for the best results, however you can cook it at the time directed and it should come out fine. It will take longer to come to pressure because of the frozen piece of meat acting as a large ice cube!
Do I Need to Use the Spice Packet?
Yes, the spice packet makes this corned beef even more delicious!
If your brisket didn't come with a spice packet, just look for a pickling spice blend at the grocery store. Most big name spice brands make one.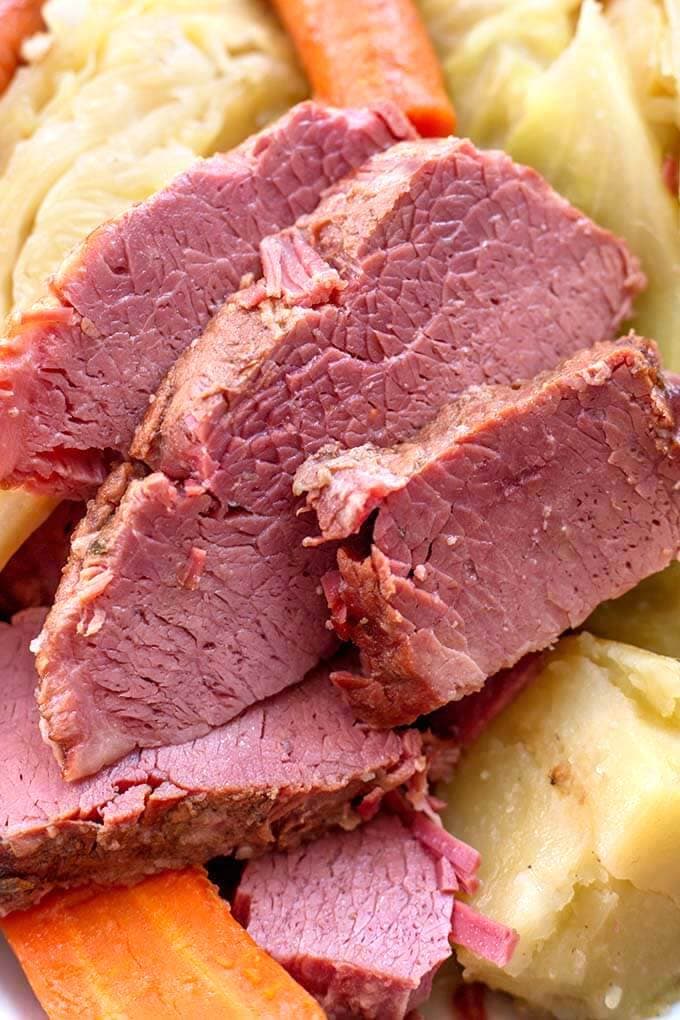 Making Instant Pot Corned Beef and Cabbage
The first step of the recipe is the dump and start step. Just put the corned beef in the pot with garlic, onion, the spice packet that came with it, a few aromatics, a bottle of Guinness®, and some water. Then pressure cook it.
If you don't want to use beer, use low sodium beef or chicken broth, or just use water.
The second step is cooking the veggies. If you were to cook the veggies with the brisket, they would be complete mush by the time the meat was done.
After pressure cooking the corned beef brisket, remove it to rest and then add the veggies to the cooking liquid and pressure cook them for just a few minutes.
That's all there is to it. No browning or anything!


Instant Pot Simple Pot Roast
Instant Pot Beef Guinness Stew
Instant Pot Bone-In Ham
Classic Irish Coffee Recipe
If you make this tasty Instant Pot corned beef and cabbage recipe, let me know! Just leave a comment and a star rating below. I'd like to know how you liked it!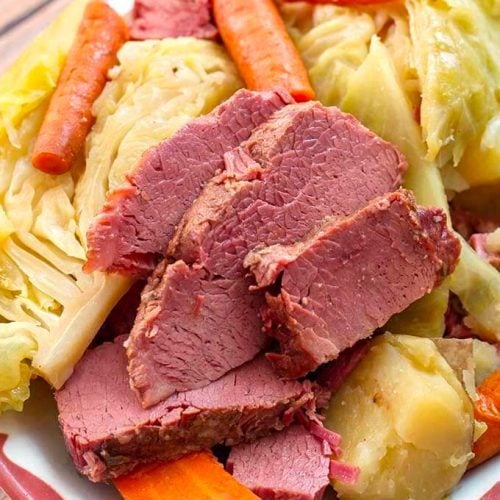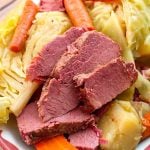 Instant Pot Corned Beef and Cabbage
Pressure Building and Release
Instant Pot Corned Beef and Cabbage is absolutely delicious. Make this classic St. Patrick's Day Irish meal. Pressure cooker corned beef brisket and cabbage is a dump and start recipe!
Keyword:
pressure cooker corned beef and cabbage recipe
Ingredients
6

cloves

Garlic,

roughly chopped

1

Yellow Onion,

quartered

2-4

lb

Corned Beef Brisket,

rinsed (with the spice packet). If larger than 3 lbs, cut in half

1

12-ounce bottle

Guinness Beer, or other Stout Beer

(or 2 cups Beef Broth, or Water)

2-3

cups

Water

(2 for a small brisket, and 3 for a larger one)

3

med

Carrots,

cut in 3" pieces

2

med

Potatoes,

cut into fourths or sixths

1

small head

Cabbage,

cut in fourths or sixths
Instructions
Add the garlic and onion to the pot.

Place the brisket in the pot with the fat side up.

Sprinkle spice packet over and around the brisket.

Pour the beer (or other liquid), and water in the pot, trying not to wash off all of the spices from the meat.

Place the lid on the pot and lock in place. Set the steam release knob to sealing.

Press the Pressure Cook/Manual button, or dial, and then the +/- button or dial to select 90 minutes, and make sure it is set to High pressure.

When cooking cycle is finished, turn off the pot and let it sit undisturbed for 15 minutes (15 minute natural release). Then manually release the remaining steam (slowly at first, in short bursts so you know only steam will spew from the vent) until the pin in the lid drops down. Then open the lid and use tongs to carefully remove the meat to a dish, spoon some of the hot cooking liquid over it and cover to let it rest.

Add the carrots, potatoes, and cabbage to the pot and close the lid, set it to sealing, and set the cook time for 3 minutes. When done, do a controlled Quick Release (slowly at first, in short bursts so you know only steam will spew from the vent) when the cook cycle is finished.

Slice the brisket against the grain for the most tender and easy to eat meat. Then place the meat and vegetables in a dish with enough cooking liquid poured over to make it nice and juicy.

Serve with some crusty bread to sop up that wonderful broth!
Pin This Recipe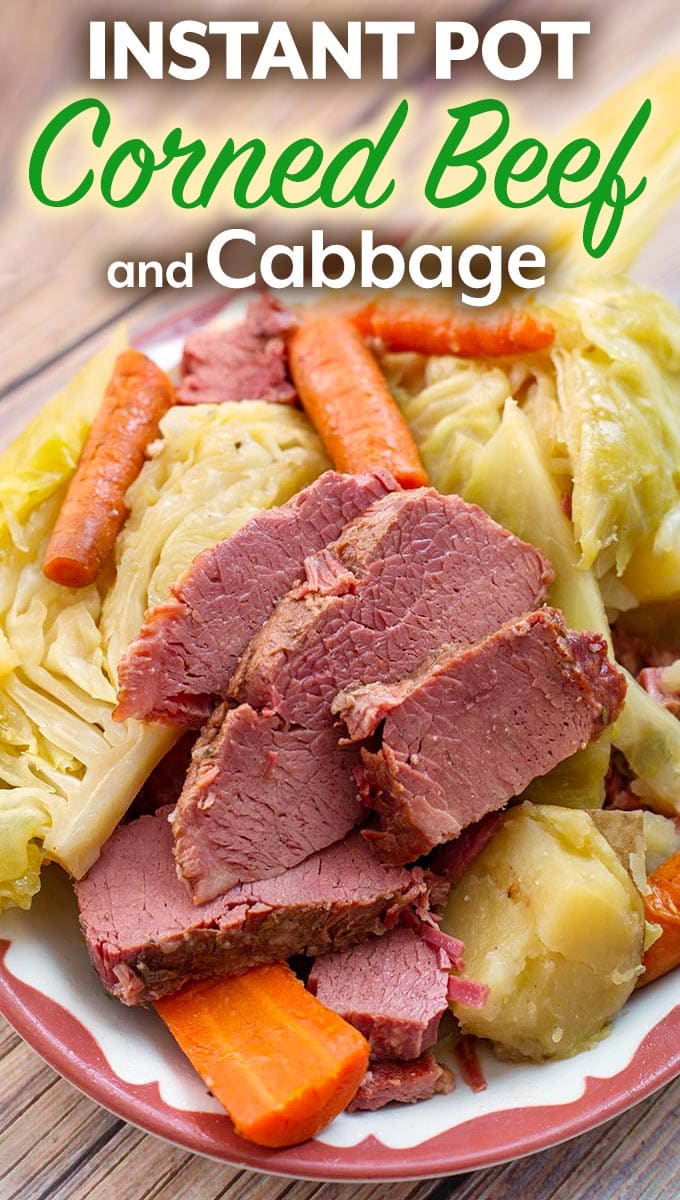 Resources to make Instapot Corned Beef and Cabbage
This post contains Affiliate links. As an Amazon Associate I earn from qualifying purchases.