Instant Pot Simple Pot Roast is a delicious tender pot roast, and the results are excellent! A tender, juicy pot roast with potatoes, carrots, onion, and celery. This pressure cooker pot roast is just the right meal for my meat and potatoes loving guys!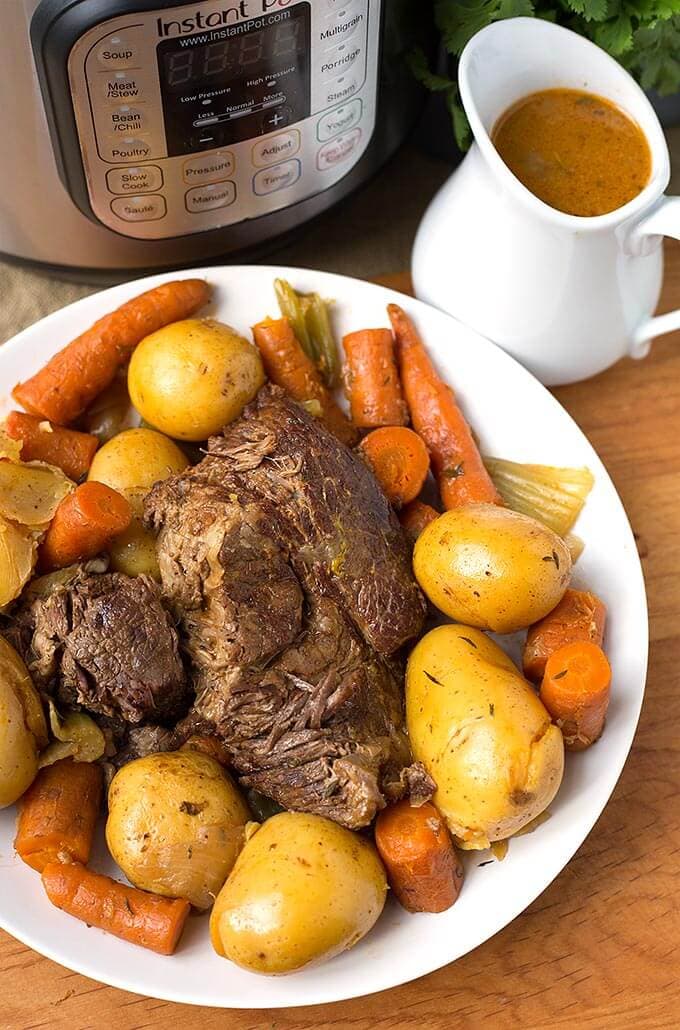 Originally published on 10/1/17
Instant Pot Simple Pot Roast
This is the quintessential American family meal. The Pot Roast. It was born of the need to cook an economical piece of meat to a point where it was tender and flavorful. Most importantly, it needed to feed the whole family.
Paired with root vegetables that many people grew in their own gardens, this meal became a staple in millions of American homes. It certainly was in ours! Now the Instant Pot Pot Roast is our go to!
For my family, a Sunday Pot Roast is "get the family to the table" comfort food. Mom cooked her pot roast in the oven in her cast iron dutch oven. Low and slow, all day long. When we got home from church, we'd change into our play clothes and get ready for dinner.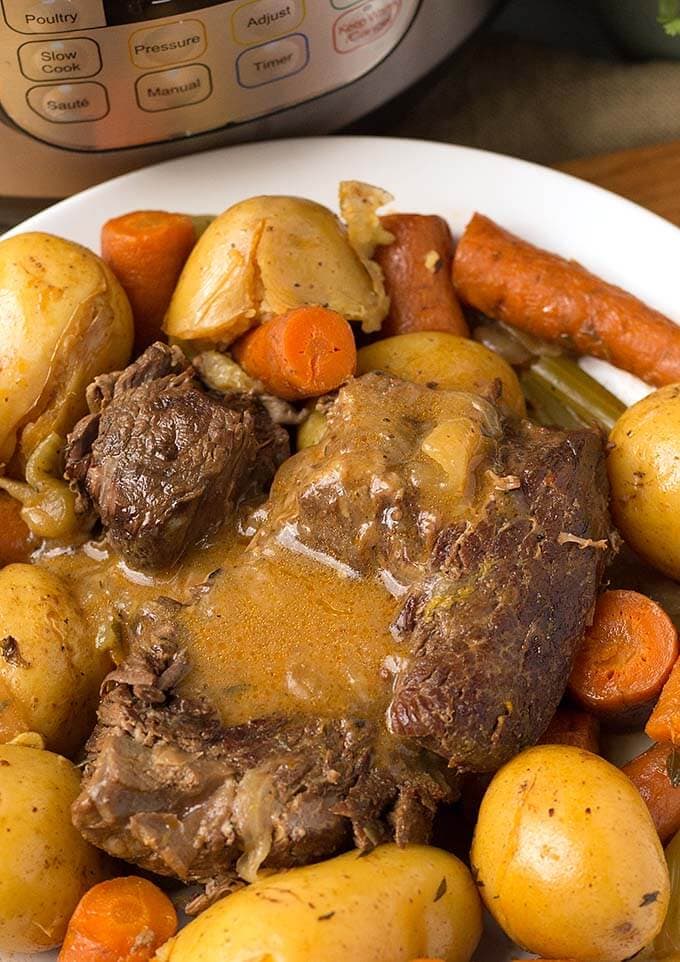 Dinner on Sundays was always earlier than the rest of the week, and we all had to be at the table. Thank goodness! Now I have those memories, and they are so dear to me.
All I can say about this Instant Pot Simple Pot Roast is that it isn't fancy, and it cooks up tender, juicy, and delicious. You can cook the vegetables along with the pot roast. The trick is cutting the veggies a little larger, they will be nice and soft, but won't disappear!
There's a reason I named my blog Simply Happy Foodie. Meals like this Instant Pot Simple Pot Roast. They are easy, and remind me of a simpler time, and the love of family.


Instant Pot Mississippi Pot Roast
Instant Pot Barbecue Beef
Instant Pot French Dip Sandwiches
Instant Pot Turkey Breast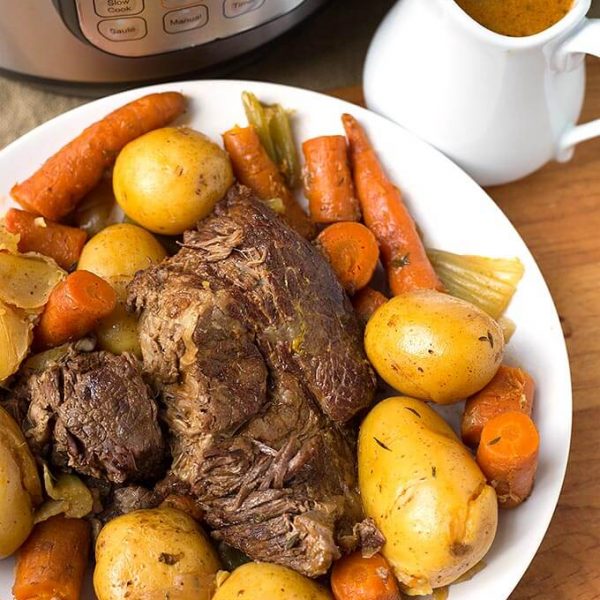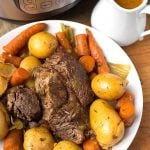 Instant Pot Simple Pot Roast
Tender, juicy pot roast for Sunday dinner, or any time you want a simple, yet heart and comforting meal. Cooked in your Instant Pot electric Pressure cooker, this pot roast is done in a little over an hour and a half!
Keyword:
pressure cooker pot roast recipe
Servings
:
6
1/3 lb servings
Ingredients
2-3

lbs

Chuck Roast,

cut in two equal pieces

1 1/2

tsp

Kosher Salt

(or any coarse salt) divided

1/2

tsp

Black Pepper

2

tsp

Steak Seasoning

(Montreal, etc.)

2

Tbsp

Vegetable Oil

1

cup

Beef or Chicken Broth

1/2

cup

V8 Juice

1

tsp

Liquid Smoke

(this will not make it too smoky, only add some flavor)

1

Tbsp

Worcestershire Sauce

2

tsp

Garlic Powder

1

Yellow Onion,

chopped in 2" pieces

1

Bay Leaf

5

Sprigs of Thyme

(or 1 tsp dried)

3

Large Carrots

cut in thirds (or large chunks)

3

Ribs of Celery,

cut in large pieces

5 or 6

Small Potatoes

(leave whole)
For Gravy
1/3

cup

All Purpose Flour

4

Tbsp

Butter

1

Pinch of Salt

(or to taste)
Instructions
Season both sides of the roast with 1 tsp salt, the pepper, and steak seasoning. Set aside.

Set Instant Pot to Sauté mode. When the display reads "Hot" add the vegetable oil.

Place the roast into the pot and let it brown for 8 minutes. Then flip it and brown on the other side for 8 minutes. Try to brown the edges, too (It is important to let it brown for the full 8 minutes without moving it before flipping it over). This step not only improves the flavor, but reduces the pressure cooking time.

While the roast is browning, prepare your vegetables and the sauce.

Mix the broth, V8 juice, Worcestershire, and liquid smoke together. Then stir in the garlic powder and the remaining 1/2 tsp of salt. Set aside.

Remove roast and set on a plate.

Add the onion and cook for a couple of minutes, stirring frequently.

Pour in the broth mixture. Stir, scraping up the brown bits from the bottom of the pot.

Add the bay leaf and thyme. Let contents come to a simmer.

Put the roast back in the pot.

Add the celery, carrots, and potatoes** (See note if you want firmer vegetables).

Close the lid and set the steam release knob to the Sealing position.

Press the Cancel/Keep Warm button to cancel the Sauté mode.

Press Manual (or Pressure Cook) and use the + or - buttons to set the time to 60 minutes - for a 2 to 3 lb roast. High Pressure. (if your roast is more than 2" thick, add 15 minutes).

It can take the pot several minutes to get to pressure. That's normal.

When the cook cycle ends, let the pot naturally release the pressure for 15- 20 minutes. Then manually release any remaining steam.

When the pin in the lid drops, open the lid facing it away from your face. Turn off the Instant Pot.

Remove the roast and vegetables to a platter to rest while you make the gravy. It is fine to leave the onions in the liquid.

If your roast is not as tender as you'd like, put it back in for 15 minutes. Keep the veggies in a covered dish.
Make the Gravy
Press the Sauté (or browning button on other brands) button.

Put the flour and butter in a microwave safe dish. Microwave for about 20 seconds. Stir well, until combined.

When the liquid in the pot starts to simmer, add the butter/flour mixture and stir well, until it starts to thicken.

When gravy is thickened, turn off the Instant Pot and taste the gravy. Adjust salt, if desired.

Serve the pot roast and vegetables. Pour gravy over as desired.
Recipe Notes
**If you want your vegetables firmer (they come out pretty soft, but we like them that way), add them after the roast is done, before you make the gravy.
Remove roast to a platter and cover with foil to keep warm. Add the veggies and cook for 5 minutes high pressure, and quick release the pressure when done. Remove to a platter with the resting roast and continue with making the gravy.
Updated 1/18

RESOURCES TO MAKE This Recipe and More
We are a participant in the Amazon Services LLC Associates Program, an affiliate advertising program designed to provide a means for us to earn fees by linking to Amazon.com and affiliated sites.