Instant Pot Simple Pot Roast is a delicious tender pot roast, and the results are excellent! A tender, juicy Instant Pot pot roast with gravy, potatoes and carrots. This pressure cooker pot roast is the perfect meal for meat and potatoes loving folks! This is how to cook a chuck roast in the Instant Pot.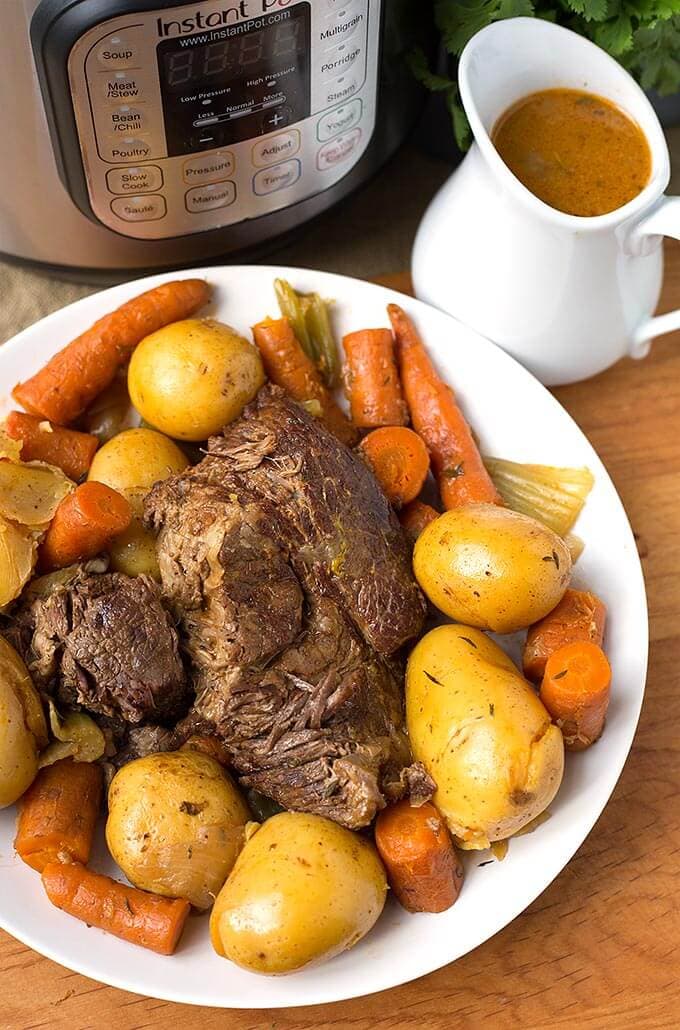 The flavors of this Instant Pot chuck roast are so delicious, and the gravy is amazing!
Originally published on 10/1/17
Instant Pot Simple Pot Roast
The Pot Roast is the quintessential American family meal. A budget friendly dinner recipe that is so delicious.
This is how to cook an economical piece of meat to a point where it is tender and flavorful. Most importantly, it can feed the whole family!
Paired with root vegetables like onions, carrots and potatoes, this meal has become a staple in millions of American homes. Now the Instant Pot beef roast is our go-to!
What is The Best Cut of Meat for a Pot Roast?
Any of these cuts of beef will work. It just depends on your preference, or what you have on-hand.
For a classic pot roast, a chuck roast is the most common because of how tender and flavorful they are. Chuck roasts are fall-apart tender when cooked as a pot roast.
You could also use a brisket, a fattier cut that has a lot of connective tissue that gets very tender when cooked down. Briskets will be sliceable for easy serving.
Round: A bottom round or top round roast is a lean and sliceable cut. It makes a decent pot roast, but is not fall-apart tender.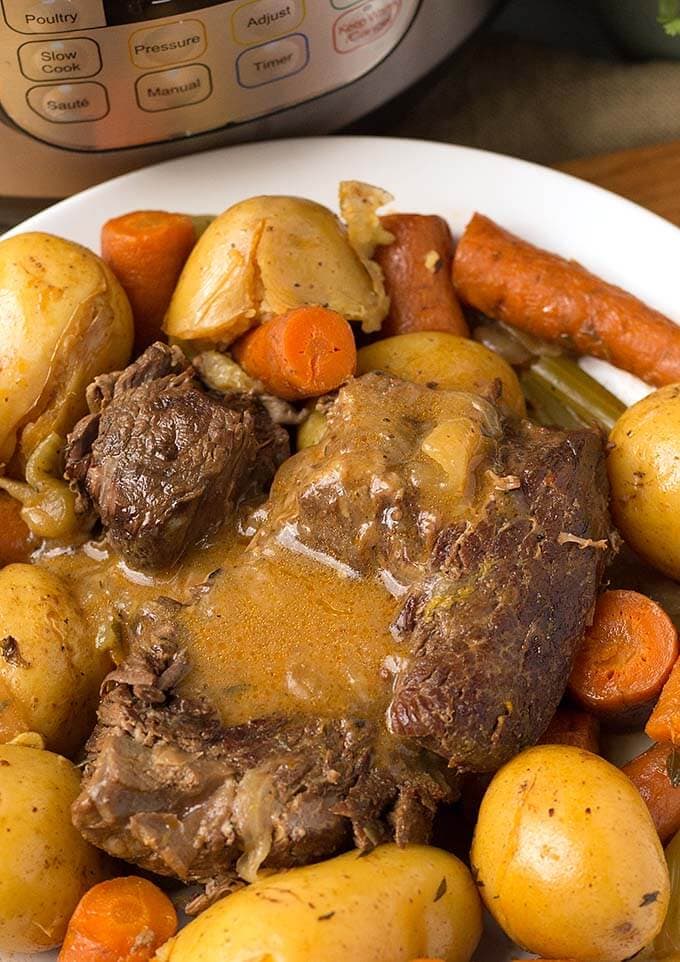 Can I Use a Frozen Beef Roast for This Recipe?
Yes you can! Just rub a little oil on it so the seasonings stick (rub them on the roast), and put it in the pot on top of the onions. Add about 10-30 minutes extra cook time, depending on how large it is.
**I still prefer to thaw the roast as much as possible before pressure cooking for the best results**
Can I Cook The Veggies With the Pot Roast?
Yes, you can cook the vegetables along with the pot roast. The trick is cutting the veggies larger, they will be nice and soft, but won't disappear!
You can also use a 2-step process where you cook the pot roast until there is about 8 minutes cook time left. Then depressurize the pot and add the veggies, then pressurize the pot and cook about 5-8 minutes so the veggies don't get too soft. That is a great option for those of you who prefer firmer carrots and potatoes. It just takes a little longer.
Can I Make Gravy With This Pot Roast?
Yes you can! The drippings make the BEST gravy, and it would be a shame to miss out on it! I included the instructions for making gravy in the recipe card below.
What if My Pot Roast is Still Tough After Cooking?
If the meat is still tough after cooking your pot roast, it just needs to cook longer. Chuck Roasts and Briskets especially need time for the connective tissues in the beef to break down. That is what makes the roast tender!
How to Avoid a Dry Pot Roast
• Please don't do a Quick Release of the pressure after the cook time is finished. The meat needs that 10-20 minutes of Natural Release time to rest, and the contents of the pot need to come down in temperature.
• If you Quick Release, the intensity of the venting can pull the moisture from the roast before the juices can redistribute into the meat fibers and can produce a dry roast!


Instant Pot Mississippi Pot Roast
Instant Pot Barbecue Beef
Instant Pot French Dip Sandwiches
Instant Pot Turkey Breast
Sunday Pot Roasts used to be cooked in the oven low and slow all day long. Now you can have a tender, flavorful pot roast in less that 2 hours!
This pressure cooker Pot Roast recipe isn't fancy, but it cooks up tender, juicy, and so very delicious.
If you make this easy pressure cooker Pot Roast recipe, please let me know! Just leave a comment below with a star rating. I'd love to know how you liked it!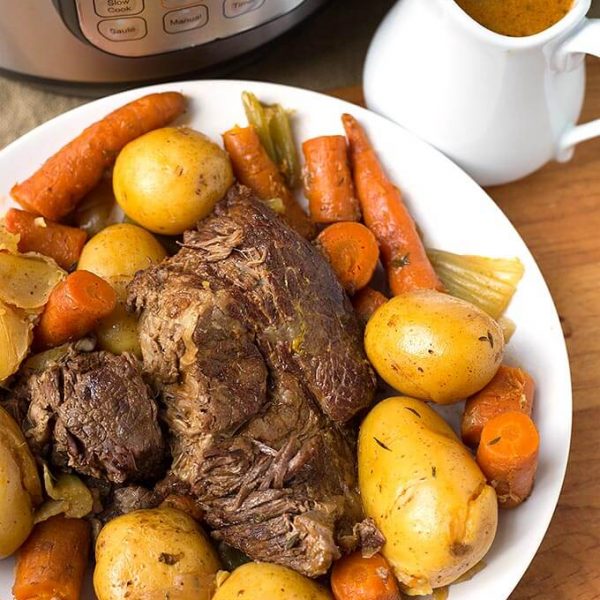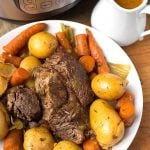 Instant Pot Simple Pot Roast
Tender, juicy Instant Pot pot roast with vegetables and gravy. Cooked in your electric Pressure cooker, this pot roast is done in about 2 hours
Keyword:
instant pot chuck roast, pressure cooker pot roast recipe
Servings
:
6
(⅓ lb) servings
Ingredients
2-3

lbs

Chuck Roast,

cut in two equal pieces

1 ½

teaspoons

Kosher Salt

(or any coarse salt) divided

½

teaspoon

Black Pepper

2

teaspoons

Steak Seasoning

(Montreal, etc.)

2

Tablespoons

Vegetable Oil

1

cup

Beef or Chicken Broth

½

cup

V8 Juice

1

teaspoon

Liquid Smoke

(this will not make it too smoky, only add some flavor)

1

Tablespoon

Worcestershire Sauce

2

teaspoons

Garlic Powder

1

Yellow Onion,

chopped in 2" pieces

1

Bay Leaf

5

Sprigs of Thyme

(or 1 tsp dried)

3

Large Carrots

cut in thirds (or large chunks)

3

Ribs of Celery,

cut in large pieces

5 or 6

small

Potatoes

(leave whole)
For Gravy
⅓

cup

All Purpose Flour

4

Tablespoon

Butter

1

Pinch of Salt

(or to taste)
Instructions
Season both sides of the roast with 1 tsp salt, the pepper, and steak seasoning. Set aside.

Set Instant Pot to Sauté mode. When the display reads "Hot" add the vegetable oil.

Place the roast into the pot and let it brown for 8 minutes. Then flip it and brown on the other side for 8 minutes. Try to brown the edges, too (It is important to let it brown for the full 8 minutes without moving it before flipping it over). This step not only improves the flavor, but reduces the pressure cooking time.

While the roast is browning, prepare your vegetables and the sauce.

Mix the broth, V8 juice, Worcestershire, and liquid smoke together. Then stir in the garlic powder and the remaining ½ tsp of salt. Set aside.

Remove roast and set on a plate.

Add the onion and cook for a couple of minutes, stirring frequently.

Pour in the broth mixture. Stir, scraping up the brown bits from the bottom of the pot.

Add the bay leaf and thyme. Let contents come to a simmer.

Put the roast back in the pot.

Add the celery, carrots, and potatoes** (See note if you want firmer vegetables).

Close the lid and set the steam release knob to the Sealing position.

Press the Cancel/Keep Warm button to cancel the Sauté mode.

Press Manual (or Pressure Cook) and use the +/ - buttons to set the time to 60 minutes - for a 2 to 3 lb roast. High Pressure. (if your roast is more than 2" thick, add 15 minutes).

It can take the pot several minutes to get to pressure. That's normal.

When the cook cycle ends, let the pot naturally release the pressure for 15- 20 minutes. Then manually release any remaining steam.

When the pin in the lid drops, open the lid facing it away from your face. Turn off the Instant Pot.

Remove the roast and vegetables to a platter to rest while you make the gravy. It is fine to leave the onions in the liquid.

If your roast is not as tender as you'd like, put it back in for 15 minutes. Keep the veggies in a covered dish.
Make the Gravy
Press the Sauté (or browning button on other brands) button.

Put the flour and butter in a microwave safe dish. Microwave for about 20 seconds. Stir well, until combined.

When the liquid in the pot starts to simmer, add the butter/flour mixture and stir well, until it starts to thicken.

When gravy is thickened, turn off the Instant Pot and taste the gravy. Adjust salt, if desired.

Serve the pot roast and vegetables. Pour gravy over as desired.
Recipe Notes
**If you want your vegetables firmer (they come out pretty soft, but we like them that way), add them after the roast is done, before you make the gravy.
Remove roast to a platter and cover with foil to keep warm. Add the veggies and cook for 5 minutes high pressure, and quick release the pressure when done. Remove to a platter with the resting roast and continue with making the gravy.
Updated 1/18
RESOURCES TO MAKE This Recipe and More
We are a participant in the Amazon Services LLC Associates Program, an affiliate advertising program designed to provide a means for us to earn fees by linking to Amazon.com and affiliated sites.