Instant Pot Chicken Broth is easy to make and delicious. Using a leftover chicken carcass and some fresh vegetables, you can make rich and flavorful pressure cooker chicken broth. Also called Instant Pot Chicken Stock (I use them interchangeably, mostly).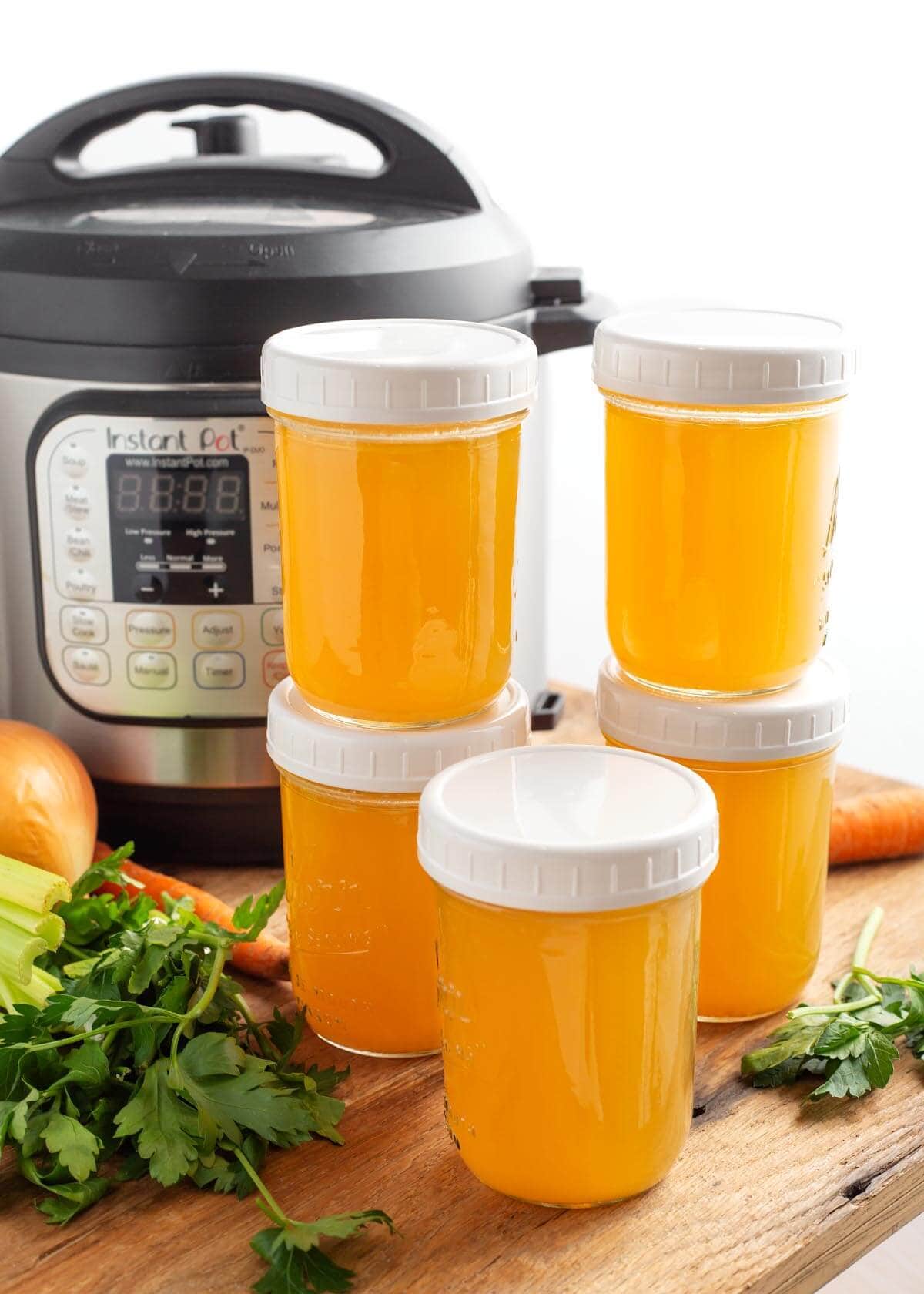 Whether you call it Instant Pot Chicken Stock or Broth, it will be a great reward for a small amount of work and ingredients. What a cool thing to make from a chicken carcass!
Instant Pot Chicken Broth
The next time you cook a whole chicken, or buy a rotisserie chicken from the store, save the bones in a freezer baggie.
Then when you want to make some rich, delicious pressure cooker chicken stock (or broth) you will have them at the ready.
Is This Chicken Broth or Chicken Stock?
• You can call this recipe either one. Stock is used for cooking, and broth you drink or cook with as it tends to be more flavorful.
• Mostly bones and water will make stock. Add with meatier bones, veggies and aromatics, you are making broth. At least that is how I read it.
Here are the easy steps to make Instant Pot Chicken Stock (broth):



Add all of the ingredients to the pot and cover with water. Then Pressure cook. After the broth has cooled enough to be safely handled, strain out the bones & vegetables.


Remove the strainer and scoop the cooled broth from the bowl with a measuring cup and fill the jars. Refrigerate or freeze immediately.
How Much Does This Recipe Make?
When using a 6-quart Instant Pot, I can get about 11 cups of broth. You can use an 8-quart or a 10-quart, but it won't make any more if you only use enough water to just cover the ingredients.
In a larger pot you can add more water, but that will yield a more diluted broth, unless you increase the amount of bones and increase the vegetables and aromatics as well.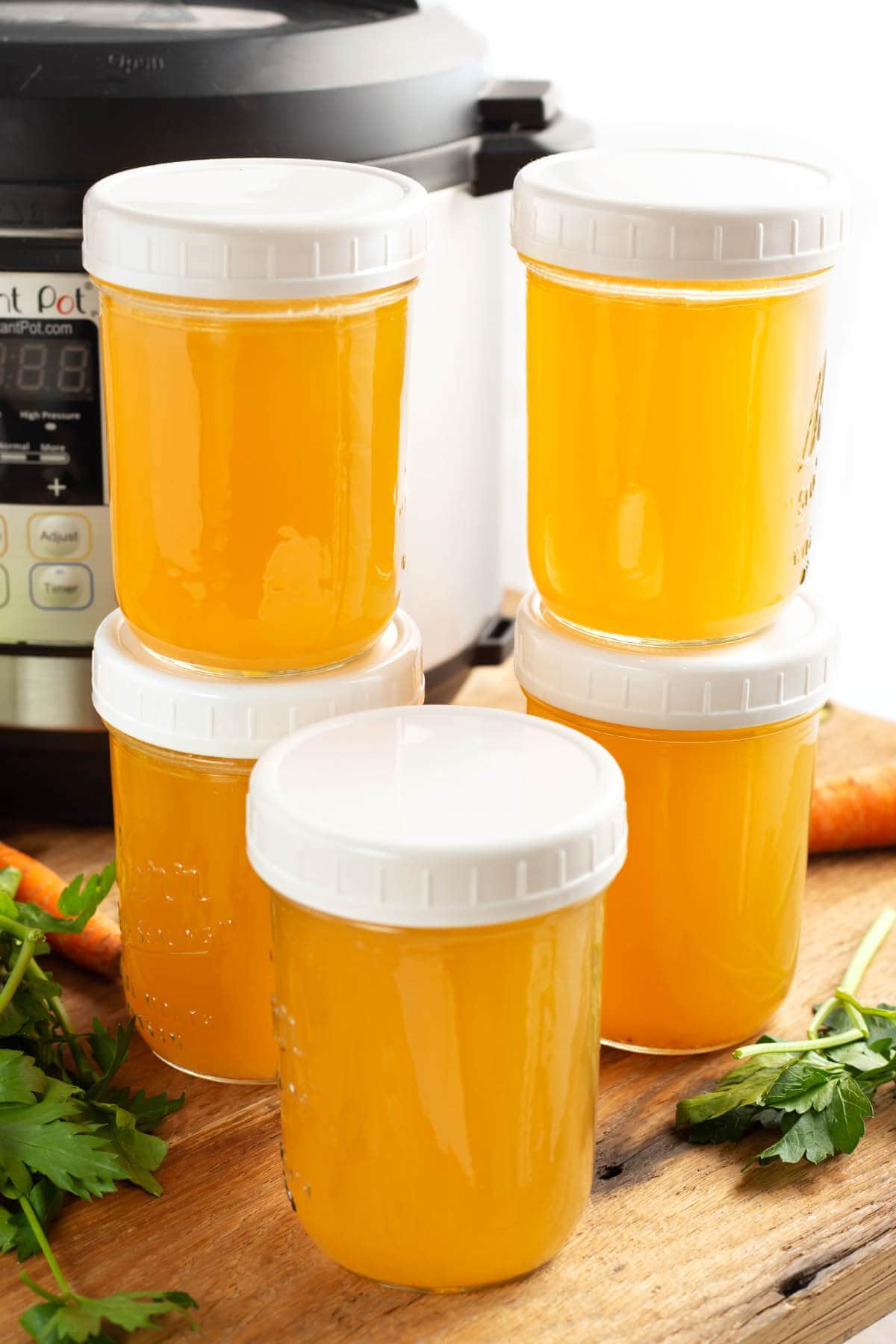 What to Use Pressure Cooker Chicken Broth in?
• You can drink it. A hot mug of chicken broth is delicious and comforting.
• Make a pot of soup. Look here to find several soup recipes that use chicken broth.
• Cook your pasta in broth. Especially in the Instant Pot. The pasta absorbs the liquid and is delicious. Such as in my Instant Pot Mac and Cheese.
• Cook potatoes or beans in it, and use broth in place of water in many savory recipes.


Instant Pot Chicken Noodle Soup
Instant Pot Bone Broth
Instant Pot Turkey Broth
Instant Pot Turkey Soup
Can Pressure Cooker Chicken Broth Be Frozen?
Yes it can!
If you freeze in canning jars, be sure to leave room for expansion so the jars don't break.
You can use Zip-closure freezer baggies. Lay them flat to freeze and they will not only freeze faster, but they will thaw faster and take up less room in your freezer.
If you make this delicious chicken broth, please let me know. Just leave a comment with a star rating below. I'd like to know how you liked it.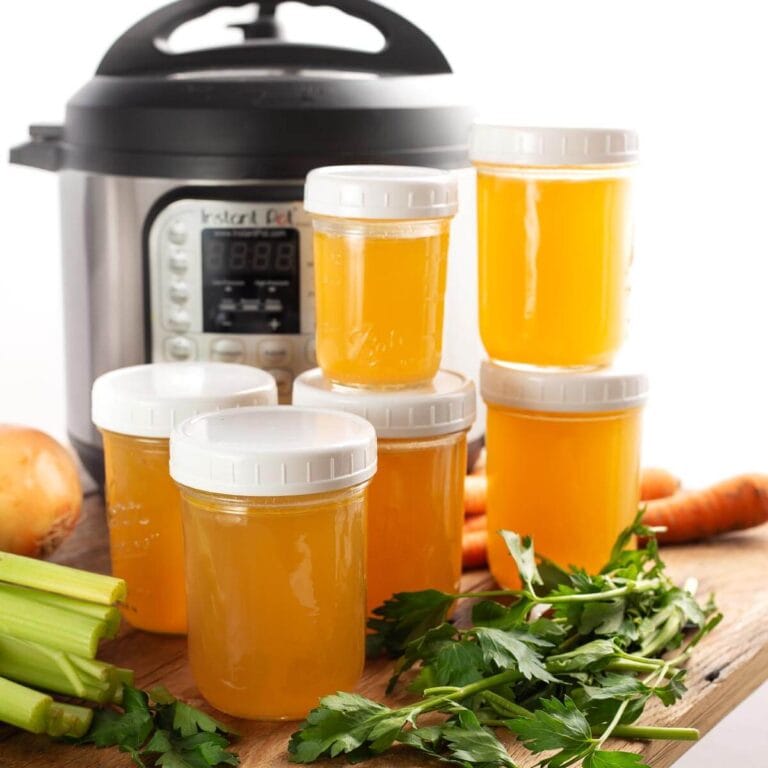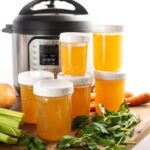 Instant Pot Chicken Broth
Pressure Building and Release
Instant Pot Chicken Broth is flavorful and easy to make. Use a leftover chicken carcass to make this pressure cooker chicken broth.
Keyword:
chicken stock, pressure cooker chicken broth
Ingredients
1

Leftover Chicken Carcass

(or chicken bones you have saved and frozen)

1

large

Yellow Onion,

quartered

3

medium

Carrots,

chopped

2

ribs

Celery,

chopped

4

cloves

Garlic,

smashed

2

Bay Leaves

1

small bunch

Parsley

1

teaspoon

Salt

(more or less to taste)

Water

(enough to cover ingredients in pot)
Instructions
Add all ingredients to the pressure cooker pot and cover with water. Don't go over the max fill line of the pot.

Close the lid and set the steam release knob to the Sealing position.

Press the Pressure Cook or Manual button or dial, then the +/- button or dial to select 60 minutes. High Pressure. The pot will take several minutes to come to pressure.

When the cook cycle has finished, turn off the pot and let it sit undisturbed for at least 20 minutes (20 minute natural release). Then turn the steam release knob to the Venting position to release the remaining steam/pressure.

When the pin in the lid drops back down, open the lid.

At this point I prefer to let the broth cool quite a bit so it is safer to handle. Place a strainer/colander into a large bowl. Then pour the contents of the pot into the strainer.

Remove the strainer from the bowl and discard the bones/veggies.

Have your clean jars with lids, or freezer zip-closure baggies ready. A funnel is helpful, as is a 1-cup measuring cup.

Fill the jars or baggies with broth, close them, and store in the refrigerator for up to a 5 days, or freeze* for up to 6 months.

Serve a hot mug of broth, or use in any recipes that require chicken stock or broth.
Recipe Notes
*When freezing, especially in jars, be sure to leave some room for the liquid to expand so the jars don't break.
Resources to Make Instant Pot Chicken Stock Recipe and More
This post contains Affiliate links. As an Amazon Associate I earn from qualifying purchases.