Instant Pot Turkey Broth is a delicious broth you can make from your leftover turkey carcass (bones). With fresh veggies and aromatics, this pressure cooker turkey broth is a perfect base for many recipes.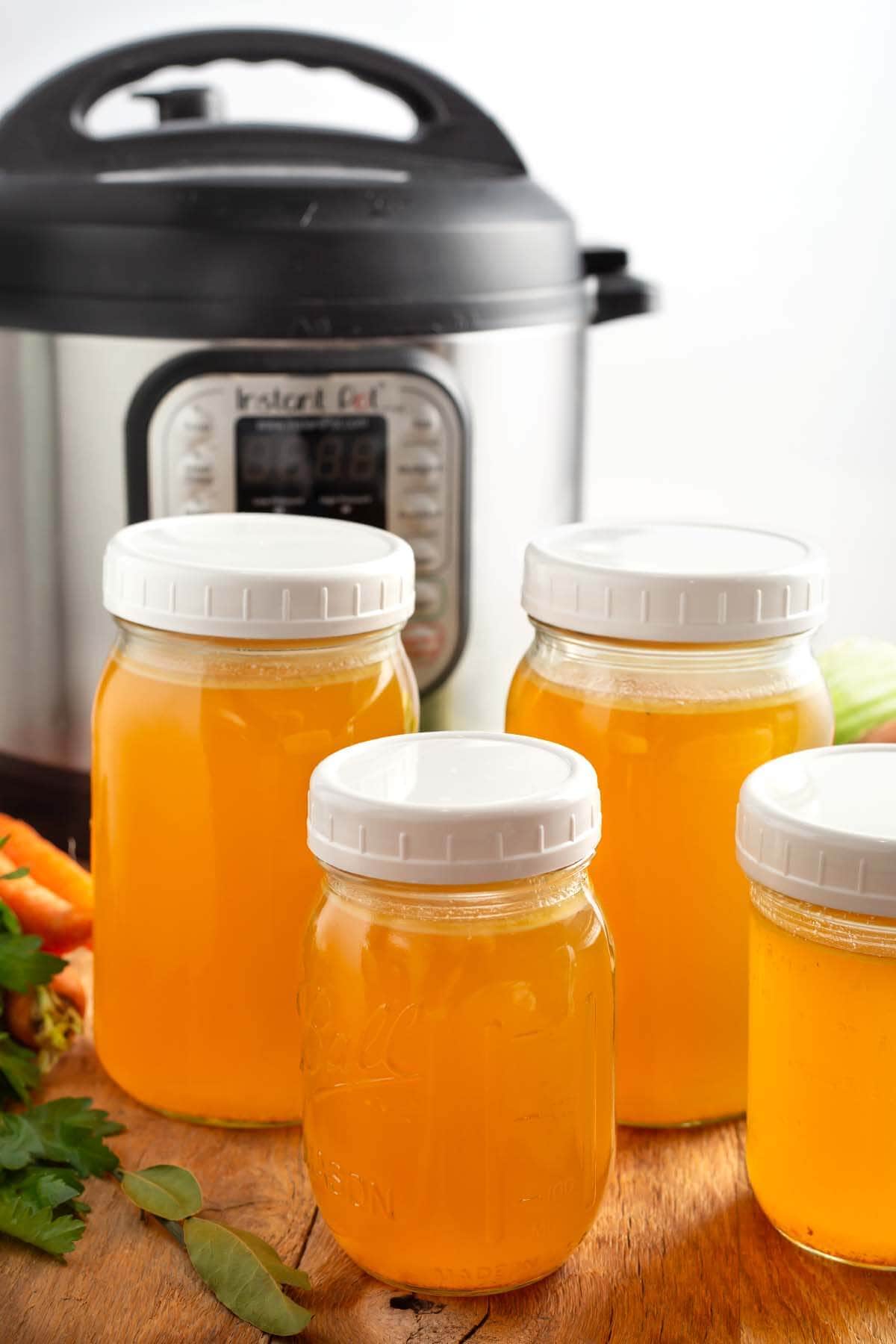 Instant Pot Turkey Broth
When your turkey dinner is over and you've taken the leftover meat off the bones for turkey sandwiches, you are left with the carcass.
This is a good thing! Now you can make a fantastic batch of homemade turkey broth in your Instant Pot.
Pressure cooking is the perfect method to cook the good stuff out of the bones quicker than if you boil them on the stovetop.
All you need are some veggies and a few aromatics, the bones/meat, and you will have a tasty, rich batch of turkey broth. Perfect for Instant Pot Turkey Soup.
You don't HAVE to use veggies. Many people like to use just the bones and water for a very basic stock/broth.
How to Make Pressure Cooker Turkey Broth
It is very easy to make turkey broth in the Instant Pot.



Collect the bones and add them to the pressure cooker. Then add the veggies, bay leaves, garlic, etc. You can use whatever you want. Cover with water and cook.


When the broth is cooled, put the strainer in a large bowl and strain the bones/veggies out of the broth. Then fill clean jars (or use zip-closure baggies) with your liquid gold.
Is it Turkey Broth or Turkey Stock?
I tend to use 'stock' and 'broth' interchangeably, but technically there is a difference. What you end up with will be dependent on the ingredients you use.
My understanding is that stock is from bones, mostly, and is a little thicker (or has more body), probably because you cook it longer to extract some of the collagen and such from the bones. Mostly used in cooking.
Broth is made with veggies and meatier bones (or meat) and random turkey parts that still have a little meat on them. This makes a more flavorful broth that is nice to drink (and use in recipes).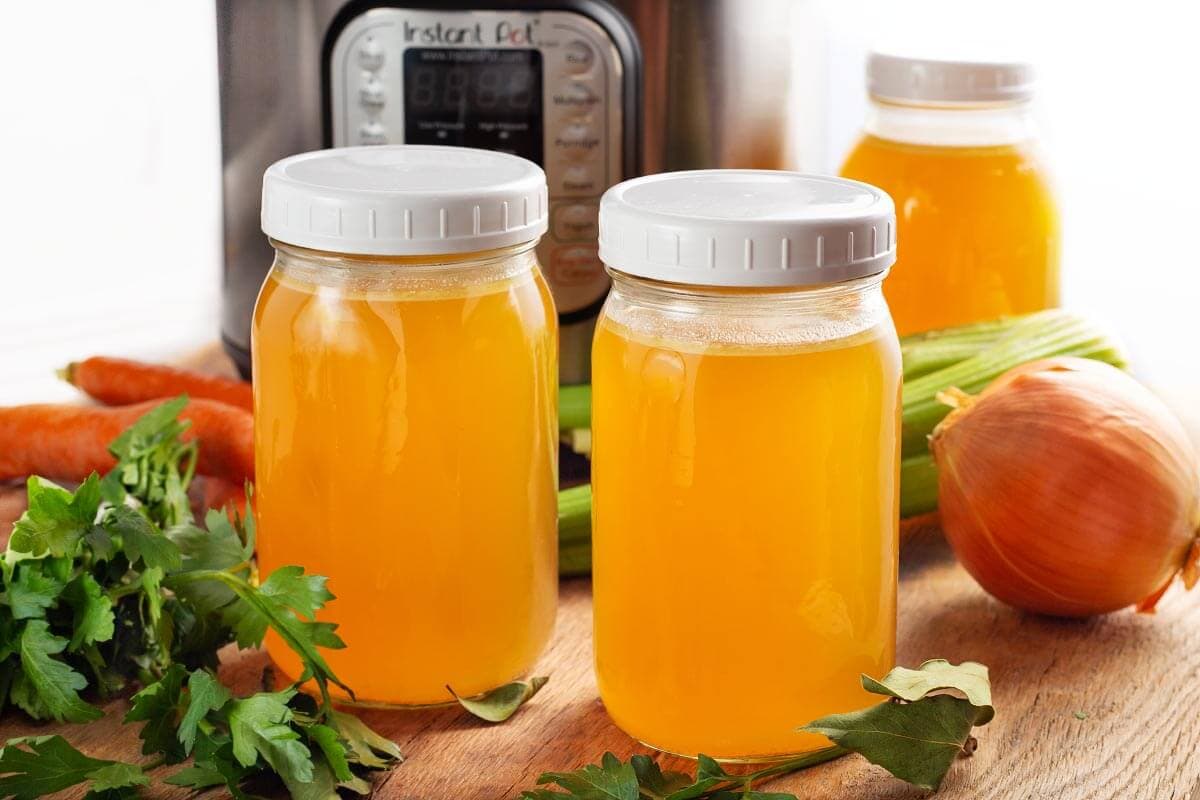 How Much Turkey Broth Does This Make?
• The amount of broth you end up with will vary by how much volume your ingredients take up in your pot (allows more or less water).
• The size of your pot will definitely make a difference.
• I often use a 8-quart pressure cooker and can get as much as 16 cups of Turkey Broth.
Turkey Broth Storage
• Turkey broth will keep up to 3 days in the refrigerator
• Turkey broth can be frozen for up to 6 months. Freeze the broth in freezer baggies or canning jars, leaving room for expansion.


Instant Pot Turkey Broth
Instant Pot Bone Broth
Instant Pot Chicken Noodle Soup
Instant Pot Lemon Chicken Orzo Soup
What Can This Broth Be Used In?
• You can drink it.
• Use this pressure cooker turkey broth to make a delicious Turkey Soup.
• Use in place of water when making pasta in your Instant Pot (the pasta absorbs it).
• Make some stuffing, potatoes, gravy, or in any recipe in place of water that you don't drain.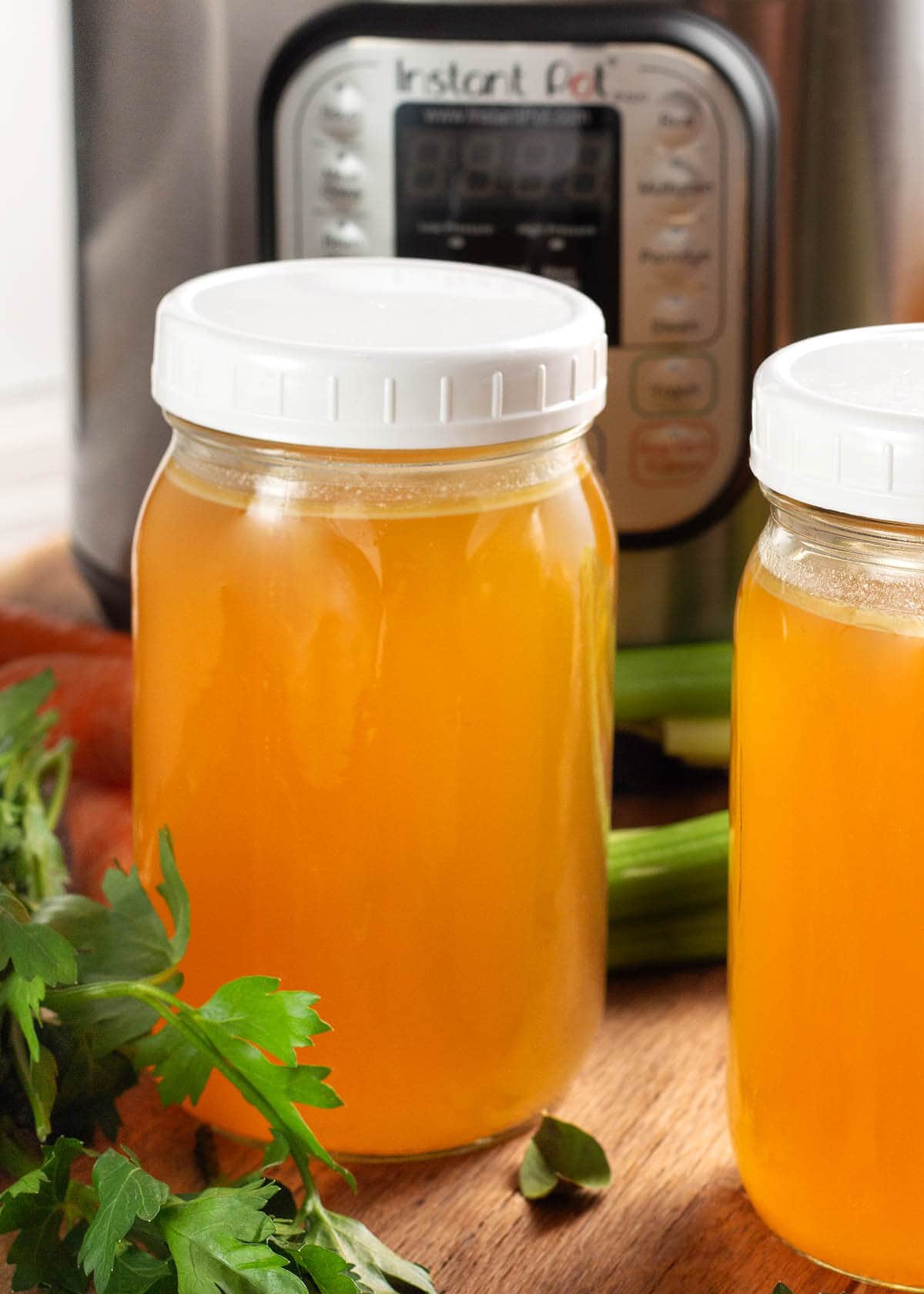 If you make this easy Instant Pot Turkey Broth recipe, please let me know! Just leave a comment with a star rating below.
I would like to know how yours turned out, and if you made any changes that you really liked.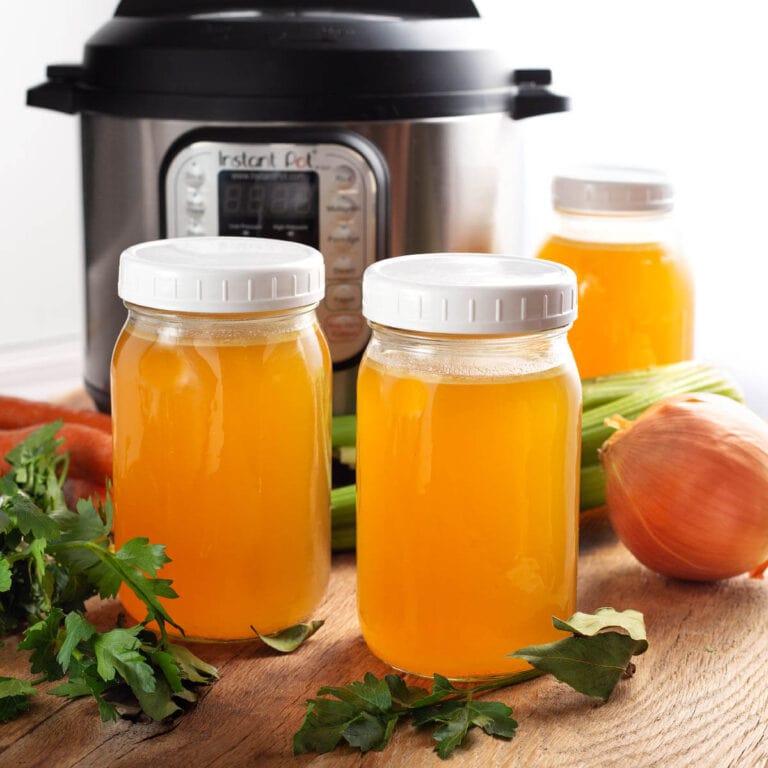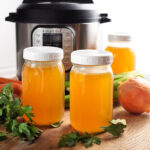 Instant Pot Turkey Broth
Instant Pot Turkey Broth is a delicious broth you can make from your leftover turkey carcass. With fresh veggies and aromatics, this pressure cooker turkey broth is a perfect base for many recipes.
Keyword:
instant pot turkey stock, pressure cooker turkey broth
Ingredients
Turkey Carcass

(bones/meaty bones)

2

Yellow Onions

3

Carrots

2

ribs

Celery

4

clove

Garlic

2

Bay Leaves

1

bunch

Fresh Parsley

2

teaspoons

Salt

(optional)

Water
Instructions
Add all of the ingredients to the pot and pour in enough water to cover them.

Close the lid and make sure it is sealed.

Choose the Pressure Cook option and High Pressure, and set the cook time for 60 minutes. The pot will take several minutes to come to pressure.

When the cook time has ended, let the pot sit undisturbed until the pressure releases on its own (full natural release) and the pin in the lid drops back down. It can take 25 minutes or more for a 6-quart pot to release all of its pressure.

Open the lid and allow the broth to cool before moving to the next step. If you are very careful, you can take the inner liner pot out of the pressure cooker housing and set it on a heat safe surface. This will help it cool faster.

Set a large colander/strainer into a larger bowl. Very carefully pour the cooled broth into the colander. The bones and veggies will be strained out of the broth. Discard the bones/veggies.

Pour the broth into jars or other vessels with lids. Or fill freezer zip-style baggies and seal them. Leave a little room for expansion if you freeze it.

Store in the fridge or freeze the broth.

Use the turkey broth to make a rich and delicious soup, or in recipes that call for chicken or turkey broth.
Recipe Notes
Calories are for 1 cup of broth. It will vary by the amount of ingredients you use, etc.
Resources to Make This Recipe and More
This post contains Affiliate links. As an Amazon Associate I earn from qualifying purchases.