Cinnamon Roasted Butternut Squash is a delicious side dish recipe that is perfect for Thanksgiving, or any holiday. The warm spice of the cinnamon and caramelized brown sugar compliments the oven baked butternut squash. A tasty vegetable side dish!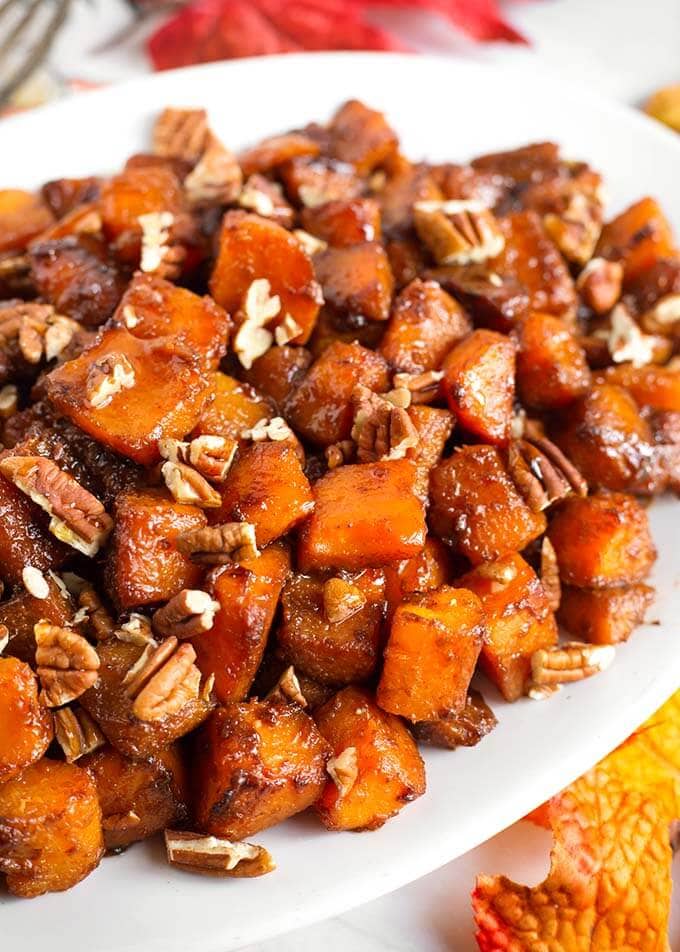 Originally published on Oct 22, 2018
Cinnamon Roasted Butternut Squash
Sometimes it's difficult to figure out what to do with a butternut squash once you get one. The most popular recipe to make is a Butternut Squash Soup. There are so many other yummy ways to prepare this winter squash.
Cinnamon Roasted Butternut Squash is a sweet side dish, but not overly sweet, with the wonderful flavor of cinnamon. It can hold its own at the dinner table alongside whatever else you happen to be serving.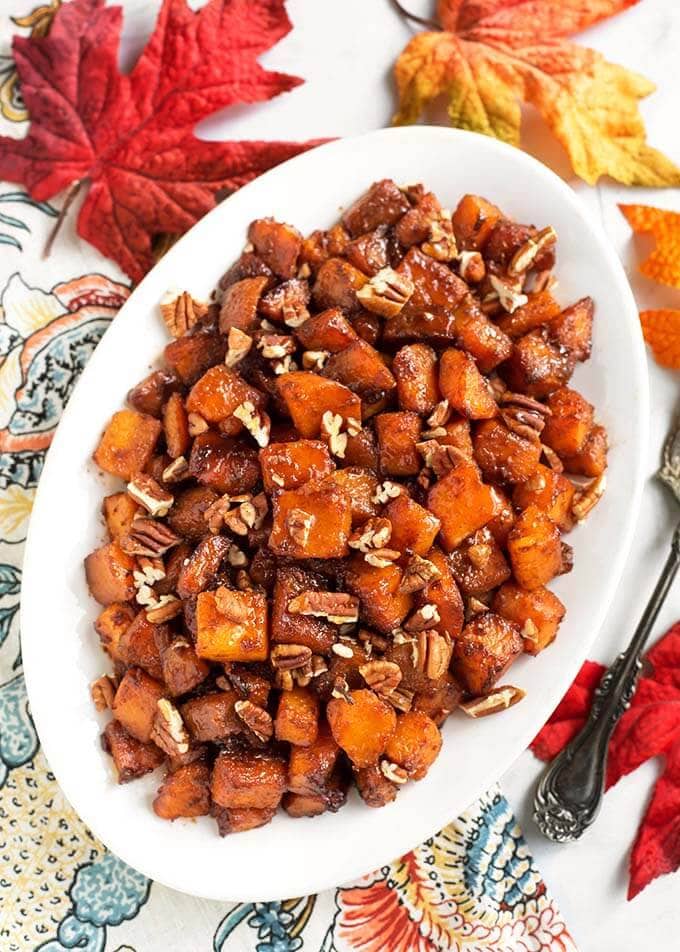 Cutting a Butternut Squash
The most difficult part of making this roasted butternut squash recipe is cutting up the squash into the cubes. Butternut squash are solid!
One way to soften them up a bit is to pierce them several times with a sharp paring knife and put the whole squash in the microwave for about five minutes. This won't cook it, but will help it soften up so you can cut it easier.
Then you cal slice it in half lengthwise, peel it, and scoop out the seeds & pulp. Then cut into cubes.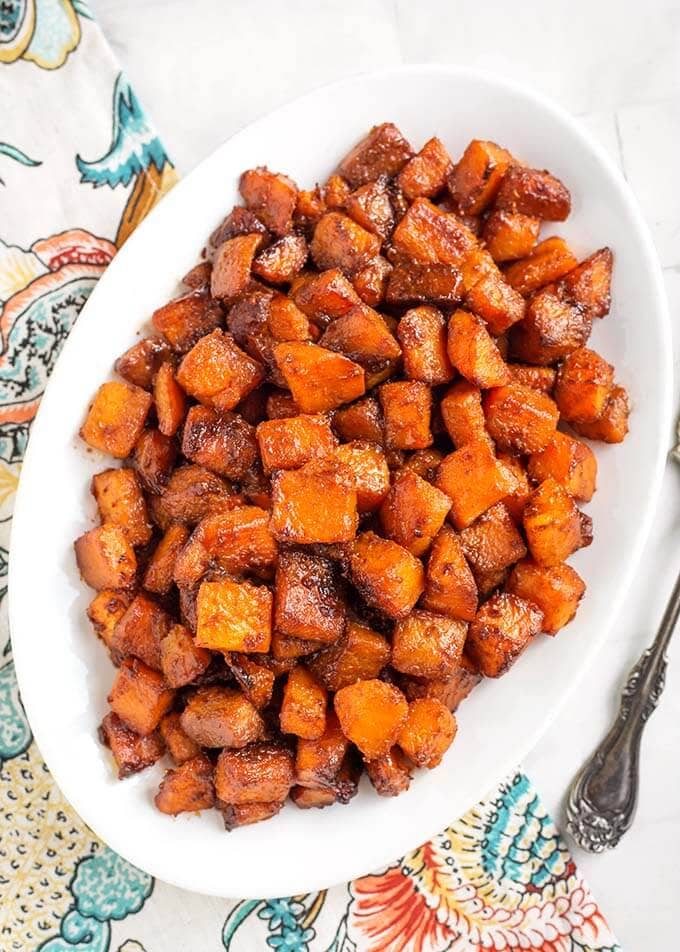 Roasting the cubed butternut squash in the oven at a high temperature makes the edges get a little dark and helps the sugar caramelize. That caramelization enhances the flavors.
Butternut Squash is a versatile squash, and when roasted in the oven it becomes even better. You can make a puree and add that to everything from pancakes and muffins to pasta sauces and smoothies!
I like to garnish roasted butternut squash with some chopped toasted pecans and a drizzle of maple syrup for that extra special touch.


Roasted Pumpkin Seeds (or Squash Seeds)
Slow Cooker Acorn Squash
Classic Irish Coffee Recipe
Chocolate Peanut Butter No Bake Cookies
If you make this roasted Butternut Squash recipe please let me know. Just leave a comment with a star rating below. I'd like to know how you liked it.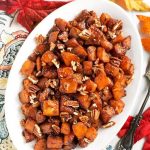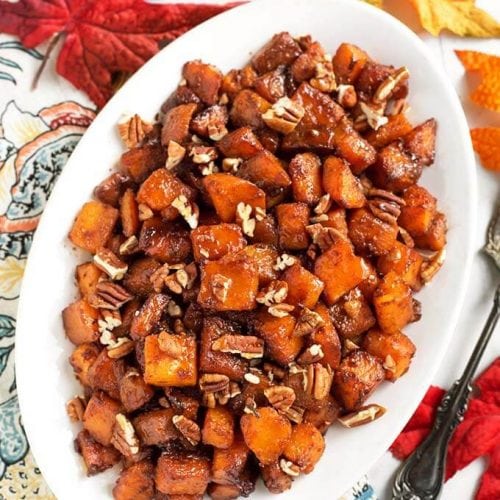 Cinnamon Roasted Butternut Squash
Cinnamon Roasted Butternut Squash is delicious recipe with the warm spice of cinnamon and sweet caramelized brown sugar. A perfect Thanksgiving side dish.

Keyword:
butternut squash side dish recipe
Ingredients
2

lbs

Butternut Squash,

cubed (I buy it precut)

2 ½

Tablespoons

Brown Sugar,

packed

¾

teaspoon

Kosher Salt

(½ tsp table salt)

1

teaspoon

Cinnamon

1

pinch

Pepper

4

Tablespoons

Melted Butter

(or 2 Tbsp olive oil)
Garnish (optional)
¼

cup

Toasted Pecans,

chopped

1 - 2

Tablespoons

Maple Syrup
Instructions
If your butternut squash is not precut, you will need to peel, deseed, & cube it. It helps if you pierce the squash with a knife a few times & then put the whole squash in the microwave for 5-6 minutes. just long enough to soften it for cutting.

In a mixing bowl, add the brown sugar, salt, cinnamon, pepper, and melted butter. Whisk together well.

Add the squash cubes to the mixture and toss to coat all of the cubes.

Spread the squash cubes out on a parchment lined baking sheet in a single layer. Try to separate them as much as you can. If you need to, use two baking sheets.

The cook time will depend on how large you cut the cubes, and whether or not you had to microwave the squash a little to soften it for peeling. Just keep an eye on them.

Bake at 425° for 15 minutes and then check on them. If you want, you can stir them and put them back in until done, another 5 to 15 minutes (cook time will depend on how large the cubed butternut squash pieces are).

Remove to a serving dish and garnish with chopped toasted pecans and a drizzle of maple syrup.
Recipe Notes
This method will work for many other varieties of squash.
Resources To Make Roasted Butternut Squash recipe
This post contains Affiliate links. As an Amazon Associate I earn from qualifying purchases.