If you like stuffed mushrooms, but think it's too difficult to make them on your own, try these! I call them Easy Garlic Stuffed Mushrooms because they are easy to make. They are also garlicky! Yum! Really, the hardest part of this tasty recipe is chopping the mushroom stems (I used a mini food processor, because I was not in the mood to chop today. I dunno, lazy Sunday for me).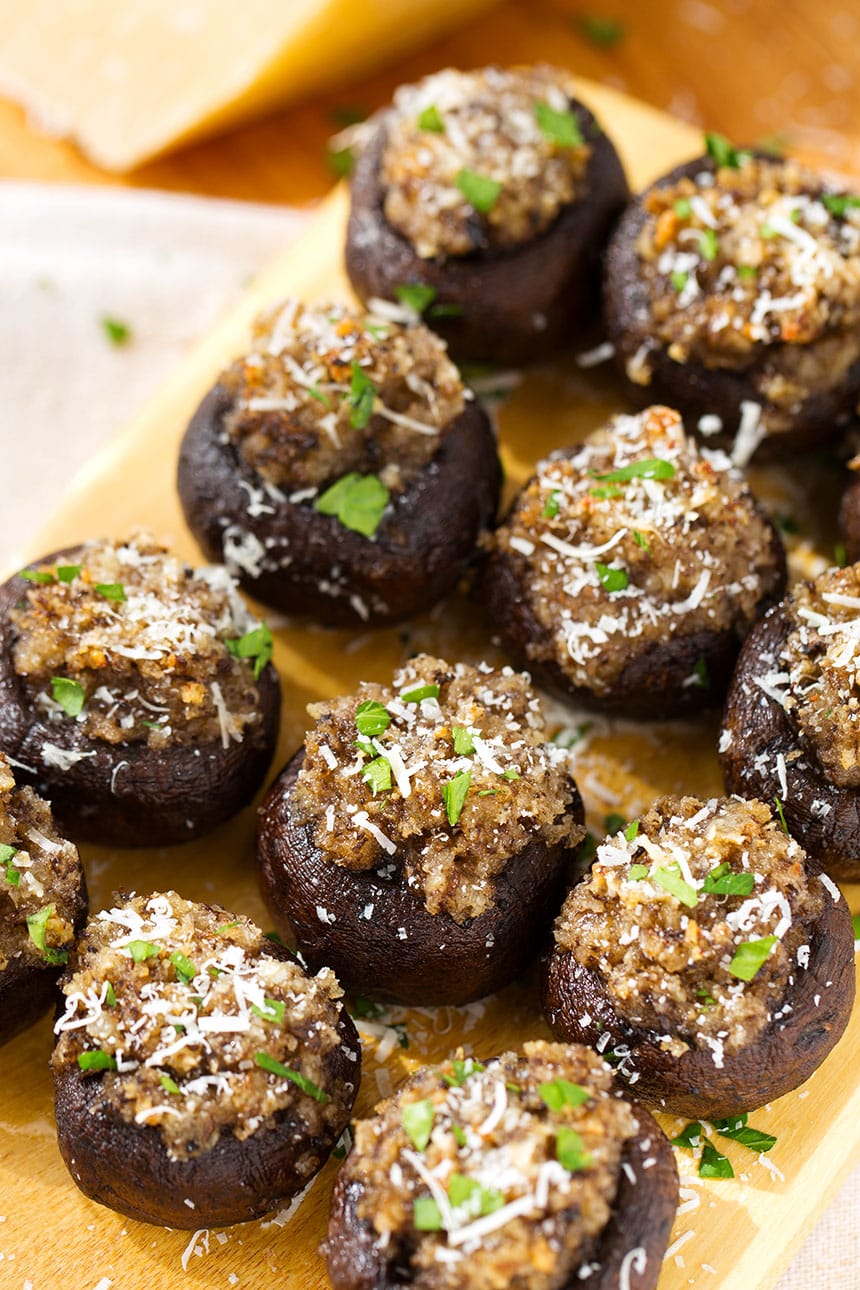 Easy Garlic Stuffed Mushrooms
Appetizers are fun to eat! You can pick one off a plate and pop it in your mouth. Repeat. Then repeat again! How is that not fun? They are, after all, party food!
Paul was at the race track all weekend. His best buddy and a few other friends race cars (They graduated from go-karts.). When Paul is out of town, I just eat whatever pops into my head. If I don't have to make a big dinner to feed the boys, I will make things like appetizers and eat them for dinner. Is that weird?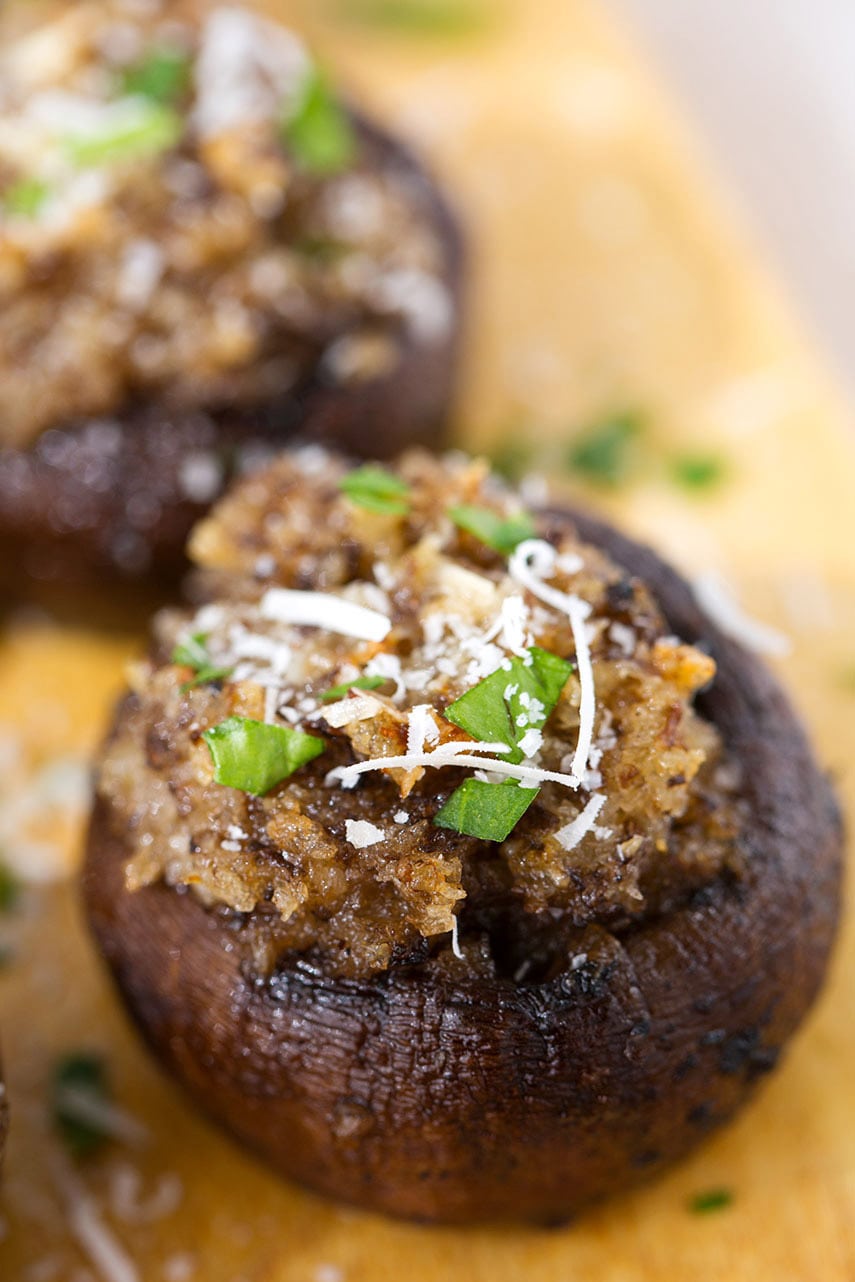 I made these Easy Garlic Stuffed Mushrooms today and had eaten half of them when Paul texted me to let me know he was an hour away. So I held back, and saved him a few mushrooms. I know, so nice! Well, he is a great guy after all!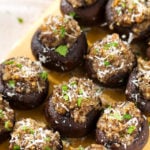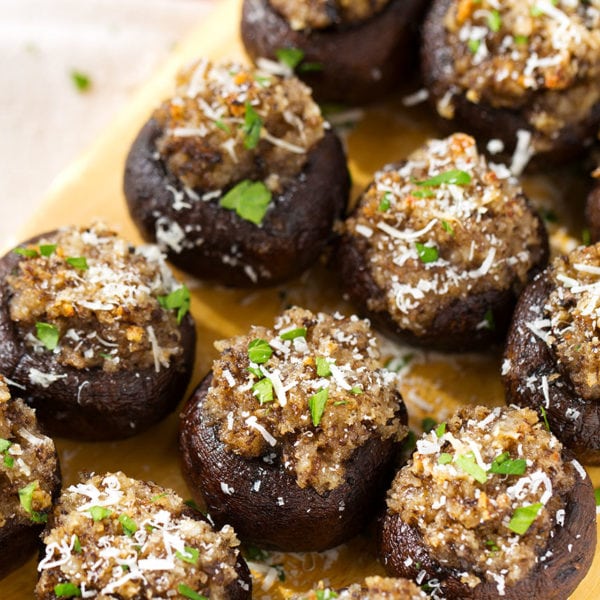 Easy Garlic Stuffed Mushrooms
Easy Garlic Stuffed Mushrooms

Keyword:
garlic stuffed mushrooms appetizer
Ingredients
18

Medium Mushrooms

6

Tbsp

Butter,

divided

4

cloves

Garlic,

pressed or grated

3

Tbsp

Panko Bread Crumbs,

or use seasoned for added flavor

2

Tbsp

Parmesan Cheese,

grated, plus extra for garnish

2

pinches

Kosher Salt

pinch

Pepper
Instructions
Heat oven to 400° degrees.

Clean mushrooms and remove the stems. Set stems aside.

Chop the stems finely, or use a mini food processor to chop them.

In a microwave safe bowl add 4 Tbsp of the butter, and the garlic. Microwave for about 20 seconds, or until butter is soft. If the butter melts completely, that's okay, just try not to let it get too hot.

Add the bread crumbs to the butter mixture, and stir.

Add the chopped mushroom stems, parmesan cheese, salt and pepper, and hot sauce, if using. Stir well to combine. Mixture should be thick.

In a cast iron frying pan, or oven save dish, add the remaining 2 Tbsp of butter and place the pan in the oven for a couple of minutes to melt the butter.

Remove the pan from the oven and very carefully arrange the mushrooms in a single layer in the pan (Be careful as pan will be hot!).

Using a small spoon, fill the cavaties of the mushrooms with the filling. Try to use all of the filling. Mound it up!

Bake mushrooms for 25 minutes. Halfway through cooking time, baste them with the butter from the bottom of the pan, using a spoon (be careful! I know, I'm a worrier).

Remove from oven and enjoy hot, or room temperature.
Recipe Notes
Optional: Garnish with parmesan, chopped parsley, & extra hot sauce.