If you happen upon some nice pork belly in your grocery travels, I know what you can make with it! Asian Pork Belly Sliders! Cute little sliders with a lot of flavor. Pork belly cooks up easily in a frying pan or on the grill. The marinade is nice for keeping the meat moist and adding lots of flavor, and you can boil up the leftover marinade for a simple sauce if you want!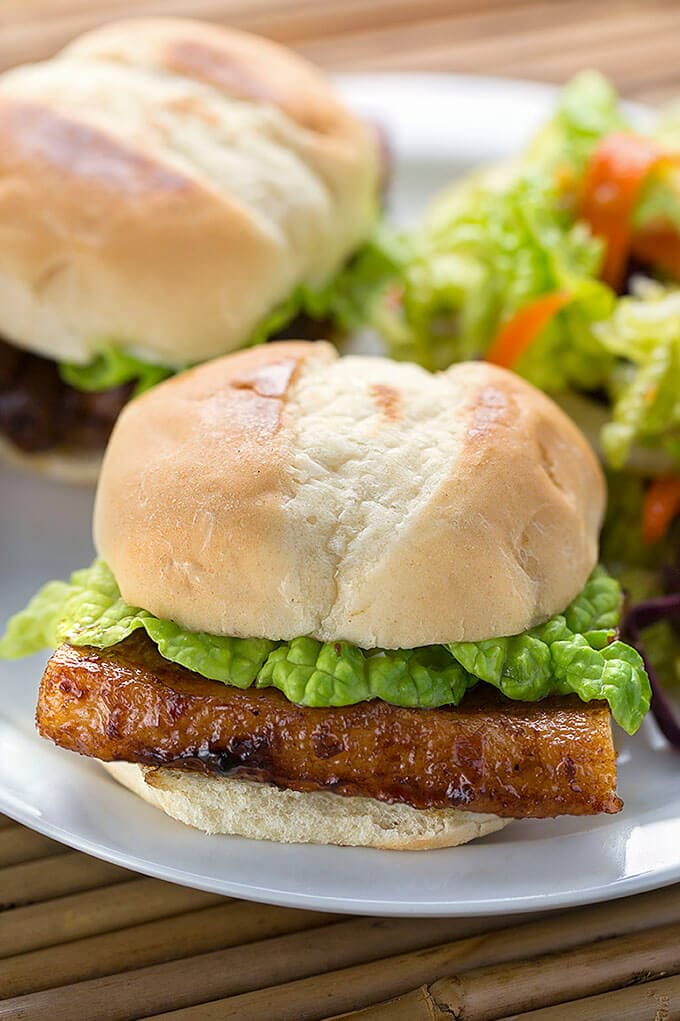 Asian Pork Belly Sliders
I have a confession to make. I am obsessed with having a full pantry and freezer. I'm not entirely sure why I became this way, maybe it was growing up in a lower income single-parent household. Maybe it was because my Nana and Grandpa were from the Depression era and saved EVERYTHING (I kid you not. When Grandpa passed I found cans with broken rubber bands and bit of things I couldn't name. He washed and reused many disposable items, too). Plus, I was raised Mormon in my very young years, and was partially influenced by having a "Year's Supply." Mom never did that, she was Baptist (long story), but I knew many LDS families who did. In my young brain it sounded like a great idea! I still kind of like the idea, but I'm a little limited on space.
When my pantry is well-stocked I get a feeling of peace and assurance. If I run very low on the staples, I head to the 'big box store' (BBS) and stock up. I love shopping there. It is a most fulfilling adventure every time we go there to shop.
Why this story and confession? Because one trip to the BBS last Fall found me buying Pork Belly, of all things! It was a huge (of course) package of it, and I was intrigued to use it in a new recipe. Pork Belly is basically bacon that has not been cured or anything, it is just the meat from the belly of the pig, hence the name. It was thickly sliced, about 3 times the thickness as thick-cut bacon. When we got it home we proceeded to divide it up 1 pound per freezer bag, and popped them in the chest freezer. I forgot about it for a while. I decided one day to thaw out a pound and make something.
My pantry is full right now, as is my freezer. The sun is shining and it is a perfect 70 degrees out. Life is really good!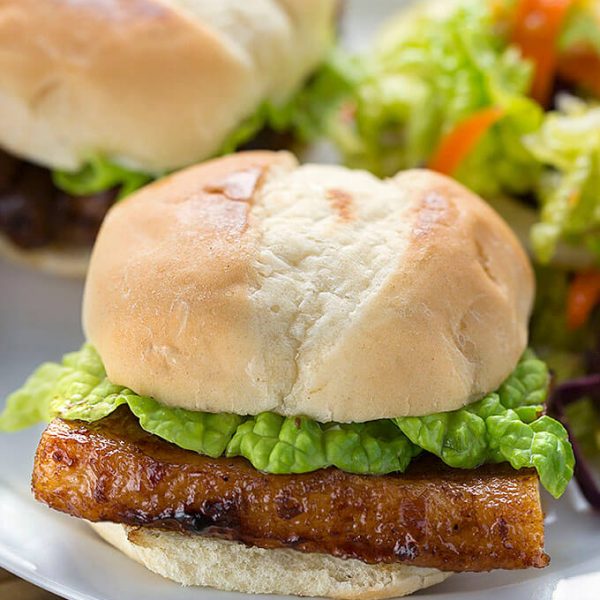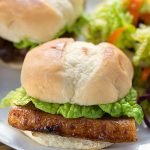 Asian Pork Belly Sliders
They may be small, but they are big on flavor! Pork Belly marinated in a flavorful mix of Asian ingredients to send these sliders to the top of your appetizer list. Great for Game Day, parties, or any time you want a snacky style meal.
Course:
Appetizer, Main Course
Keyword:
pork belly recipe
Ingredients
Sliders
1

pound

Pork Belly,

sliced 1/4" thick

4

Slider Buns
Marinade
3/4

Cup

Low Sodium Soy Sauce

1/2

Cup

Rice Wine Vinegar

1/4

Cup

Orange Juice

1

Tbsp

Chili Garlic Sauce

(any Hot Chili sauce or paste will work)

3

Garlic Cloves,

pressed or smashed and finely minced

1

1 inch

Piece of Ginger,

finely grated

2

Scallions,

finely chopped

1

tsp

Lemon Zest
Instructions
In a medium bowl or a mason jar, whisk together the soy, rice wine vinegar, orange juice, chili garlic sauce, garlic, ginger, scallions and lemon zest.

Place the pork belly in a medium sealable storage bag and pour the marinade over the pork belly. Marinate for 2 hours at room temp, or overnight in the fridge, turning a couple of times.

Heat a skillet or grill pan to medium heat. When it is hot, brush the surface with oil.

Using tongs, place the pork belly in the pan and cook it for about 6-8 minutes per side, until cooked through (don't undercook pork!) Cooking time will depend on the thickness, and how hot your pan is. Just keep watch on it!

Assemble the sliders by putting the desired amount of pork belly on a slider bun and adding some mayo, napa cabbage or a slaw, or any condiments you like. This has a lot of flavor on its own!
Recipe Notes
You can boil the leftover marinade for a dipping sauce. Just be sure to BOIL it as that raw pork has to cook.
Resources to make This Recipe and More
We are a participant in the Amazon Services LLC Associates Program, an affiliate advertising program designed to provide a means for us to earn fees by linking to Amazon.com and affiliated sites.