I love to make this easy Instant Pot Spaghetti recipe with meat sauce when I want a faster meal that will feed the family and fill us up. This semi-homemade one-pot pressure cooker spaghetti is easy to make, and turns out delicious. It is also pretty versatile! This is a family favorite Instant Pot recipe with ground beef, Italian sausage, or ground turkey, marinara sauce, spaghetti noodles, and spices, and and it's ready in under an hour.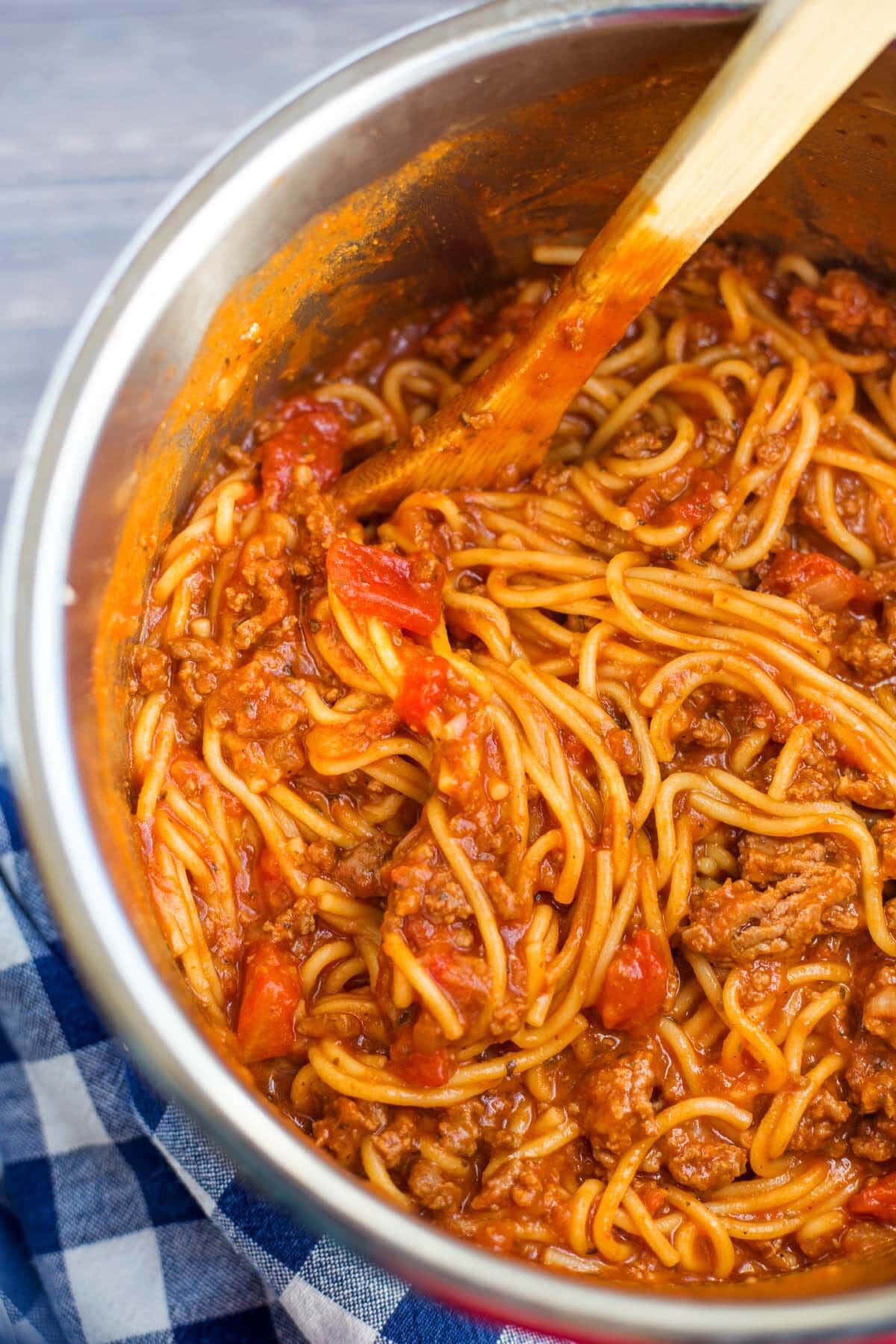 Originally published on 2/22/18
Instant Pot Spaghetti
When you come home from work on a busy weeknight, or you just had a busy day, there is still so much to do, and you need to make a fast family dinner, too! Have a Spaghetti night!


This is where Instant Pot Cooking really shines! Make this spaghetti all in one pot for fewer dishes, and no boiling or draining a pot of boiling water. I'm short so that is always an issue for me!


We love spaghetti but it can take a long time to prepare, when you make it from scratch. But this semi-homemade Instant Pot Spaghetti is a great solution! It is the easiest way to make spaghetti that I have tried.


Why I Love This Spaghetti Recipe
• It's an easy dinner recipe for busy nights.
• This is a one-pot spaghetti meal.
• I can cook the meat, add the other ingredients, set it, and go do other things until it beeps!
• This is an inexpensive Instant Pot pasta recipe.
• The whole family loves it.
• It works for me every single time, it's a great recipe!


On a busy day, you might want to opt for this pressure cooker Spaghetti recipe. It can be cooked in one pot, and after browning the meat, you just layer in the ingredients and go do your thing while it cooks!
Using your favorite jarred spaghetti sauce, marinara, or homemade sauce, and some extra spices, you can make this the way you and your family will love!


Can I Use Whole Wheat Spaghetti?
Yes, for sure! Whole wheat pasta is delicious, but if overcooked can have a mushy texture. Look at the package directions and pressure cook the pasta for half of the time that the directions suggest.
If the pasta is too firm when the cooking time is done, you can quickly pop the lid back on and let it sit for a few minutes while you get the table set. Next time you will know to add a minute or two to your cook time. The first time with a new pasta will show you the baseline.
Can I use Other Shapes of Pasta?
Yes you can. Just keep in mind that they have varying cook times to al dente. Macaroni is typically 4 minutes, penne is 5 minutes, farfalle is 5 to 6 minutes, etc.
The general rule-of-thumb for the time that pasta cooks in the Instant Pot is half the time the package directions say, with a Quick Release of the pressure when done for the best results. This is not 100% exact, but gives you a baseline and will be very close.
If your pasta is too firm, just put the lid back on and let it sit for a few minutes and that usually does the trick. Also, be sure to use enough water or broth. See below.
Do I Need to Weigh My Pasta?
I strongly recommend it if you are not using the whole package of pasta. Many recipes call for only 8-ounces or 12-ounces of dry pasta. Some packages are 16-ounces, so it is very important to pay attention to the weight of the package and then weigh the pasta if using less than the entire package.


Why is the Weight of the Pasta Important?
Because we are not going to drain the water, so the pasta will cook, absorbing the water, and the sauce will cook with it all together. With no way to separate the two, you need the correct ratio of pasta to liquid.
The best ratio is 4-ounces of pasta to 8-ounces of water (or broth). It doesn't matter much what shape the pasta is, it's the weight that matters most.
So for this spaghetti recipe we are using 8-ounces of spaghetti. We will need 16-ounces of water (2 cups).
If you use more pasta, you will also want to use more sauce, not just liquid.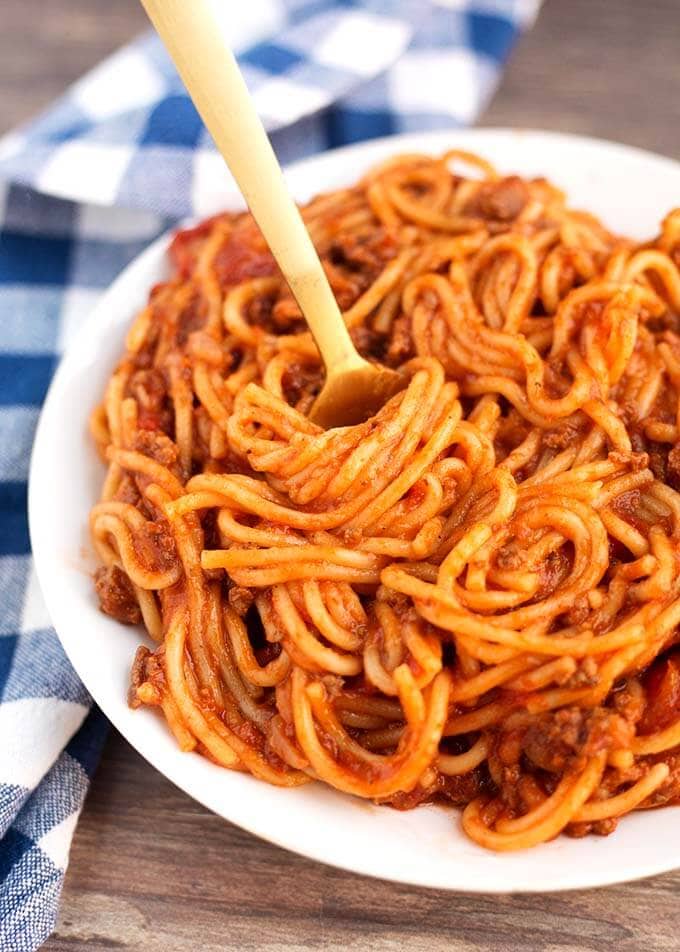 What Can I Use in Place of Jarred Pasta Sauce?
You can add (over the top of the uncooked noodles), a 15-ounce can of tomato sauce, a 6-ounce can of tomato paste, a can of diced tomatoes, and plenty of seasonings, including Italian seasoning, garlic powder, onion powder, dried basil, red pepper flakes, etc. Don't stir before cooking!
Once the spaghetti has cooked, give it a good stir. If it is a bit watery, just let it sit for a few minutes to absorb the liquid. The tomato paste helps thicken it. You can also add a good amount of grated parmesan cheese to it and that helps it thicken as well. If is too thick, just add a little water and stir it in.
Can I Use My Own Meat Sauce Recipe?
Sure! If you already have a meat sauce and are not browning any meat, add the liquid to the pot first, then the uncooked spaghetti, and top it with your meat sauce. Don't stir it! You want to keep the sauce off of the bottom of the Instant Pot to avoid getting a Burn notice from scorching.


What is the Burn Error?
Your pot gets very hot on the bottom as that is where the heating element is located. If there is anything on the bottom of the pot that could scorch, you won't know as the pot is closed and you can't see in there.
So if it does scorch on the bottom, the pressure cooker will display an error message that reads BURN. This means it will not come to pressure and cook the food as intended.
You will need to intervene by releasing any pressure that has built up and opening the pot to scrape the scorched food off of the bottom. Then add some thin liquid to it so that can boil and create the steam necessary to pressurize the pot.
How to Avoid the Burn Error
The best way to avoid the Burn error is to have enough water or thin liquid in the pot, and nothing thick (like cream soups, etc), no tomato products, and no browned bits from browning the meat, on the bottom.
My method of cooking in the electric pressure cooker gives you the steps to avoid the Burn error. Layering, not stirring before pressure cooking, and deglazing the pot are the top ways to avoid getting the dreaded BURN notice!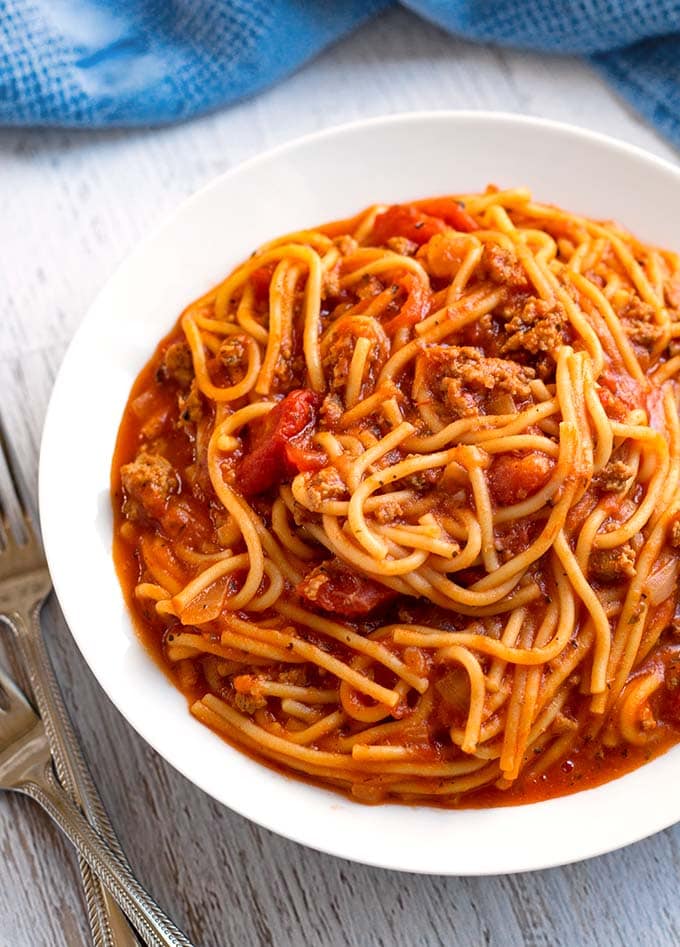 How to Make Spaghetti in the Instant Pot Pressure Cooker


• Brown the onion and meat in some olive oil in the Instant Pot on the sauté setting. Drain the excess grease (Pro Tip: Use a paper towel or slice of bread to soak it up, then carefully discard it).
• Add onion and sauté, scraping the bottom of the Pot pot with a wooden spoon to get up all of the browned bits of fond. Use a little splash of water or wine to help loosen it, if needed. This helps the burn notice from happening.


• And spices to the pot. I use Italian Seasoning, basil, garlic powder, onion powder, red pepper flakes, salt and pepper.


• Add 2 cups of water, chicken broth or beef broth. Don't stir.
• Break 8-ounces of spaghetti noodles in half and layer the dry pasta over the meat mixture in a random pattern, like a bird's nest (the noodles will be crossing in the opposite direction) in a random patter to avoid clumping.


• This is what the uncooked pasta should look like after adding.
• Pour a jar of spaghetti sauce or marinara over the uncooked pasta. If you have some homemade sauce, you can use 3 cups of that instead. Don't stir.


• Drain a can of diced tomatoes and pour them over the top. Try to cover as much of the pasta as possible.
• Put the lid on, seal it if applicable, and press the Manual or Pressure Cook button (or dial) and select 7 minute cook time, High pressure.
• Quick release the pressure and open the Instant Pot (you can do a 3 minute natural release for very soft noodles).


• Open the lid and give it a good Stir, it might look a little watery, but let it sit a few minutes and it will thicken up.
• Then serve topped with parmesan cheese and fresh basil.
If you would like a version with meatballs, I made a separate recipe for that: Instant Pot Spaghetti and Meatballs.


Instant Pot Spaghetti and Meatballs
Instant Pot Mac and Cheese
Instant Pot Cheesy Taco Pasta
Instant Pot Chili Mac
If you would like to have meatballs, I made a separate Instant Pot Spaghetti and Meatballs recipe recipe for that: Instant Pot Spaghetti and Meatballs.


Can I Add Cheese to Instant Pot Spaghetti?
Absolutely! Just add it after pressure cooking. You can either stir it in, or sprinkle it on top and close the lid until it melts. I like to stir in some parmesan and melt some mozzarella on top (my hubby likes the mozzarella cheese mixed in).
How to Store Spaghetti
• Place in an airtight container and keep in the fridge for up to 5 days. Freeze for up to 3 months.
• Reheat spaghetti in the microwave or on the stovetop.


What to Serve With This for the Perfect Spaghetti Dinner
A salad, garlic bread, steamed veggies, fruit salad, garlic knots, etc. are all good options.
Watch this Video- How to Make Spaghetti in the Instant Pot
If you made this easy Instapot Spaghetti recipe, please let me know. You can leave a comment with a star rating below. Let me know how you liked it!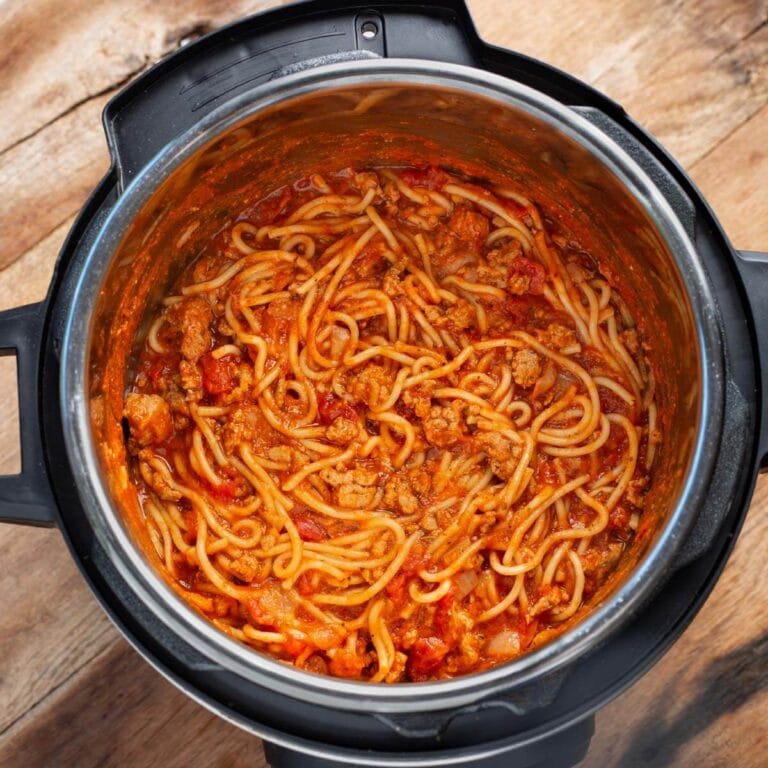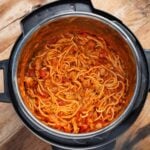 Instant Pot Spaghetti
Pressure Building and Release
Instant Pot Spaghetti is a one pot spaghetti that turns out delicious, and is easy and quick to make. A semi-homemade Pressure cooker spaghetti that the whole family will enjoy. Perfect on a busy day.

Cuisine:
American, Italian
Keyword:
instapot spaghetti, pressure cooker spaghetti and meat sauce recipe
Ingredients
1-2

Tablespoons

Olive Oil

1

Onion,

chopped (or ½ teaspoon onion powder)

1

lb

Lean Ground Beef

(or Ground Turkey 85% - 93% lean)

1

teaspoon

Kosher Salt,

or ½ teaspoon Table Salt

¼

teaspoon

Pepper

½

teaspoon

Onion Powder

¼

teaspoon

Red Pepper Flakes

(or to taste)

2 ½

teaspoons

Italian Seasoning

½

teaspoon

Basil,

dried

3

cloves

Garlic,

pressed or minced (or 2 tsp garlic powder)

2

cups

Low Sodium Chicken Broth,

or Water

8

oz

Spaghetti Noodles

(broken in half) I recommend weighing the pasta

1

(14 oz) can

Diced Tomatoes,

drained (optional)

1

(24 oz) jar

Spaghetti Sauce

(I use marinara)

Parmesan Cheese

(for garnish)
Instructions
First gather together and prep everything you will need to make this recipe. Chop the veggies, weigh the pasta, etc.

Turn your pot on to the Sauté setting. When it is hot, add 1 Tablespoon olive oil and the onions. Cook, stirring occasionally, until the onion is soft. Then add the ground beef (or ground turkey, if using). Stir to break apart the meat.

Pro Tip: You shouldn't need to drain any grease if you used lean ground beef or turkey. If you do have excess grease, now is when you will drain it. Try using a paper towel in the pot and use your wood spoon to move it around so it absorbs the grease. You can also use a slice of bread. Discard whatever you use and continue.

Add the salt, pepper, onion powder, red pepper flakes, Italian seasoning, and basil (and garlic powder if not using fresh garlic). Cook for a few minutes, stirring occasionally, until the meat is mostly done, and the onions are turning translucent.

Add the garlic (if using fresh) and cook, stirring frequently, for about 30 seconds.

Pour in the broth or water (whichever you are using), and stir, scraping the bottom of the pot with the wood spoon or a hard spatula, to get up any browned bits that may have stuck to the bottom of the pot. Turn off the sauté setting.
Start Layering - No Stirring From This Point
Scatter in the spaghetti noodles (broken in half) in a random fashion, like a bird's nest, so they are not al laying side-by-side. This keeps them from sticking together. Do not stir.

Pour the diced tomatoes evenly over the noodles. Do not stir.

Pour on the spaghetti sauce, evenly, completely covering all of the noodles (exposed noodles may not cook completely). Do not stir.

Close the lid and lock in place. Set the steam release knob to the Sealing position, if applicable.

Press the Pressure Cook or Manual button or dial and use the + /- button or dial to select 7 minutes (for softer noodles) or 6 minutes (for more al dente).

When the cooking cycle is finished, turn off the pot and do a controlled Quick Release (releasing in shorter bursts at first, then all the way) of the pressure/steam. When the pin in the lid drops down, you can open the lid.
Now You Can Stir
Stir the spaghetti well, the sauce and noodles will blend nicely. It might look too watery at first, but it's fine, as long as the noodles are cooked. Just let it sit a few minutes after stirring well. It will thicken up. This is why it is important to weigh the pasta, so you have the perfect amount of liquid.

If the noodles are not cooked enough for you, just put the lid back on (Venting. Or use a glass lid) and let it sit a few minutes while you get everything else for your meal ready. If a few noodles stick together, just use a fork to separate them (though this rarely happens to me).

Garnish with parmesan cheese and serve with some French bread.
Recipe Notes
Please consider weighing your pasta. The ratio of liquid to pasta is import, since you will not be draining any water like when you boil noodles on the stove.
The amount and type of seasonings you use will depend on the sauce you use, and your personal preference. I like to use marinara, and add lots of seasoning.
Resources to Make the Best Instant Pot Spaghetti Recipe
We are a participant in the Amazon Services LLC Associates Program, an affiliate advertising program designed to provide a means for us to earn fees by linking to Amazon.com and affiliated sites.