Instant Pot Stuffed Pumpkin is so delicious! This is a Fall recipe that can be a main dish or a side dish. A pumpkin stuffed with a savory and creamy stuffing that you can change up to make it your own! This pressure cooker stuffed pumpkin is as beautiful as it is scrumptious!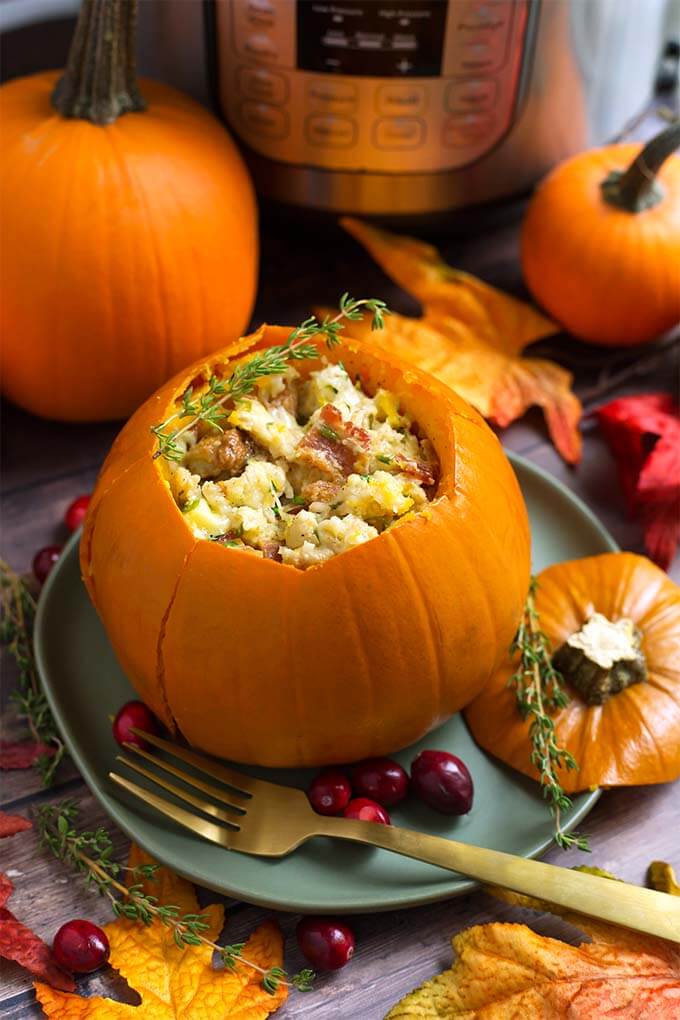 Originally published 10/8/18
Instant Pot Stuffed Pumpkin
Thank goodness it is Fall, so I can buy those cute little Sugar Pie Pumpkins! They are so versatile, delicious, and I use them in any recipe that calls for pumpkin. Or in this case, calls for the whole pumpkin!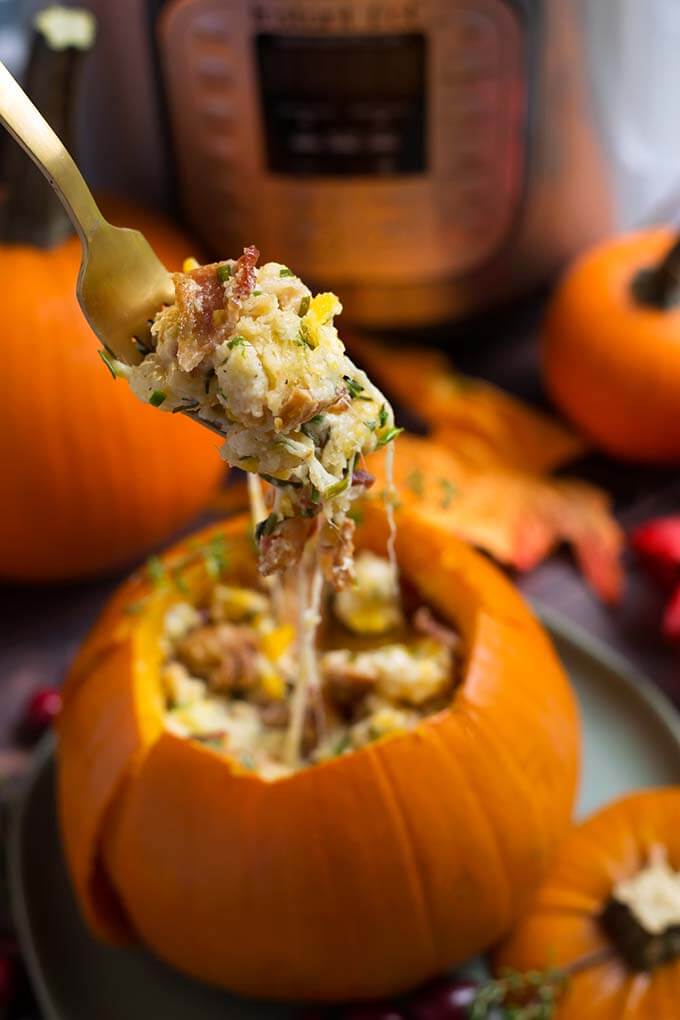 This recipe works best with Sugar Pie pumpkins. Carving pumpkins are not very good to eat, and it would probably be hard to find one small enough to fit in your pressure cooker!
If you can't find Sugar Pie Pumpkins, also look for them labeled as Pie Pumpkins, Baking Pumpkins, Fairy Tale, Autumn Gold, Cinderella, New England Pie Pumpkins, Baby Pam, Ghost Rider, to name a few.
You'll want to find one that is between 2 and 3 pounds. The one in my photos was 2 ½ pounds.
This delicious Instant Pot Stuffed Pumpkin recipe is very easy to put together.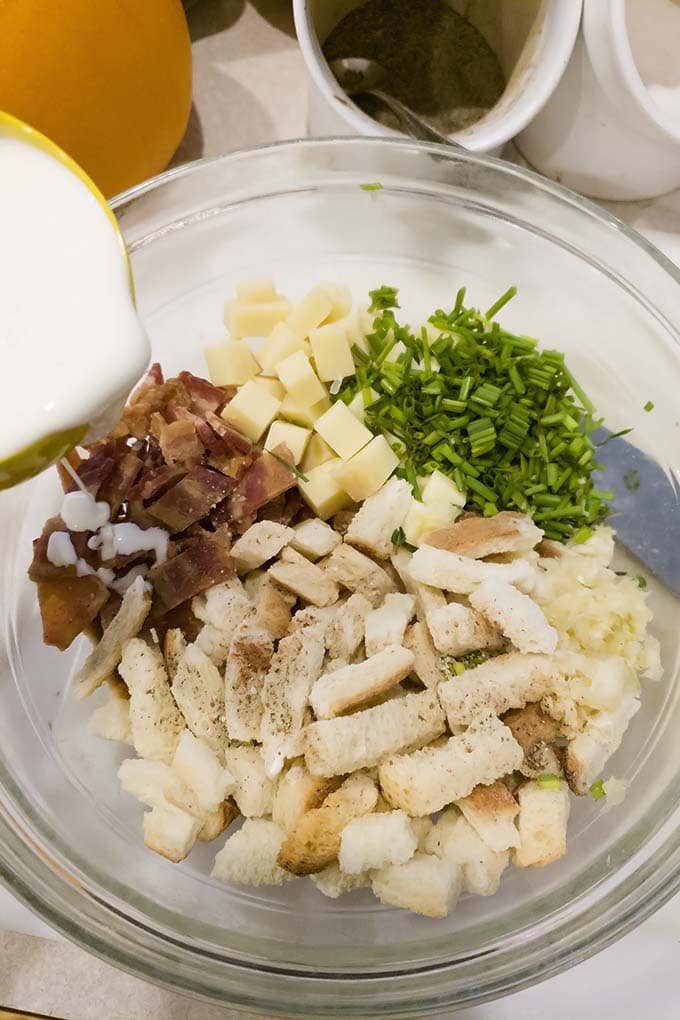 Add all of the stuffing ingredients together in a bowl and mix well.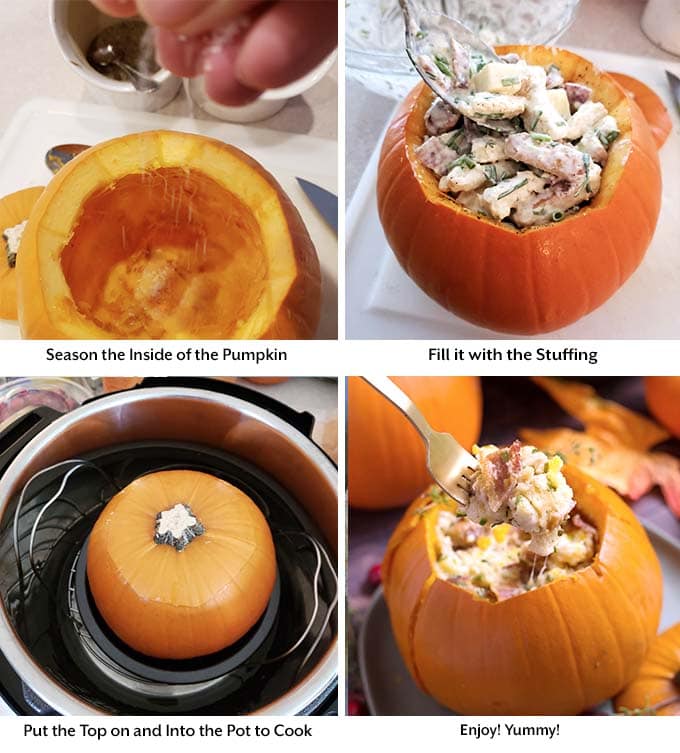 Some variations on the stuffing that I like are sausage and apple with rice, or add some sautéed mushrooms to the mixture. Nuts are also good in this. Pecans, walnuts, etc. If you already have a favorite stuffing recipe that you could scale down to fit this little pumpkin, give it a try!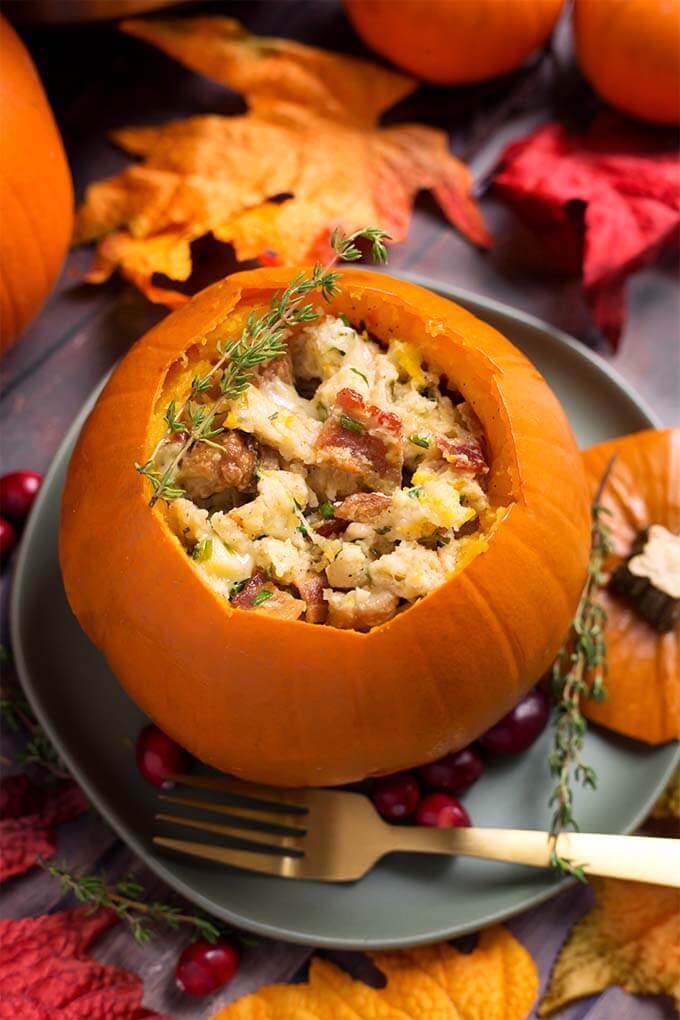 This stuffed pumpkin recipe would be a lovely meal for a Fall date night where you are staying in. This would also be wonderful at Thanksgiving.


Homemade Pumpkin Puree
Instant Pot Pumpkin Chili
Instant Pot Bone-in Ham
Instant Pot Cornbread Stuffing
Pin Tis Recipe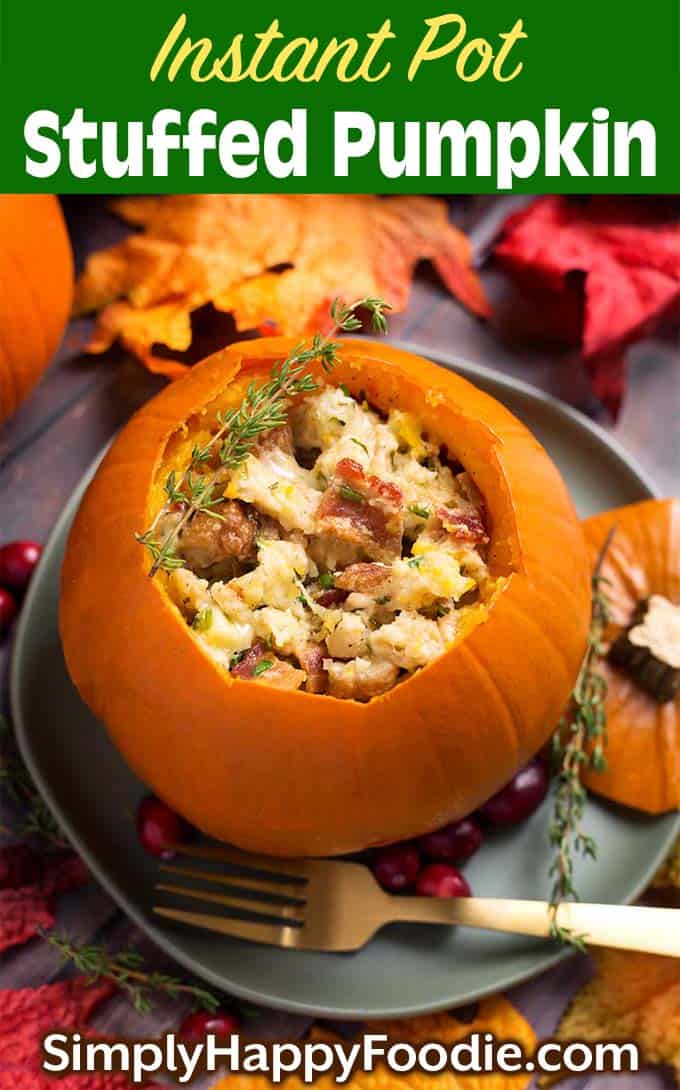 If you make this delicious stuffed pumpkin recipe, please leave a comment and a star rating below. I'd love to know how you liked it!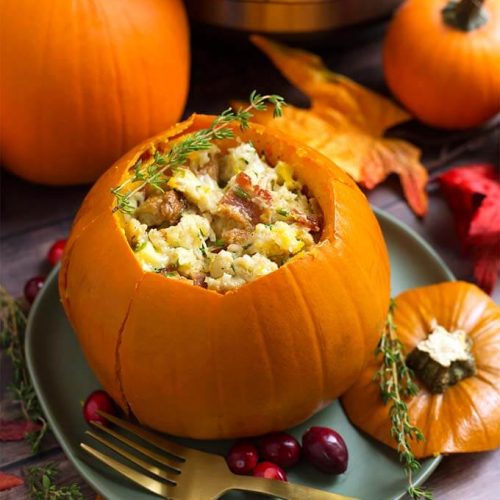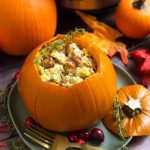 Instant Pot Stuffed Pumpkin
Instant Pot Stuffed Pumpkin is so delicious! This is a Fall recipe that can be a main dish or a side dish. A pumpkin stuffed with a savory and creamy stuffing that you can change up to make it your own!
Keyword:
pressure cooker stuffed pumpkin
Ingredients
1

(2 ½ - 3) lb

Sugar Pie Pumpkin

½

tsp

Kosher Salt

¼

tsp

Pepper

3

oz

Stale Bread Cubes

(3 cups)

½

small

Apple,

shredded (optional)

2-3

cloves

Garlic,

pressed or grated (I use 3, I love garlic)

5

slices

Cooked Bacon,

chopped (I like smoky, thick cut)

2

Tbsp

Chives,

chopped

3

tsp

Fresh Thyme Leaves

4

oz

Gruyere Cheese,

cubed

⅛

tsp

Nutmeg

½ - 1 ½

cups

Heavy Cream

(or half and half)

1 ½

cups

Water

(for the pressure cooker)
Tools Needed
Sharp, sturdy carving knife

6 or 8

quart

Electric Pressure Cooker

6"

Cake Pan or Similar

(for the pumpkin to sit in)

Metal trivet/rack with handles
Instructions
Cut the top off of the pumpkin with your knife at a 45° angle, just like when carving a Jack-o-Lantern. Remove the seeds & stringy fibers. Save the top.

Salt and pepper all over the inside of the pumpkin. Set aside.

Add all of the stuffing ingredients, except for the cream, to a mixing bowl. Then mix them up very well.

Next, pour the cream over the stuffing mixture and toss to coat all of the stuffing. Let it absorb, then decide if you'd like it creamier, or if you like it as is. I like mine in between, so I usually use 1 ¼ cups of cream.

Stuff the pumpkin with the mixture to the top, gently pressing it in, but not too tightly packed. You may or may not have leftover stuffing. Put the top of the pumpkin back on and gently press it in place.

Pour the water into the inner liner pot of the pressure cooker.

Set the pumpkin in the cake pan, and set it on the trivet/rack. Carefully grasp the handles and put the whole thing into the pressure cooker. Close the lid and set the steam release knob to the Sealing position.

Press the Pressure Cook (or Manual) button or dial, then the +/- button or dial to select 11 minutes.

When the cook time is finished, do a Quick Release of the steam/pressure by turning the steam release knob to the Venting position.

Use a small sharp knife to pierce the pumpkin to see if it is done (unless it's obvious as sometimes the skin comes partway off). If for some reason it is not soft enough, put the lid back on and cook for another 2 minutes.

Using silicone mitts or a good set of pot holders, very carefully lift the rack out, making sure the pan doesn't slip off, and set to cool a few minutes.

Remove the pumpkin top and serve. You can cut the pumpkin in half, or eat out of the pumpkin whole. The skin should just fold down and away from the pumpkin.

Pour some more cream over the top for a softer stuffing, and add more salt to taste, if needed.
Recipe Notes
You can make any variety that fits your mood or diet. Perhaps some cooked ground sausage, apple, and rice would be tasty. Or you may want to make this vegetarian (try adding some sautéed mushrooms). Endless possibilities!
Adapted from epicurious

RESOURCES TO MAKE Instant Pot Stuffed Pumpkin recipe and more
We are a participant in the Amazon Services LLC Associates Program, an affiliate advertising program designed to provide a means for us to earn fees by linking to Amazon.com and affiliated sites.