Instant Pot Iced Tea is refreshing and very easy to make. I like it better than stove top iced tea because it is stronger, and not at all bitter! Pressure cooker iced tea is my drink of the summer!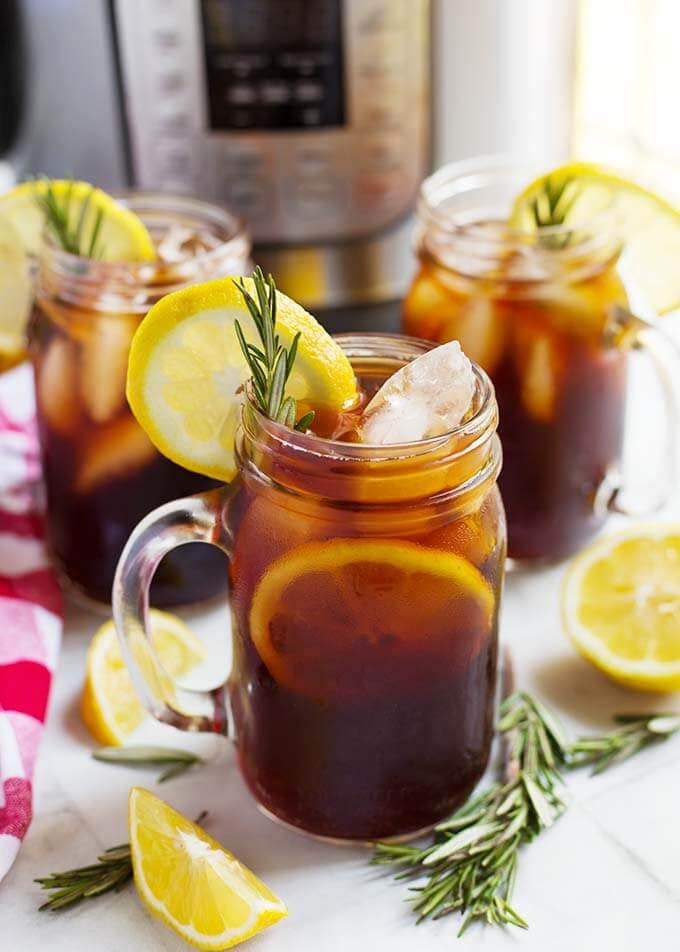 Instant Pot Iced Tea
I have always liked iced tea, and have made many varieties many ways. I remember making sun tea in the back yard, only to have the clouds roll in, or the rain come down. Yep, Seattle.
Even on the sunny days that tea took all day to make, and I had to use at least 12-14 tea bags to get it strong enough for my liking. And a lot of sugar!
Boiling water on the stove top is not a big deal, but if I poured it over my tea bags and forgot about them the tea became bitter. Not enough sugar to fix that!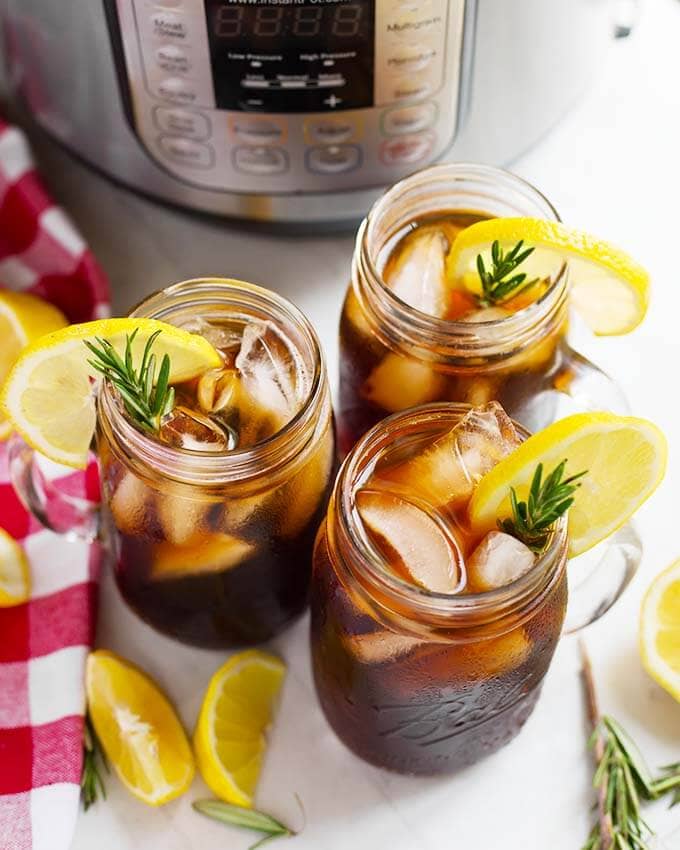 So, since these days we are making EVERYTHING in the pressure cooker, I decided to make a peach flavored iced tea in my Instant Pot. It was really good. I just added Peach Simple Syrup.
It was nice to just walk away and do my work without having to watch the kettle or remember to remove those tea bags!
My favorite black tea for Instant Pot Iced Tea is Newman's Own organic black tea, and I buy their family size bags. 1 family sized tea bag is equal to 4 regular sized tea bags. You can use any tea that you would normally make iced tea from.


Instant Pot Hamburgers
Instant Pot Cajun Pasta
Instant Pot Bone Broth
If You Want to Make Peach Pressure Cooker Iced Tea
Just add 1 Tbsp of Peach Simple Syrup to your cup of tea and stir it well. Taste and add more if you want it sweeter.
Pin This Instant Pot Iced Tea Recipe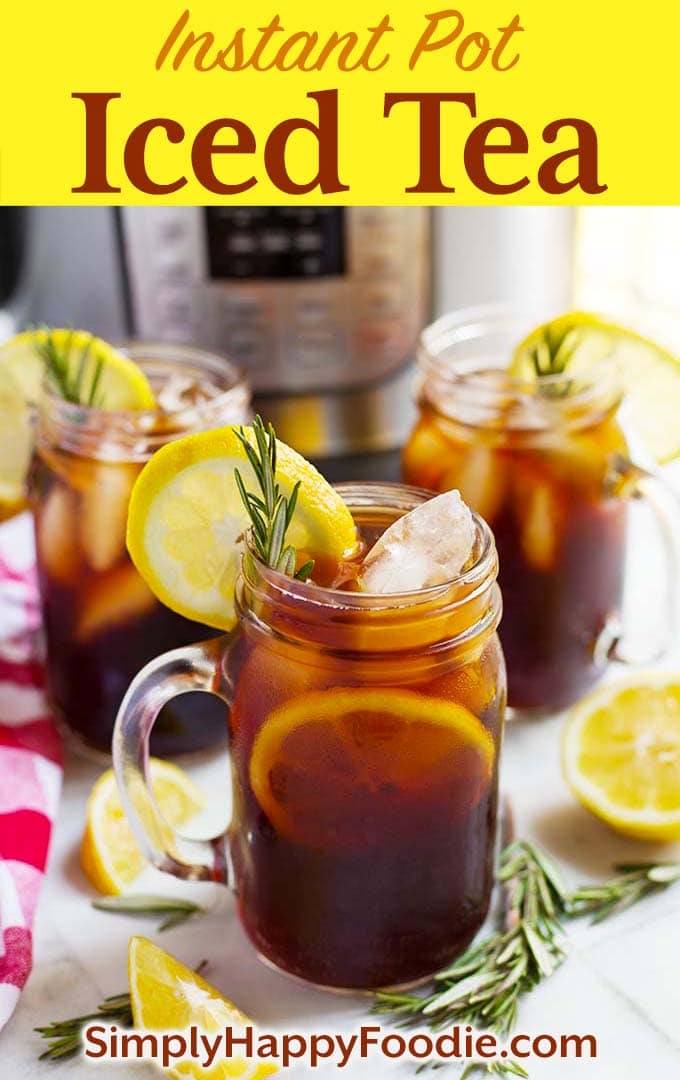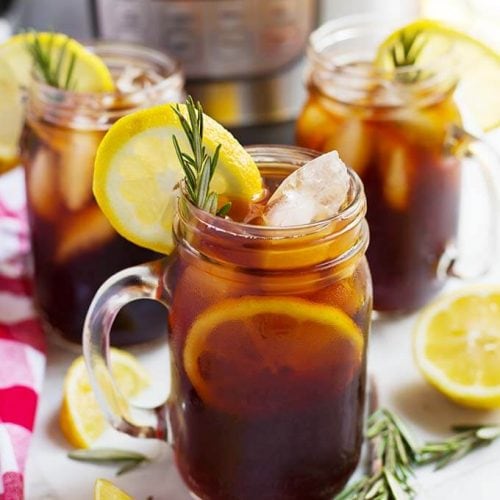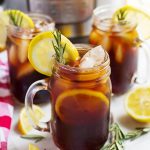 Instant Pot Iced Tea
Instant Pot Iced Tea is refreshing and very easy to make. Pressure cooker iced tea is not bitter, and you can make it as strong as you like.
Keyword:
Pressure cooker iced tea recipe
Ingredients
8

cups

Water

3

family sized

Tea Bags

(10-12 regular sized) I use Black Tea
For Sweet Tea
½ - ¾

cup

Sugar

(or more or less to taste)
Fun Variations
4

Lemon Wedges (optional)

add after pressure cooking while still hot. Let steep.

Mint Leaves

(as many as you like, after pressure cooking)

2

tsp

Fresh Rosemary Leaves

(I put them in cheesecloth and steep in the hot tea)

1

Tbsp

Peach Simple Syrup,

per cup, after pressure cooking (see recipe link in Notes)
Instructions
Pour the water into the inner liner of the pressure cooker.

Add the tea bags. Close the lid and set the steam release knob to the Sealing position.

Press the Pressure Cook (Manual) button or dial and then the +/- to select 4 minutes. It will take a few minutes to come to pressure.

After cook cycle has finished, turn off the pot and let the pot sit undisturbed for 20-30 minutes. This will keep the tea from becoming bitter (Quick Release makes the water boil, causing bitterness).

Manually release the remaining pressure/steam. There shouldn't be much left. When the pin in the lid drops back down, open the lid and remove the tea bags.

Add sugar, stir, and taste. Start with the lesser amount and add more, if desired.

Serve over ice and garnish as you like.
Recipe Notes
To make the peach Iced tea I mentioned in the post, start with 1 Tbsp of Peach Simple Syrup in 8 oz glass of the iced tea. Then taste and add more if you wish.

Resources to make this recipe and more
We are a participant in the Amazon Services LLC Associates Program, an affiliate advertising program designed to provide a means for us to earn fees by linking to Amazon.com and affiliated sites.