Instant Pot Chocolate Lava Cake is a rich, chocolatey little cake with a warm, gooey center of yummy chocolate "lava". This is an impressive Instant Pot dessert that is very simple to make. Pressure cooker chocolate lava cake is a perfect dessert for Valentine's Day!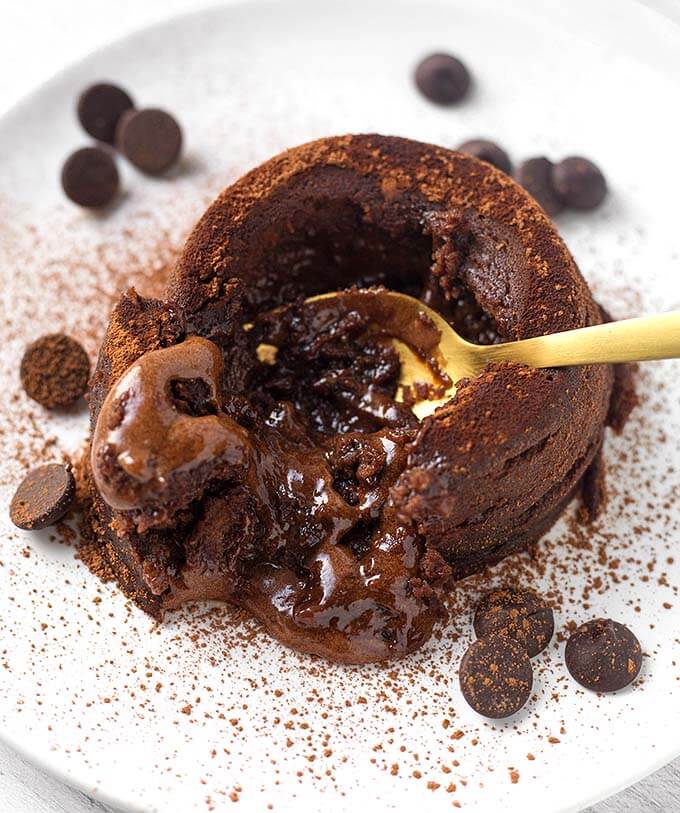 Instant Pot Chocolate Lava Cake
Instant Pot desserts are really fun to make! When they are chocolate, even better. This is recipe is called a Lava Cake because the center is melted and gooey, and when you take out your first spoonful, the lava comes out, too! Yum!
What the lava actually is is the batter, just not cooked as fully as the outer part of the cake. Don't worry though, it is cooked enough to be safe to eat!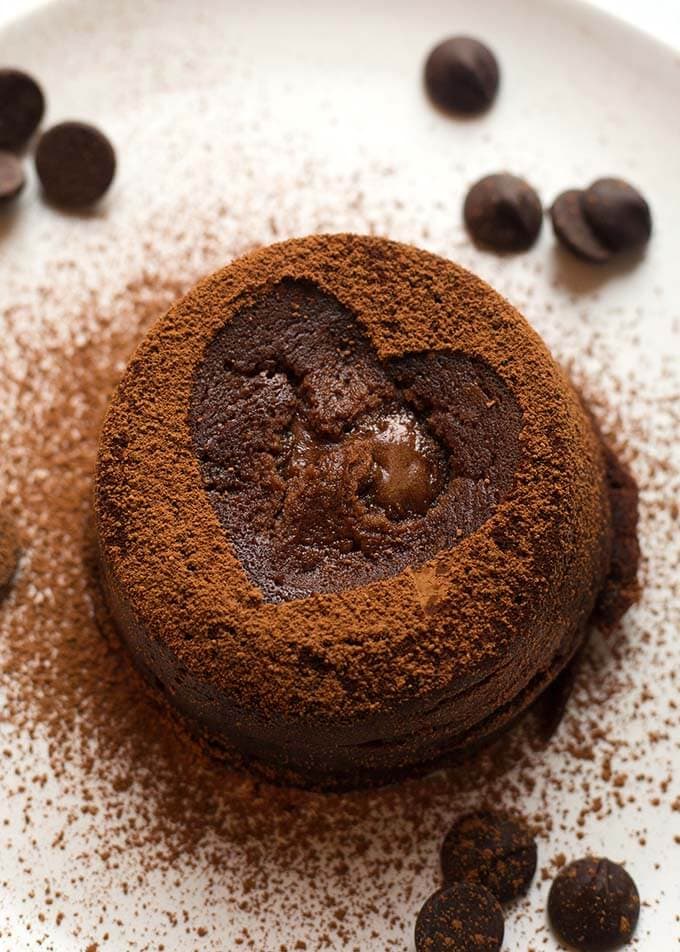 Preparing this pressure cooker chocolate lava cake takes only 2 mixing bowls, so the mess is very minimal. Using a hand mixer makes the combining of ingredients go faster, but if you don't have one, use a whisk or a mixing spoon and use that elbow grease!
It is important to use the correct size of ramekin for these Instant Pot Chocolate Lava Cakes. If the ramekin is too large, the cake batter will be too shallow and will cook all the way through, not leaving you any yummy lava! So get the 6 oz size that are about 3.5" across.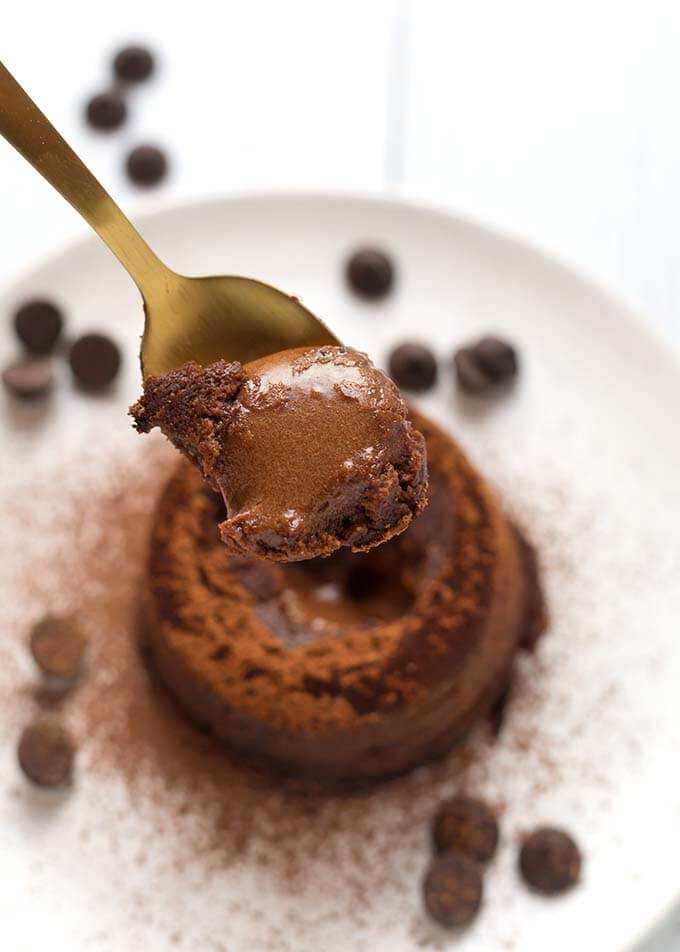 The batter mixture calls for some instant espresso powder, or instant coffee. This is to enhance the flavor of the chocolate. Don't worry, your Instant Pot Chocolate Lava Cakes won't taste like coffee! It's an optional ingredient, but does make a difference.
The one thing that I want to warn you about is that they are very hot when they finish cooking. Talk about lava! The ramekins will be slippery, too, so please be prepared for that. Arm yourself with silicone or other oven mitts and even a kitchen towel.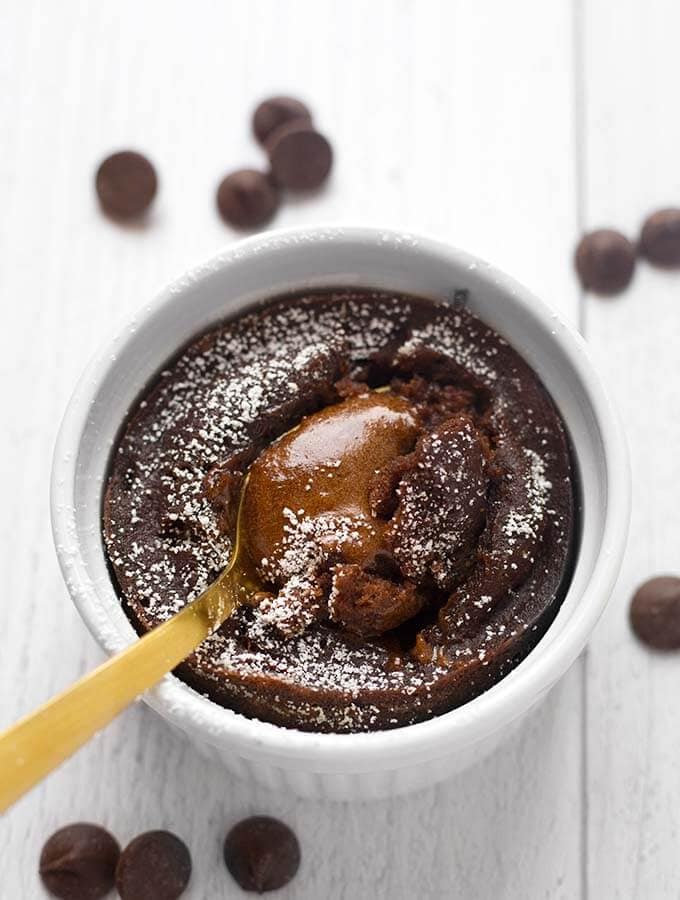 You will want to invert each lava cake onto a small plate as soon as you are able to do so safely, for the best and most amount of molten lava in each cake. The longer they sit in the ramekins, the more they will continue to cook.
You can serve them in the ramekins if you want, and that would be much easier!
This pressure cooker chocolate lava cake recipe makes four servings (four lava cakes). A perfect Instant Pot dessert!


Instant Pot Rice Pudding
Instant Pot Baked Apples
Instant Pot Lemon Curd
Instant Pot Dulce de Leche Caramel
Instant Pot Chocolate Cheesecake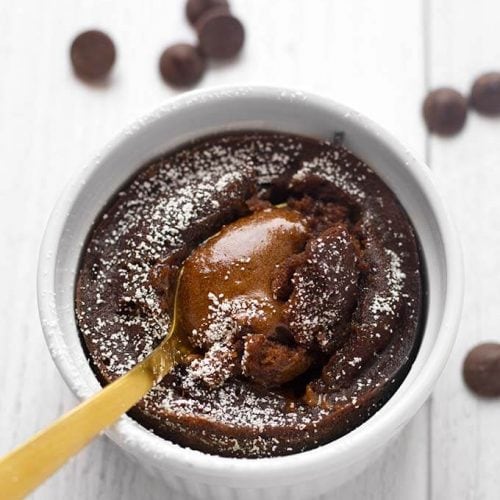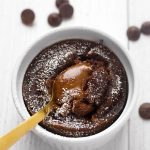 Instant Pot Chocolate Lava Cakes
Instant Pot Chocolate Lava Cakes or Molten Lava Cakes, are rich, chocolatey, and decadent little cakes with a warm, gooey center of "lava". Pressure cooker chocolate lava cakes are fun to make, and are a perfect dessert!
Keyword:
pressure cooker chocolate lava cakes
Ingredients
Melt, Mix, Set Aside
4

oz

Bittersweet Chocolate Chips,

or Chocolate Bar, broken up (62% to 70% dark)

½

cup

Unsalted Butter

(room temp)

½

tsp

Espresso Powder

(or instant coffee) optional
Mix Together
2

Eggs

(room temp)

2

Egg Yolks

(room temp)

3

Tbsp

Flour

1

cup

Powdered Sugar

(Confectioners Sugar)

¼

tsp

Salt

1

tsp

Vanilla Extract
Tools Needed
6 qt or 8 qt

Electric Pressure Cooker

Trivet/Rack

Electric Hand Mixer

Mixing Bowls

(1 microwave safe)

4

(6 oz)

Ramekins

(oven safe)

Spatula, Measuring Cups/Spoons
Instructions
Add 1 ½ cups of water to a 6 qt or 8 qt electric pressure cooker. Set the trivet/rack in the bottom.

Spray the inside of the ramekins with cooking spray and set aside. Make sure you are using the 6 oz size.

In a microwave safe bowl, add the chocolate chips/chunks and the butter. Heat in microwave for 30 seconds. Then remove from microwave and slowly stir to combine. Heat again for 20 seconds and stir some more. Repeat again for 10 seconds if necessary. Stir until smooth and combined. Then stir in the espresso powder, if using. Set aside.

In a mixing bowl, add the eggs, yolks, flour, powdered sugar, salt, and vanilla. Using a hand mixer, mix on low speed until well combined.

Pour the chocolate mixture into the batter and mix on low speed to combine.

Pour the batter into the sprayed ramekins and distribute evenly between the four. The batter will be a bit thick.

Place the ramekins in the pot on the trivet/rack. 3 on the bottom, and 1 sitting on top of the 3. No need to cover them.

Place the lid on the pot and lock in place, setting the steam release knob to the Sealing position.

Press the Pressure Cook/Manual button or dial, then the +/- button or dial to select 7 minutes (High pressure).

When the cooking cycle is finished, turn the steam release knob to the venting position to do a Quick Release of the steam/pressure.

When the pin in the lid drops down you can open it. The cakes will be a little puffed up, but they will settle down.

Please use extreme caution as you remove the ramekins, as they will be very hot, and very slippery. Use some oven mitts and a small towel.

As soon as you are able to do so safely, invert the ramekins on individual small plates (or serve in the ramekin). Dust with powdered sugar, or garnish with ice cream, whipped cream, or some fresh berries.

RESOURCES TO MAKE instant pot chocolate lava cake recipe and more
We are a participant in the Amazon Services LLC Associates Program, an affiliate advertising program designed to provide a means for us to earn fees by linking to Amazon.com and affiliated sites.