I love Instant Pot Butter Chicken! The creaminess, the spice, the tender chicken meat. A restaurant favorite and a home cooked favorite! You can make this pressure cooker Butter Chicken recipe at home, in about an hour!
Originally published 9/21/17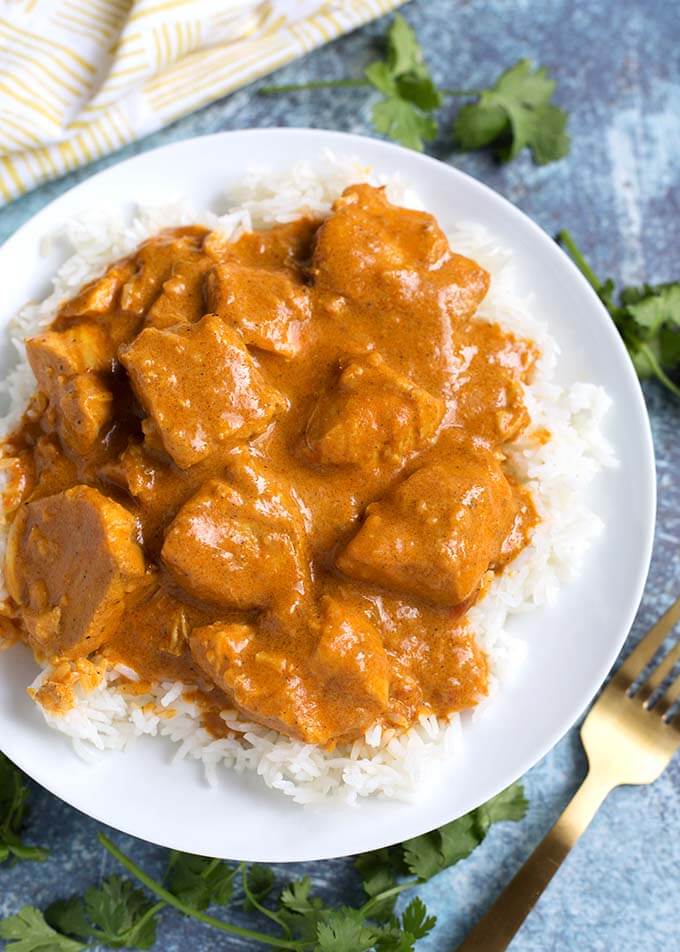 Instant Pot Butter Chicken
We have a favorite Indian restaurant that we go to every once in a while. The owner is this very genteel man who greets you as you come in. He makes me feel like a special guest when he greets me. He is thoughtful about where we are seated, and that his staff is prompt with getting us all set up with Chai and water. Their chai is amazing, by the way. Free refills, too!
Paul always orders the Butter Chicken, and I get the Tikka Masala. The owner always gives us a free appetizer, and again, we feel special there! The quality of their food is excellent, and of course it has rave reviews! I even wrote one!
I make a few Indian inspired dishes at home. One of which is my Instant Pot Butter Chicken. I actually have two versions, and this Instant Pot Butter Chicken was born out of my curiosity about how it would cook in a pressure cooker. Spoiler alert: it comes out great!
My recipe is a little divergent from a purely authentic Butter Chicken, but when I was researching the methods and ingredients I learned one important thing; no one makes it the same. Everyone who makes it says theirs is the authentic way to do it. Even my Indian friends I spoke with and watched make it!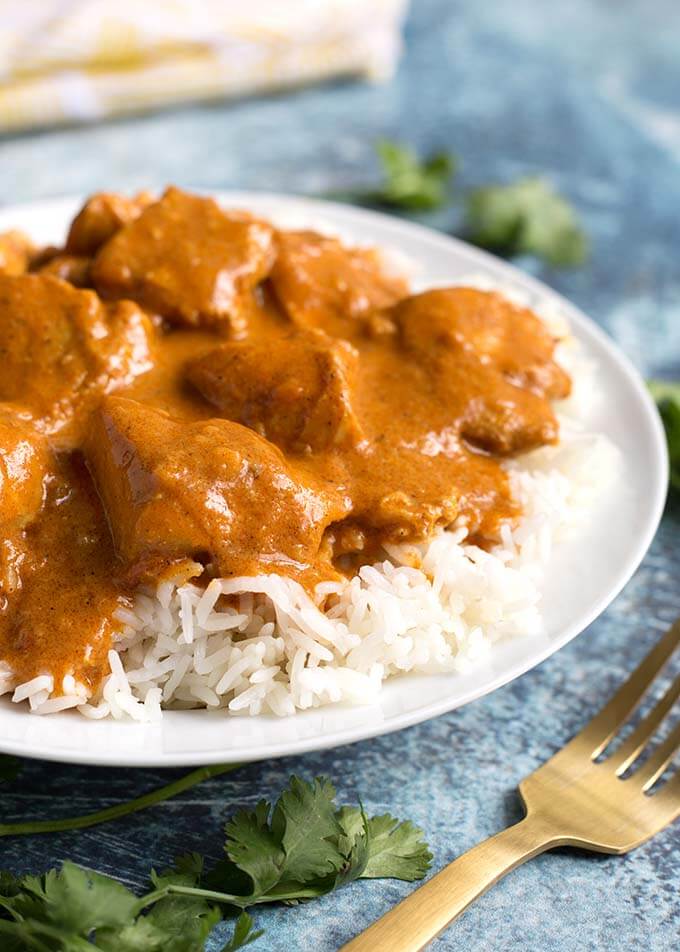 Some say it shouldn't have onions, some say no turmeric, while others say the opposite! Some versions have ground nuts in the sauce, usually cashews (I didn't want to do that in case someone has a nut allergy. I do sometimes garnish with toasted cashews!).
I think it's a lot like American Chili. There are so many ways to make it, and you will eventually end up tweaking the recipe to suit your own taste. That's what is so great about cooking! And making it in the Instant Pot is nice because it's a one-pot meal. I even cook my basmati rice at the same time, in the same pot!
Here's how I make Instant Pot Butter Chicken: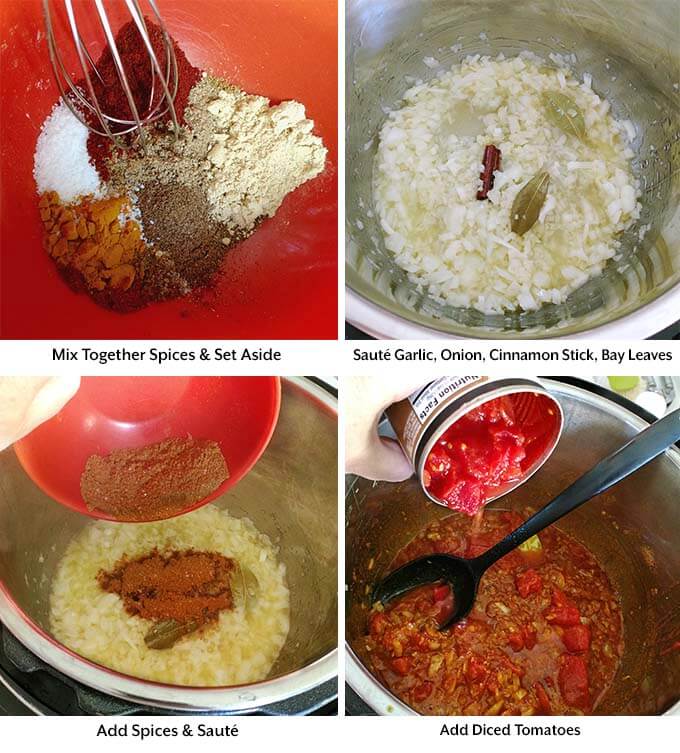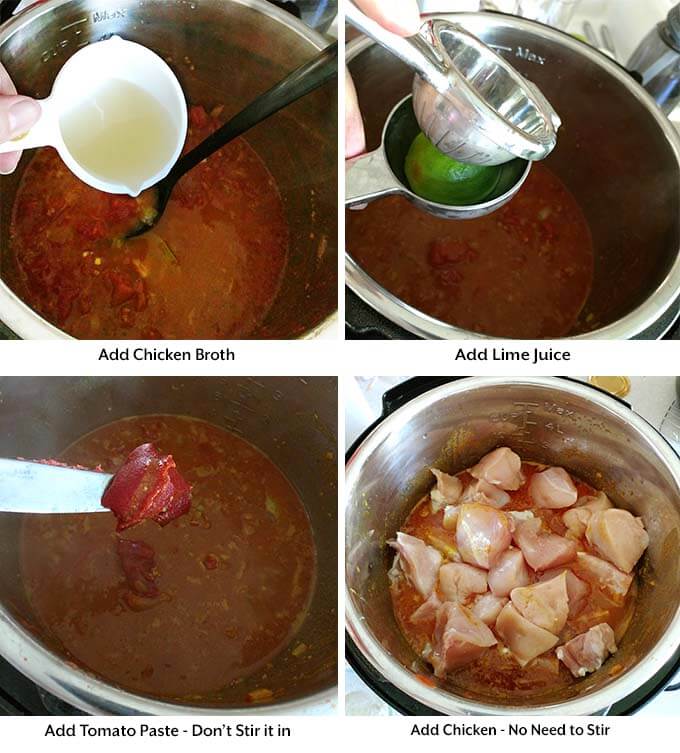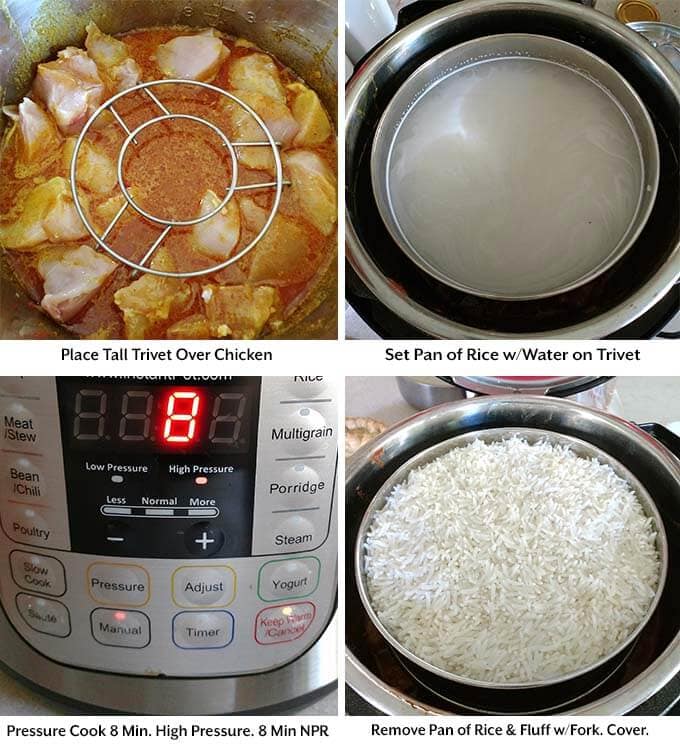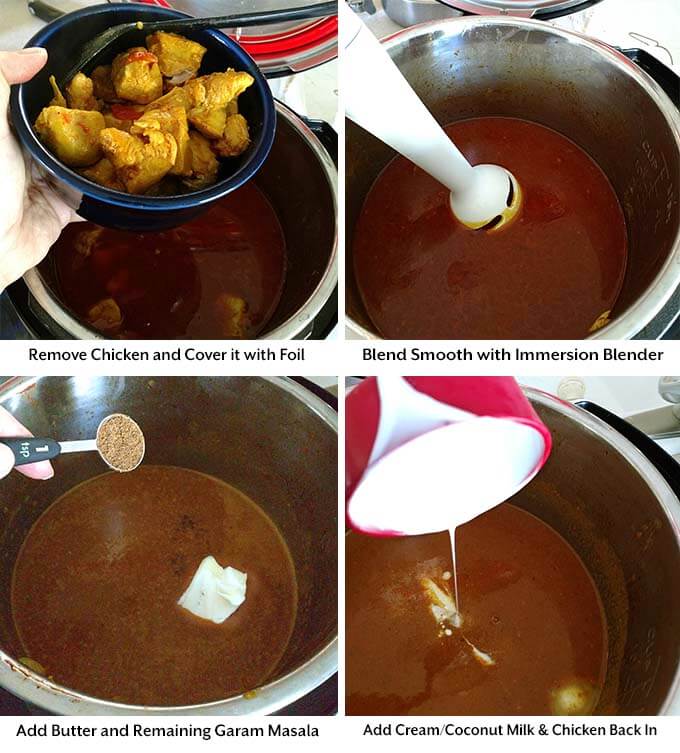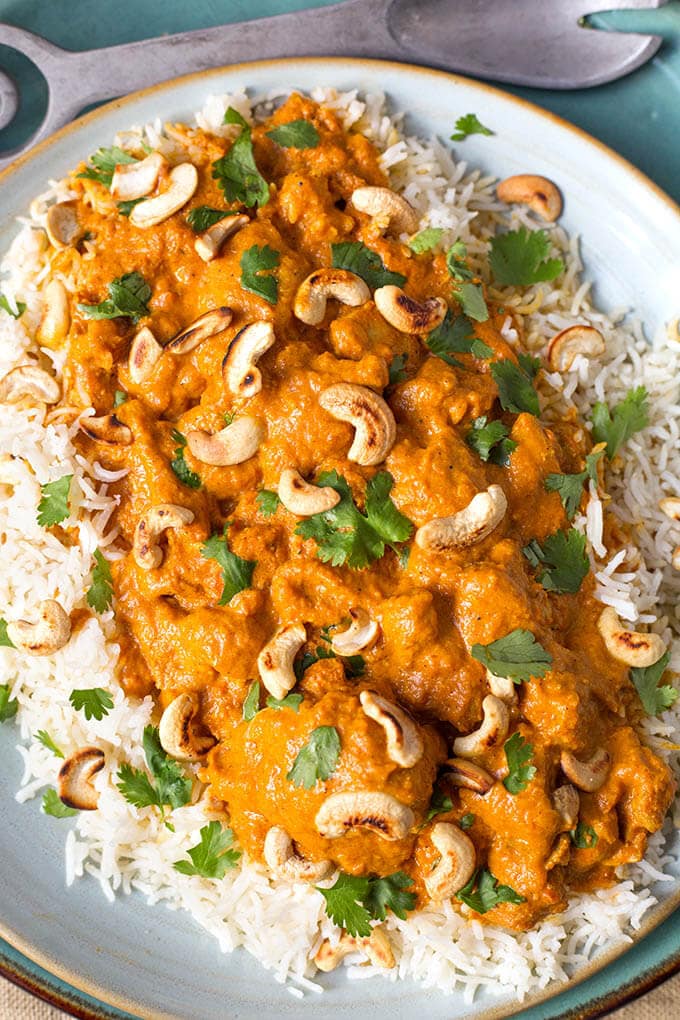 You can get fancy and garnish Instant Pot Butter Chicken with toasted cashews and cilantro, if you like a dramatic presentation!
Get your spices out and have some fun making delicious Instant Pot Butter Chicken that is rich and flavorful, and not difficult! Dare I say as good as the Indian restaurant I love? 😉


Instant Pot Orange Chicken Legs
Instant Pot Chicken and Noodles
Instant Pot Salsa Chicken
Instant Pot Balsamic Apple Pork Tenderloin
Instant Pot Creamy Bacon Brussels Sprouts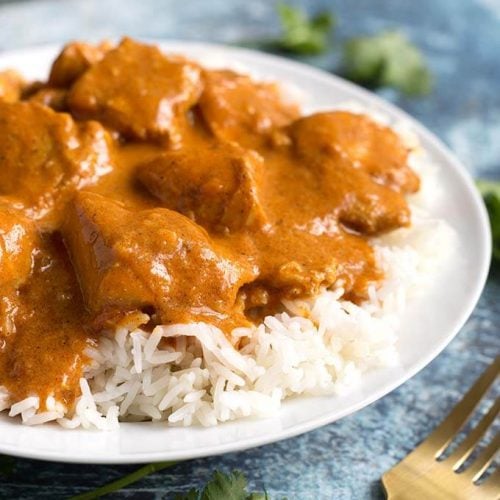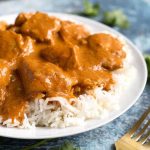 Instant Pot Butter Chicken
Instant Pot Butter Chicken is a rich and super flavorful Indian dish. Make this awesome tasting and easy Butter Chicken in your pressure cooker!
Keyword:
pressure cooker butter chicken
Ingredients
Spices
1 ¼

tsp

Cumin

1 ½

tsp

Coriander Seed,

ground

2

tsp

Garam Masala,

plus 1 tsp to finish

1

tsp

Turmeric

½

tsp

Cinnamon

1 ½

tsp

Sweet Paprika

¾

tsp

Coarse Salt

¼

tsp

Cayenne Pepper

(more if you like it spicy)

1

tsp

Fenugreek (optional)

(not everyone has this, and if you don't it's okay. It's a traditional Butter Chicken spice)
For the Sauce
1

Tbsp

Neutral Oil

(Peanut, Sunflower, Light Olive)

6

Tbsp

Butter,

divided (4 Tbsp, then 2 Tbsp to finish)

2

small

Bay Leaves

½

Cinnamon Stick

6

Garlic Cloves,

pressed or finely minced

1

Small Onion,

finely minced or chopped fine in a food processor (I use a mini processor and make a paste from them)

1

Tbsp

Fresh Ginger,

grated (or 1 tsp ginger powder)

1

Tbsp

Lime Juice

1

14.5 oz

Can of Diced Tomatoes,

juice and all

½

cup

Chicken Broth,

low sodium

1

Tbsp

Tomato Paste

2

lbs

Chicken Thigh Meat,

Cut in 1-2 inch cubes
To Finish
1

tsp

Garam Masala

2

Tbsp

Butter

½

cup

Heavy Cream

1

14 oz can

Coconut Milk Cream (optional)

(just the thick, cream from the can. Save the watery part for another recipe)
Garnish
Cilantro Leaves

chopped

Cashews

toasted
Instructions
Prepare Spices
Combine the dry spices in a bowl and set aside.
Make the Sauce
Turn on the Sauté setting of your pot. When the display reads Hot, add the oil and 4 Tbsp of the butter.

Add the bay leaf, cinnamon stick, garlic, and onion. Stir and let cook for a minute, stirring frequently. Don't let it burn.

Add the fresh ginger, if using. Stir and cook for a couple of minutes.

Add the spices. Stir well to combine.

Add the tomatoes, broth, and lime juice. Stir well.

Add the tomato paste, but don't stir it. You want it in there, but you don't want to risk it burning.

Add the chicken and don't stir too much. Just spread it out.

Turn off the sauté setting.
If You Are Also Making Rice
Place a tall trivet over the chicken and set the pan of rice/water on it. I like to use Jasmine or Basmati rice, with a 1:1 rice/water ratio.
Pressure Cook It
Close the lid. Set the steam release knob to the Sealing position.

Press the Manual (or Pressure Cook) button or dial and then the + or - button or dial to select 8 minutes.

After cook cycle ends, let the pot naturally release the pressure for 8 minutes. Then manually release the remaining steam and open the lid.

Use a slotted spoon to take out the chicken, and set it aside in a bowl covered with foil.

Use an immersion blender to make the sauce really smooth. You could use a blender if you want. Either way, be very careful since the contents are so hot!

Add remaining 1 teaspoon of Garam Masala and the remaining 2 Tbsp of butter. Stir until butter is melted.

Add the heavy cream & coconut milk cream if using, and the chicken, and stir until combined. Taste and adjust salt if necessary.

Serve over rice, or with naan, and garnish with cilantro leaves and toasted cashews (optional).
Recipe Notes
You can cook the basmati rice at the same time if you wish We are a participant in the Amazon Services LLC Associates Program, an affiliate advertising program designed to provide a means for us to earn fees by linking to Amazon.com and affiliated sites.
(contains affiliate links).
1. After adding the chicken, set a long legged trivet in the pot. Set a pan with 1 cup of rinsed basmati rice, and 1 ½ cups of water or broth (stirred) on the trivet (I use one of my ekovana Stackable Stainless Steel Steamer Insert Pans).
-------------
2. That's it! You don't have to cover the pan, and it cooks in the same amount of time as the Butter Chicken! Just take the pan out of the pressure cooker and fluff the rice with a fork. Set it aside while you finish the Butter sauce!
-----------------
Some of my inspiration for this recipe came from Flo Lum's video - Butter Chicken in the Instant Pot, and also my friends Lakshmi and Meenah, who let me watch them make tasty things!

Resources to make this recipe and more
We are a participant in the Amazon Services LLC Associates Program, an affiliate advertising program designed to provide a means for us to earn fees by linking to Amazon.com and affiliated sites.