Instant Pot Boiled Eggs are very easy to make and come out so well! They are technically not boiled, but the outcome is similar. From hard cooked to very soft, you can get eggcellent results (haha) from cooking eggs in your pressure cooker, and Instant Pot hard boiled eggs peel easily!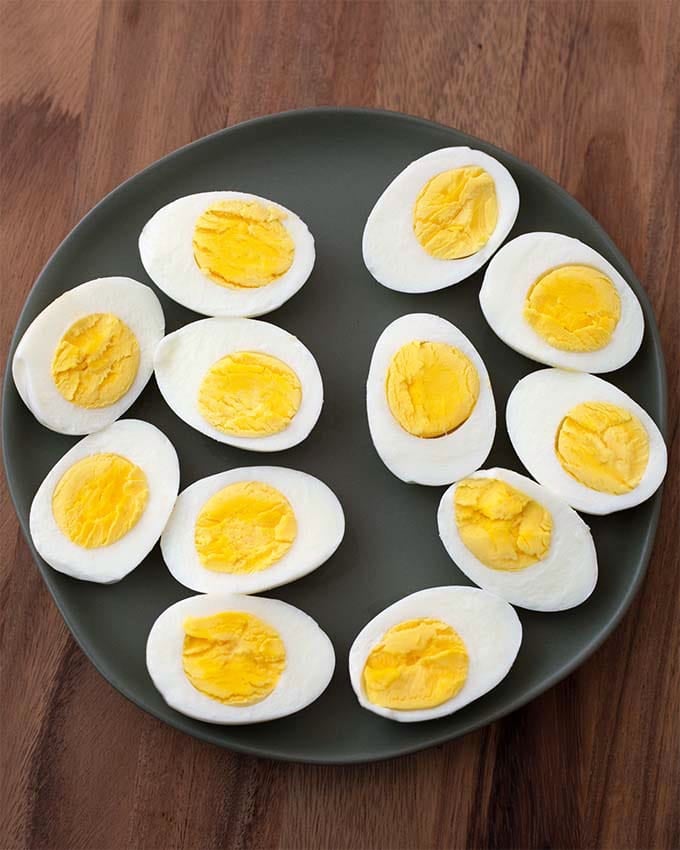 Instant Pot Hard Cooked Eggs are so easy to make. I like the ease of loading up the pot and pressing a button!
Originally published on Dec 27, 2017
Instant Pot Boiled Eggs
The first thing to know about making Instant Pot eggs is that you can ask a group of people what the best method is, and you will undoubtedly get several different answers.
Today I'm going to share with you my favorite ways to make eggs in the Instant Pot. Hard boiled and even soft boiled.
It's All About the Timing
If you have ever read that someone made their hard boiled eggs using the 5-5-5 method, they are referring to the timing: 5 minute cook time, 5 minutes Natural Release, 5 minute ice water bath.
This results can vary because you might be cooking in a higher elevation, which affects cook time, or the eggs you are using might be fresh, or older.
The ultimate goal is to have nicely cooked eggs without the greenish colored ring around the outside of the yolk. Just a nice, pretty yellow.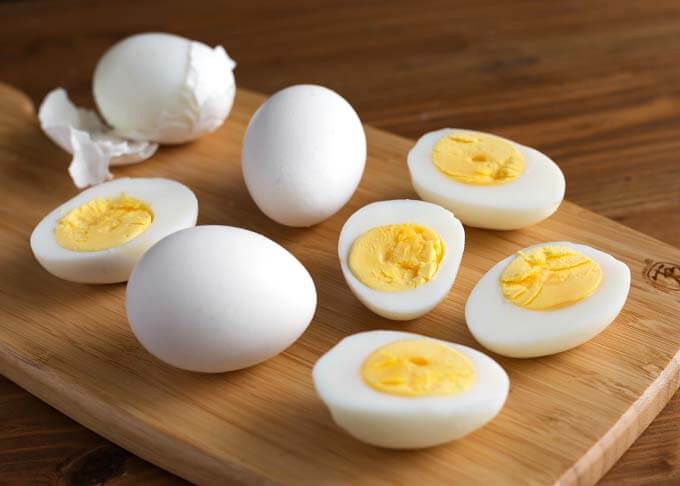 First Timers Do a Test
Some people get different results using this method, so I suggest do a test first, before cooking a large batch of boiled eggs.
Take 2 eggs, put 1 cup of water in the pot (or 2 cups if you have the 8 qt), then the trivet/metal rack that came with the pot, and set the eggs on it.
Then follow the directions in the recipe. When done, peel and cut open the eggs and see what your results are.
You may need to add or subtract a minute of cook time, depending on your results.
I have seen people get great results with the 5-5-5 method, and some people get over or under cooked eggs with that method.
Some people use the 2-8-5, and get better results than the 5-5-5. Some people use 4-4-4, or 6-6-6. I have even heard of people using a 8-0-5 method. That's why you will need to test and see what you end up with. Sorry it's so confusing!
High Altitude Cooking
I am right at sea level and 5-5-5 is what I use. If you are at a higher elevation, you may need to add to your cooking time. But do a test using this timing first to see where your baseline is.
The general rule of thumb is 5% more cook time for every 1000 feet over 2000 feet above sea level you are at. So you would start adding 5% at 3000', 10% at 4000', 15% at 5000', and so on.
That Green Ring
I have made many hard boiled eggs using this pressure cooking method, and my results have varied. Sometimes I do get the green ring, and though it doesn't taste any different to me than without the green ring, it makes me wonder what caused it.
Usually it's because it was cooked too long, but I think the age of the egg has something to do with it, too.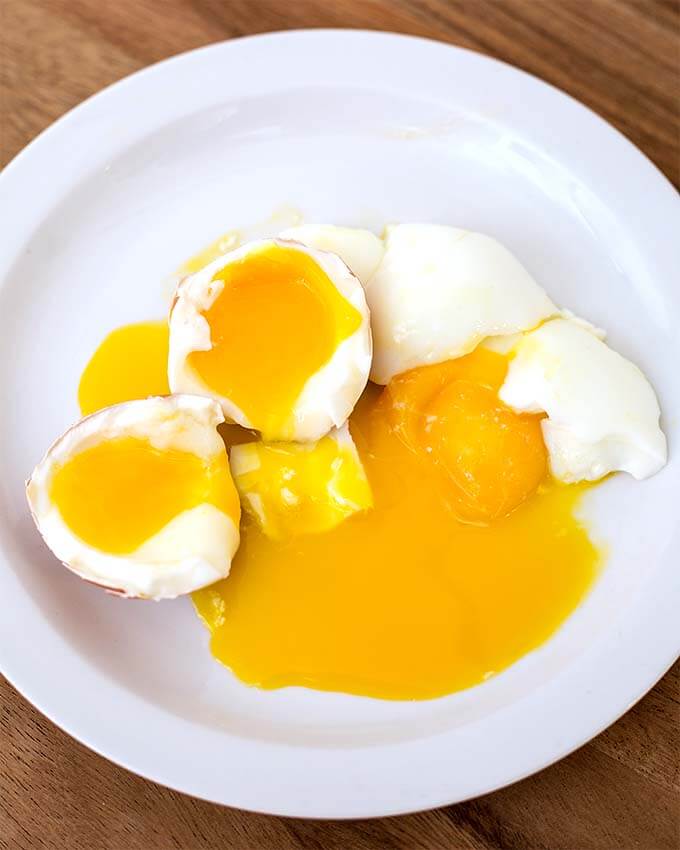 How About Soft Cooked Eggs?
Maybe you want soft cooked eggs. You can also make those in your pressure cooker. The eggs in the photo above were cooked for 2 minutes, the pressure Quick Released, and then just 2 minutes in an ice water bath so I could handle them without burning my fingers.
The outside of the yolk was just a little firm, but most of the yolk came out soft, like a poached egg. It was hard to get them out of their shells though.
Poached Instant Pot Eggs
A great alternative is to crack the eggs into small silicone cups or oven safe dishes and put them on the rack with 1 cup of water (or 2 cups if you have the 8 qt) in the bottom of the pot.
Cook for the 2 minutes and do a quick release. You should have nicely soft cooked eggs (do a test run on these, too, so you get the results dialed in)!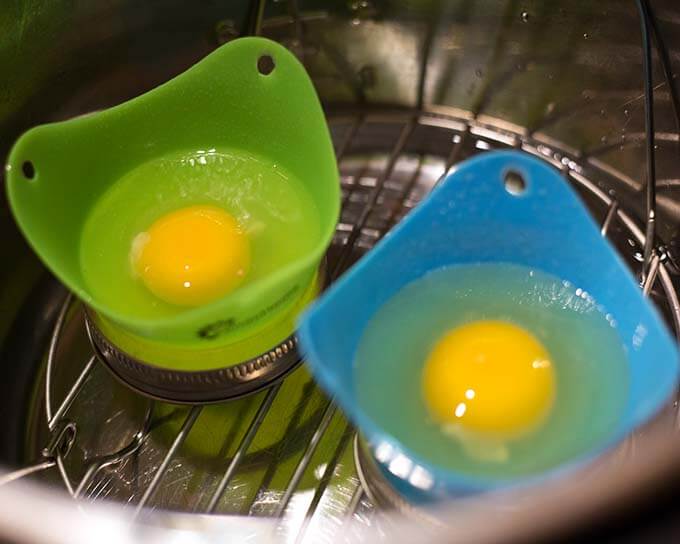 The bottoms of these cups are rounded, so I use mason jar lid rings to keep them from tipping over.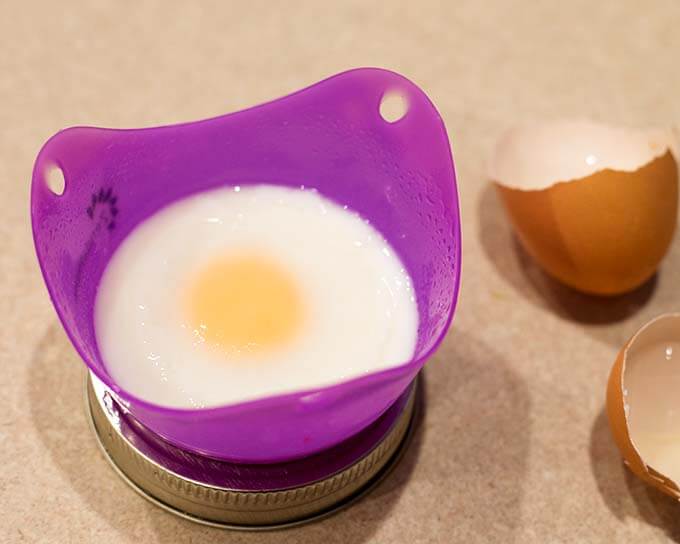 And if you haven't had enough egg talk, here's another way to make Instant Pot Boiled Eggs...
The Egg Loaf
If you are making egg salad, potato salad, or need some bulk chopped hard cooked eggs, try this:
Crack the eggs into an oven-safe dish that is safe for the pressure cooker, and put the dish on the rack/trivet with water in the pot under it.
Set the time to 6 minutes, and then let it naturally release pressure about 10 minutes or so. You will have an "Egg Loaf" result that you can chop up and use in your recipe! NO PEELING NEEDED!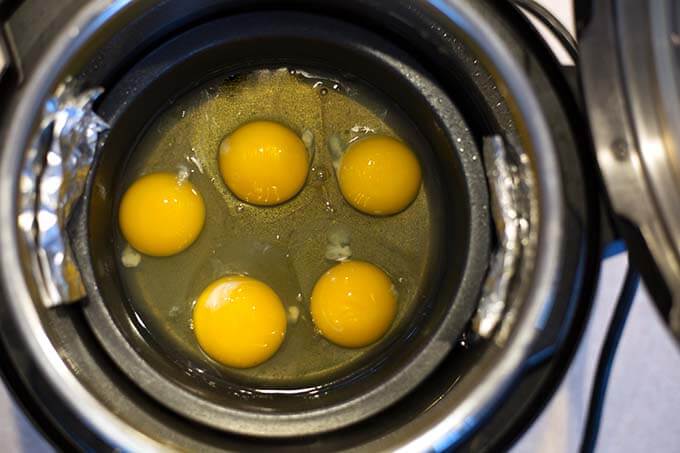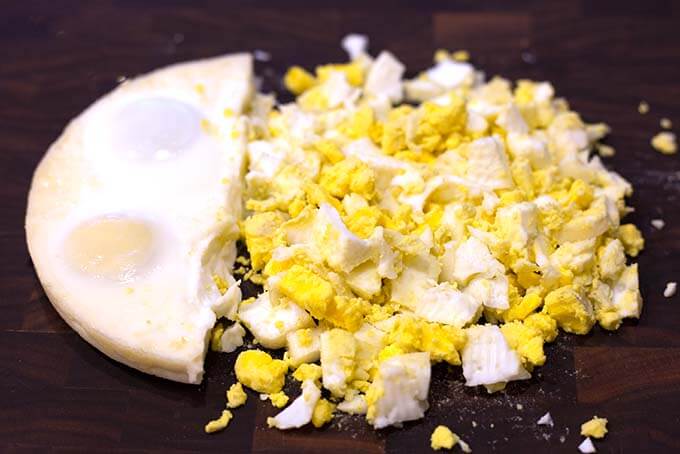 Easy Instant Pot Potato Salad
Instant Pot Southwest Biscuit Egg Bake
Instant Pot Egg Loaf
Instant Pot Egg Bites
This is a lot of information about cooking eggs in the Instant Pot. I hope you have found it helpful!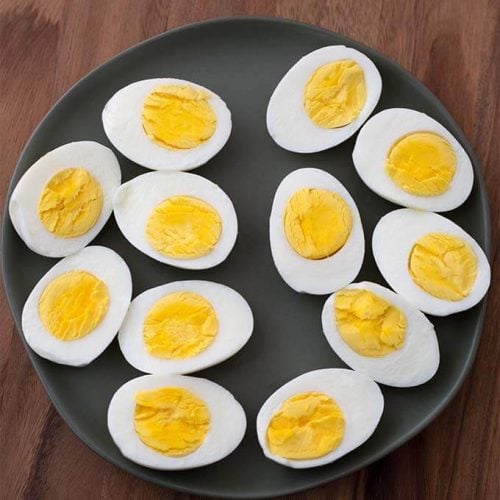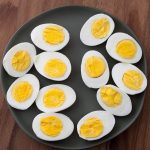 Instant Pot Boiled Eggs
Pressure Building and Release
Instant Pot Boiled Eggs are fun to make and easy to peel! Make hard or soft boiled eggs in your electric pressure cooker!
Course:
Appetizer, Breakfast
Keyword:
pressure cooker boiled eggs
Ingredients
1-2

cups

Water,

for the pressure cooker (use 2 cups for the 8 quart pressure cooker)

1

or more Eggs

Large bowl filled with ice cubes and water,

for the ice bath
Instructions
5-5-5 Method
Add 1 to 2 cups of water to the pot (1 cup for 6-quart, 2 cups for 8-quart), and set the trivet/rack in the pot.

Place the eggs on the rack. It is okay to stack the eggs on top of each other if you have several.

Place the lid on the pressure cooker and lock in place. Turn the steam release knob to the Sealing position.

Press the Pressure Cook (or Manual) button or dial. Then the +/- button or dial to choose 5 minutes. High Pressure.

After the cook time has ended, let the pot sit undisturbed and Naturally Release pressure for 5 minutes. Then manually release remaining pressure by turning the steam release knob to the Venting position.

After the pin in the lid drops down, immediately remove eggs to the bowl of ice water, using tongs. Let them sit in the water for at least 5 minutes before removing.
Recipe Notes
For high altitudes, add 5% more cook time for every 1000' above 2,000'. Add 5% for 3000', 10% for 4000', 15% for 5000', and so on.
Resources to Make Instant Pot Hard Boiled Eggs
This post contains Affiliate links. As an Amazon Associate I earn from qualifying purchases.