Fruity Red Sangria is a delicious red wine cocktail with some liqueur and fresh fruit added. If you don't go for straight up wine, or you get a bottle of red that you don't like, make some Sangria! My Fruity Red Sangria recipe is amazing! It's a little boozy, a lot fruity, and the citrus gives it a pleasant sharpness. You won't lose all of the wine taste, as it all blends together perfectly.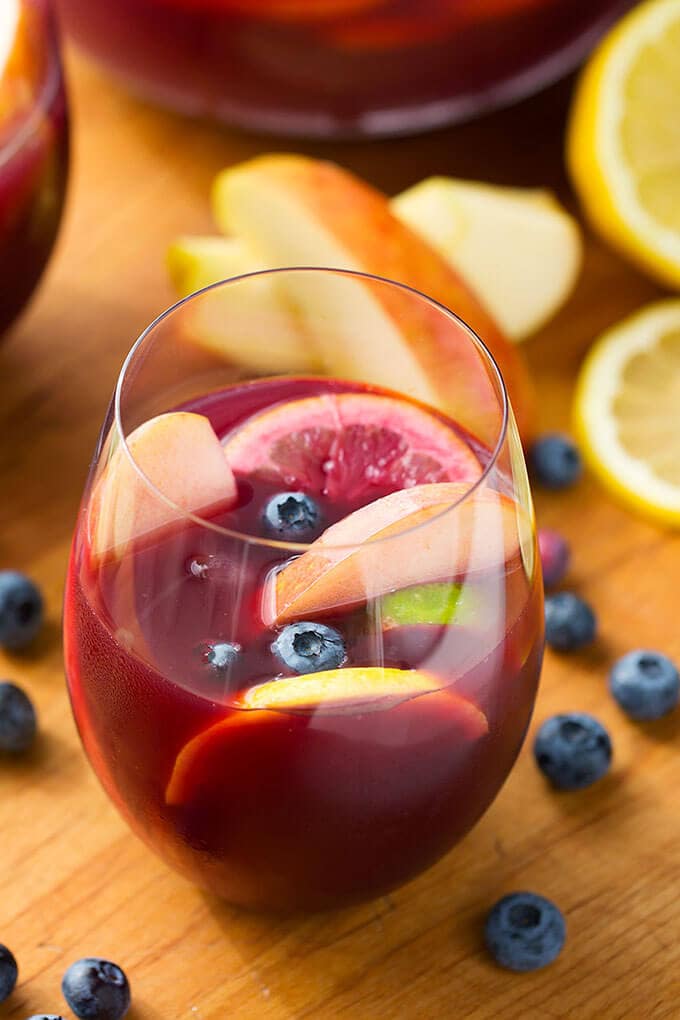 Fruity Red Sangria
First of all, I would like to thank Spain for the Sangria. What a treat! Summer is the best time for Sangria, in my opinion. With that being said, I won't turn it down if offered to me any other time of the year!
I have made this Fruity Red Sangria with different wines and different combinations of liqueurs and fruits. This version is my personal favorite. It is so delicious, and so versatile.
Some Tips for a great Sangria
I think the two "must haves" for this Fruity Red Sangria, besides wine, are the brandy (or you could use rum) and the Triple Sec (or any orange liqueur), as well as the citrus.
If you don't have the Chambord® (raspberry liqueur. SO GOOD) you can skip it and it will taste a little less like berry. Use twice the grenadine instead, or skip the grenadine and use twice the Chambord®.
Add fresh fruit to amp up the flavor. Use the fruit you have. I highly recommend the citrus and apples, but use what you have.
Sometimes I use ripe peach slices (you can also use frozen). Blueberries are ripe on the bushes right now, so I picked some and tossed them in. I also had some frozen blueberries to use up, and they are often sweeter than fresh, so I threw in some of those as well.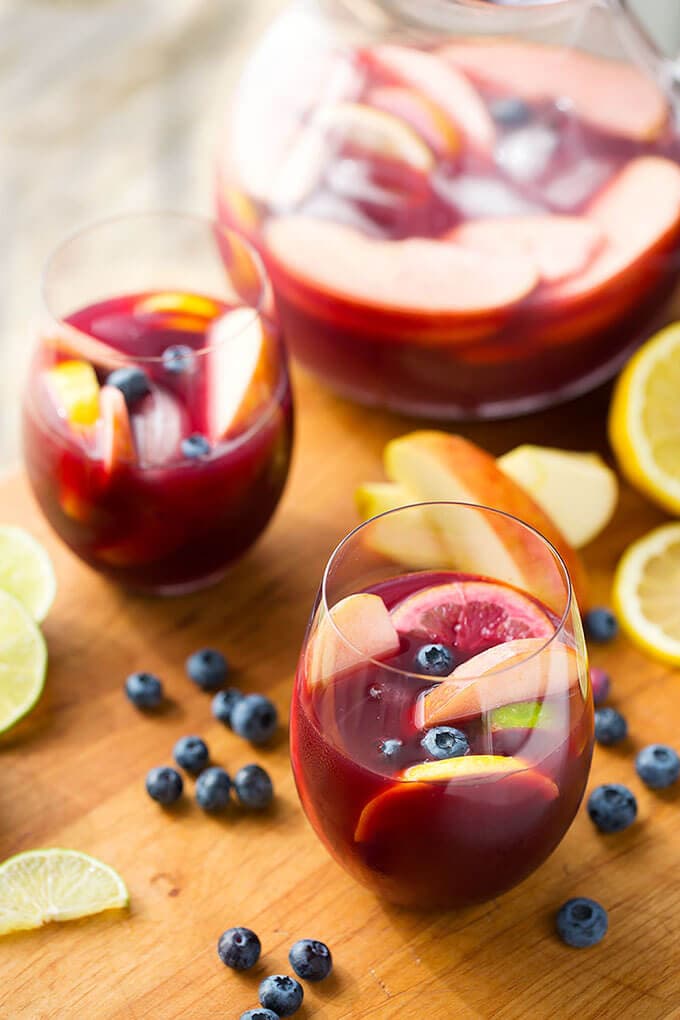 Please share this sangria with other people. I say that because this, to me, is a drink that is meant for a group. It is best when shared. Though I feel like I could drink the whole pitcher by myself (haha, before realizing what a bad idea that is).
I've come close, but sharing this with friends has saved me a headache the next morning! Plus, what's better than a group of friends sharing a fantastic adult beverage together?
Sangria is one of those drinks that evokes thoughts of sunny days and great memory-making conversations, punctuated with lots of laughter.
Grab your favorite appetizers (The Spanish call them Tapas) to go with this Fruity Red Sangria, and call the girls (or guys. Paul and Bryen like this recipe)! You can make it way ahead. Viva España!


Moscow Mule Cocktail
Fancy Peach Margarita
Peach Simple Syrup
Pin This Recipe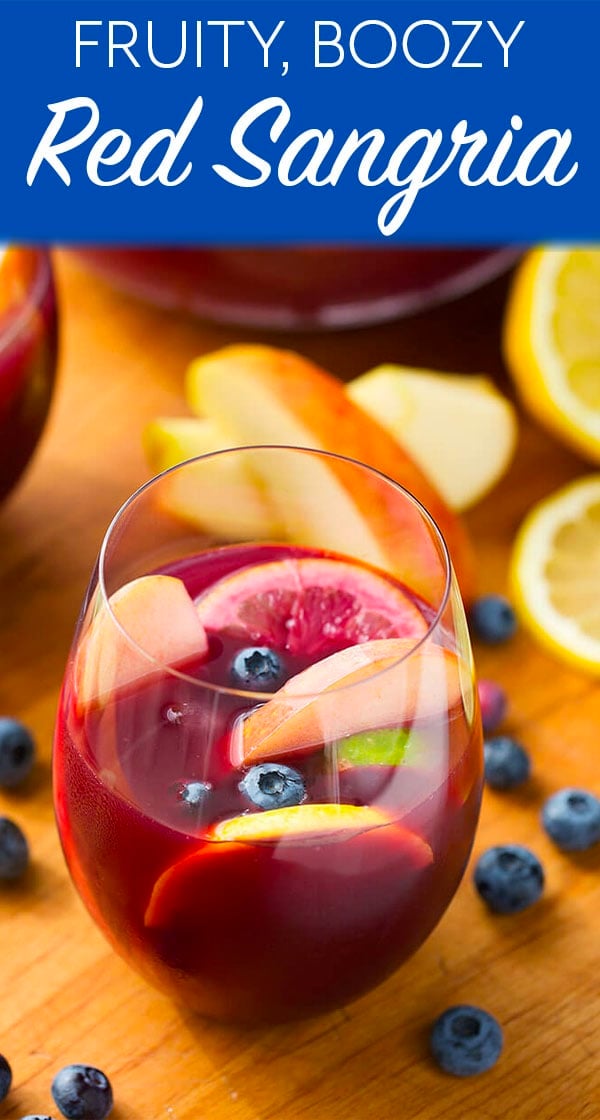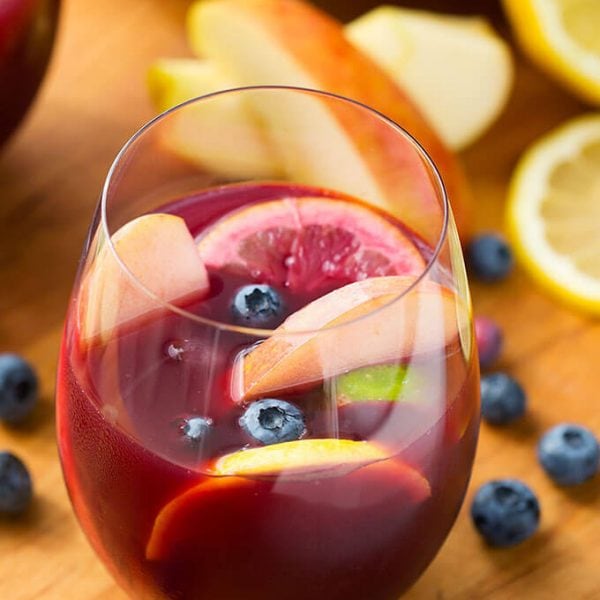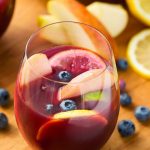 Fruity Red Sangria
This Fruity Red Sangria recipe is made with red wine, brandy, and a couple of fruit liqueurs. A little boozy, fruity, and a party hit!
Ingredients
1

Bottle of red wine

Spanish wine is the authentic, but I use what I have.

¼

Cup

Fine Sugar

1

Tbsp

Raspberry Liqueur

I like Chambord®

1

Tbsp

Grenadine

3

Tbsp

Triple Sec

or other orange liquor

½

Cup

Brandy

Juice of ½ Lemon

Juice of ½ Lime

1

Cup

Orange Juice

No pulp

1

Can

Lemon Lime Soda

½

Lemon

thinly sliced

½

Lime

thinly sliced

½

Orange

thinly sliced

½

Apple

Cut in half lengthwise, and thinly sliced

½

Cup

Frozen Blueberries

or fresh, or both.
Instructions
Mix all ingredients except fruit slices and berries in a pitcher and stir well to dissolve sugar.

Add the fruit and stir.

Chill for a couple of hours and serve cold.

Resources to make this recipe and more
We are a participant in the Amazon Services LLC Associates Program, an affiliate advertising program designed to provide a means for us to earn fees by linking to Amazon.com and affiliated sites.