Creamy Baked Asparagus Alfredo is the perfect recipe to make with your bounty of Spring asparagus! Rich and creamy Alfredo sauce and a crispy breadcrumb topping over perfectly cooked asparagus spears.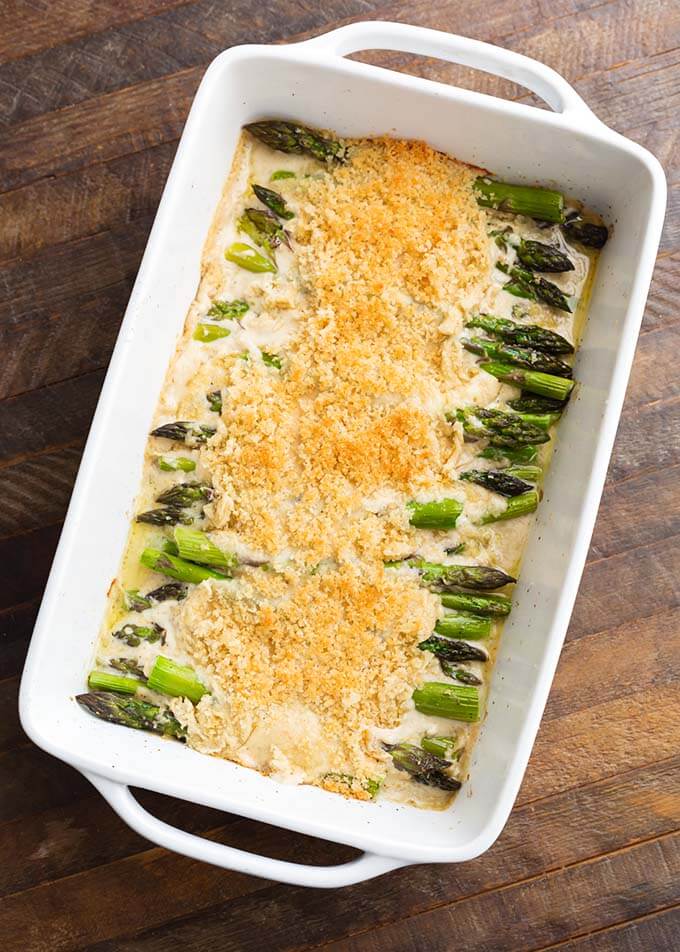 Creamy Baked Asparagus Alfredo
Spring has sprung and fresh asparagus is all around us! What a wonderful vegetable. There are many ways to cook these yummy green spears, but baking them is my favorite!
This Baked Asparagus recipe is a special vegetable side dish. So creamy and full of flavor. You can serve this as a Holiday dinner side, or have it as your main dish on a Meatless Monday!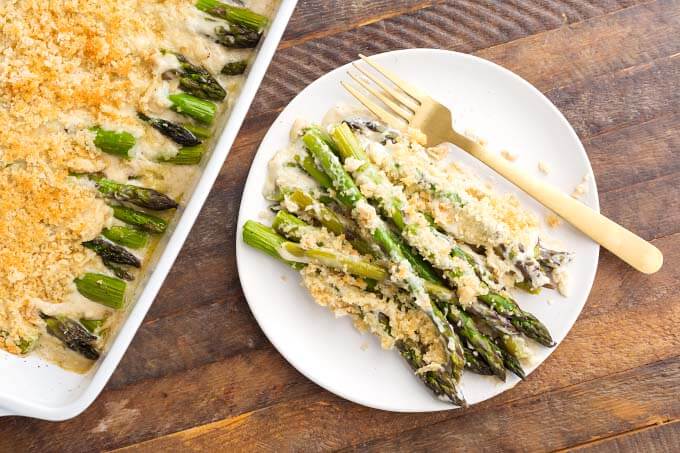 Is thick or thin asparagus better?
Both are good! However, I would try for the "Goldilocks" size if possible. Not too thin, and not too thick!
It would be good to try and get a batch with all of the spears about the same thickness. That way they will all be cooked to the same tenderness.
If you get the thin asparagus spears, the cook time will be shorter, so just keep an eye on it.
Where should I cut the stems off?
In this case I would just cut or break them off to be the same width as your baking pan. The best size to use is a 9" wide pan (by 13" long), so I make the asparagus spears just a tad under 9".


Instant Pot Asparagus
Mexican Street Corn (Elotes)
Easy Creamy Coleslaw
Pin This Creamy Baked Asparagus Alfredo Recipe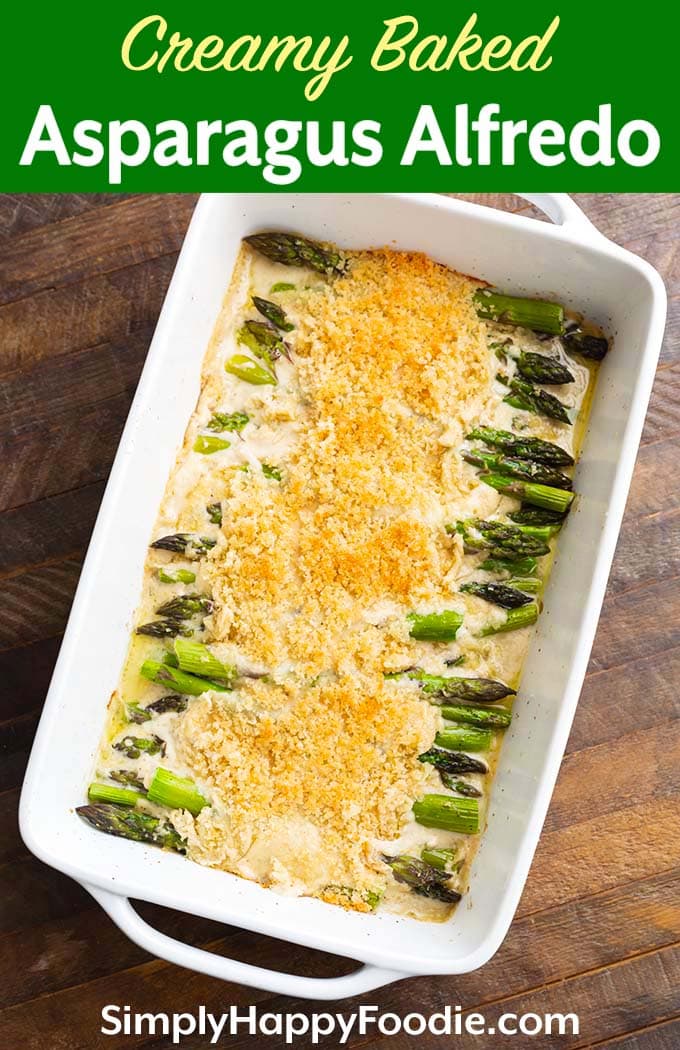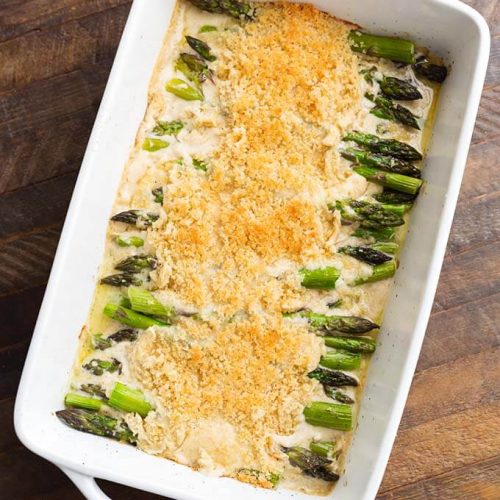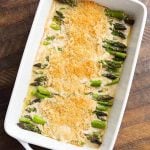 Creamy Baked Asparagus Alfredo
Creamy Baked Asparagus Alfredo is the perfect recipe to make with your bounty of Spring asparagus! Rich and creamy Alfredo sauce and a crispy bread crumb topping over perfectly cooked asparagus spears.
Keyword:
asparagus with creamy alfredo sauce recipe
Ingredients
2

lbs

Asparagus

2

tsp

Olive Oil

2

tsp

Kosher Salt,

divided (or 1 ½ tsp table salt)

½

tsp

Pepper

4

Tbsp

Unsalted Butter,

divided

2 ½

Tbsp

Flour

2

cups

Half and Half

1 ¼

cups

Grated Parmesan Cheese

2

tsp

Garlic Powder

1

tsp

Lemon Zest,

grated

½

cup

Panko Bread Crumbs
Instructions
Wash the asparagus and cut or break the stems off so the spears fit in the baking dish. About 9" (that should be enough to get the woody part of the stem off).

In a sprayed or buttered 9"x13" baking dish, lay the asparagus so every other spear faces the outside of the dish (see photo). Brush the ends and tops with olive oil, then sprinkle with ½ tsp of the salt and ¼ tsp of the pepper.

In a saucepan over medium heat, melt 3 Tbsp of the butter. Whisk in the flour and cook, whisking constantly, until the mixture just starts to turn golden.

Whisk in the half and half, and keep whisking until mixture thickens.

Take off of the heat and whisk in ¾ cup of the parmesan, garlic powder, 1 tsp of the salt, remaining ¼ tsp pepper, and lemon zest. Taste and adjust salt if needed.

Pour over the asparagus, leaving the ends exposed (to look fancy). Bake at 400° F for 15 to 20 minutes, depending on how thick the spears are, and how tender you like your asparagus (Make note of the halfway point in the baking time for the breadcrumb topping to go on).

Meanwhile, mix the remaining 1 Tbsp of butter (melted) with the bread crumbs and remaining ½ cup of parmesan. Halfway through the baking time, sprinkle the mixture over the sauce. Then continue baking.

If you want the bread crumbs more golden, just broil for a few minutes after baking.

RESOURCES TO MAKE Creamy Baked Asparagus Alfredo recipe and more
We are a participant in the Amazon Services LLC Associates Program, an affiliate advertising program designed to provide a means for us to earn fees by linking to Amazon.com and affiliated sites.