Air Fryer Chicken Breasts are easy to make, and take just minutes to cook. You can make juicy, flavorful chicken breasts in the air fryer for a quick meal, or to use for meal prep. Easy air fryer Chicken Breast recipe.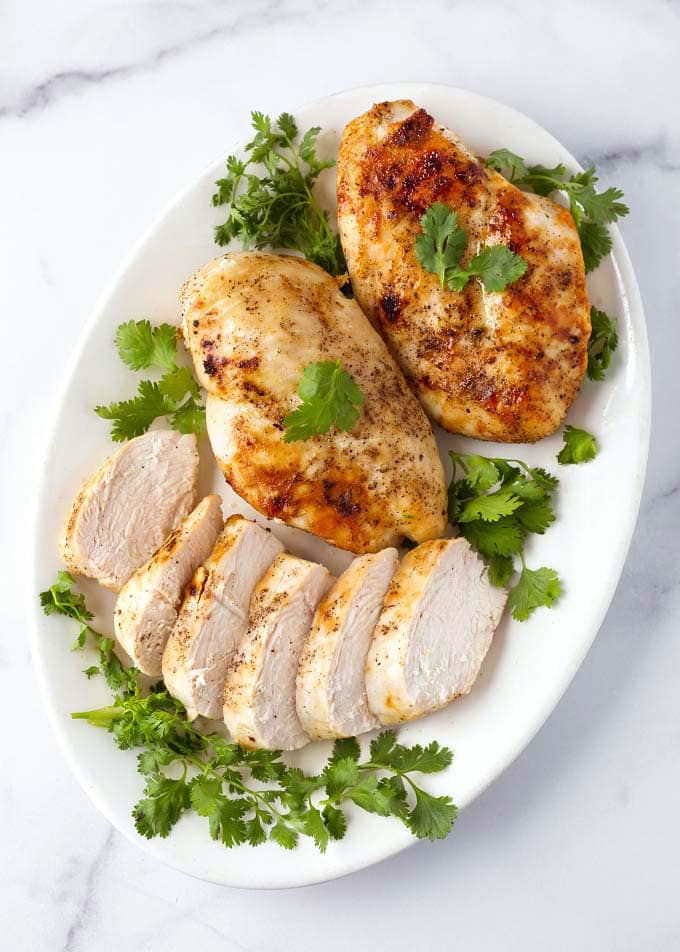 Air Fryer Chicken Breasts
Chicken breasts are the easiest cut of meat to cook, and equally the most difficult. The all-white meat is very lean, and can dry out easily.
Air Fryer Chicken Breasts are juicy on the inside, and have a nice, light sear on the outside. The key to the best air fryer chicken breast is in the cook time.
How Does an Air Fryer Work?
Air fryers are similar to convection ovens. They use a heating element to heat the air in the pot, then a fan circulates that hot air that cooks the food.
With the heating element being directly above the food you also can get some browning.
It's nice to have a small appliance to do this so you don't have to own a convection oven, or use any oven! Why heat up the kitchen for just some chicken breasts?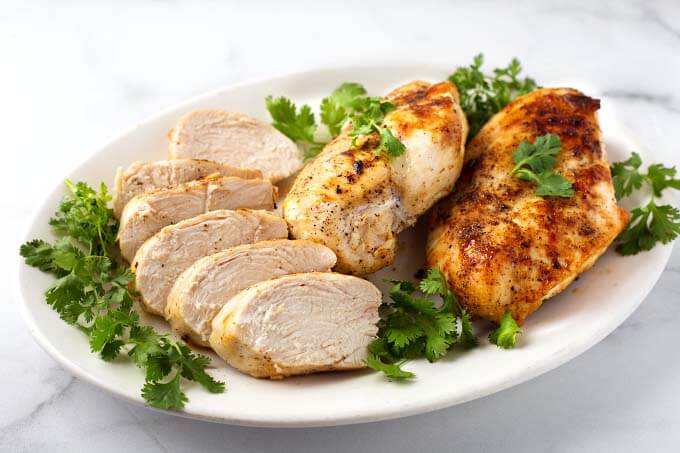 Do I need to use oil to air fry chicken breasts?
I think it's a good idea. Using a little olive oil will not only add some flavor, but will help the seasonings stick to the chicken, and help it crisp a bit on the outside.
I don't always use oil and it comes out just fine.
Should I marinate or brine my chicken breasts?
• You don't have to, but it does increase flavor and juiciness. There are many marinades that add tons of flavor to plain chicken breasts.
• As for brines, you can use simple warm (not hot) water and salt, or even pickle juice! You only need to brine for about 30 minutes to get the effect.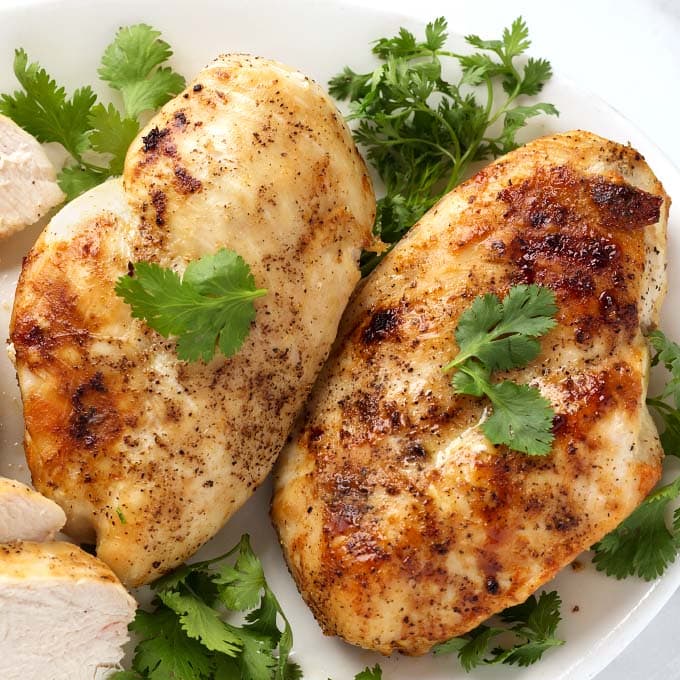 How do I know how long to air fry a chicken breast?
The amount of time will depend on how big/thick they are. Since most chicken breasts are pretty similar in shape, I go by the weight (unless it is particularly thin or thick).
Basically, you choose a temperature, then you cook for "X" amount of minutes, depending on the size of the chicken breast. I give you a guideline in the Notes of the recipe card.


Perfectly Baked Chicken Breast
Instant Pot Chicken Breast
Air Fryer Turkey Burgers
Air Fryer Sweet Potato Fries
Pin This Recipe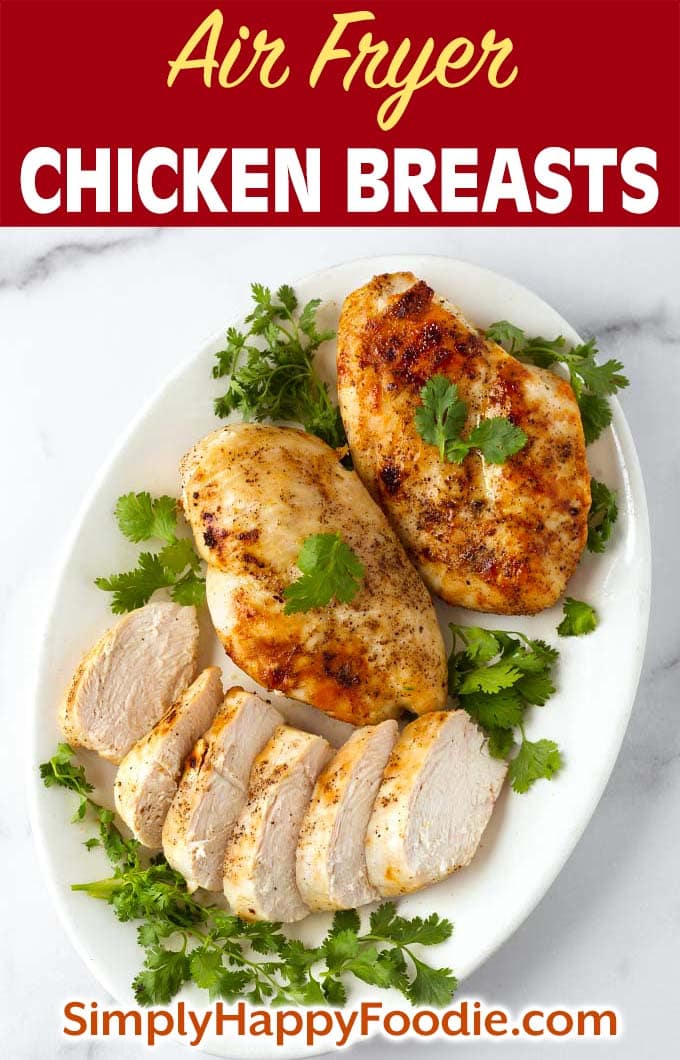 If you make chicken breasts in the air fryer, please leave me a comment below and let me know how you liked them!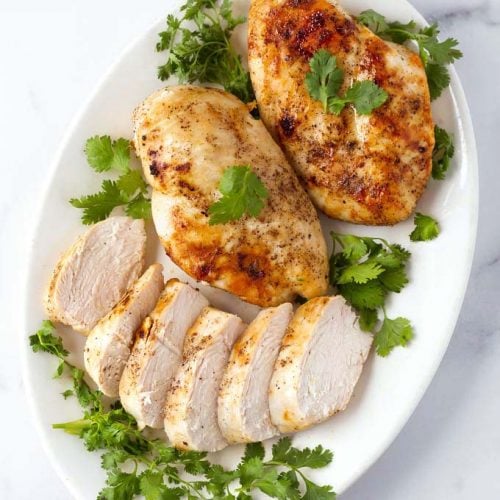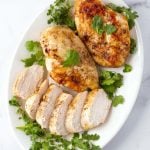 Air Fryer Chicken Breasts
Air Fryer Chicken Breasts are easy to make, and take just minutes to cook. You can make juicy, flavorful chicken breasts in the air fryer.
Keyword:
how to cook a chicken breast in the air fryer
Ingredients
1-4

Chicken Breast (skinless/boneless)

2

tsp

Olive Oil

¼

tsp

Salt

(per breast)

¼

tsp

Pepper

(per breast)

¼

tsp

Garlic Powder

(per breast)
Instructions
Brush the chicken breast with olive oil.

Sprinkle one side with salt, pepper, and garlic powder.

Place the breast in the air fryer basket seasoned side down. Then season the other side.

Cook at 360° for 9 minutes (for 8 oz chicken breast). Then flip the chicken breast over and cook for another 9 minutes. Larger chicken breasts need more cook time, and smaller ones need less time (see Recipe Notes).

Open the air fryer immediately so it doesn't continue cooking in the heat.

Take the temperature in the thickest part with an instant read thermometer. The temperature should read about 158°-160° F. If it is below that, close the lid of the air fryer to let the chicken cook in the residual heat for a few minutes. Then check it again.

Place it on a plate and loosely cover with foil and let it rest for 5 minutes. It will continue to cook in the residual heat (and the juices will go back into the meat). Then after 5 minutes take the temperature again. The temperature should be at least 165° F.

Serve immediately, or save for meal prep or to have for another recipe.
Recipe Notes
Air Fryer Chicken Breast Cook Temp & Times
*Flip halfway through cook time
(Your model of air fryer may vary from this slightly)
6 oz breast 360° for 15 minutes
8 oz breast 360° for 18 minutes
10 oz breast 360° for 20 minutes
12 oz breast 360° for 22 minutes
For cooking multiple breasts at once, use the average weight of the breasts added together.
For example, you want to cook 3 breasts. One of them weighs 10 oz, one is 9 oz, and one weighs 12 oz. Add all of the weights together, in this case it adds up to 31 oz. Then, since you have 3 breasts, divide that by 3, which equals 10. The average weight is 10 oz, so you will cook the three together for 20 minutes.
When you are trying a new cooking method, it often takes a few tries to get food to come out the way you like. So don't give up! Each brand of air fryer has its own wattage, temperature range, etc.