Creamy, cheesy, fried, baked, mild, spicy, and total comfort food. I'm talking about Instant Pot Polenta, and there are many ways to flavor it! You can make perfect polenta in your pressure cooker. It's fast and easy!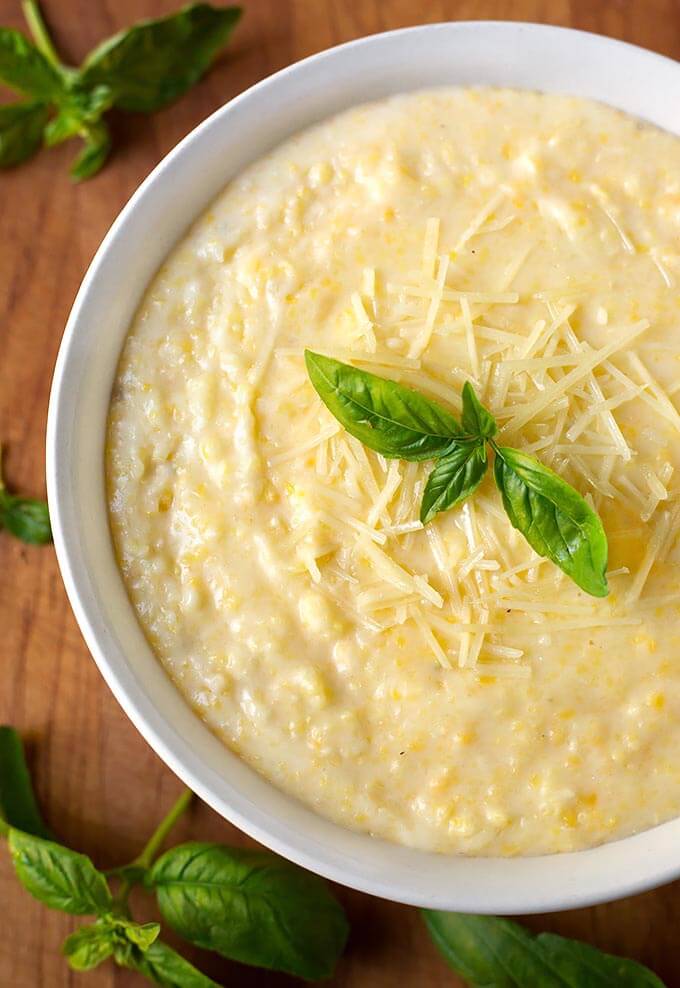 Instant Pot Polenta
Polenta is what my mom called corn mush. She used to make it with butter and set a couple of over-easy eggs on top. She made us "grits" too (which are corn also, made from hominy and finer ground. Same thing, really!). having lived in the South, it was something she grew up with. So it was something I grew up with, too. Though I confess I was raised in about as North as you can get in the Continental US; Washington! But we still had the joy of good, home-cooked Southern meals!
Mom didn't make us fried polenta, it was always served as mush, or porridge. Often with chili, or some kind of sauce, and of course, the eggs on it. So the first time I had it fried, in a restaurant, I was pleasantly surprised! That crispy crust gave it a whole new dimension!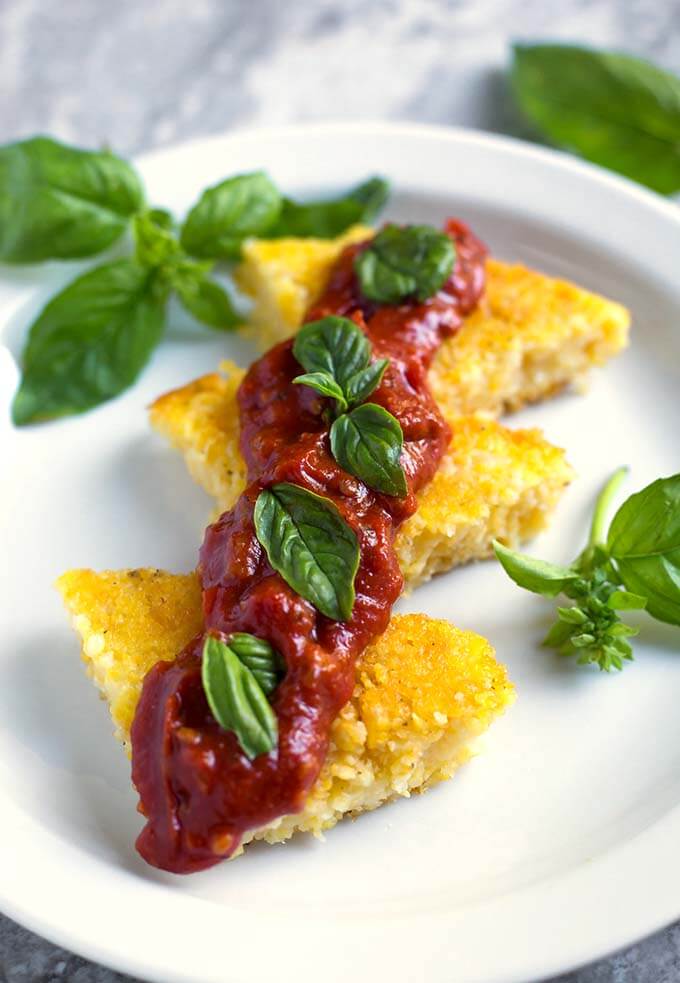 Fried Polenta with Chorizo Tomato Sauce
I think polenta has become more in fashion these days, and it can be served in many different ways. Top it with anything from a tomato based sauce, to maple syrup! And it's really easy to make. I wasn't a fan of being in the kitchen when mom made it because our kitchen was tiny, and polenta pops and blurps when it cooks. I remember having to stir it and wishing for a longer handled spoon. That hot mush would pop and little specks burned my arm! Making polenta in the Instant Pot is so much easier, and it's mostly hands-off! No more getting burned!
Instant Pot Polenta is also faster cooking than on the stove. So that's a bonus. But frankly, I like the hands-off aspect best. I can make the sauce, or get the rest of the meal ready while the Instant Pot is doing its thing!
This recipe is a two-for-one (three if you count the basic polenta): The first version is a creamy, cheesy version of polenta that you can serve as a side dish. The second version is a Feta and Sun Dried Tomato Polenta.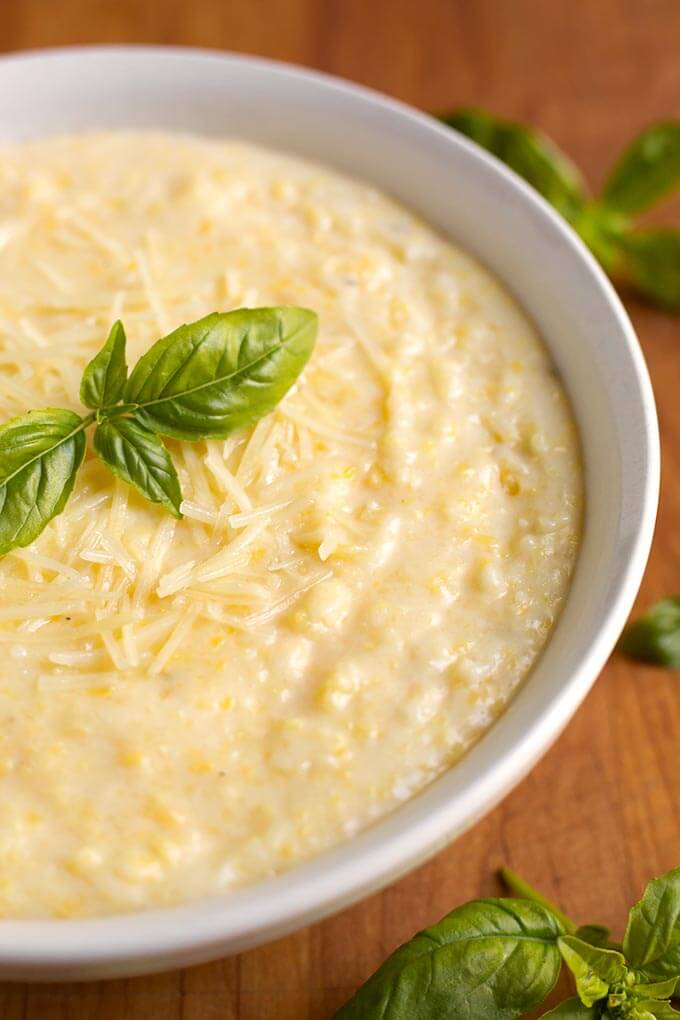 Creamy, Cheesy Polenta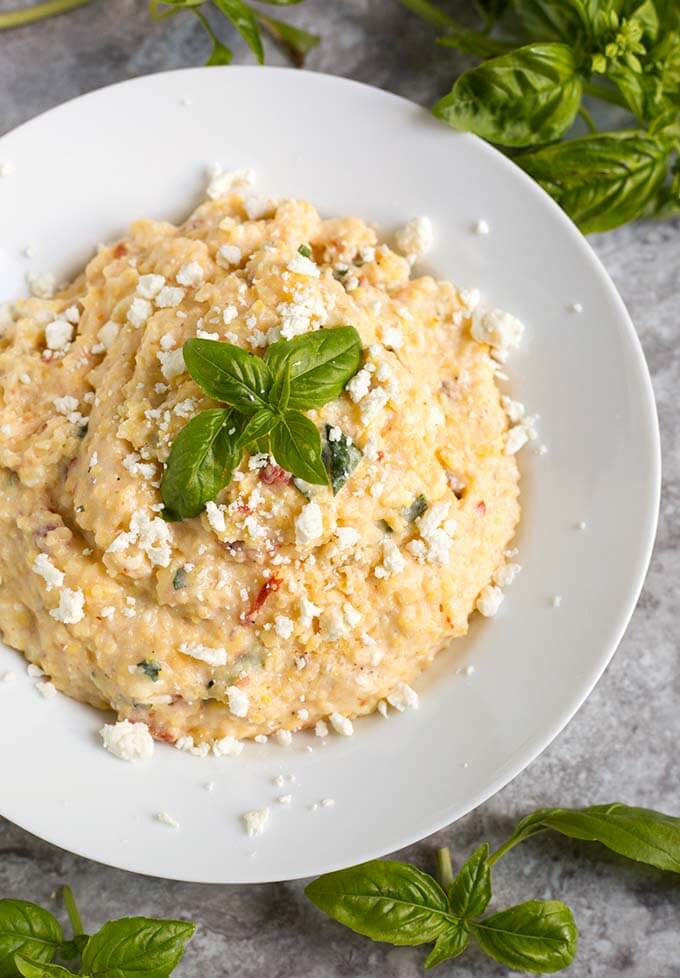 Feta and Sun Dried Tomato Polenta
If you just want to cook a basic polenta, you can ignore the other versions and serve it under your favorite sauce. Or, spread it out in a dish or on a pan and let it cool. It will firm up nicely. Then cut it into pieces and bake (425 degrees F, 20-25 minutes) or fry them in some olive oil. Then serve them with a sauce or whatever you are in the mood for!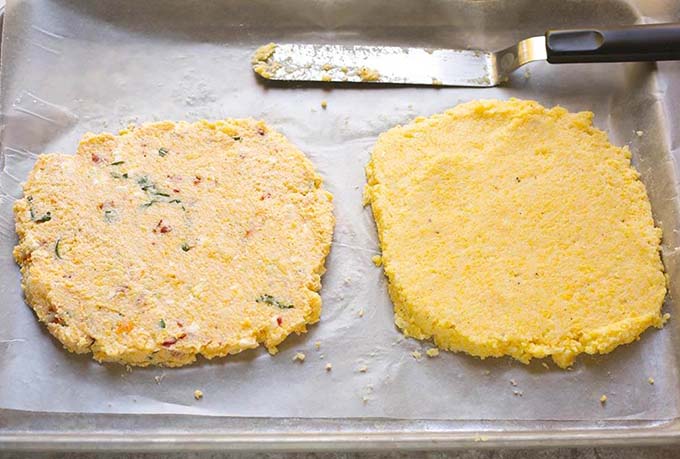 Spread out the polenta and chill it, and slice into desired portions before baking or frying.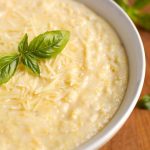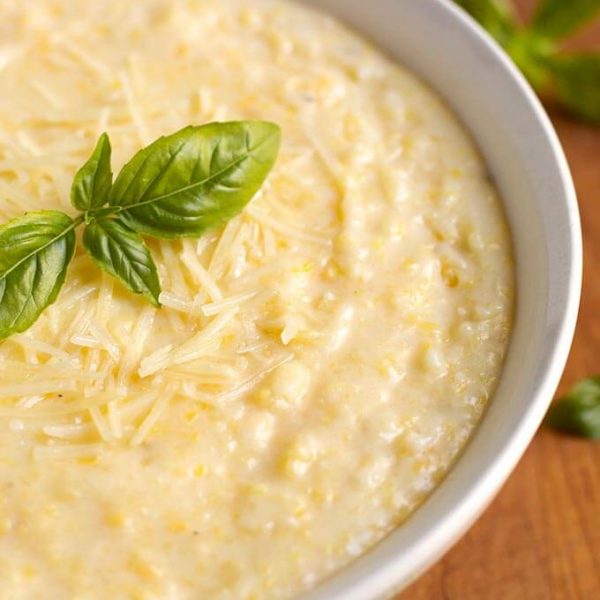 Instant Pot Polenta
Instant Pot Polenta is easy to cook in your electric pressure cooker. Creamy and delicious pressure cooker polenta in less time and less stirring than on the stove!
Course:
Side Dish, Vegetarian
Cuisine:
American, Italian
Keyword:
pressure cooker polenta recipe
Ingredients
For Basic Polenta
4 1/4

cups

Water or Broth

4

Tbsp

Butter

1/2

tsp

Salt

(or more to taste)

1

cup

Polenta (aka, coarse corn meal, coarse corn grits)
For Creamy, Cheesy Polenta (Add to the Basic Polenta when it is done cooking)
1

cup

Parmesan Cheese

grated

3/4

cup

Milk

(or half and half)

1/2

tsp

Pepper
For Feta and Sun Dried Tomato Polenta (Add to the Basic Polenta when it is done cooking)
8

oz

Feta Cheese

crumbled

2/3

cup

Milk

1/2

cup

Sun Dried Tomatoes

chopped

8

Large Basil Leaves

chiffonade (sliced in ribbons)

Salt to Taste
Instructions
To Cook the Basic Polenta
Press the Sauté (normal, medium heat) button on the Instant Pot.

Add the water, butter, and salt. Bring to a simmer.

Whisk in the polenta, and put the lid on the pot. Set the steam release knob to the Sealing position.

Cancel the Sauté function (usually by pressing the Keep Warm/Cancel button).

Press the Manual (or Pressure Cook) button, and then the + or - button to select 7 minutes (4 minutes for the quick cooking variety). When cook cycle ends, turn off the pressure cooker and let the pot naturally release the pressure for 10 minutes. Then manually release the remaining pressure.

When the pin in the lid drops, open the lid and stir the polenta well, scraping up any that may have stuck to the bottom of the pot (I have the ceramic coated Instant Pot liner that is non-stick. It is perfect for this).

Serve with your favorite sauce or toppings.
For Creamy, Cheesy Polenta
After you have opened up the pot when polenta is done cooking, stir it well and add the parmesan cheese. Stir to incorporate.

Taste and adjust salt to if needed.
For Feta and Sun Dried Tomato Polenta
After you have opened up the pot when polenta is done cooking, stir it well and add the feta cheese. Stir to incorporate.

Stir in the milk, sun dried tomatoes, and the basil.

Taste, and adjust salt if needed.

Resources to make Instant Pot Polenta Recipe and More
We are a participant in the Amazon Services LLC Associates Program, an affiliate advertising program designed to provide a means for us to earn fees by linking to Amazon.com and affiliated sites.