Instant Pot Kielbasa and Sauerkraut has two of my favorite foods from childhood: Kielbasa and Sauerkraut! This pressure cooker Kielbasa and Sauerkraut is a one-pot meal that you can make in your Instant Pot Electric Pressure Cooker in about an hour.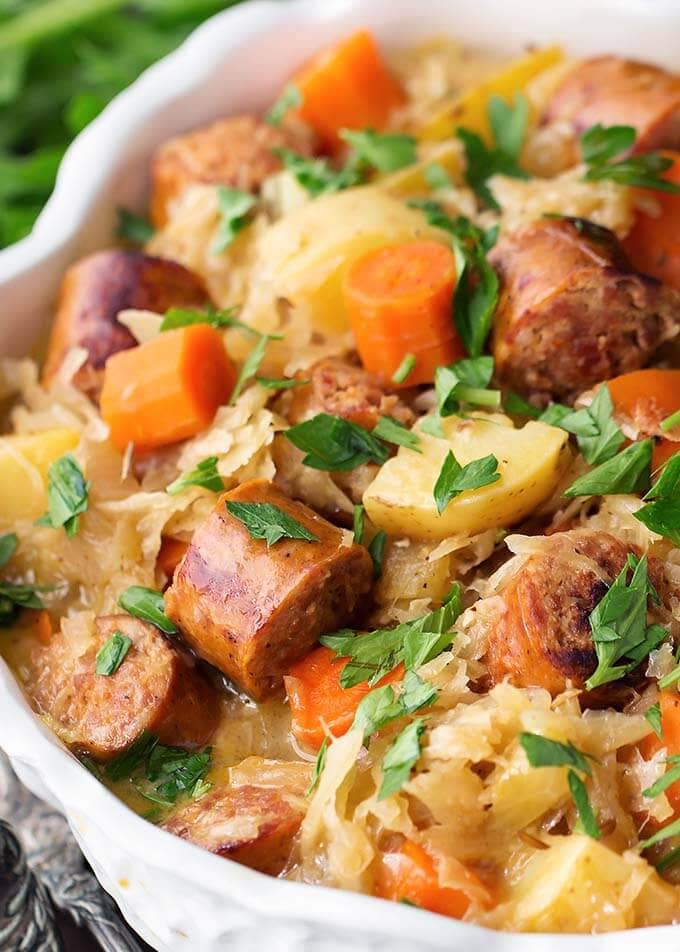 Instant Pot Kielbasa and Sauerkraut
I grew up eating sauerkraut, and many other Germanic foods. Sometime before I was born my mom lived in Germany. I never knew that some of the things we said were actually in German. When my friends came over to play, they were confused when I told them to be careful of mom's shrunk (china cabinet). And mom would yell at us to "mach schnell" when she wanted us to hurry up.
I've forgotten many of the words, but I haven't forgotten the food! Mom cooked food from everywhere, not just Germany!
Mom made sausages like Bratwurst, Knackwurst, Liverwurst, and we ate it all! She served us Kielbasa, good Polish sausage, and many types of hot dogs, as we called them. My favorite was Kielbasa and sauerkraut! Now, this is not a strictly German recipe, but it does take me back to the German influences I grew up with.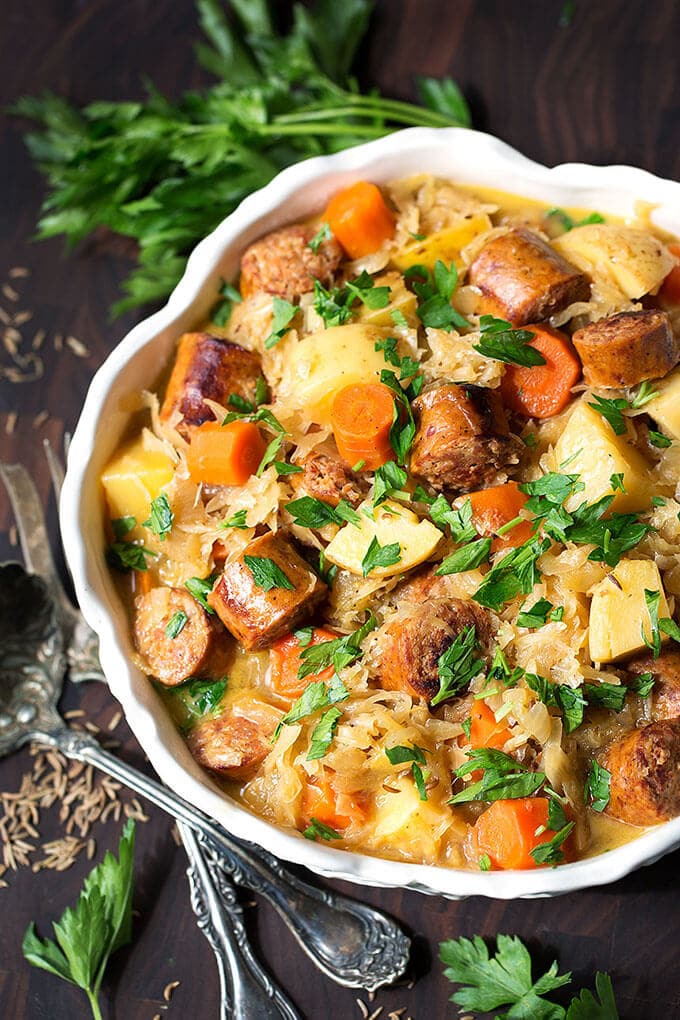 I like to blend recipes from different cultures, and make them my own. This recipe is not quite like mom's, as it has more ingredients, and a more complex flavor. Hers was good, simply good, but mine is amazing (at least, to me it is)! I wish she had lived to taste mine, maybe she'd have liked it, too.
The nice part about this Instant Pot Kielbasa and Sauerkraut is that making it in my Instant Pot® is so easy. It is done perfectly in under an hour, and in ONE POT, which I really like!
I hope you like Instant Pot Kielbasa and Sauerkraut as much as my family does.


Instant Pot Creamy Cajun Pasta with Sausage
Instant Pot Drunken Beans (Frijoles Borrachos)
Instant Pot Zuppa Toscana (Sausage Potato Soup)
Instant Pot Beef Barley Vegetable Soup
Instant Pot Hawaiian Pineapple Pork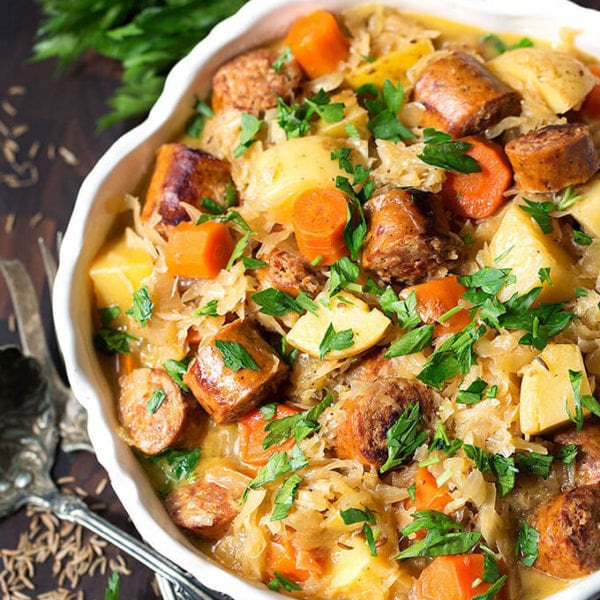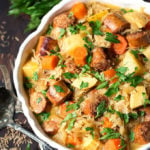 Instant Pot Kielbasa and Sauerkraut
If you like kielbasa and sauerkraut, you will like this version! I revised it many times and this is the winning dish! You make it in the Instant Pot electric pressure cooker, and it is fantastic!
Keyword:
pressure cooker sauerkraut and kielbasa recipe
Ingredients
2-3

TBSP

Vegetable Oil

1 ½

lbs

Kielbasa,

cut into 1.5 inch chunks

1

32 oz

Jar Sauerkraut

(drain ½ of the liquid)

1

med

Onion,

diced

2

cloves

Garlic,

pressed or minced

1

Tbsp

Caraway Seeds

½

tsp

Kosher Salt

½

tsp

Black Pepper

⅓

cup

Dry White Wine

(or use apple juice)

3

Small Gold Potatoes,

cubed

3

Medium Carrots

cut into 1 ½ inch pieces

1

Apple

(cored, peeled and large diced)

2

cups

Chicken Broth

Parsley Garnish

(optional)
Instructions
Set the Instant Pot to Sauté and when it says hot, add the vegetable oil, wait a few seconds, then add the kielbasa. Brown it and remove to a bowl.

Add onion to the pot and stir.

Add carrots and stir.

Let that cook for a minute or two.

Add the salt, pepper, and caraway seeds, stir.

Add the wine and let cook for a couple of minutes, stirring and scraping the bottom of the pot occasionally to make sure the pot is deglazed (all brown bits removed).

Add the garlic, stir it in.

Add the potatoes and apple, stir.

Add the kielbasa back in, juices and all. Also add sauerkraut, and broth. Stir well to combine.

Put the lid on the Instant Pot, and set the knob to sealing.

Press the Cancel/Keep Warm button to cancel the sauté mode.

Press the Pressure Cook (or Manual) button or dial, make sure it is set to high pressure, and use the +/- button or dial to adjust the time to 8 minutes.

After the cooking cycle ends, press the Cancel button to turn off the pot, and wait 10 minutes (NPR - Natural Pressure Release).

Release the rest of the pressure manually (use a spoon handle or tongs to be safe), and wait for the pin to drop, and carefully open the lid, facing it away from your face as there will be a lot of steam.

Give it a good stir.

The contents will be very hot, so when you dish it up you might want to wait a few minutes before eating it. Garnish with a little fresh parsley, and ENJOY!
Recipe Notes
Serve with a slice of buttered crusty bread, or a biscuit.
This is one of those meals that is better the next day! It reheats very well.

resources to make Instant Pot Kielbasa and Sauerkraut recipe and more
We are a participant in the Amazon Services LLC Associates Program, an affiliate advertising program designed to provide a means for us to earn fees by linking to Amazon.com and affiliated sites.