I love a good side dish. One that happens to be creamy and cheesy, and garlicky? Yes, please! Instant Pot Cheesy Garlic Orzo is a delicious pasta side dish, and those little orzo become so soft and creamy. You could have this as your main dish if you want to. A pretty decadent one!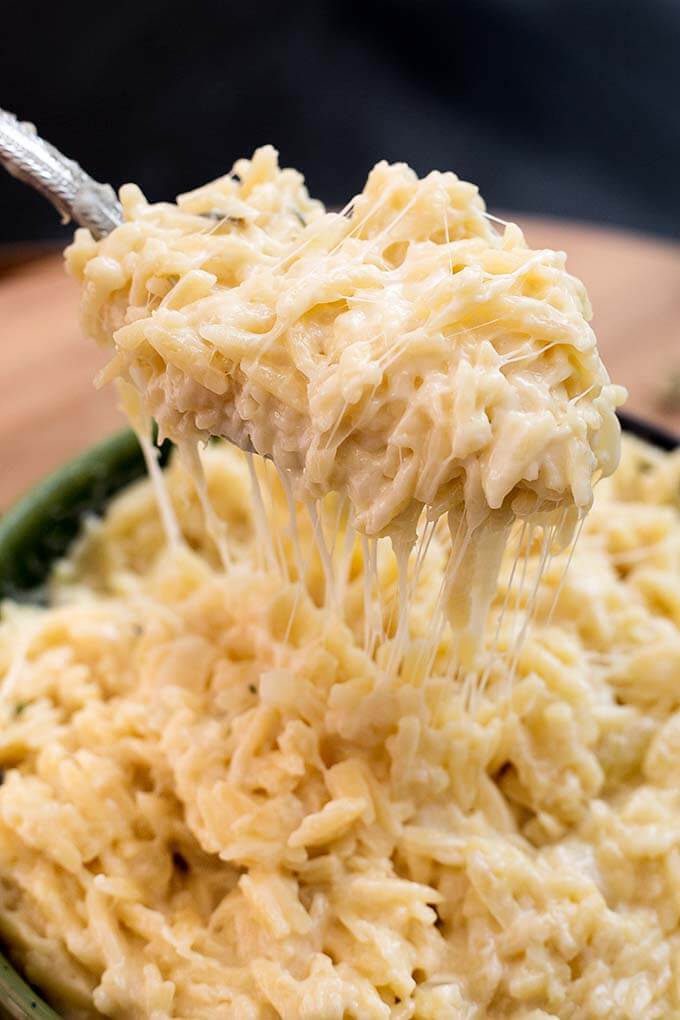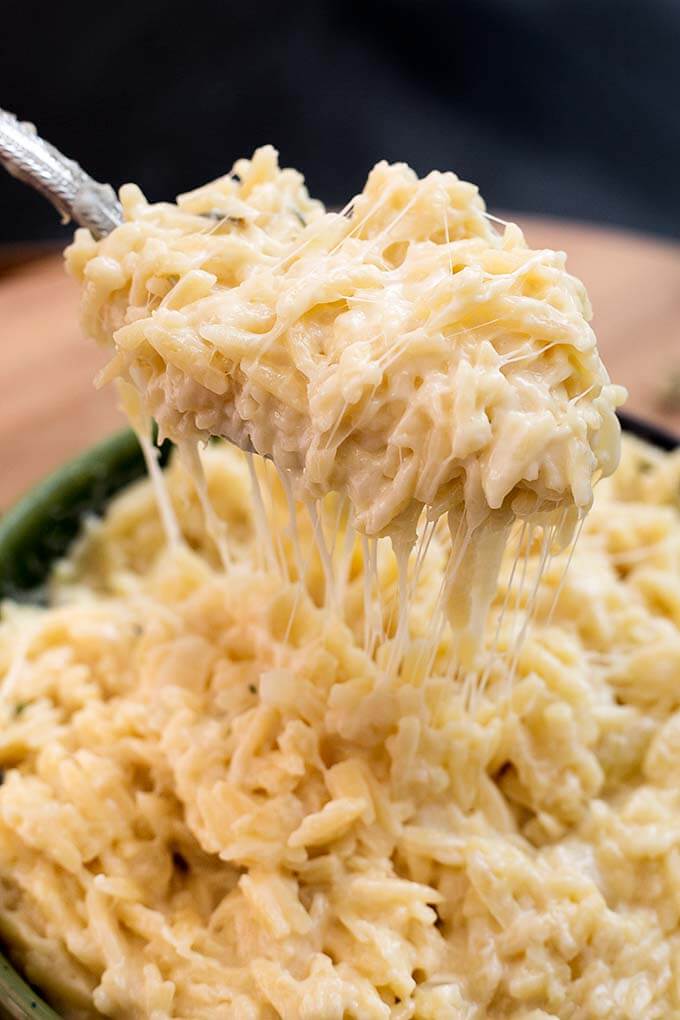 Instant Pot Cheesy Garlic Orzo
Every once in a while I get asked about good side dishes to make in the pressure cooker. There are several good ones, such as Mashed Potatoes, Stuffing, and Cornbread Pudding. This Instant Pot Cheesy Garlic Orzo is one of my favorite Instant Pot side dishes.
This delicious Instant Pot Cheesy Garlic Orzo pasta side dish is pretty quick cooking, and can be cooking while you are making the main dish on the stove or in the oven (or in another Instant Pot®!). It also doubles well.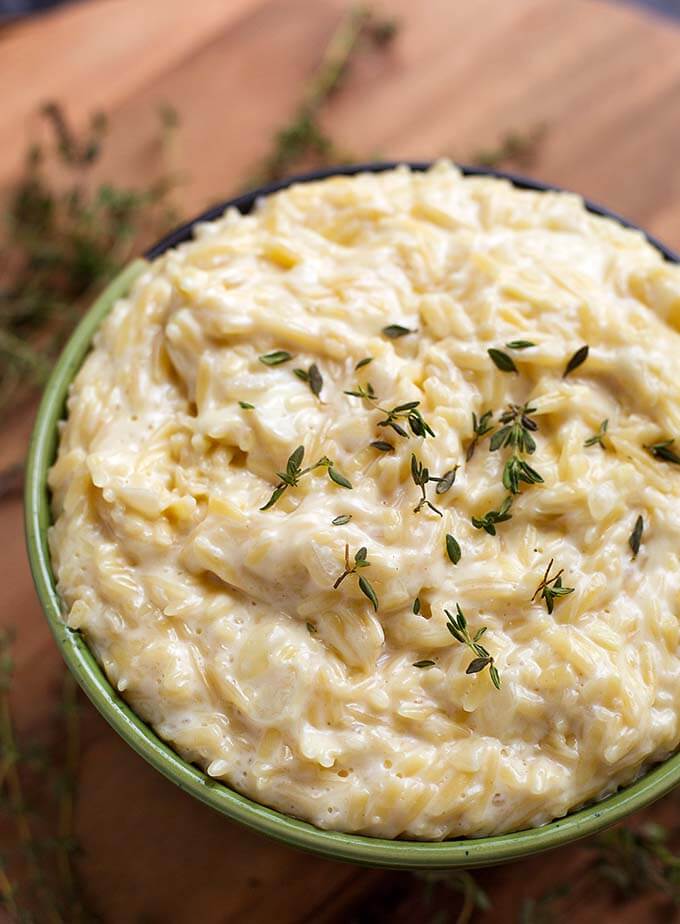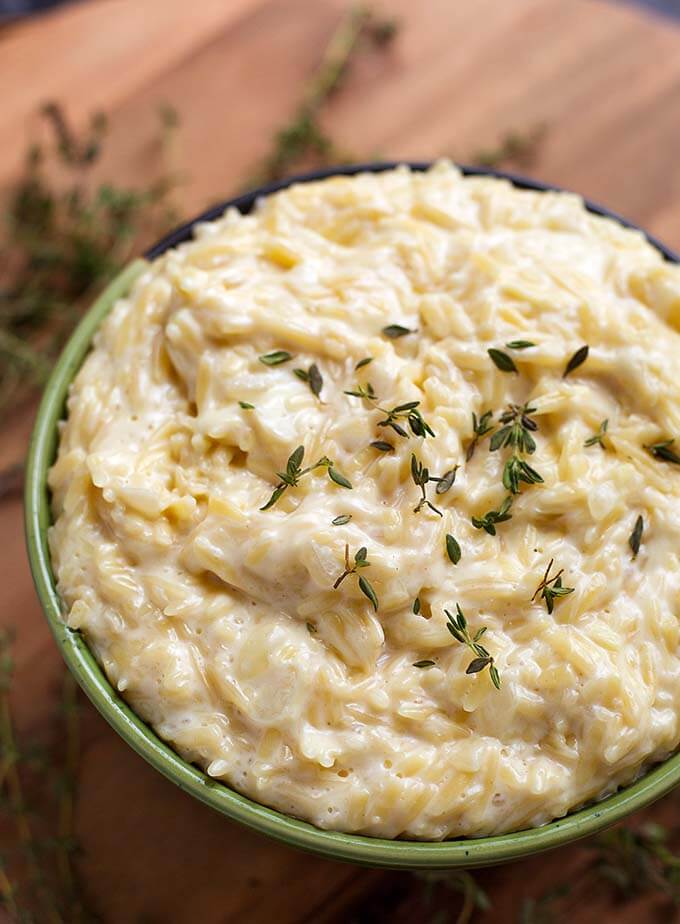 Instant Pot Mac and Cheese
Instant Pot Cheesy Taco Pasta
Instant Pot Cheeseburger Pasta
Instant Pot Meatball Pasta Dinner
Instant Pot Cheesy Scalloped Potatoes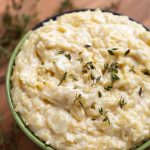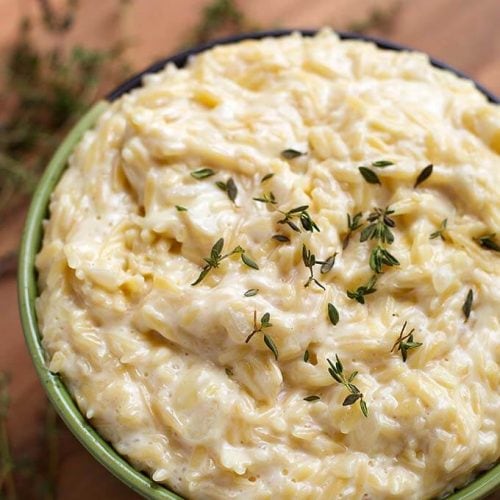 Instant Pot Cheesy Garlic Orzo

Instant Pot Cheesy Garlic Orzo is a rich and tasty pasta side dish made in your electric pressure cooker.

Course: Dinner, pasta, Side Dish

Cuisine: American

Servings: 4 - 6 servings

Ingredients
2 tsp Olive Oil
2 tsp Butter
1/2 small Onion, diced
3 cloves Garlic
1/2 tsp Salt (or more to taste)
2 cups Chicken Broth (or vegetable broth)
8 oz Orzo Pasta (1 1/2 cups dry)
1 1/2 cups Grated Parmesan Cheese
1 cup Mozzarella Cheese, shredded
1 cup Half and Half
1 tsp Fresh Thyme Leaves, optional garnish
Instructions
Turn on your pressure cooker's Sauté function (normal, med. heat). Add the Oil and butter.

Add the onions and cook until translucent, stirring occasionally.

Add the garlic and cook for about 30 seconds, stirring constantly.

Add the salt and broth. Stir, and let come to a simmer.

Stir in the Orzo. Then place the lid on, locking in place. Set the Steam Release Knob to Sealing position.

Cancel the sauté function.

Press the Pressure Cook/Manual button (or dial) and the + or - (or dial) to select 4 minutes.

When the cooking cycle has finished, immediately turn the Steam Release Knob to the Venting position (Quick Release). When all of the steam has vented, and the pin in the lid drops down, open the lid.

Stir in the parmesan cheese, then stir in the mozzarella.

Stir in the half and half.

Serve immediately, garnish with fresh thyme if desired.
RESOURCES TO MAKE This Recipe and More
We are a participant in the Amazon Services LLC Associates Program, an affiliate advertising program designed to provide a means for us to earn fees by linking to Amazon.com and affiliated sites.

Awesome Spring Chef Stainless Measuring Spoons That Fit in Your Spice Jars!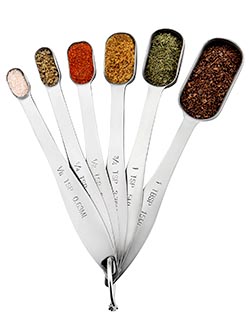 6 Quart Instant Pot Pressure Cooker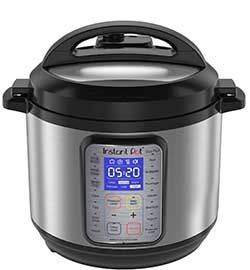 Instant Pot Mini 3 quart electric pressure cooker