Chocolate Covered Strawberry Brownies are a delicious, decadent dessert recipe. If you like rich chocolate brownies, then you will love these easy chocolate ganache covered strawberry brownies! A perfect Valentine's Day dessert recipe.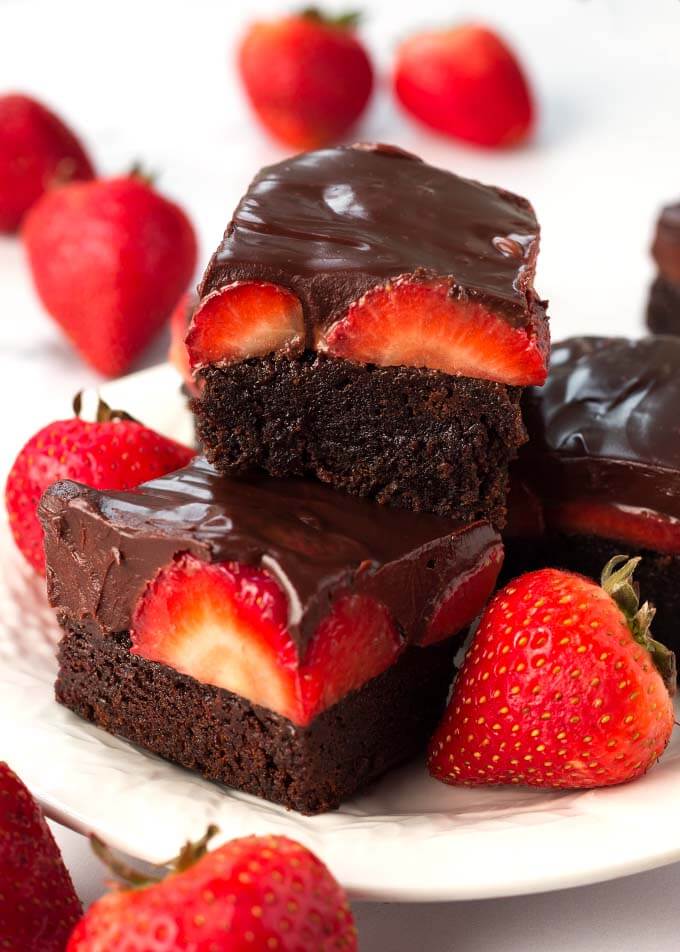 Originally Published 7/4/2019
Chocolate Covered Strawberry Brownies
Chocolate and strawberries go perfectly together. These brownies feature fresh, ripe strawberries together with rich, chocolate brownies. Decadent chocolate ganache brings them all together.
This chocolate covered strawberry brownies recipe makes a great Valentine's Day dessert! Also nice for Christmas, Easter, Fourth of July, Showers, etc.
Can I use a brownie mix?
Yes! That's what I do. You can also make them from scratch and they will be amazing, but the box brownie mix is just fine. I like the dark chocolate flavor brownie mix.
Can this recipe be doubled?
Yes! You can even buy brownie mixes that are for a 13"x9" pan. That makes it easier! Then just double the strawberries and make a double batch of ganache. Perfect for a potluck.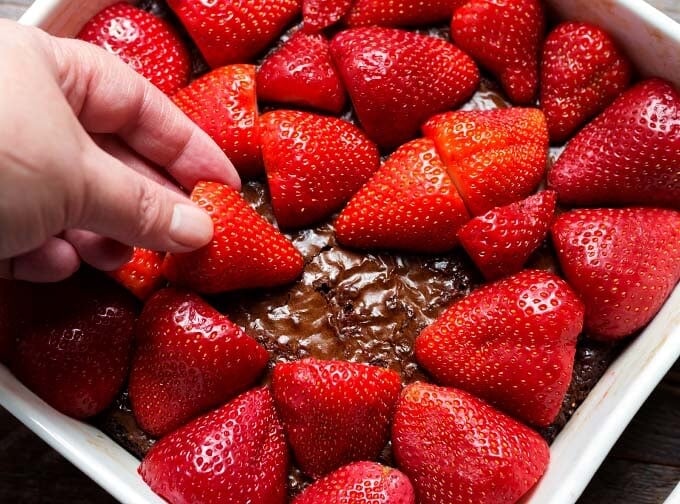 Cut the strawberries in half lengthwise, and arrange on the prepared brownies seed sides up.
What if My Strawberries are Large?
In that case I would just cut them smaller. Start by cutting them in half, then in fourths if still too large.
If they stand up too tall above the brownie layer, it makes for a big bite! Cutting the strawberries smaller is also better for the kiddos.
Do I have to use heavy cream for the ganache?
If you don't have any heavy cream you substitute ¾ cup milk and ¼ cup melted butter thoroughly mixed. The fat is what stabilizes the ganache, so it is necessary.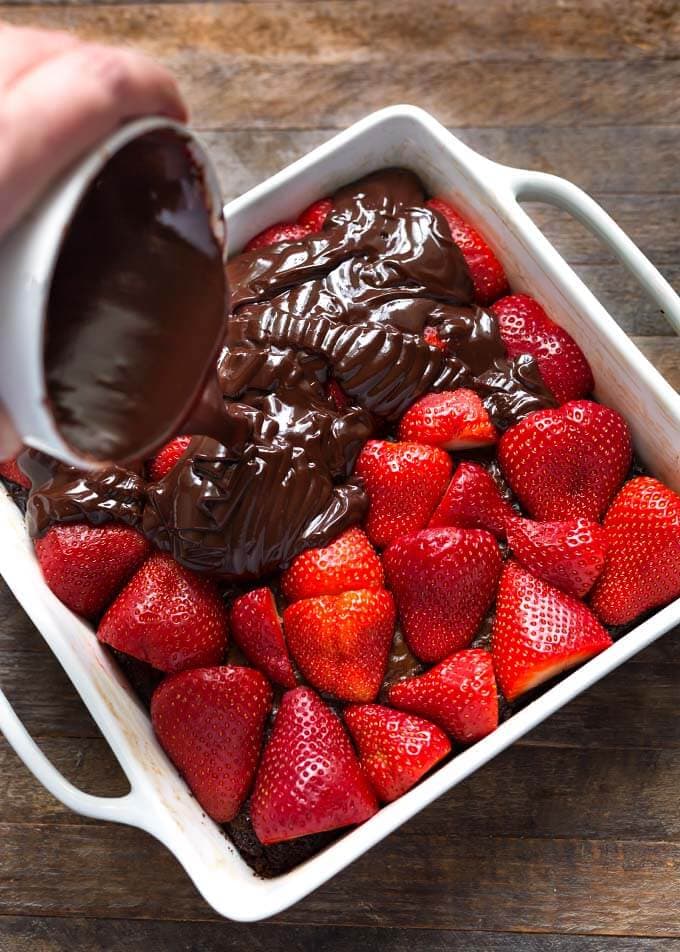 The perfect chocolate ganache is smooth and glossy. This is achieved by stirring the mixture really well as the chocolate is melting.
Is it okay to use dark chocolate for the ganache?
Yes it is. These brownies tend to be sweet, so using dark chocolate cuts the sweetness. My preference is to use half semi-sweet and half dark chocolate chips.
If you don't have or want to use a microwave to melt the chocolate, you can use a double boiler on the stove.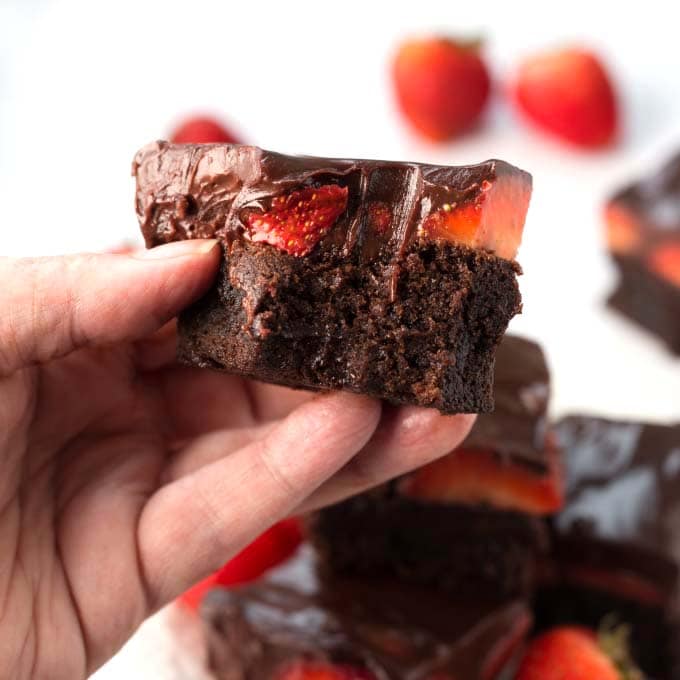 A note about the serving size
I have the servings as 9 squares for this recipe. These are pretty generous in size. You can easily get 12 or more servings by cutting the squares smaller. I know that's obvious, but just wanted to say so.
These are rich Chocolate Covered Strawberry Brownies, so a smaller portion will still be a satisfying dessert for most people!


5-Ingredient Chocolate Peanut Bars
Fresh Fruit Pizza
Instant Pot Chocolate Lava Cakes
No Bake Peanut Butter Pie
These brownies make a wonderful gift, especially on Valentine's Day, Mother's Day, Father's Day, Birthdays, etc.
They are the perfect dessert to bring so you can enjoy these awesome, decadent brownies together! I hope you make these and share with your friends and family!
If you make this lovely recipe for brownies topped with chocolate covered strawberries, please let me know! Just leave a comment with a star rating below. I'd love to know how you liked them!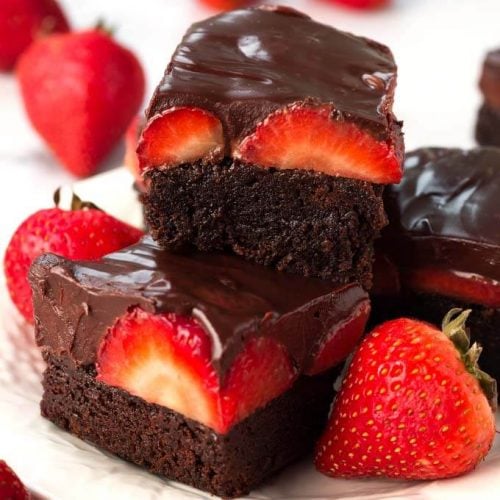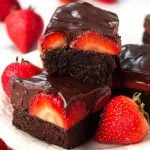 Chocolate Covered Strawberry Brownies
Chocolate Covered Strawberry Brownies are a delicious, chocolatey dessert recipe. If you like rich, chocolate brownies, then you will love these chocolate ganache strawberry covered brownies!
Keyword:
Brownies with strawberries ganache recipe
Ingredients
1

Brownie Mix

(for an 8"x8" baking dish)

1

lb

Strawberries,

stems removed, cut in half
Chocolate Ganache
1½

cups

Semi Sweet Chocolate Chips

(or use part dark chocolate)

¾

cup

Heavy Cream

(up to 1 cup if more is needed)
Instructions
In an 8"x8" baking dish, prepare brownies according to package directions. Let them cool completely.

Remove the stems from the strawberries and cut them in half lengthwise.

Arrange the strawberries in a single layer on top of the brownie layer, seed side up.
Prepare the Chocolate Ganache
In a microwave safe bowl, add the chocolate chips and the heavy cream. Microwave for 25 seconds. Then start stirring slowly.

Microwave again for 20 seconds. Stir again, for at least 20 seconds. The heat will keep melting the chocolate as you stir. It is important to heat the mixture gradually, and not to get it too hot! Stir, stir, stir!

If the chocolate chips are still chunky, microwave again for another 15 seconds. Then stir again. Repeat if necessary. Keep stirring until the ganache becomes smooth, and turns dark and shiny/glossy. Then it is ready.
Finish
Pour the chocolate ganache over the strawberries evenly, covering all of them.

Chill the brownies in the fridge for 20-30 minutes, or until ganache has set. It will not be solid, but will firm up.

Slice and serve within a day. These won't last more than a day as the berries release moisture that will make the brownies wet.
Recipe Notes
This also works with raspberries and blueberries.
Resources to Make Chocolate Covered Strawberry Brownie recipe
This post contains Affiliate links. As an Amazon Associate I earn from qualifying purchases.


Pin This Chocolate Covered Strawberry Brownies Recipe