Air Fryer Turkey Meatloaf comes out flavorful and moist, with a delicious topping to go over it. This is a turkey meatloaf recipe that will please the whole family. Air fried turkey meatloaf is done in under an hour!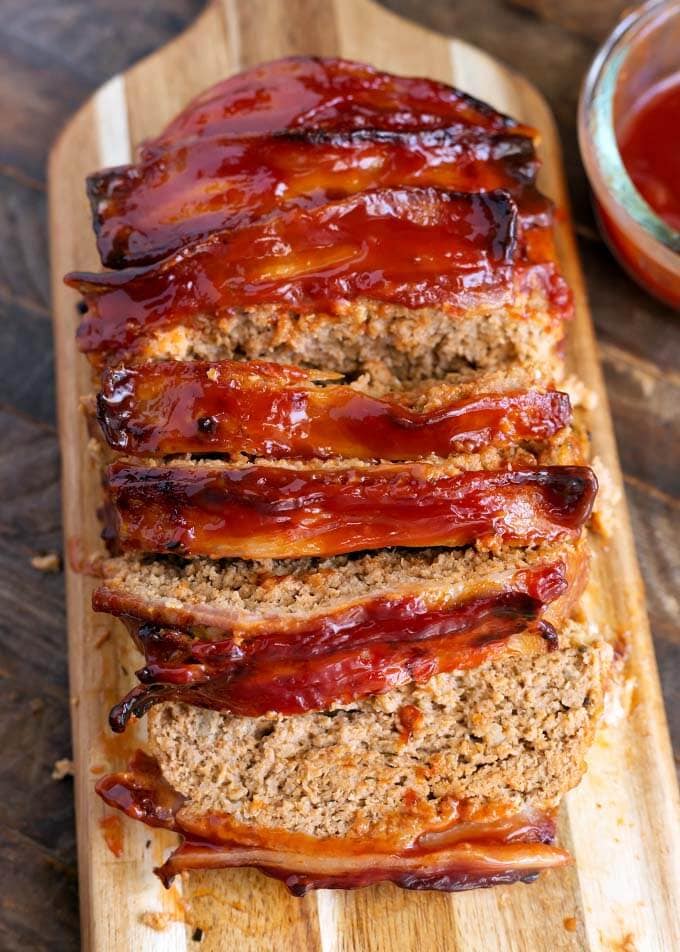 Air Fryer Turkey Meatloaf
Meatloaf is America's comfort food! Most other countries have their version of meatloaf as well. There is no limit to all of the delicious ways to prepare a tasty meatloaf!
Turkey meatloaf is such a great option to beef. Ground turkey is pretty much found everywhere nowadays.
You can also find it in different fat percentages. The typical ones I find are 99% lean (white meat), 93% lean, and 85% lean.
I suggest using the 85% lean if you can find it. Otherwise the 93% lean is a good option.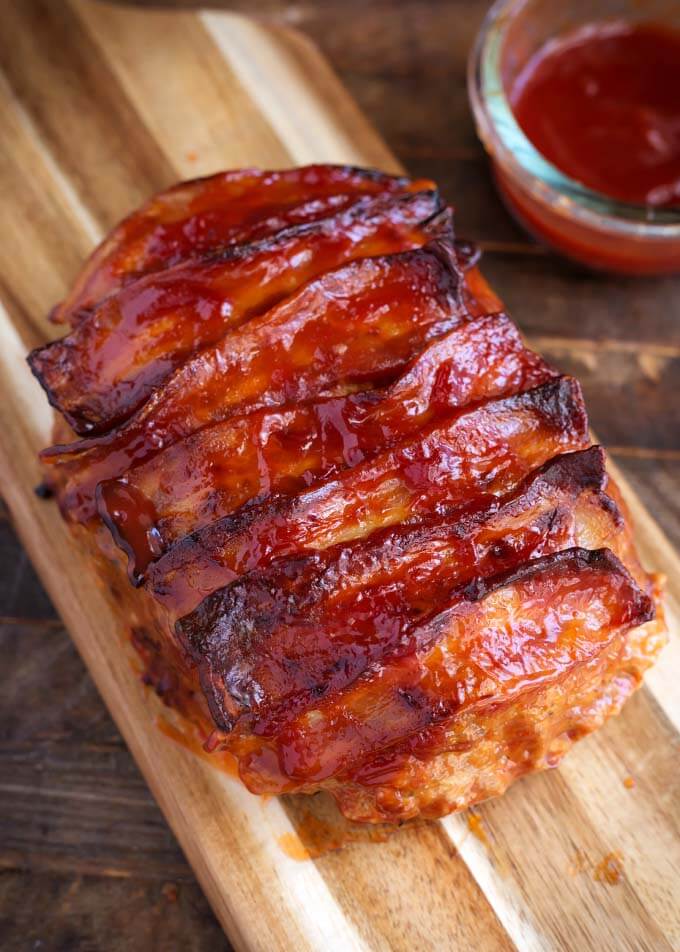 What goes with Air Fryer Turkey Meatloaf?
I would say that potatoes pair the best with any kind of meatloaf. Especially mashed potatoes and gravy or butter.
You could servefrench fries, sweet potato fries, rice, or a light pasta salad.
You could also serve a lower carb option and go with riced cauliflower, broccoli, asparagus, or a nice salad.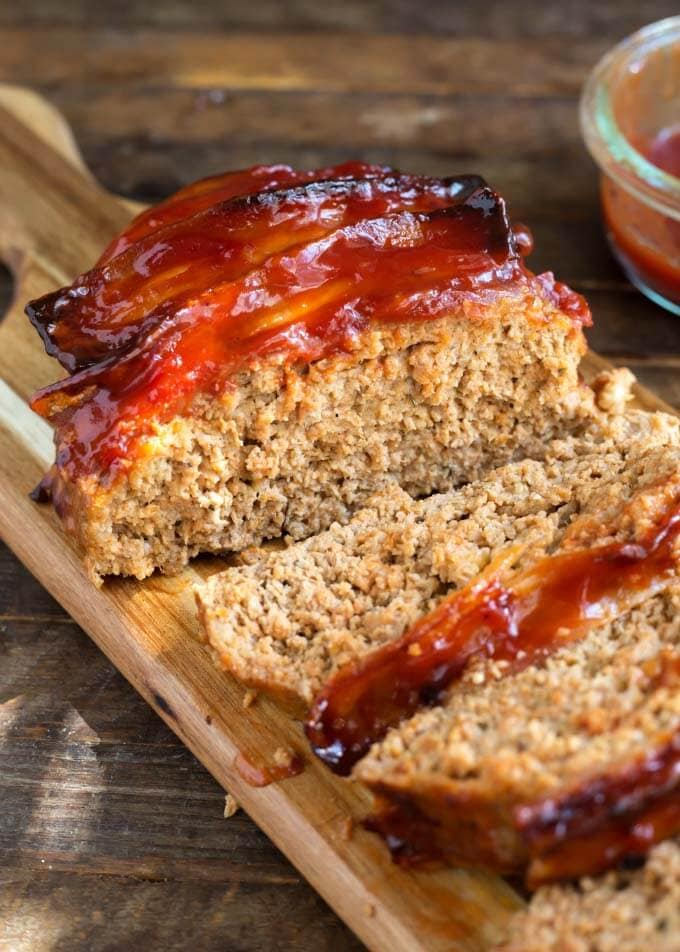 What can I use in place of the bread crumbs?
You can use quick cooking oats. Also, if you don't want to use milk, try adding a little water.
Will this meatloaf recipe work with beef?
Yes, however the internal temperature of beef is 160°.


Air Fryer Garlic Parmesan Potatoes
Air Fryer Asparagus
Air Fryer Rib Eye Steak
Air Fryer Turkey Burgers
Pin This Recipe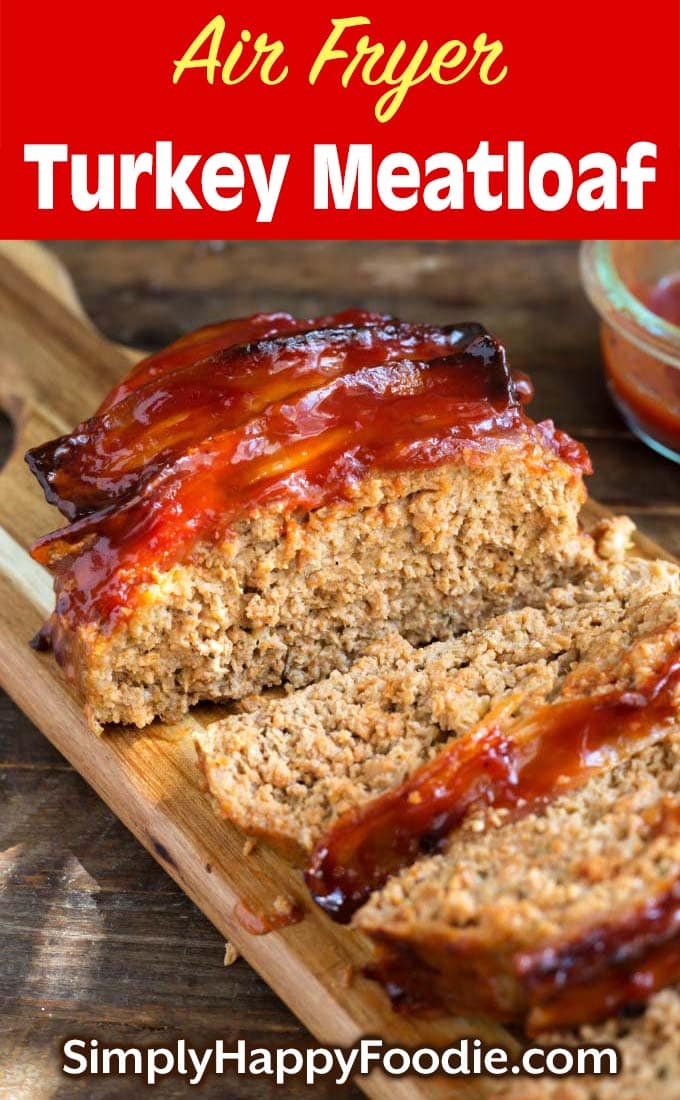 I also have an Instant Pot Turkey Meatloaf recipe that you might like to try.
If you make this yummy air fryer turkey meatloaf recipe, please leave me a comment below. Let me know how you liked it!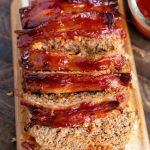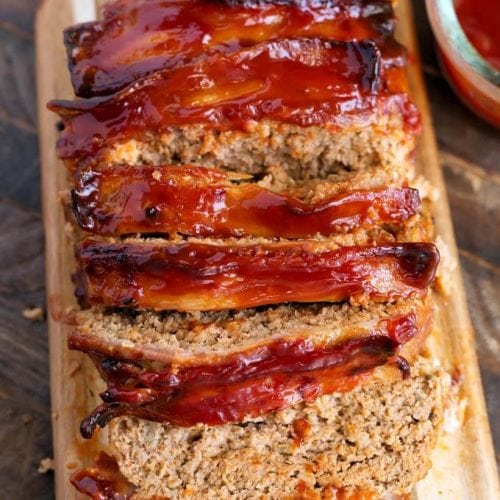 Air Fryer Turkey Meatloaf
Air Fryer Turkey Meatloaf comes out flavorful and moist, with a delicious topping to go over it. Air fried turkey meatloaf is done in under an hour!
Keyword:
air fryer meatloaf recipe
Ingredients
1

Egg,

beaten

1/3

cup

Bread Crumbs

1/3

cup

Milk

2

tsp

Garlic Powder

1

tsp

Onion Powder

1

tsp

Salt

1/2

tsp

Pepper

2

tsp

Italian Seasoning

1/2

cup

Ketchup

3

tsp

Dijon Mustard

1 1/2

lbs

Ground Turkey,

85% Lean

1/4

lb

Thick Cut Bacon

(optional)
Topping Sauce
1/2

cup

Ketchup

3

Tbsp

Real Maple Syrup

1/2

tsp

Liquid Smoke
Instructions
In a large mixing bowl, add the egg and beat it. Then add the bread crumbs, milk, garlic powder, onion powder, salt, pepper, and Italian seasoning. Mix well.

Add the ketchup and Dijon. Mix well.

Add the ground turkey and thoroughly combine the meat with the seasoning mixture.

Shape into a loaf that is even in thickness and will fit in the air fryer basket. This recipe works best in a minimum 7 inch wide basket. A smaller basket will yield a thicker meatloaf, which means a longer cook time.

Put the meatloaf into the air fryer basket and then drape the strips of bacon evenly over the loaf. tuck the bottoms of the bacon under the loaf.

Cook at 350° F for 20 minutes.

While the meatloaf is cooking, mix up the topping sauce. After the 20 minute cook time, open the air fryer and apply a generous amount of the sauce over the top of the meatloaf (try not to double dip into the sauce so you can use the rest to serve with the meatloaf).

Place a piece of sprayed foil loosely over the meatloaf. Cook at 350° F for another 10 minutes.

Open the air fryer and check the temperature with an instant read thermometer. If it says 160°, then let the meatloaf rest for 10 minutes before serving. It will come up to 165°.

If the meatloaf is below 160°, cook for another 5 minutes. You can take off the foil for the last couple of minutes.

Always rest meatloaf for 5-10 minutes after cooking.

Transfer to a serving platter and slice. Serve with the remaining topping sauce.

RESOURCES TO MAKE this recipe and more
This post contains Affiliate links. As an Amazon Associate I earn from qualifying purchases.