Slow Cooker Creamy Sausage Gnocchi Soup recipe is a delicious, rich comfort food. What is better than a nice, comforting bowl of hearty soup for dinner? This crock pot creamy sausage gnocchi soup tastes amazing! Serve it with fluffy dinner rolls and you will have a wonderful and satisfying meal! It's perfect for a busy weeknight, or for when you want to enjoy a warm and comforting meal without spending hours in the kitchen.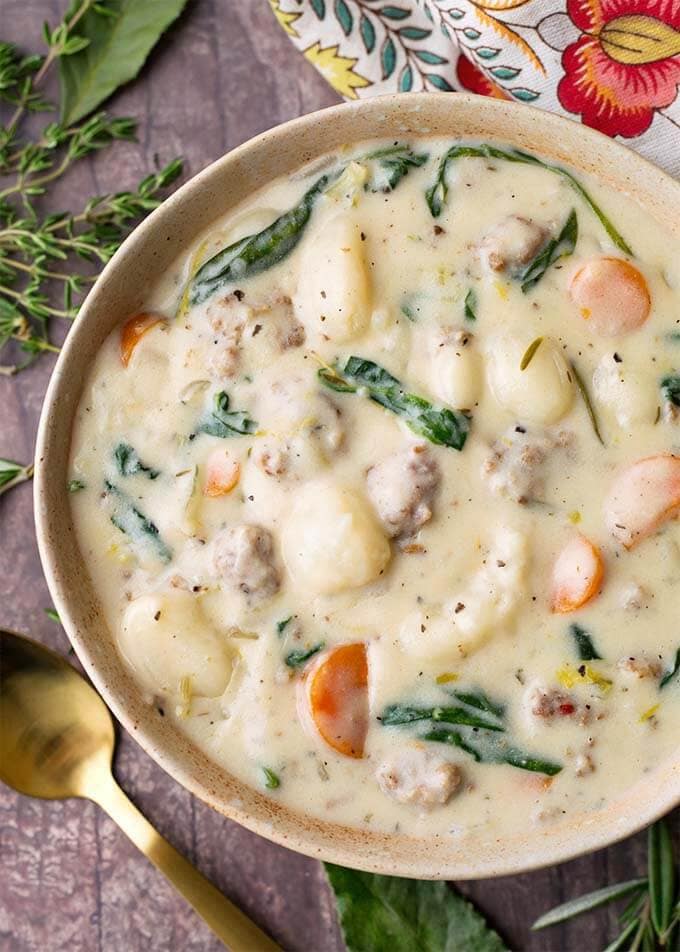 Slow Cooker Creamy Sausage Gnocchi Soup
Who loves to cook in their slow cooker? [raising my hand] This is a really delicious hearty, rich, creamy, filling, yummy slow cooker Creamy Sausage Gnocchi Soup.
If you like making slow cooker soup recipes, I think this is a great one to try. If you are not fond of sausage, just use some cooked turkey, chicken, or another flavorful meat that you enjoy. You could even omit the meat and add some other veggies!
The combination of Italian sausage, herbs, and vegetables creates a rich and flavorful broth. The gnocchi adds a nice texture and helps to thicken the soup, while the half and half and parmesan cheese create a creamy and indulgent finish.
The addition of baby spinach adds some color and nutrients to the soup, making it a well-rounded meal. You can also add other vegetables, such as zucchini or mushrooms, to make it even more nutritious.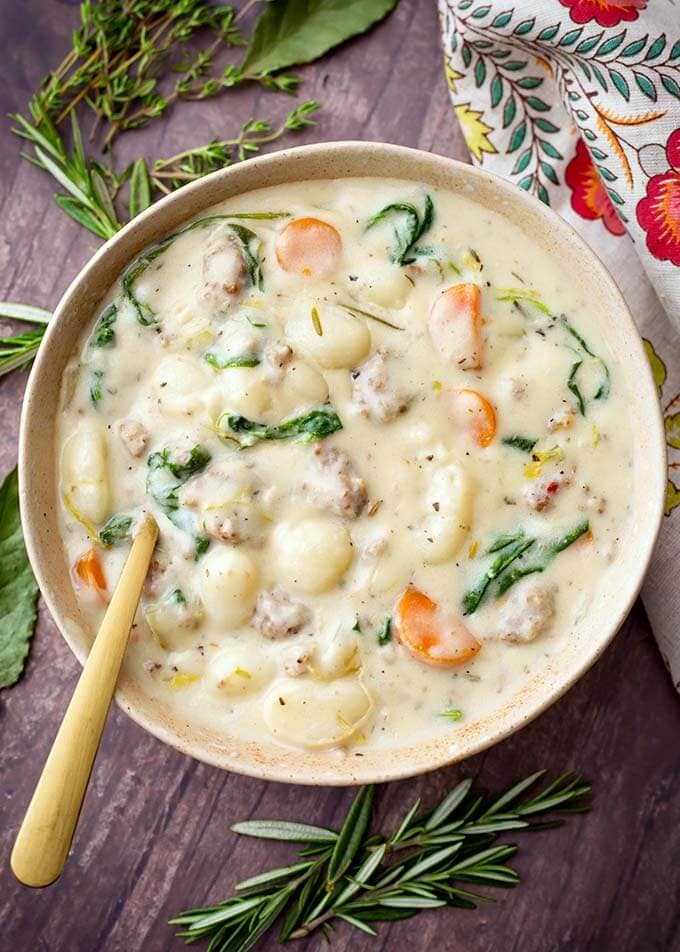 Nothing beats a big bowl of comfort food soup on a chilly day! Although, I did also make this soup in July! But hey, making it in my crock pot kept my kitchen nice and cool!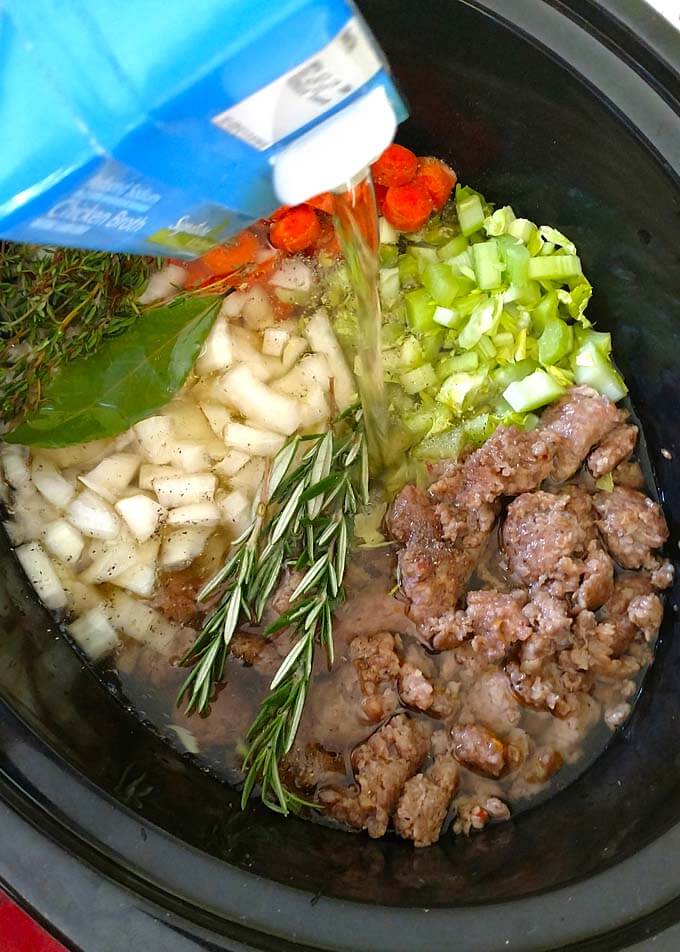 Slow Cooker Creamy Sausage Gnocchi Soup recipe is very easy to make! Just brown the sausage in a skillet, then add it to the crock pot with the other soup ingredients, and cook it! When it is almost done cooking, add the thickener, cook a little longer, then add the cream and some fresh spinach.
Then be prepared to have a super delicious meal!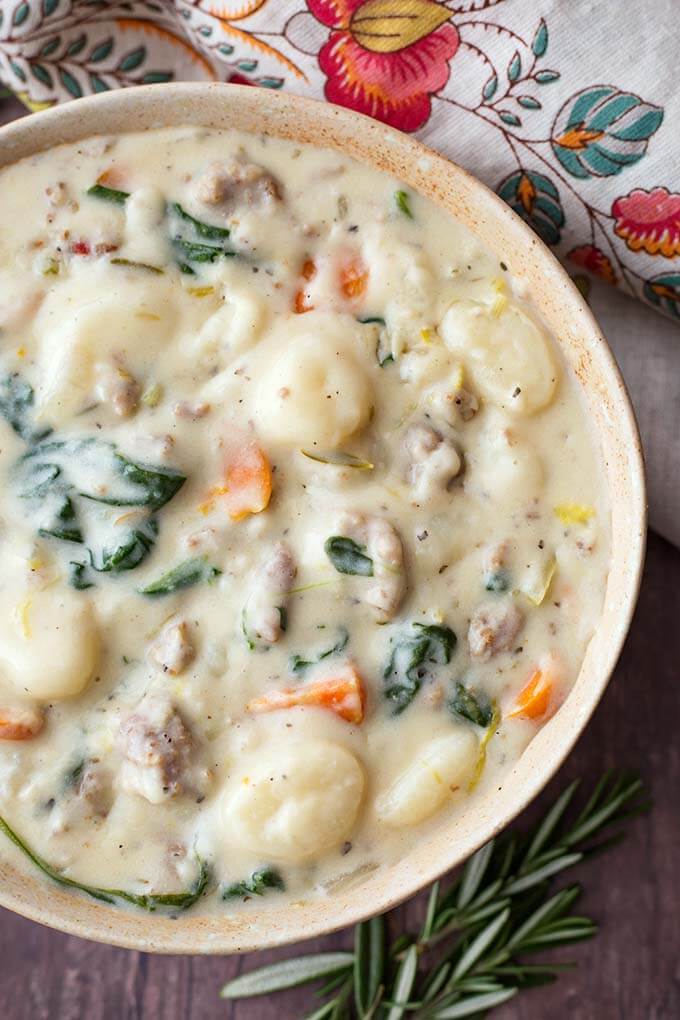 If you want to, you can use kale in place of the spinach. If you do, just add it in about 30 minutes before serving for softer kale, or at the end if you just want it wilted a bit.
Slow Cooker Creamy Sausage Gnocchi Soup is a favorite of my youngest granddaughter. She is so cute! She was very intrigued watching me photograph this recipe. Maybe I have a budding food photographer in the family?


Slow Cooker Taco Soup
Slow Cooker Creamy Chicken Chili
Crock Pot Zuppa Toscana Sausage Potato Soup
Crock Pot Mexican Corn Chicken Soup
One of the great things about this Slow Cooker Creamy Sausage Gnocchi Soup recipe is that it's very versatile, and you can easily make substitutions based on your personal preferences or dietary restrictions. Here are some suggestions for substitutions:
Italian sausage: You can substitute Italian sausage with ground pork, chicken, or turkey. If you prefer a vegetarian or vegan option, you can use vegetarian sausage or plant-based crumbles.
Half and half: Half and half can be substituted with heavy cream, evaporated milk, or whole milk. If you want a lighter option, you can use low-fat milk or almond milk.
Corn starch: Corn starch can be replaced with flour, arrowroot powder, or potato starch. If you're gluten-free, make sure to use a gluten-free thickener.
Gnocchi: Gnocchi can be substituted with any type of pasta, such as penne or fusilli. You can also use gluten-free pasta or zucchini noodles for a low-carb option.
Parmesan cheese: Parmesan cheese can be substituted with any hard cheese, such as Pecorino Romano or Asiago. If you're vegan, you can use a plant-based parmesan cheese or nutritional yeast.
Vegetables: You can customize the vegetables based on your preferences or what you have on hand. For example, you can add bell peppers, mushrooms, or kale.
Remember to adjust the cooking time and liquid ratio if you make substitutions, as some ingredients may require longer or shorter cooking times, and some substitutions may affect the thickness of the soup.
Leftover Soup Storage
Let the soup cool and put into an airtight container and keep in the fridge for up to 4 days.
Freezing: I don't recommend freezing this soup as the gnocchi will have a mushy texture.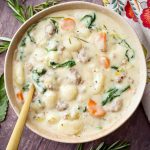 Slow Cooker Creamy Sausage Gnocchi Soup
This Slow Cooker Creamy Sausage Gnocchi Soup recipe is a delicious, rich comfort food. What's better than a comforting bowl of hearty soup? This crock pot sausage gnocchi soup is amazing!
Keyword:
crock pot sausage gnocchi soup recipe
Ingredients
1

lb

Italian Sausage,

ground

1

Onion,

diced

2

Carrots,

chopped

2

ribs

Celery,

diced

4

cloves

Garlic,

pressed or finely minced

1

Bay Leaf

2

sprigs

Fresh Rosemary

3

sprigs

Fresh Thyme

½

teaspoon

Basil,

dried

½

teaspoon

Salt

¼

teaspoon

Pepper

4

cups

Chicken Broth,

low sodium

1

lb

Gnocchi
To Thicken
2

cups

Half and Half

(or heavy cream, evaporated milk) Divided

2

Tablespoons

Corn Starch
To Finish
½

cup

Parmesan Cheese,

grated

5

oz

Baby Spinach Leaves
Instructions
Brown sausage in a frying pan until cooked through. Drain and add to the slow cooker.

Add onion, carrot, celery, garlic, bay leaf, rosemary, thyme, basil, salt, pepper, and chicken broth. Stir and cook on High for 3 hours or Low for 6 hours.

When time is up, add gnocchi and 1 cup of the half and half.
Thicken
Add the corn starch to the other 1 cup of half and half and whisk it until smooth to make a slurry.

Add the slurry to the slow cooker and stir. Cook another 30 minutes on High, or 1 hour on Low.
Finish
When time is up, stir in the parmesan cheese, then add spinach and stir in. Put the lid back on and let it heat through and wilt.
Recipe Notes
Store in an airtight container in the refrigerator for up to 4 days.
Resources to make Slow Cooker Creamy Sausage Gnocchi Soup Recipe and More
We are a participant in the Amazon Services LLC Associates Program, an affiliate advertising program designed to provide a means for us to earn fees by linking to Amazon.com and affiliated sites.