Slow Cooker Collard Greens are easy to make and so delicious! This is a classic Southern food that is most often served with cornbread. Crock pot collard greens are a traditional New Years Day meal!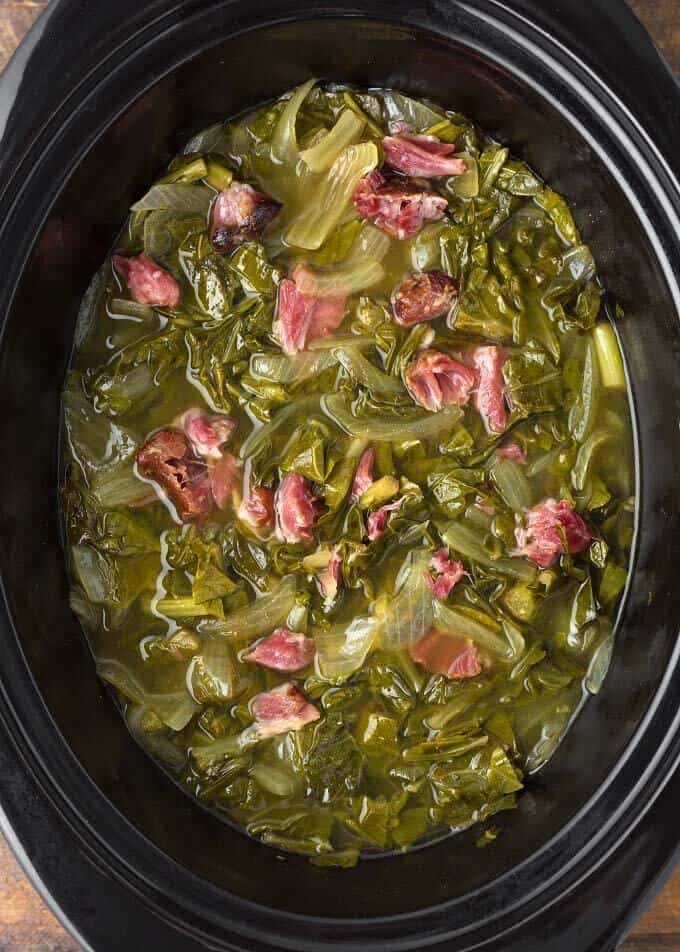 Slow Cooker Collard Greens
Collards, or collard greens, are most often eaten in the American South, as that is where they seem to grow best. Cooked low and slow, these tasty greens, flavored by most often by pork, are delicious, tender, and so classically Southern!
Collard greens are considered a "non-heading" cabbage, and a cousin to the popular kale. The Greeks grew collards in their gardens over 2,000 years ago! They were eventually brought to America.
You can eat collard greens raw (in salads or smoothies, etc.), blanched, fried, boiled, etc. They are pretty hard to overcook, as long as there is enough liquid in the pot with them.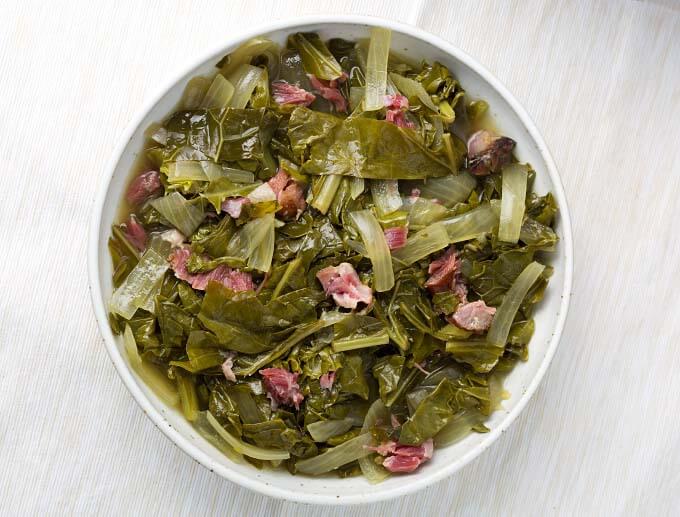 Add some pork or turkey, preferably smoked, for amazing flavor. If your greens end up a little bitter, a teaspoon of sugar and a little salt should take that away.
Slow cooker collard greens takes advantage of this green's ability to be cooked for a long period of time. Check on them a couple of times to make sure there is enough liquid in the crock, and go about your business.
If you can, serve your collard greens with some cornbread to sop up the "pot likker" which is a term for the liquid in the pot from cooking the greens. Yum!


Slow Cooker Green Beans with Bacon & Potatoes
Southern Pineapple Casserole
Easy Slow Cooker Cheesy Grits
Best Slow Cooker Baked Beans
Pin This crock pot collard greens recipe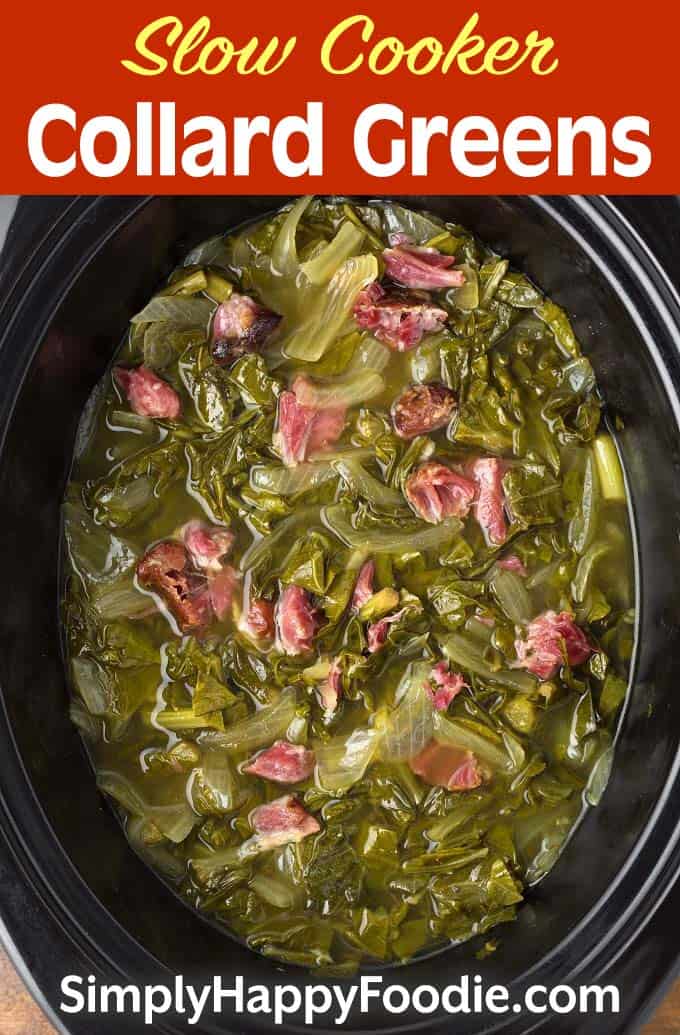 If you make this crock pot collard greens recipe, please leave a comment and a star rating below. I'd like to know how you liked it!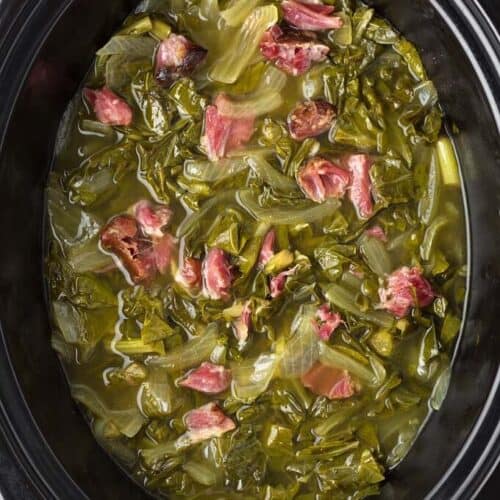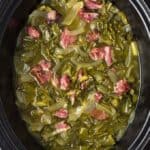 Slow Cooker Collard Greens
Slow Cooker Collard Greens
Keyword:
crock pot collard greens recipe
Ingredients
2

Meaty Smoked Ham Hocks,

or smoked turkey wings, legs, necks

1

lg

Onion,

chopped

4

cloves

Garlic,

minced

1

lb

Collard Greens,

chopped

1

tsp

Seasoned Salt

½

tsp

Red Pepper Flakes,

optional

5-6

cups

Chicken Broth,

low sodium

1-2

Tbsp

Apple Cider Vinegar

1

tsp

Sugar*
Instructions
Add the ham hocks, onion, garlic, collards, seasoned salt, red pepper flakes, and broth to a 6 qt or larger slow cooker.

Cook on Low for 8-10 hours, or High for 5-6 hours, stirring once halfway through, and again an hour before serving.

Remove the ham hock (or other meat) and remove the meat from the bone. Then add the meat back in to the slow cooker. Stir.

Add the ACV and sugar. Stir, then taste and adjust salt or other seasoning.

Serve with some hot sauce, and corn bread or biscuits to sop up the pot likker (liquor).
Recipe Notes
*The greens can sometimes be a little bitter. Sugar helps with this, as does a little salt and/or lemon juice.

RESOURCES TO MAKE slow cooker collard greens recipe and more
This post contains Affiliate links. As an Amazon Associate I earn from qualifying purchases.