Instant Pot Artichokes are easy to prepare. Instant Pot Whole Steamed Artichokes are one of my favorite vegetables. You can make pressure cooker artichokes in less than an hour, then get your favorite dipping sauce ready, because you will want to make these!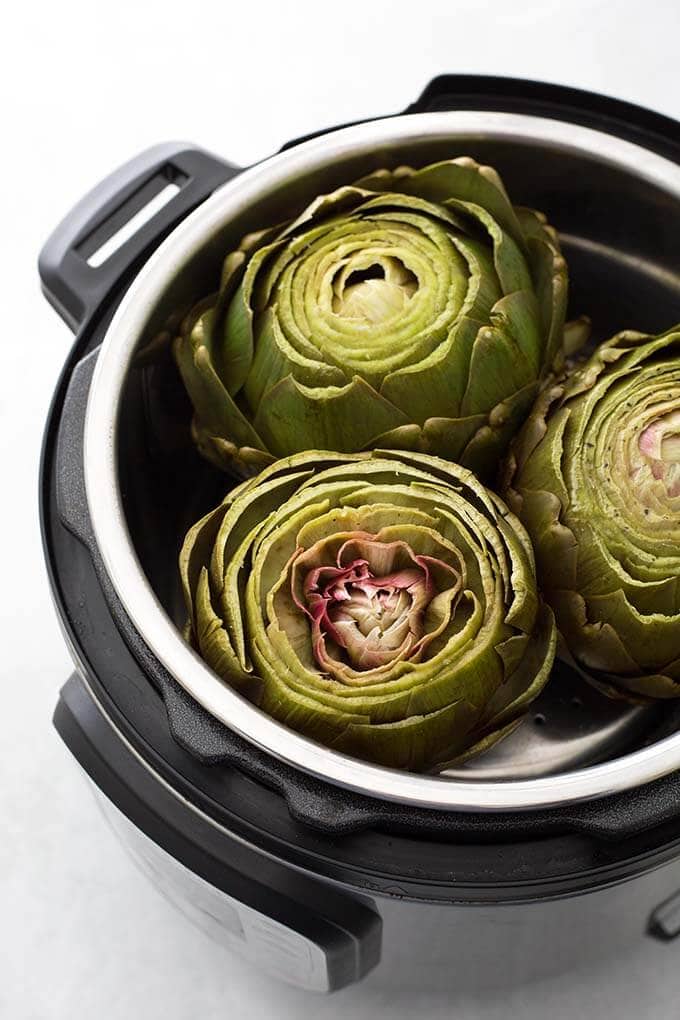 Instant Pot Artichokes
If you have eaten artichokes before, then you already know how time consuming it can be to prepare them.
Artichokes can be easily steamed in the Instant Pot! I will give you the step-by-step directions.
When Are Artichokes in Season?
Artichokes are in peak season from March through May. In the USA, our artichokes are mostly grown in Northern, coastal California.
How to Choose an Artichoke
The tighter the petals are packed on the artichoke, the fresher they are. However, I have had loosely packed artichokes that tasted just fine.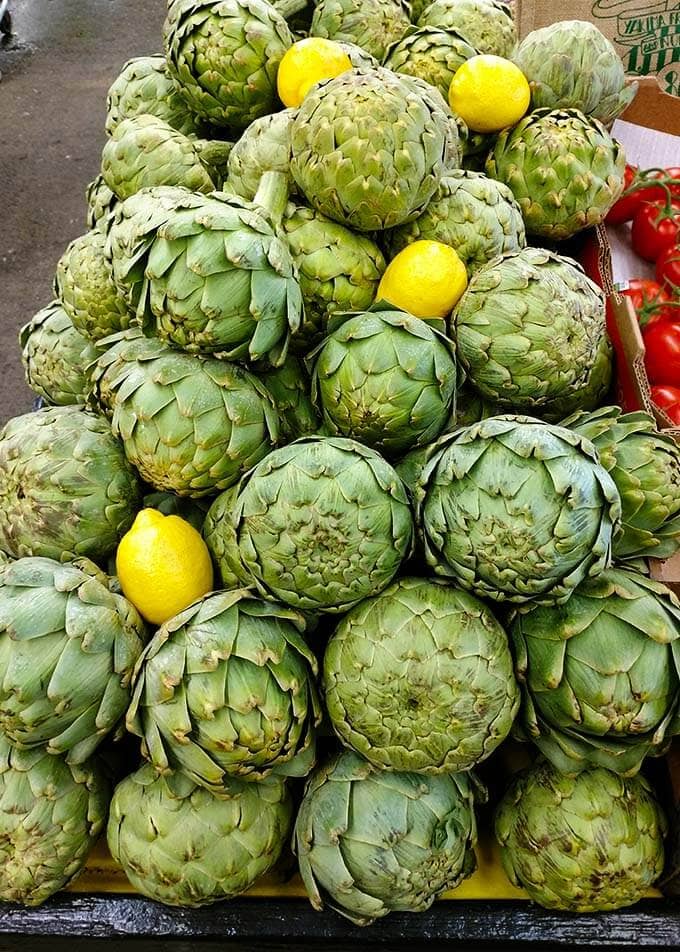 When you choose an artichoke, you will see that there are both loosely and more tightly packed petals.
There are also various sizes. It makes a difference in cook time, so try getting consistent size, and density of leaves when you are choosing your artichokes.
Larger and more tightly packed artichokes can take up to 25 minutes or more to cook in the Instant Pot. The small, less tightly packed artichokes take about 10 minutes to cook.
Here are the steps to make Instant Pot Whole Steamed Artichokes: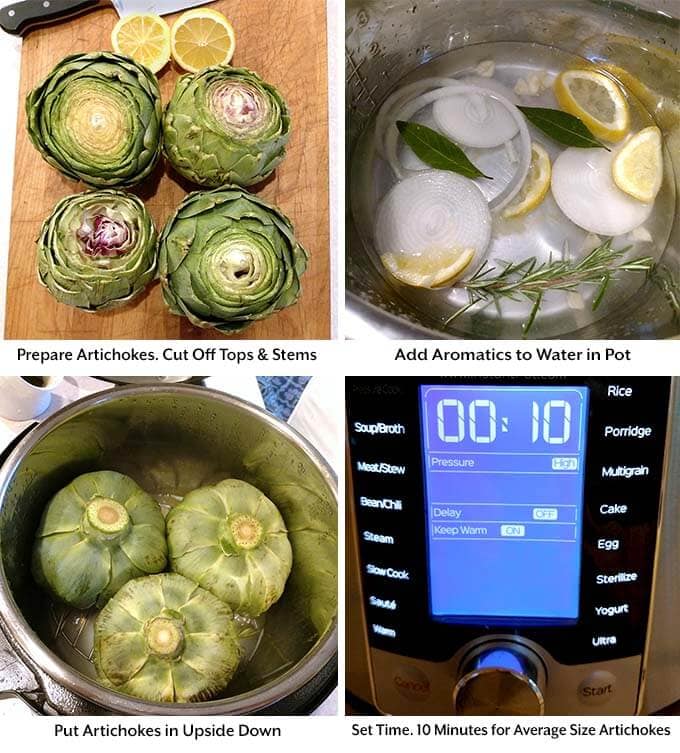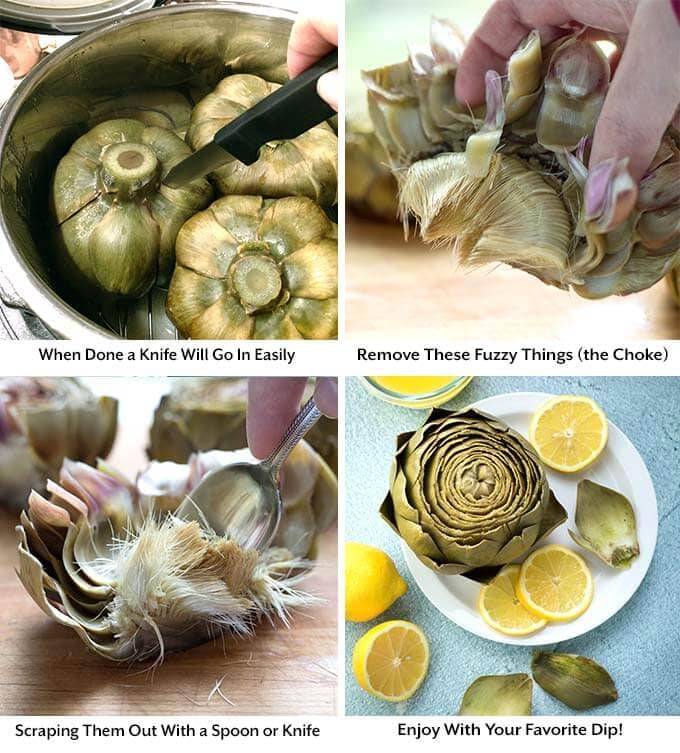 How to Eat an Artichoke
• Artichokes can be eaten hot or cold.
• After you eat the petals, you will get to the heart, the best part (in my opinion). You can just use a fork to eat the artichoke heart.
• To eat, pull off the outer leaves (actually petals) one at a time.
• Dip the base of the petal into melted butter (or a dip).
• Pull the petal through your teeth, soft, pulpy side down (so you are using your bottom teeth to scrape off the pulp).
• Discard the remaining part of the petal.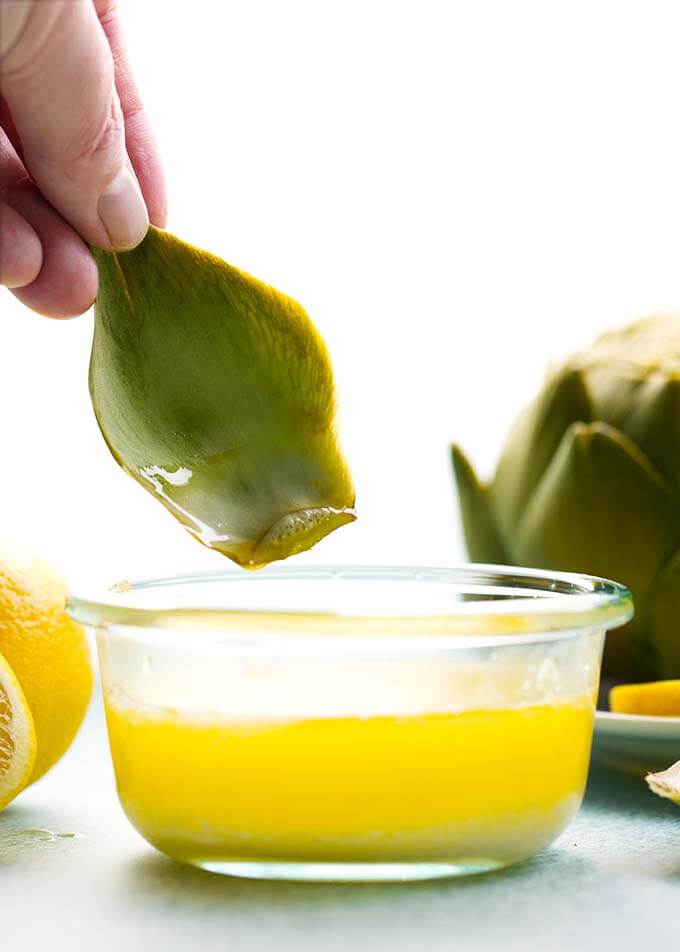 My favorite dips for Instant Pot Artichokes are:
Lemon Mayo - Mix some mayo and lemon juice together.
Plain Mayo (my favorite)
Melted Butter - Melt butter in a microwave safe dish.
Garlic Butter - Sauté a couple of pressed garlic cloves in butter.


Instant Pot Buttered Cabbage
Instant Pot Asparagus
Instant Pot Sweet Potatoes
Instant Pot Broccoli
If you make Instant Pot Whole Steamed Artichokes, please let me know. Leave a comment with a star rating in the comments section below.
I'd love to know how you liked them.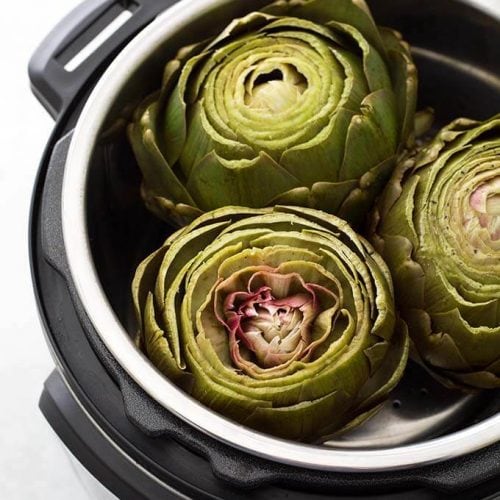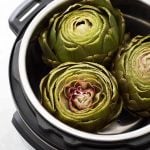 Instant Pot Whole Steamed Artichokes
Pressure Building and Release
Instant Pot Whole Steamed Artichokes are a faster and easier way to cook artichokes. Pressure cooker artichokes are tender and ready to dip in your favorite sauce!

Course:
Appetizer, Side Dish, Vegetarian
Keyword:
pressure cooker artichokes
Ingredients
1-4

Artichokes

Lemon Wedge

1 ½

cups

Water

(for the 6 qt pressure cooker, 2 ½ cups for the 8 qt, 1 cup for the 3 qt)
Aromatics to Add to the Water (optional)
½

Lemon,

sliced

2

cloves

Garlic,

chopped

2

small

Bay Leaves

1

tsp

Salt

½

Sweet Onion,

sliced

1

sprig

Fresh Rosemary

(optional)
Instructions
Prepare the Artichokes
Remove small outer leaves that are dry, and cut the stem off, leaving about ¼". Then use a really sharp serrated knife to cut the top inch or two off of the artichoke. This exposes the inside and will allow the steam to penetrate it.

Rinse the artichokes and pat dry with a paper towel. Then rub some lemon on the cut surface to prevent browning.
Prepare the Steaming Liquid
Add the water to the stainless inner liner. Then add the aromatics, optional, (garlic, bay leaves, lemon slices, salt, onion, and rosemary).

Place the trivet/rack into the pot.
Cook the Artichokes
Place the artichokes into the pot, stem side up (cut side down). Close the lid and set the steam release knob to the Sealing position.

Press the Pressure Cook/Manual Button or dial, then the + or - button or dial to select the cook time (cook times may vary*):

Small artichokes - 10 minutes

Medium Artichokes - 15 minutes

Large artichokes - 25 minutes

When the cooking cycle is finished, do a Quick Release of the steam/pressure by turning the steam release knob to the Venting position, or pushing the release button, if applicable (If you like softer artichokes, let the pot naturally release the pressure).

You can tell when the artichoke is done when a knife slides into the bottom easily.
What to Dip Them In
Lemon Mayo - Mix some mayo and lemon juice together.

Plain Mayo (my favorite)

Melted Butter - Melt butter in a microwave safe dish.

Garlic Butter - Sauté a couple of pressed garlic cloves in butter.
Recipe Notes
*Cook times will vary based on the size of the artichokes, as well as the density of the leaves. Tightly packed, denser quantity of leaves (and a heavier artichoke) will take longer to cook.
You may need to do a test to find your perfect cook time.
Resources to Make Pressure Cooker Artichokes and More
We are a participant in the Amazon Services LLC Associates Program, an affiliate advertising program designed to provide a means for us to earn fees by linking to Amazon.com and affiliated sites.
Reader Interactions