Instant Pot White Chicken Chili has a great Tex-Mex flavor with chicken, white beans, and green chiles. We love this pressure cooker white chicken chili with crushed tortilla chips, sour cream, and avocado.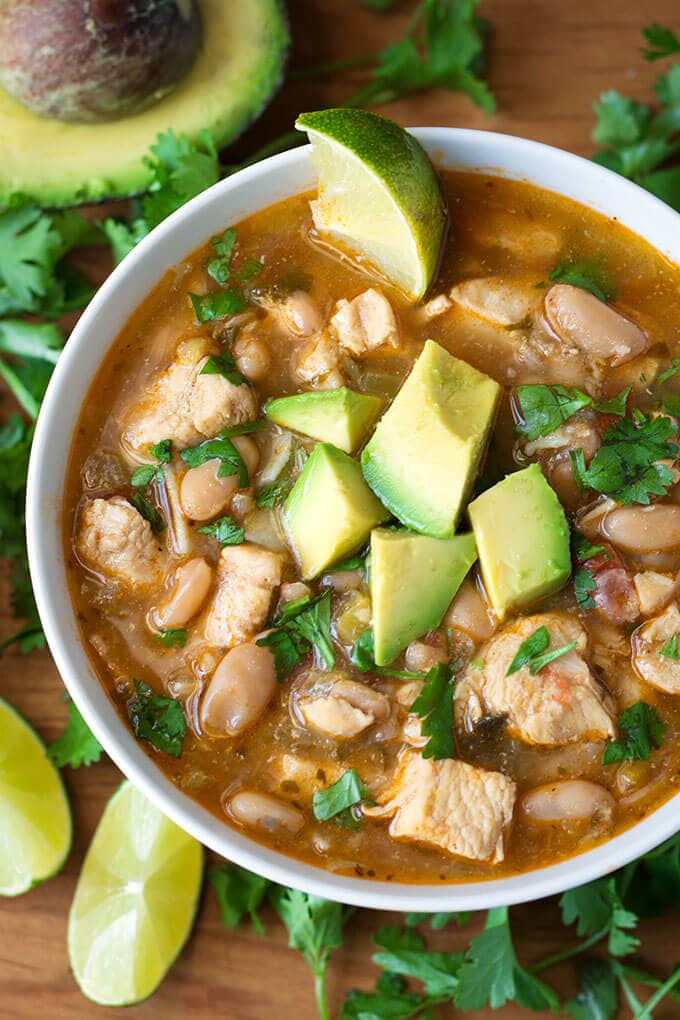 Instant Pot White Chicken Chili
Gatherings. Being part of a community, no matter the size, is an integral part of being human. We are, after all, a gregarious species.
Today we have a small group of family & friends coming over. We get together several times in the Spring, through early Fall to watch the F-1 auto races and football games. I always cook a main dish, and they bring the sides and dessert. Today I made Instant Pot White Chicken Chili. It feeds a small crowd, and is so very flavorful! The guys love it. We pile on the fixin's such as avocado, sweet onion, tortilla chips, cilantro, jalapeño, and sour cream. Yum!
We catch up, have a cocktail, and enjoy that feeling you can only get from a gathering of people you love.
As much as I would like to wax philosophical about the desire for most of us to belong, I think it really goes without saying that this is true.
When I lost my mom to breast cancer in 2001, a hole wider than the Grand Canyon was left in my heart. What I didn't realize was how much she held our family together. She was the glue. We tried getting together for the Holidays, and birthdays, but we all felt that void that mom left. I personally realized that much of my confidence and self esteem came from being part of a connected group of family. Always feeling their support and love. It is a very empowering thing to have at your back.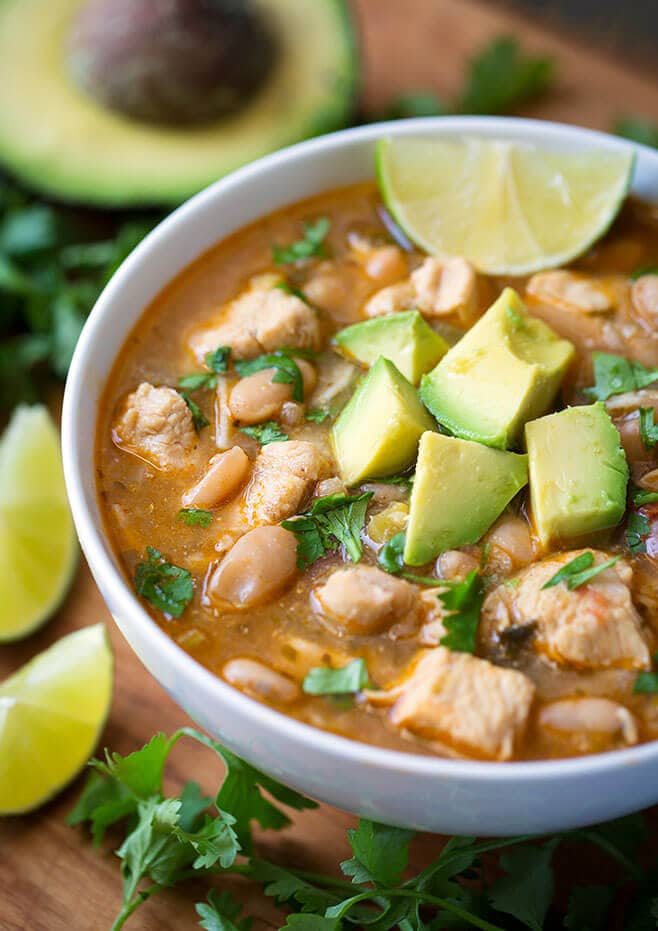 Since the time I lost her, I have slowly built a tribe of sorts to fill in the gaps. I got married to Paul, who I dearly wish my mom could have met. Bryen has grown up, and I found my son, Saul (long story). My friends are a big part of this tribe, and we get together when we can. We stay connected through the technology of texting, and social media. I'm grateful for that.
I hope you have your own tribe. Whether is is made up of mostly family, or friends, coworkers, a special interest group, or some blending of any or all of them. You are worth it, and deserve to have the support you need (and want).
You Might Also Like
Instant Pot Chili
Instant Pot Cowboy Beans
Instant Pot Taco Soup
Watch the video for this recipe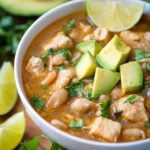 Instant Pot White Chicken Chili
Instant Pot White Chicken Chili has a great Tex-Mex flavor with chicken, white beans, and green chiles. We love this pressure cooker white chicken chili with tortillas and avocado.
Keyword:
pressure cooker white chicken chili recipe
Ingredients
3

Tbsp

Olive Oil

1

Yellow Onion,

chopped

2

Stalks of Celery,

diced

4

Chicken Breasts

raw, cubed (or 1 rotisserie chicken, deboned and shredded)

4

Cloves of Garlic,

pressed or minced

1

Tbsp

Cumin

2

tsp

Chili Powder

1

tsp

Oregano

(Mexican Oregano, if you have it)

2

tsp

Coriander

1/2

tsp

Black Pepper

1

tsp

Kosher Salt

(1)

7oz

Can Diced Green Chiles

(with juice)

(1)

14.5oz

Can Diced Tomatoes

(with juice)

1 1/2

cups

Salsa Verde

(3)

14.5oz cans

White Beans,*

drained and rinsed

4

cups

Chicken Broth**

1/2

cup

Cilantro,

rinsed and chopped

1

Tbsp

Fresh Lime Juice
To Finish
(5)

6 inch

White Corn Tortillas,

sliced in strips (helps thicken and gives good flavor)

1

cup

Sour Cream
Garnishes
Diced Jalapeño

Extra Sour Cream

Avocado

Crushed Tortilla Chips

Shredded Cheese

Cilantro Leaves
Instructions
Turn pot on to Sauté. When display reads "Hot", add oil.

Add onion and celery and stir. Cook until starting to get translucent.

Add chicken and stir. Cook, stirring occasionally, until white. Don't cook until completely done. If using pre-cooked chicken, just add it and move forward.

Add the garlic and spices. Stir.

Add the can of chiles, diced tomatoes, salsa verde, and beans. Stir.

Add the chicken broth, cilantro, and lime juice. Stir.

Place the lid on the Instant Pot and lock into position, setting the steam release knob to the Sealing position.

Press the Cancel/Keep Warm button to turn off the sauté function.

Press the Manual (or Pressure Cook) button, then use the + or - button to choose 10 minutes. High pressure.

When cooking cycle ends, let the pot sit undisturbed to Naturally Release pressure for at least 15 minutes.

Turn the steam release knob to Venting to manually release the remaining steam/pressure, very carefully, and gradually (I use a wooden spoon and tap it slightly open, then closed a few times until I'm sure the soup won't spew out of the vent).

When the pressure is out and the pin in the lid drops, carefully open the lid, facing it away from your face.

Stir, taste, and adjust salt, if desired.
To Finish
Slice up white corn tortillas and add to the chili. Stir and let them soak up the liquid and they will break apart and give the chili a nice masa corn flavor. Then stir in the sour cream.

Serve with your favorite garnishes. I love adding lots of toppings!
Recipe Notes
You can replace one of the cans of beans with black beans for a "Black and White" chili.
**For a thicker chili, reduce the broth to 3 cups.
Calories are based on skinless, boneless chicken breast.
Updated 1/18
Resources to Make This Recipe and More
We are a participant in the Amazon Services LLC Associates Program, an affiliate advertising program designed to provide a means for us to earn fees by linking to Amazon.com and affiliated sites.