Instant Pot Teriyaki Pork Tenderloin is a delicious, tender little pork roast that is juicy and perfectly sliceable. This easy to prepare pressure cooker pork tenderloin has a rich teriyaki sauce that has been kicked up a few notches!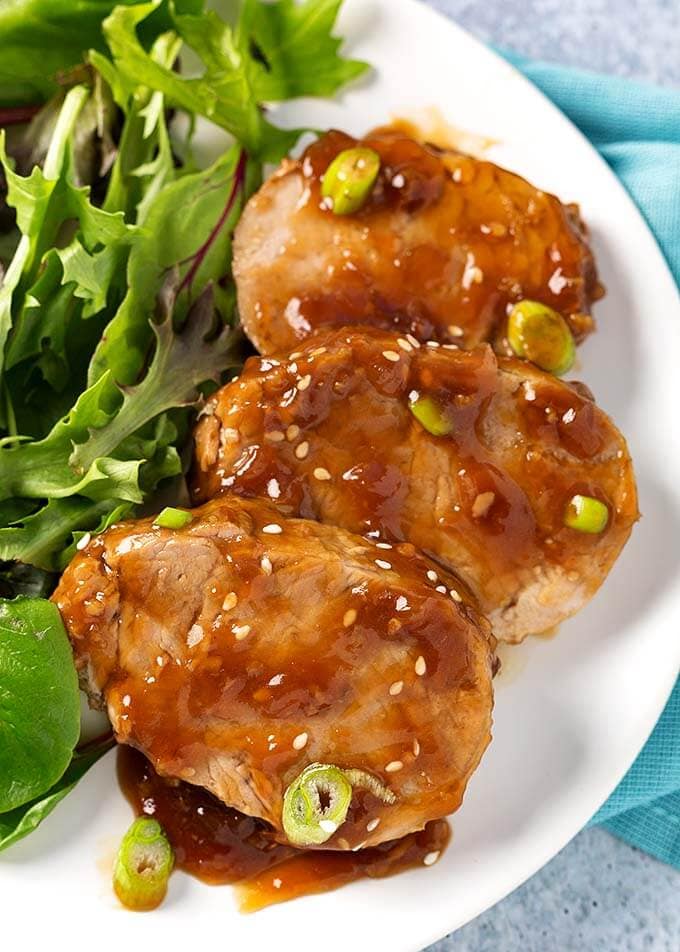 Instant Pot Teriyaki Pork Tenderloin
Teriyaki is a delicious way to cook meats such as chicken, salmon, pork, and beef. Usually grilled or broiled. Even though we are making this pressure cooker pork tenderloin in the Instant Pot®, it's going to have great teriyaki flavor!
PORK LOIN ROAST and PORK TENDERLOIN are not the same cut!
Kind of like how chicken breasts and chicken tenders are different, so are pork loin and tenderloin. The tenderloin is smaller, and rounder, and long & skinny compared to a pork loin roast. It is located higher on the back closer to the spine.
A pork loin roast is kind of rectangular in shape, is larger, found lower on the pig and closer to the rib cage.
The pork loin roast is a very lean cut of pork, and it usually needs anywhere from 30 to 45 minutes in the pressure cooker, depending on the size/thickness.
The tenderloin only needs to cook for a few minutes (see recipe card for the details).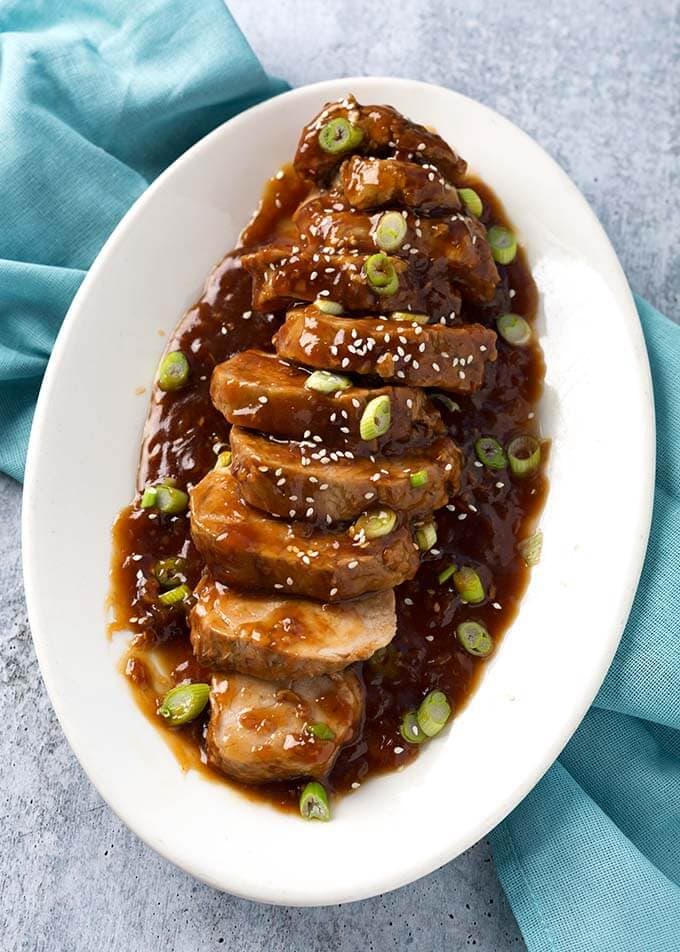 About the teriyaki sauce
For this recipe you will start with a premade teriyaki sauce as the base. Then add some garlic, ginger, brown sugar, and a few other tasty add-ins.
The sauce on it's own isn't what I wanted for this recipe, so jazzing it up a bit really helps the flavor pop.
The broth will add a little extra thin liquid to get the pot to pressure and thins out the sauce just enough. Be sure to use low or no sodium!
CAN I COOK MORE THAN ONE AT A TIME?
Yes! Make sure they are the same size. You can keep the cook time the same, and let naturally release a couple minutes longer.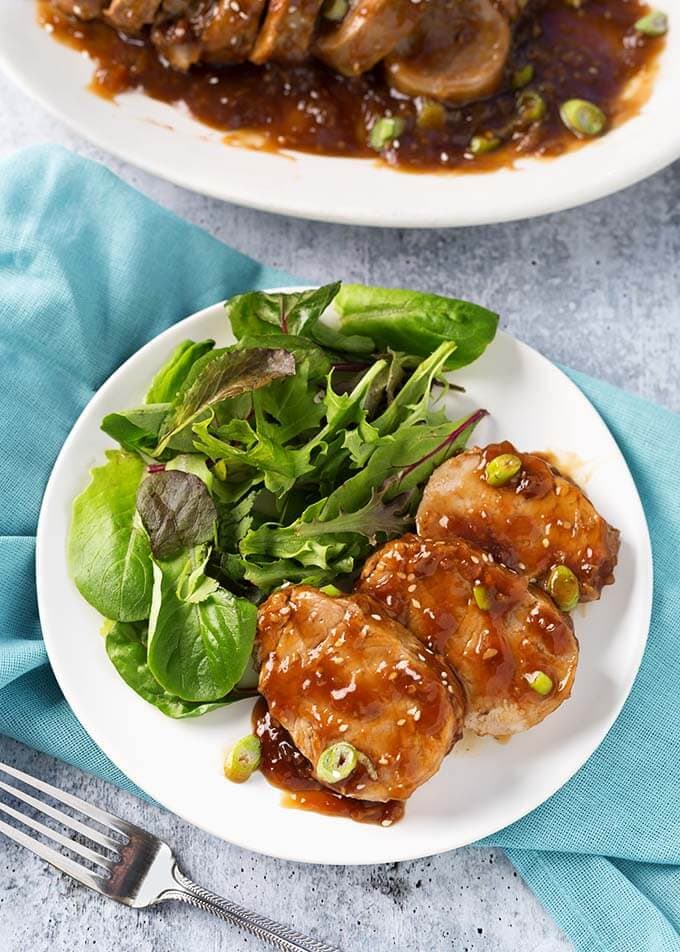 Can I make pulled pork from a tenderloin?
You can, however I am not the one to give you the instructions for that. Every time I cook a pork tenderloin longer than a minute or two, it becomes dry and mealy. I don't care for that. But I've seen recipes for it.
Maybe I will revisit that concept some day!


Instant Pot Honey Garlic Pork Tenderloin
Instant Pot Balsamic Apple Pork Tenderloin
Instant Pot Mississippi Pork
Instant Pot Baby Potatoes
Instant Pot Baked Potatoes
Pin This Instant Pot Teriyaki Pork Tenderloin Recipe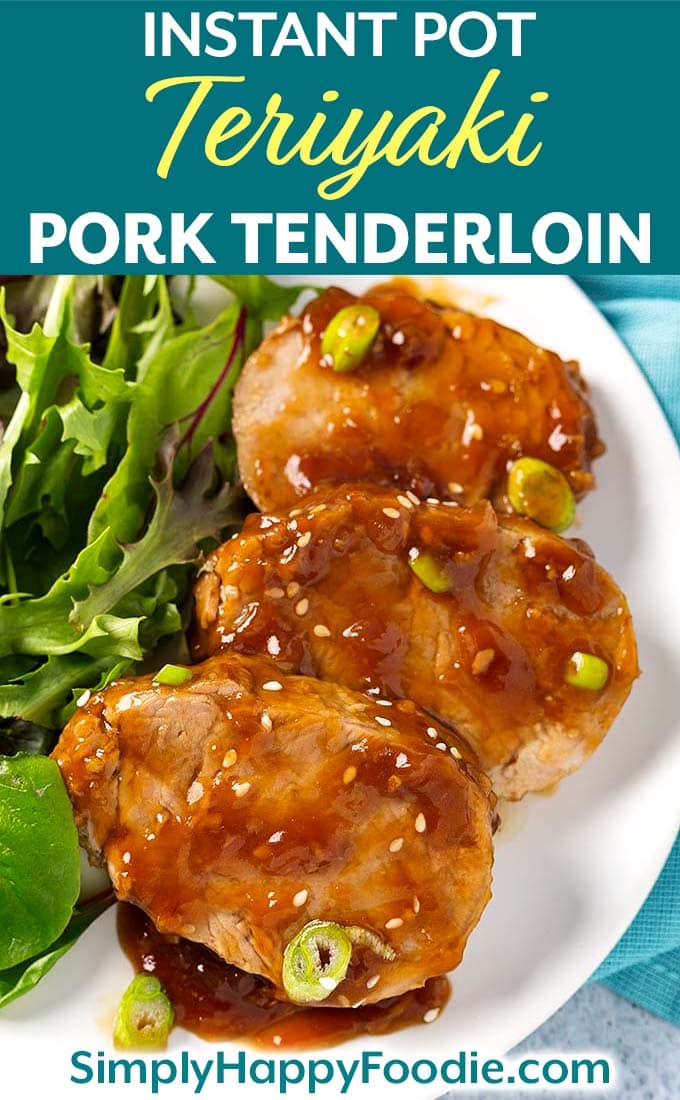 If you make this pressure cooker teriyaki pork tenderloin, please leave a comment below and let me know how you liked it! Thank you!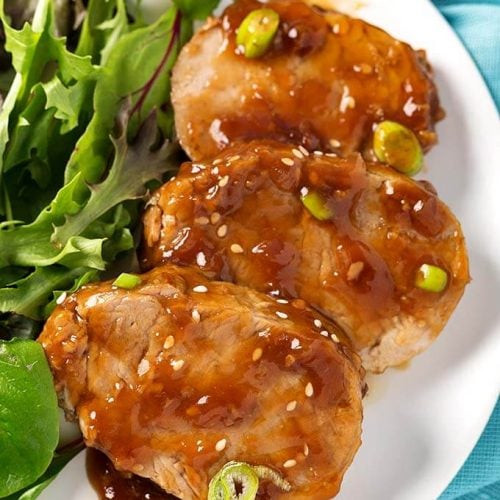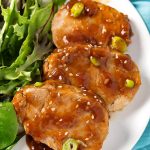 Instant Pot Teriyaki Pork Tenderloin
Instant Pot Teriyaki Pork Tenderloin is a delicious, juicy, tender little pork roast. Easy to make pressure cooker pork tenderloin has a rich teriyaki sauce

Keyword:
pressure cooker teriyaki pork tenderloin recipe
Ingredients
Sauce (mix together)
1/2

cup

Teriyaki Sauce

1/2

cup

Low Sodium Chicken Broth

(or water, orange juice)

4

cloves

Garlic,

pressed or finely minced

4

Tbsp

Brown Sugar

1

tsp

Ginger,

fresh or ground
Pork
2

Tbsp

Olive Oil

1-1/2

lbs

Pork Tenderloin

(not pork loin roast)

1/2

sm

Sweet Onion,

finely minced
To Thicken Sauce (whisk together)
3

Tbsp

Corn Starch

4

Tbsp

Cold Water
To Serve
3-4

cups

Cooked Hot Rice

Sliced Green Onions,

garnish
Instructions
Before cooking, mix together your sauce and set aside.

Turn on the Sauté setting. When hot add olive oil. Add the pork tenderloin and brown 2-3 minutes on each side. Then remove to a plate.

Meanwhile, mix together the corn starch and water. Set aside.

Add the onion and cook until tender, stirring and scraping the bottom of the pot with a wood spoon, until you get up all of the browned bits from the bottom (deglaze). You may need a little splash of water to help get up the browned bits.

Turn off the pot. Add the pork tenderloin on top of the onions.

Pour the sauce over the pork.

Close the lid and set the steam release knob to the Sealing position.


Press the Pressure Cook/Manual button or dial, then the +/- button or dial to select 0 (zero) minutes. High Pressure. The pot will take several minutes to come to pressure.

When the cook cycle has finished, turn off the pot and let it sit undisturbed for 15 minutes. Then turn the steam release knob to the Venting position to release any remaining steam/pressure.

When the pin in the lid drops back down, open the lid and check the temperature of the meat with an instant read thermometer. You are looking for 143° to 145° at the thickest part. If it is under 143°, close the lid and let it rest a few minutes longer. The heat in the pot should continue to cook it. Then check again.

Remove the pork to a plate and loosely cover with foil.

Turn on the Sauté setting. When the sauce starts to simmer, stir in the corn starch slurry. Stir until thickened, then turn off the pot.

Serve the tenderloin sliced into medallions, with some of the sauce over it. Garnish with green onion slices. Delicious over hot rice.
Recipe Notes
Cook time will vary depending on the thickness of your pork tenderloin. This recipe was made with a 2.5" thick tenderloin weighing 1.4 lbs.
You can leave in for a longer natural release if your pork tenderloin is thicker.

RESOURCES TO MAKE Instant Pot Teriyaki Pork Tenderloin recipe and more
We are a participant in the Amazon Services LLC Associates Program, an affiliate advertising program designed to provide a means for us to earn fees by linking to Amazon.com and affiliated sites.