Crock Pot Curry Lentils are the perfect meal to make on a busy day. Cooking all day while you get stuff done. Or, like I did today: Run around and look for lost things and then forget that I am going out to dinner so I will have to eat the wonderful pot full of lentil goodness that I have been smelling ALL DAY, tomorrow. Wha whaa. That's okay because these slow cooker curry lentils are even better the next day!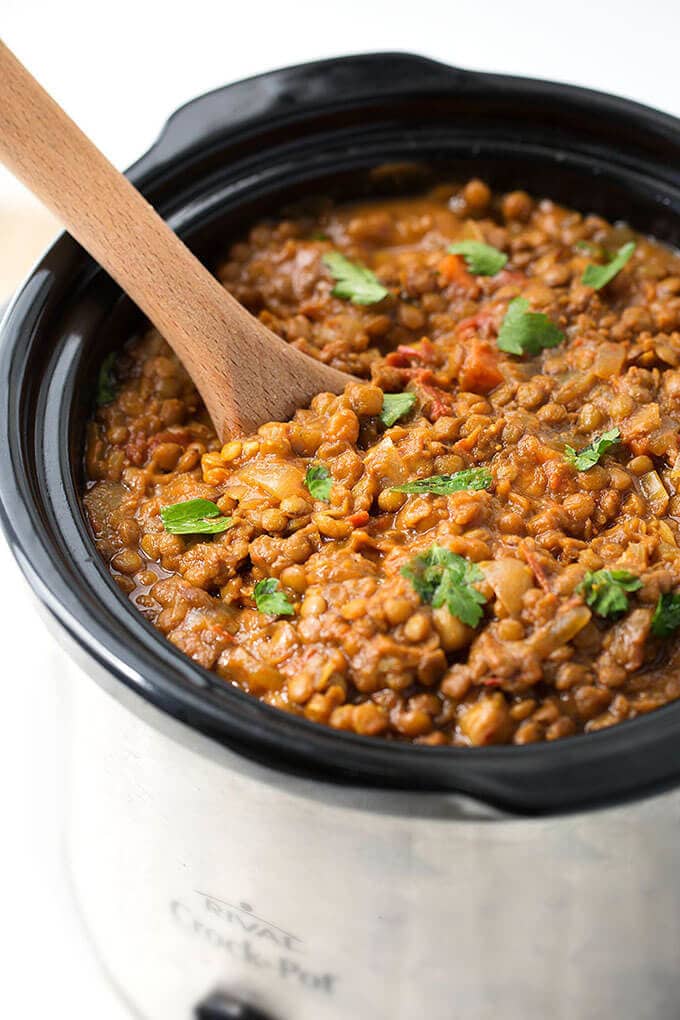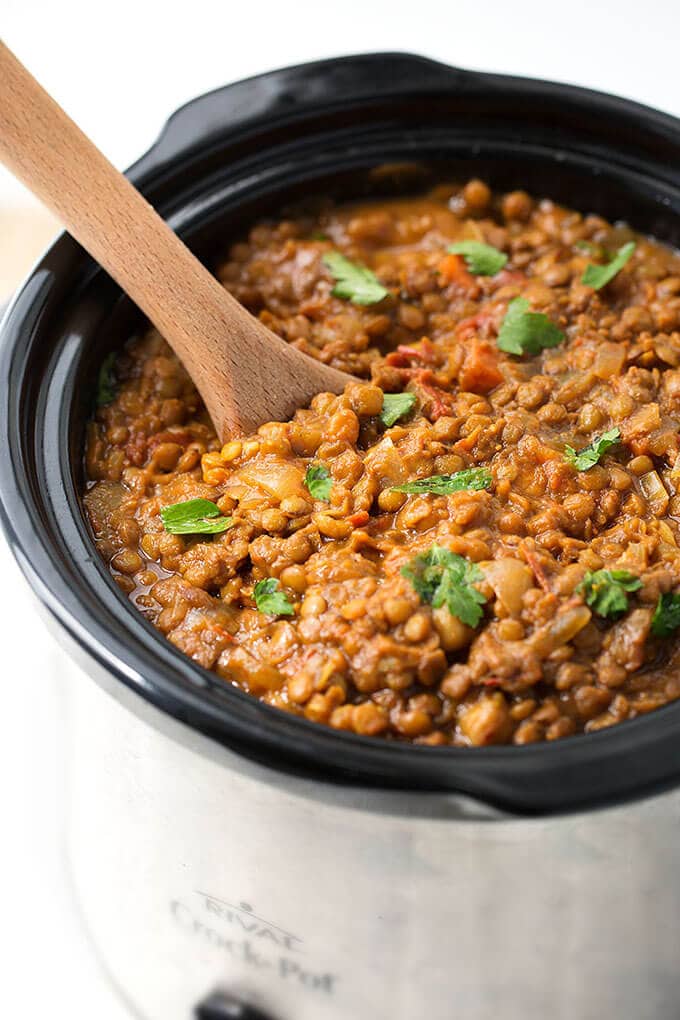 Crock Pot Curry Lentils
Crock pots are wonderful kitchen helpers. How great is the "set it and forget it" way of cooking?! Even in the heat of Summer, since a crock pot won't make your kitchen hotter!
The first lentil dish I ever had was a soup with a fair amount of garlic in it, and vinegar. It was wonderful! Since then I have enjoyed lentils in many other dishes. I even made a lentil loaf (a kind of vegetarian meatloaf). It was good, but Paul and Bryen weren't fans. Hey, I tried! Once in a while the guys will go with me to the land of meatless food that poses as meat.
This Crock Pot Curry Lentils recipe has such a burst of flavor, it is perfect over rice, with naan bread, or even on a bed of spinach! It's a very forgiving recipe as far as spice is concerned. If you don't have one of the spices called for, it will still taste great!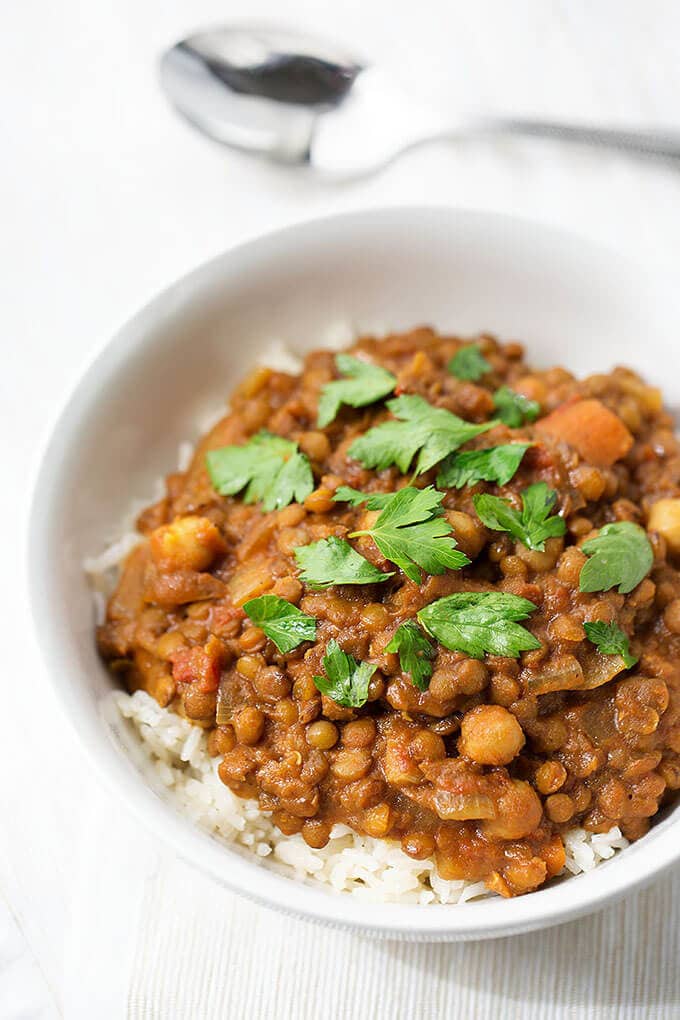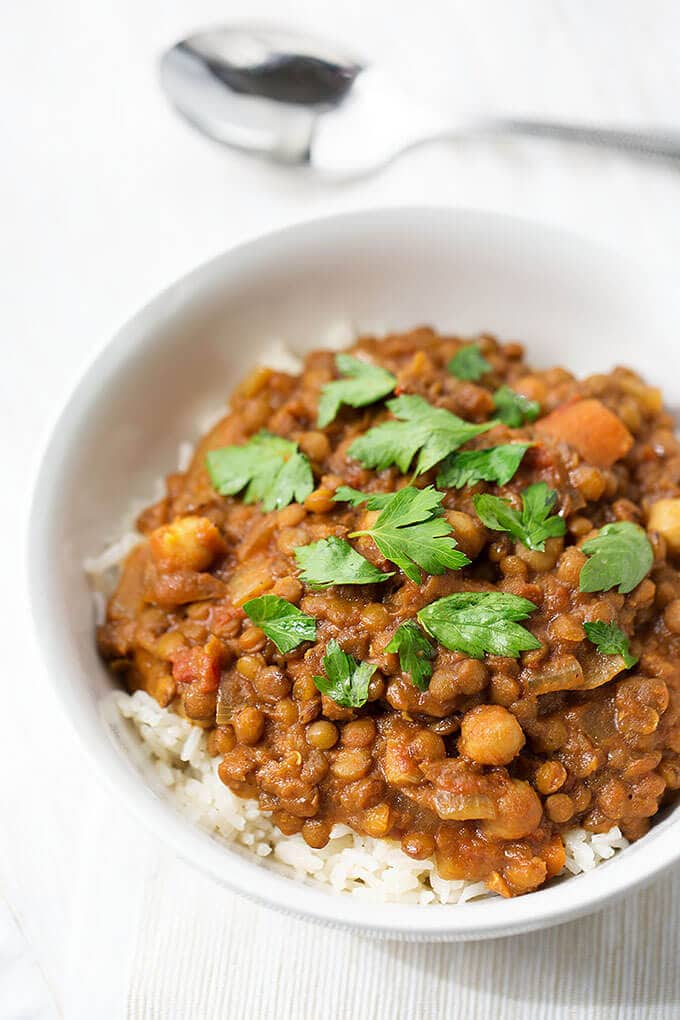 I use a hot curry powder, so I don't add cayenne to this recipe. If you have mild curry powder, and like a little kick of spice, throw in a dash or two of cayenne pepper. I advise tasting your lentils midway through cooking, or before serving, so you can see if you need more salt or spice. Also to test the tenderness of the lentils.
My crock pot is kind of old, so I let it cook a little longer. Closer to 6 hours on High. I usually add more broth and stir a couple of times as those little lentils absorb a lot of liquid! So while this is a "set it and forget it" recipe, if you just check it a couple of times, that would be good.
If you need to leave for work or wherever, err on the side of caution and just add the extra broth in the beginning. If you'll be gone all day, use the low setting. Low setting = low stress. Come home to a tasty meal!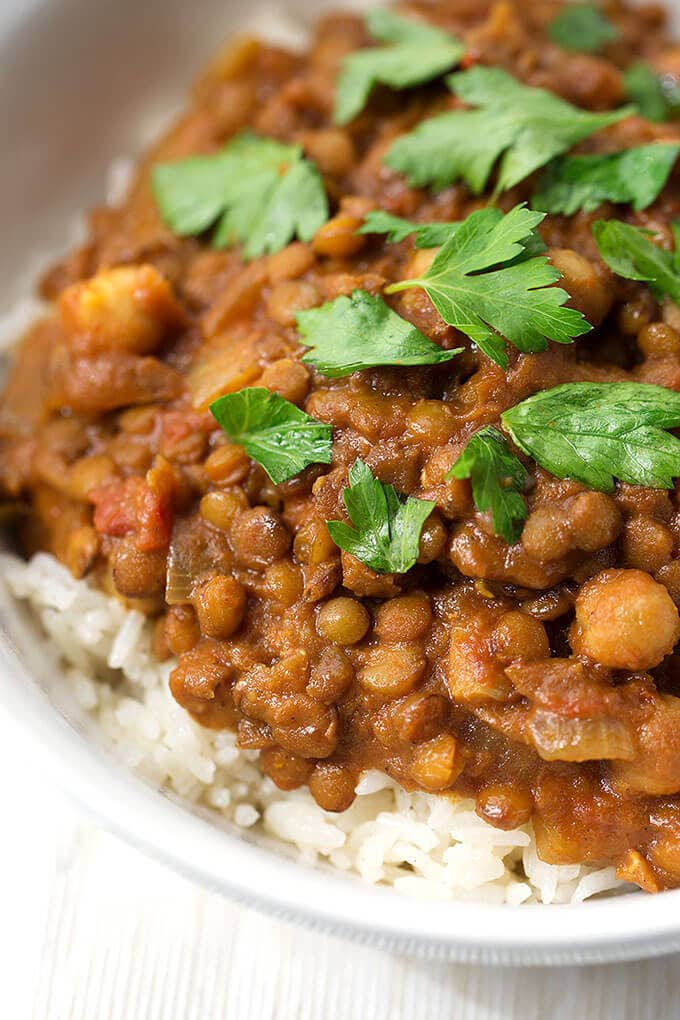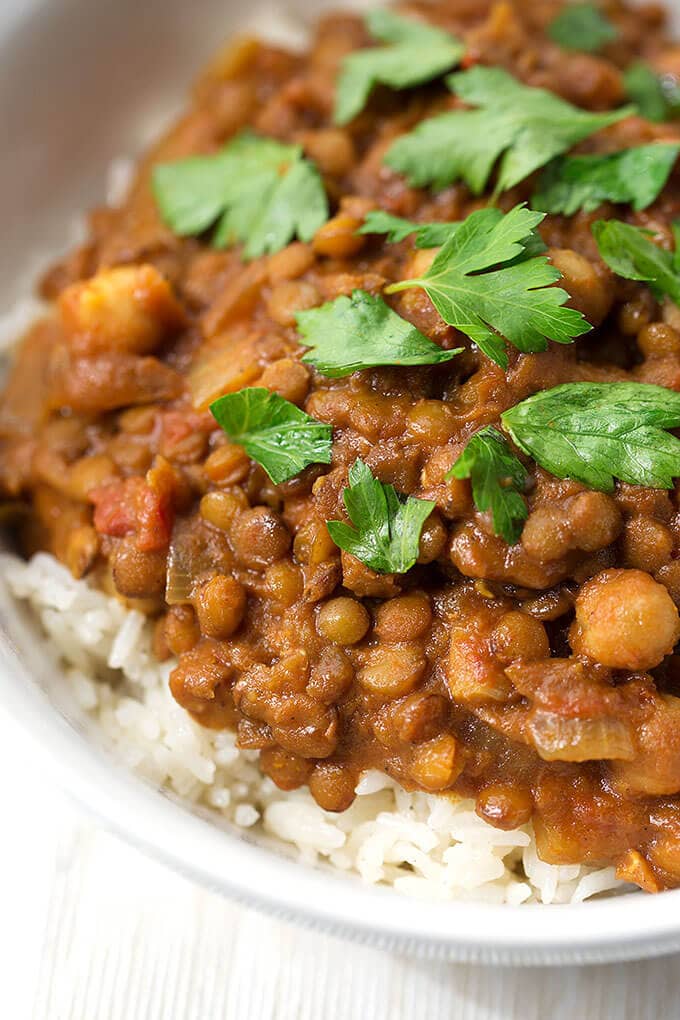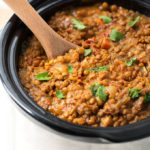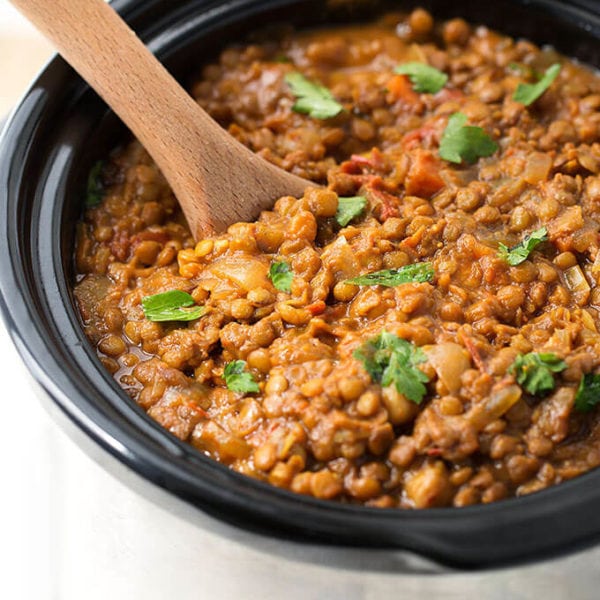 Crock Pot Curry Lentils
Crock Pot Curry Lentils are easy to make and packed with wonderful flavor!
Course:
Dinner, Main Course, Vegetarian
Keyword:
slow cooker curry lentils recipe
Ingredients
16

oz

Brown Lentils

1

large

Yellow Onion,

chopped

2

Medium Carrots,

diced

1

15.5 oz can

Garbanzo Beans,

drained and rinsed

4

Garlic Cloves,

pressed or finely diced

7

cups

Vegetable Broth,

divided

1

29 oz

Can Crushed Tomatoes

2

tsp

Ginger,

grated

1

tsp

Cumin Powder

2

tsp

Garam Masala

2

Tbsp

Curry Powder

1

tsp

Turmeric

½

tsp

Cinnamon

½

tsp

Coriander

1

tsp

Sugar

1 ½

tsp

Kosher Salt

2

Bay Leaves

1

can

Coconut Milk
Instructions
Rinse lentils in a colander and pick through (to remove debris and little stones).

Add lentils to crock pot.

Pour in 6 cups of the broth (Keep remaining broth to add if lentils get too thick).

Add all other ingredients except the coconut milk to the crock pot. Stir and put lid on.

Set to High and cook for 4-5 hours, or Low for 6-8 hours. Cooking time will vary with different models of slow cookers. You want to cook until the lentils are soft (different types of lentils will cook at different times. I used brown lentils).
Before Serving
Stir in the coconut milk.
Serving Ideas
Serve over rice.

Serve over Baby Spinach, roughly chopped.

Serve over mashed potatoes.

Garnish with cilantro or parsley.
Resources to make This Recipe and more
We are a participant in the Amazon Services LLC Associates Program, an affiliate advertising program designed to provide a means for us to earn fees by linking to Amazon.com and affiliated sites.